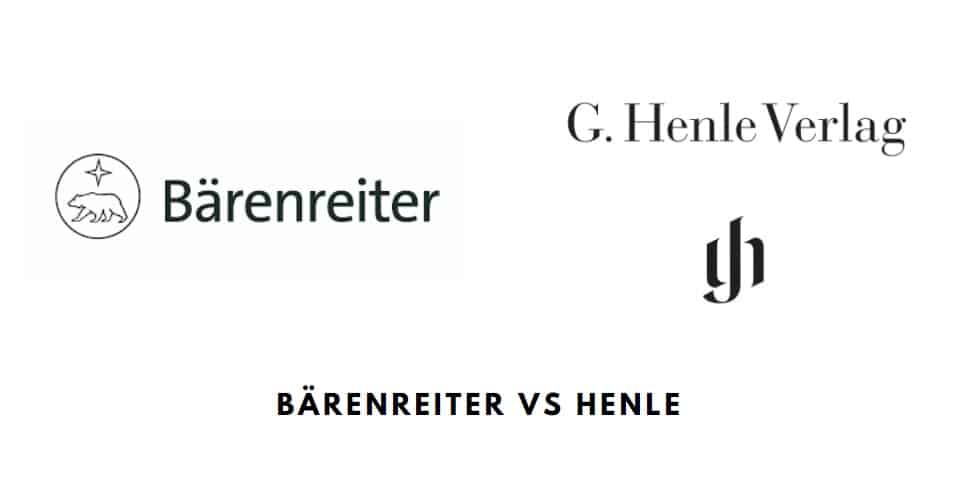 If you are not familiar with the two names in the title, let me briefly explain that they are two of the world's leading music publishers of classical music. When considering which edition of a particular work comes into question, it is often these names that bubble to the surface of the debate as both have claimed authenticity and authority concerning their publications.
Here, it seems to me, lies the heart and the heat of the discussion. Which of these publishers presents the most authentic edition of Beethoven Bach or Mozart? Can you be sure that the publication that you are playing from or studying is as close to the composer's original manuscript as it can be?
Bärenreiter Vs Henle
Looking at the G. Henle Verlag website, there is no doubt that they consider themselves to be the leading authority on music from the "Baroque onwards". Henle provides what are called 'urtext' versions of the composer's work. The term broadly applies to the first or original version of an artistic work, which should be an indication enough that G Henle are the publishers to trust more and whose catalog of publications presents music that is as close to the composer's manuscript as is possible.
Founded in 1948, G Henle has its offices in Munich, Germany where according to their website that has in their publishing house six musicologists each with a Doctorate in music.
On the other side of the same manuscript as it were, Bärenreiter (based in Kassel, Germany), has been supplying high-quality music since the early part of the 20th century; 1927 to be precise. Bärenreiter claims that every publication is closely associated with a range of celebrated musicologists who are at the cutting edge of research relating to several highly important composers. These include WA Mozart, GF Handel, Schütz, Telemann, and Schubert.
For Bärenreiter, they pride themselves on providing critically acclaimed editions of music from these and other leading classical composers, even offering a "seal of quality" that comes from the company's name. Their catalog also represents a significant number of contemporary composers, and their support and interest in current music are well-known.
If the academic rigor with which each of these publishers approaches their work can be considered to be nearly equal, then perhaps it is how the scores are presented that can more easily separate them. G. Henle makes the bold statement that their music engraving (as it is referred to), is the "finest and best engraving in the world".
Music engraving can indeed be a highly specialized profession, although these days many companies provide software that makes the production of extremely high-quality scores considerably less challenging than it would have been even fifty years ago when they were still engraving metal plates by hand.
Still, G Henle is understandably proud of the appearance of their editions and in my experience, their work is a thing of beauty. Besides, G Henle has moved towards a carbon-neutral status that carries great importance in our present environment.
Bärenreiter does not specifically mention music engraving in the same way that G Henle does, but they do directly refer to "excellent layout and high-quality printing". When you look closely at the Bärenreiter publications, these to my eyes certainly equal to those of G Henle, in terms of layout and clarity. Their attention to small but important details, like page turns, seem to be high on their priority list making these scores a pleasure to read and to play from.
Unlike G Henle, Bärenreiter does not appear to have a policy regarding the environmental impact of the use of paper for publications, but I would like to think that this is a factor they consider for their business.
Another 21st-century element to add to the mix is how the music from these two publishers is offered to everyone. We are aware from both publisher's websites, that the paper versions of many scores are available, regularly updated, and improved as research develops, but are they keeping pace with the expectations of the modern musician?
G Henle has its own 'app' that you can download from the Apple Store or on Google Play. From here you can download sheet music, print it, export, and share it. The features do not stop there as once you have the music on your tablet, or computer, you can 'annotate' your purchase as well as options to record and playback. It is an impressive and highly useful option for today's musician and not only saves paper but saves on storage and the inevitable wear and tear to printed music.
In contrast, Bärenreiter has also as they describe it, "gone digital", promoting their own 'app' that seems to be only for the iPad. They are in the process of developing this side of their business and presently offer a smaller selection of works including 'study scores' that G Henle. No doubt they will catch up in due course to include their full catalog. What Bärenreiter does uniquely offer is access to their music encyclopedia that has a formidable reputation amongst the musical community.
Whether you come down on the side of Bärenreiter or G Henle for your scores, you can be sure that there have been many hours of extensive academic work behind each publication. Each publisher has poured their passion into the production of these editions and stakes their longstanding reputations on their publications. Unless you incline to study musicology to the level that the Bärenreiter and G Henle academics have, then it is highly unlikely that you will be disappointed with a purchase from either of them.
Perhaps you may find the appearance of one publisher more appealing and practical than the other, or enjoy the benefits of the digital side of the catalog. Take a good look at what Bärenreiter and G Henle offer, on their websites, and rest assured that whichever piece, study score, or full score you buy, you will have made an informed choice.