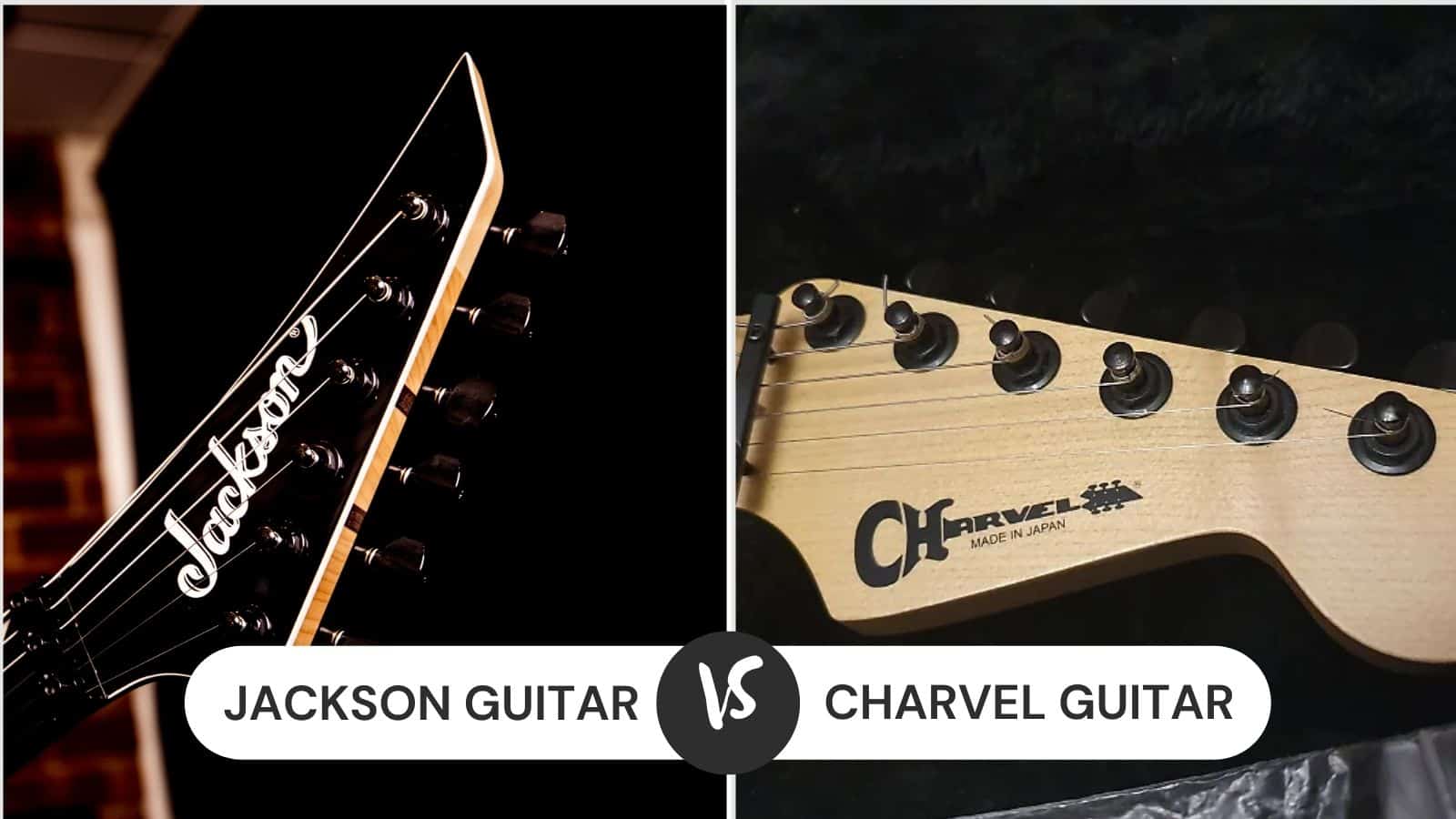 With multiple guitar manufacturers available in the market, it can be confusing for beginner guitarists to pick the right brand. Every brand has specific quality standards and patented technologies and features that put them apart.
Jackson and Charvel are two extremely popular guitar brands but there are some key differences in their designs and quality that customers must know.
Jackson vs Charvel Guitar
| Features | Jackson | Charvel |
| --- | --- | --- |
| Origin | 1980 | |
| Types Of Guitars | Electric guitars, acoustic guitars, and bass guitars | Electric guitars |
| Materials | Rosewood and maple wood | Alder, mahogany, ash wood, poplar, and basswood |
| Pickups | Fishman fluence pickups, Super Strat HSS configuration and HSH pickup configuration | Humbucker pickups and HSH Seymour Duncan pickup |
Jackson
Jackson Guitars was founded by Grover Jackson in 1980 and has become a leading brand with a wide range of electric and acoustic guitars.
In addition, Jackson Guitars guitars are preferred by metal players and other musicians who want to achieve a beautiful sound quality.
1. Design & Construction
Jackson is highly focused on quality, which is why the majority of these guitars are designed with rosewood, and maple wood because these are two high-end wooden materials.
In addition, the company has used the compound neck which allows the guitarists to create loud music with a higher response without disturbing the fretboard's position.
In the majority of cases, the top Jackson guitars are made with a basswood body, which not only adds strength but increases the stability of the guitar, resulting in better performance.
The guitars are designed with a premium resonator that allows the guitarists to create different variations in tunes, so musicians can create unique and new sounds.
Many people think that the guitar range is not diverse but there are enough guitars for beginners (these guitars aren't suitable for professional guitarists).
To keep the costs under control, Jackson has used mediocre material for the guitar top which means it's susceptible to damage if not maintained. In addition, it has standard frets, which means it's enough for beginners to learn guitar.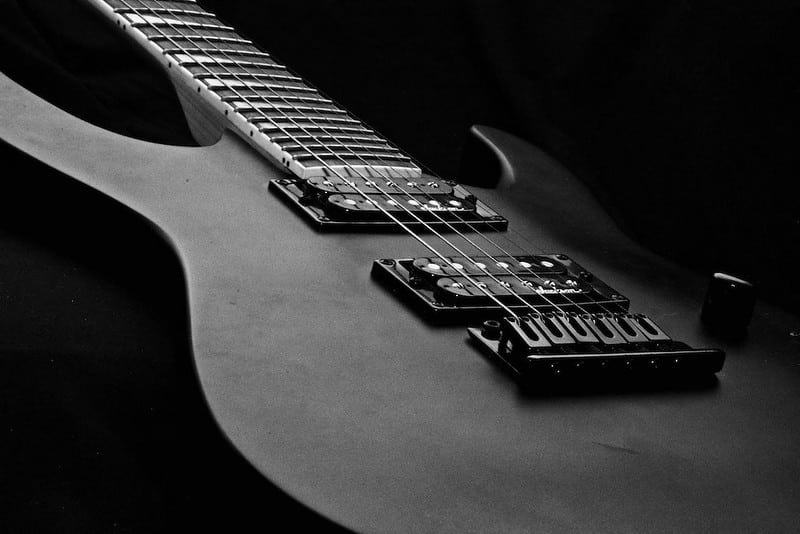 The majority of guitars have a minimum of two humbuckers, resulting in smooth, deep, and thick sound. For this reason, these guitars are suitable if you want to play heavy metal, hard rock, and jazz music.
Also, the guitars with V bodies have better playability since the frets are higher.
2. Common Features
Jackson has used the fishman fluence pickups in the guitars which allow the guitarists to switch between ceramic and alnico magnets, so you can play with different basses.
Some of their guitars have compound-radius fingerboards that ease the playability because the fingerboards flatten out when the neck gets higher.
In addition, the guitars have Floyd Rose tremolo systems, which makes these guitars suitable for guitarists who want to play whammy bars.
The guitars also have an HSH pickup configuration and a single middle coil, which allows the guitarists to improve the tones and pickup volume.
On the other hand, some guitars have Super Strat HSS configuration which helps achieve dark tones and higher output.
3. Popular Jackson Guitar Models
Jackson has a wide range of guitars available but some of them are extremely popular when it comes down to beginner guitarists.
a. Jackson X Series Soloist SL5X
If you are looking for an all-around and durable guitar, this is the best option. The guitar has a maple neck with a slim and sleek design while the gloss finish is available in purple and blue color.
The neck has a graphite component and scarf joints to provide more support. It has a compound radius fingerboard to improve playability.
There are twenty-four jumbo frets and sharkfin inlays that make the guitar suitable for faster runs and wide bends. There is an HSH pickup and a five-way selector switch, so you can create different types of tones.
Lastly, it has a double-locking bridge system that helps add the whammy bar effect to the sound while adding stability.
b. Jackon Dinky JS22 DKA
The guitar is a combination of top-notch playability, strong build quality, and improved tones and is available at an affordable rate.
The guitar has high-output pickups, which makes it a suitable choice for rock and heavy metal music. This guitar is made from arched basswood and maple wood neck, which makes it a lightweight option.
There is a compound-radius fretboard to ease the rhythmic songs and the radius flattens out for better bending. Also, the guitar has jumbo frets and a high-end humbucker that supports aggressive hard rock music.
Lastly, it has a two-point tremolo system to add the whammy bar and dive-bomb effects. All in all, it's a suitable electric guitar for beginners.
Charvel
Charvel is known for electric guitars and was launched by Wayne Charvel in the 1970s. In particular, the first guitar was launched in 1974 and they have some of the best metal guitars with thin necks, punchy pickups, and jumbo frets.
For this reason, Charvel has become a preferred brand among professional metal musicians.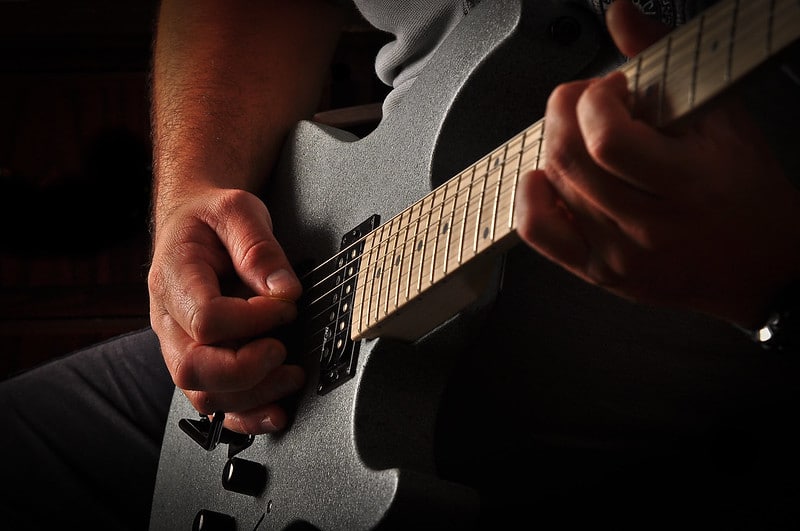 In the beginning, the company used unfinished maple necks and creative graphics on the guitars but it was only till the end of the 1970s.
Now, the guitar designs are cleaner and are made from alder, mahogany, and ash wood. In addition, some of the guitars also use poplar and basswood.
1. Design & Construction
The guitars are known for their contoured bodies and thin necks, which makes them popular among guitarists who like shredding and metal music. These thin necks provide better music action to the guitars, which results in faster playability.
There are jumbo frets in the Charvel guitars, so the guitarists don't feel much of the fretboard.
In addition, the frets help ease the string-bending and you will have more room to maneuver the riffs. There are humbucker pickups designed into the guitars, so the guitarists can increase the gain and volume without any buzz.
The contoured body of these guitars makes the tones more resonant and allows easier access to the guitar's upper frets.
2. Common Features
These guitars are designed with a speedy neck profile which helps with shredding. In addition, the punchy humbucker pickups not only help suppress the background noise but also helps produce a warm yet loud sound.
If you use a Charvel guitar with single coils, these pickups will help create a bright and snappy sound, making them suitable for heavy metal and jazz guitarists.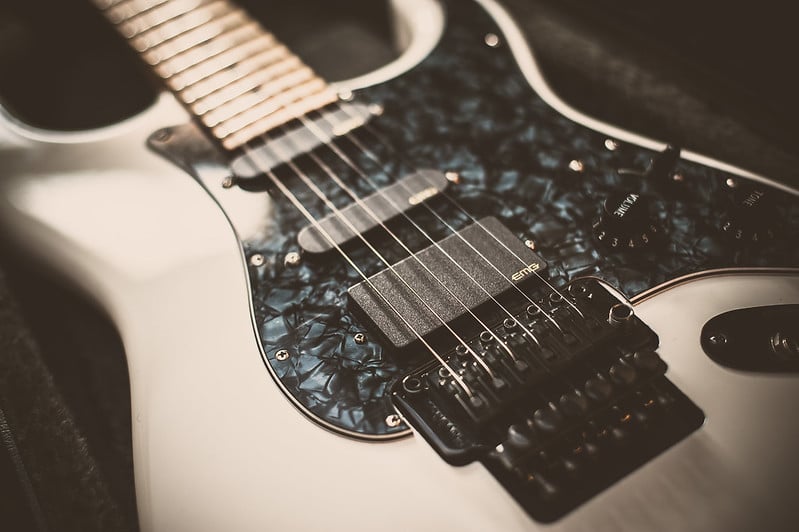 3. Popular Charvel Guitar Models
Charvel has hundreds of guitars available but some of them have become extremely popular among rock and heavy metal guitarists.
a. Charvel Pro-Mod DK24
This guitar was launched as a part of the Pro-Mod series and is the mahogany guitar. It is made with the caramelized mahogany fingerboard which produces amazing sound – the overall look is very natural.
The guitar is suitable for heavy metal and rock music because it has been designed with a tremolo bridge and HSH Seymour Duncan pickup.
The pickup design promises natural sound by providing more headroom and distortion-free saddle pickup.
In addition, with this pickup, you can mix in the middle single coil, which is why it's suitable for shredding. However, this is an expensive guitar.
b. Charvel SoCal SC1-2H
This guitar is from the SoCal series and is an affordable option with valuable features. It is usually compared to the Fender Stratocaster but it is more aggressive.
Given the pair of Seymour Duncan humbuckers, the guitar has faster response and processing. There is a Floyd Rose tremolo that makes the guitar more stable and playable.
For this reason, this guitar is suitable if you like to play fast solos and heavy riffs.
The guitar is integrated with quarter-sawn maple wood and a C shape, which improves shredding and provides better control. It's made from a highly balanced alder body and twenty-two larger frets for better bending of the notes.
The Final Verdict
The Jackson guitars are suitable for beginner guitarists who want to practice their guitar skills since the construction quality isn't top-notch. In particular, the guitar tops aren't very durable.
On the other hand, the Charvel guitars are suitable for professional metal and heavy rock musicians and the quality standards are impeccable.