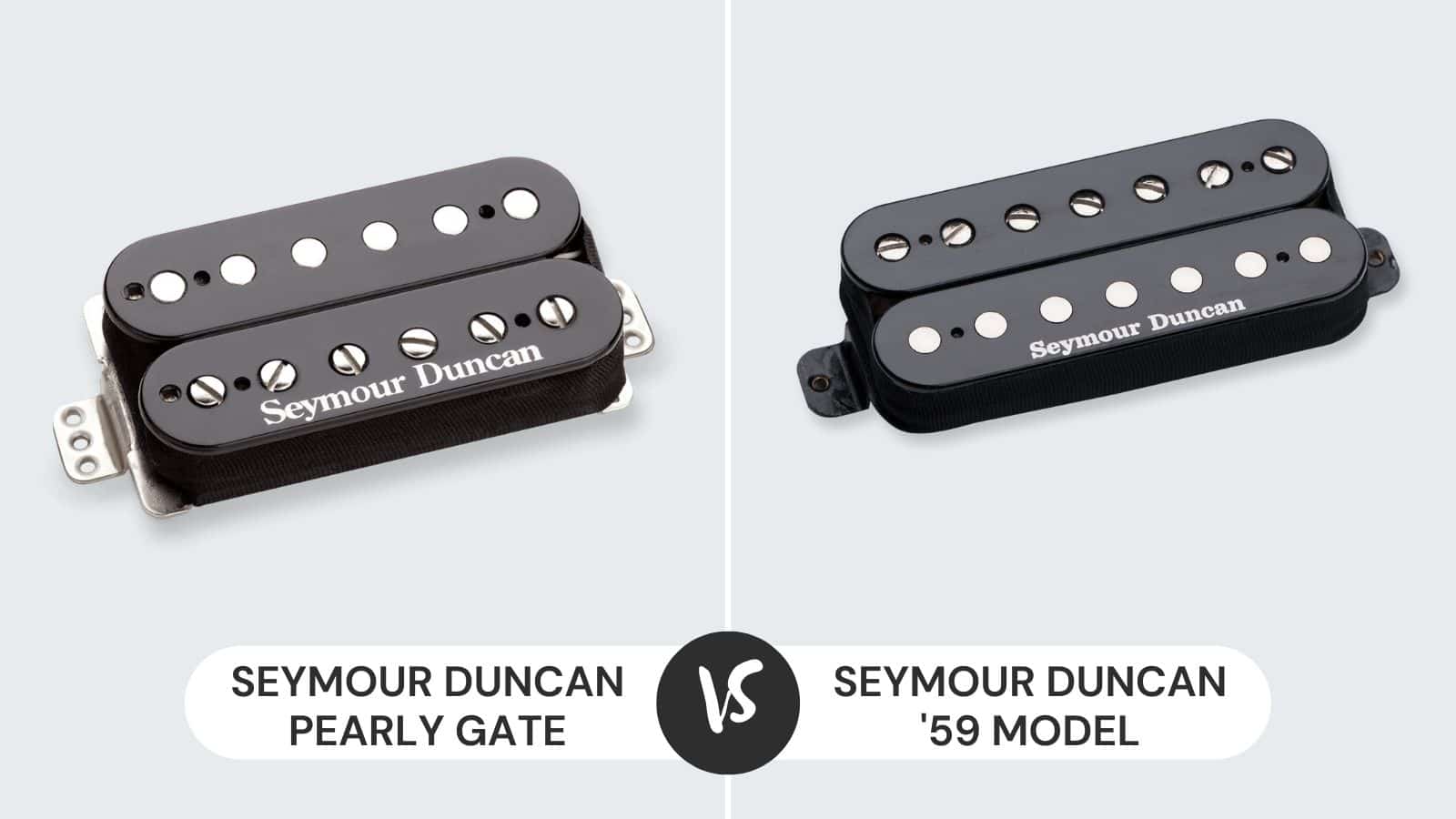 A guitar looks pretty simple by its appearance. You strum its strings with your fingers, and it gives a sound, right? However, there are a lot of components that work together to emit this sound.
A guitar pickup is often called the heart and soul of guitar, and for a good reason. It is a tool that is used to convert string vibrations into electrical signals and is embedded right under the strings of a guitar.
The guitar amp then takes the volume to an audible extent, so it could be heard even in big gigs. Most of these pickups are magnetic, and they come with magnets to convert the string vibrations into electrical signals.
The pole pieces in pickups impact the overall tone of the pickup. So, it is one of the most essential components of a guitar.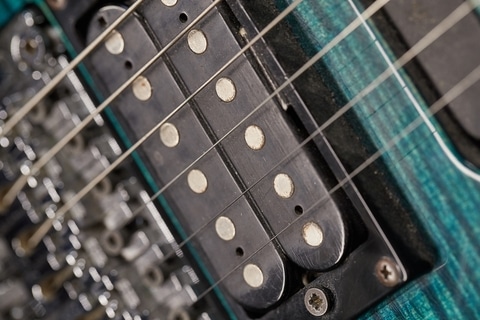 Seymour Duncan is one of the most recognizable names in the music industry. The company is best known for its top-of-the-line guitar pickups. It manufactures a wide range of guitar pickups, and Pearly Gates and 59 Model are two of them.
These pickups are pretty famous and used by thousands of professional guitarists. So, if you are looking for an ideal pickup for your guitar, keep reading as we will be comparing the Seymour Duncan Pearly Gates and 59 guitar pickups hereinafter.
Seymour Duncan Pearly Gates vs 59 Comparison
Below is the comparison between the Seymour Duncan Pearly Gates vs 59 guitar pickups.
| Features | Pearly Gates | '59 Model |
| --- | --- | --- |
| Versatile | Yes | Yes |
| Magnets | Alnico | Alnico |
| Tone | Sweet | Warm |
| Price | High | Moderate |
Pearly Gates
There are many reasons to love the Pearly Gates guitar pickup. If you want the authentic humbucker sound while keeping the output hotter, consider opting for the Pearly Gates pickup. It has been prized by many guitarists, including Heart's Howard Leese and Alman Brother's Dickey Betts.
The Pearly Gates pickup promises a smooth sound. It has more than enough edge to cut through without being harsh at the same time. As a result, you experience a smooth breakup, even while using small amps.
Construction
Talking about the technicalities, the Pearly Gates comes with a four-conductor hookup cable to quickly hook it up to the connection. Its resistance is 7.3k on its neck and 8.35k on its bridge.
Apart from that, the alnico two bar ensures an excellent sound output. The six strings and four conductors also significantly impact its sound quality, and you will experience a great smooth tone.
The Pearly Gates guitar pickup has all those distinctive qualities you expect from a custom-made guitar pickup. It comes with a calibrated alnico magnet that perfectly complements the coil's frequency for even response and standard output.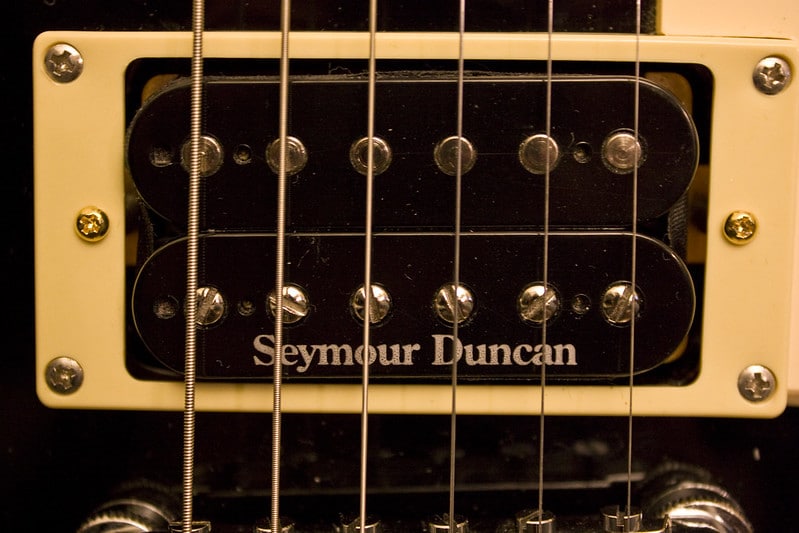 The Pearly Gates guitar pickups tend to be hotter for a normal PAF. However, it is still low output considering the modern standards.
So, they won't push the guitar amp that hard. If you are looking for a heavy tone, you may need some overdrive. The neck pickup has a pronounced midrange, making this pickup a good choice for soloing.
Sound Quality
Now coming to its sound quality, the Pearly Gates have a great vintage humbucker PAF sound with a touch of rudeness. It is a bit warm and thick, but you will still experience a bit of extra treble in a clean setting.
It promises sustainable highs, smooth low end, and a great rhythm tone. However, you may get a slight twang, which could be a problem for some guitarists.
The Pearly Gates can do it all. Whether you are into blues, jazz, or rock, this pickup has got you covered. It has a squishy single-coil sound, which you will find bright and smooth at the same time.
In addition to this, the Pearly Gates guitar pickup could be integrated with the bright-toned musical instruments. It complements many fingerboards, such as ebony and maple ones. When used with guitars with semi-hollow and hollow bodies, it has shown remarkable results.
All in all, the Pearly Gates is sweet but slightly rude, with exceptional sustain and a bright top end that makes harmonics jump out of the guitar.
As far as the price is concerned, the Pearly Gates guitar pickup is slightly pricey. This could be a deal-breaker for you if you are low on the budget. However, its unique features and sound quality mean that the cake is worth the candle.
'59 Model
The '59 Model is one of the oldest humbuckers by Seymour Duncan. It was an instant hit back in the days, and it still enjoys the same popularity. It is a replica of the grand old 1959 PAF and is known for its smooth and warm tone with ample sustain.
Construction
The '59 Model uses similar types of alnico magnets, with a enameled wire along with single-conductor hookup cable, nickel-plated studs, black coil tape, wooden spacer, and other components as the originals.
So, it has pretty much the same design as the first guitar pickup that Seth Lover designed. However, it is pertinent to mention that the company has made subtle changes in the structure to make it more versatile.
If you own an electric guitar and want to experience the vintage sound, look no further! It could be used to play lots of genres, including blues, rock, heavy metal, and a few others. The alnico bar five magnets make it an excellent choice to be used with loud guitar amps.
The '59 Model guitar pickup comes with vacuum vax potting, which is the reason why it is often used with guitars with light strings.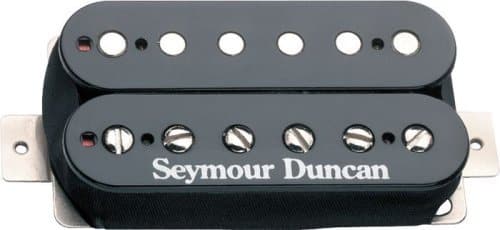 Essentially, it combines vintage tones and bright pop. The sound feels slightly compressed, as we saw in most guitars in the 1950s. It hits the sweet spot by using the old design and featuring modern additions.
Sound Quality
In terms of sound quality, the '59 Model is up there as one of the best guitar pickups in the market. But what is so special about it? Well, it offers a great clean and distorted sound with amazing note separation. The smooth note blending takes it a step further.
Its clean tones are also quite sharp and clean, and you see the humbucker edge even when it's not being driven. All in all, it gives a warm and sweet sound.
Its rich and clear sustain has also impressed many guitarists. As a cherry on the cake, these guitar pickups also offer hum cancellation for a better playing experience.
The Seymour Duncan '59 Model has a single coil mode for clear sound, but you can also opt for the four-conductor option. As for D.C resistance, its resistance is 8.13k ohms, and the resonant peak is up to 6kHz.
Final Verdict
The Pearly Gates and '59 Model are the two widely used guitar pickups. Although they are manufactured by Seymour Duncan, they have different features and sound quality. While the Pearly Gates gives a sweet sound, the '59 Model is liked for its warm sound.
However, the noise cancellation, low price, and vacuum vax potting of the '59 Model give it a clear edge over Pearly Gates. Both are pretty versatile, and in the end, it all comes down to your liking.