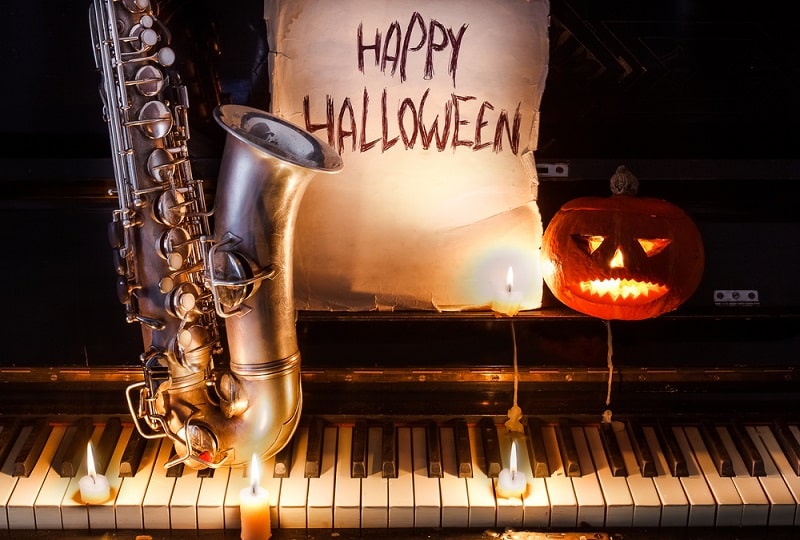 It's that time of the year again, when people, regardless of their religious beliefs, gather to celebrate the deceased. So, whether you have to come up with a playlist to enliven a ghoulish soiree or simply want to read a good old Gothic novel by yourself, here are ten tracks to set the right mood. Die-hard fans of the Dies Irae will be pleased too.
Halloween Classical Music
1. Rachmaninoff, Piano Concerto n. 2, Mvt 1

Why didn't you choose The Isle of Dead, you may ask. True, the second piano concerto by Sergei Rachmaninoff usually makes us think of passion and seduction—the movies where it was used as soundtrack might have influenced us that way. However, the bell-like tollings that open the first movement, followed by oscillating arpeggios create an agitated and unstable atmosphere.
2. Verdi, Dies Irae

"An opera in ecclesial robes" was how critics tried to dismiss Verdi's Requiem, as they perceived it as too operatic for the subject matter. Surely, the vigorous rhythms and the contrasts create some veritably terrifying sequences! Other than the famous dies irae theme, Tuba Mirum has trumpets surrounding the stage to produce a call to judgement, while the Rex tremendae conjures an oppressive atmosphere.
3. Saint Saëns, Danse Macabre

This tone poem is actually set on Halloween, when Death summons the dead from their graves so they can dance for him while he plays his violin until dawn breaks and they have to return to their graves. While the solo violin represents Death and his ability as a fiddler, the xylophone tries to render the sound of rattling bones. At midpoint, you can actually discern a quotation of the Dies Irae. Liszt, Ernest Guiraud and Horowitz provided a piano transcription for the piece.
4. Berlioz, Dream of a Witches' Sabbath

In the final movement of Berlioz's Symphonie Fantastique–which, by the way, was featured in The Shining— the artist's persona sees himself at a witches sabbath, where monsters, sorcerers and shades had gathered for his funeral. A grotesque dance tune representing the witches' round dance alternates with a parody quotation from the Dies Irae.
5. Bach, Toccata and Fugue in D Minor

The single voice flourish that opens the toccata section creates an impending sense of doom, and, in film, it was generally used to illustrate horror and villainy: the 1931 film Dr Jekyll and Mr Hyde and the 1962 adaptation of Phantom of the Opera both featured this composition.
6. Brahms, Tragic Overture

This concert overture has been named "Tragische" for a reason: Brahms chose the title in order to emphasize the tormented character of the piece, which contrasts with the bubbly companion piece that he wrote the same year. "One laughs and the other cries" was how he ultimately summed up the two pieces.
7. Tchaikovsky, Marche Slave

With this march, Tchaikovsky intended to portray the oppression suffered by the Serbs at the hands of the Turks. The folk-like motive that opens the march is played in a funeral march-like tempo, and the crescendo vividly depicts the Serbs' cry of despair.
8. Liszt, Totentanz

I have to admit that Liszt's Totentanz reminds me of John Williams's Darth Vader's theme. Young Franz Liszt was obsessed with death and went so far as to visit prison dungeons to take a look at those sentenced to death. His Totentanz draws from Gregorian material, and, for this reason, Medieval-sounding passages abound. The piano piece is recognizable for its percussive nature, and toccata-like sections make this work astoundingly modern, despite its Medieval origins.
9. Schoenberg, Erwartung

Atonal music can terrify people per se, but even the most atonal-music friendly people will find Erwartung, an extended monologue for Solo soprano, deeply unsettling: it features a woman wandering through the woods at night searching for her lover. At some point, she mistakes a tree trunk for him and unleashes a series of fears and emotion. Eventually, she also discovers the real body.
10. Bartok, Music for Strings, Percussions and Celesta

Scored for strings, percussions and celesta, this four-movement piece has a slow-fast-slow-fast structure and each movement is written without key signature and with no definite time signature; it contains both the element of Bartók's Night Music and a traditional folk dance at the end. The third movement might sound familiar to you: Kubrick used it as a soundtrack to The Shining.