Camille Saint-Saëns' Danse Macabre, Op. 40, was composed in 1874 as an orchestral tone poem based on a French legend about Death appearing every Halloween at midnight. As he plays his fiddle, the skeletons rise from their graves and dance until dawn, returning to their graves when the rooster crows. Death's appearance is heard as a solo violin playing tritones.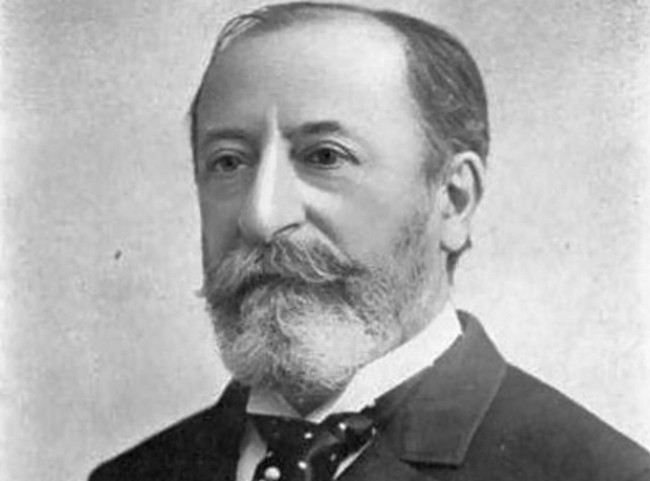 The idea of a Danse Macabre is more than a legend. Danse Macabre, or Dance of Death, is an allegory that has been around since the 13th century to illustrate that regardless of one's station in life, death is universal and inevitable. It has been depicted in paintings, frescoes, plays and musical settings. It gained prominence in Europe following major events in the 14th century such as famine, war, and the Black Death.
The use of tritones to represent death or the devil is also rooted in history. Musically, a tritone is three consecutive whole tones, making it an augmented fourth or diminished fifth. During the Middle Ages, it was called the diabolus in musica, or "the Devil in music." The sound is dissonant, leaving the listener with a sense of it being unfinished, needing resolution.
Saint-Saëns' first version of his Danse Macabre was composed in 1872 as an art song for voice and piano. The text by poet and doctor Henri Cazalis followed the legend. Saint-Saëns reworked the piece for orchestra, with solo violin replacing the vocal line. The music gets faster and faster as the skeletons dance at a frenzied pace but when dawn arrives, everything suddenly slows to a stop for another year.
When the orchestral version was first premiered in 1875, it did not receive good reviews. It was soon transcribed for piano by Franz Liszt, who was a friend of Saint-Saëns. From that, it steadily gained popularity. The work has been performed in concerts throughout the world in various ways from the full orchestral score to piano solos, choreographed for dance performances, and used in film and television programs.
Saint-Saëns (1835-1921) was born in Paris and started piano lessons before he was three years old and began formal training in composition at the age of seven. He was accepted at the Paris Conservatory in 1848 to study composition and organ. By his early 20s, he had the respect of major composers of that time, such as Berlioz, Gounod, and Liszt. He served as organist in various churches for 23 years. As a composer, he was equally versed in opera, symphonies, organ and choral music, chamber music, piano solos and concertos.
Besides Danse macabre, two other works that are particularly popular are the opera, Samson et Dalila (1878) and his suite for chamber music, The Carnival of the Animals (1886). It was also in the year 1878 that he suffered great personal tragedy with the death of his two infant sons dying six weeks apart. His marriage ended a few years later and he traveled to Africa, composing some works inspired by his trip.
By the 1890s, Saint-Saëns was regarded throughout the United States and England as the greatest French composer alive. He had French and British honors as well as honorary doctorates from Cambridge and Oxford. In 1915, he gave a highly successful concert tour in the U.S. His last piano concert was in Paris in 1921 at the age of 86 before going to his winter home in Algeria.
He died one month later from a heart attack.
His Danse macabre is a work that is ripe for ghosts, goblins, and other spooky things.