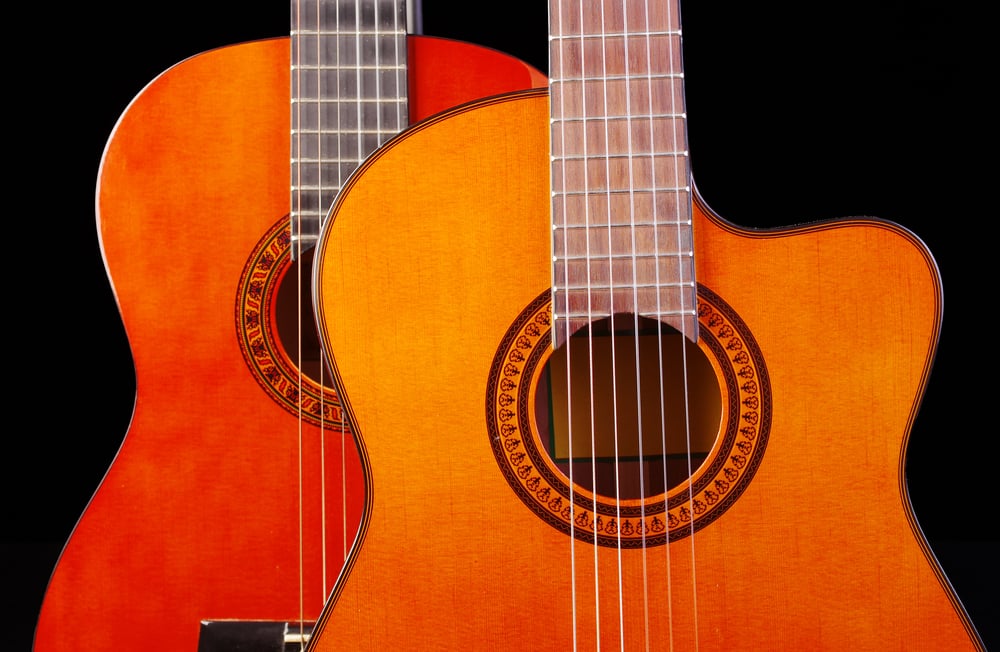 If you have just started playing the guitar, we are sure that you are overwhelmed right now. This is because there is so much to think about, such as which chords are important, which strings should be strummed, and more Similarly, beginner guitarists need to think about the guitar's neck and shape because you have to choose between Folk vs Dreadnought guitars. With this post, we are sharing the differences between the two.
Folk vs Dreadnought Comparison
Folk Guitar
The folk guitar is one of the most popular guitar styles out there, and it is known for the measurements and design similar to classical guitars. The folk guitar is likely to be small and has more significant curves, which also plays an important part in creating balanced and well-toned sounds. This is the primary reason that fingerstyle guitarists like folk guitars.
In addition to this, the folk guitar is a fine choice if you want to strum it like the regular acoustic guitars. For the most part, the folk guitars are popular for the folk and softer sound quality, which is another reason these guitars have thinner strings. As we have already mentioned, folk guitars are smaller as compared to acoustic and dreadnought guitars, which is why the sound emission could be limited.
As a result, the listeners receive the gentle and folk music feeling. These guitars are perfect for creating intimate sound with the help of fingerpicking and can be strummed to create luscious tones. The best part about using folk guitar is that it is equally suitable for strumming and fingerpicking. The folk guitar has a rich bass, shiny coating on the top, and has a balanced midsection.
All these design factors of the folk guitar make it a primary choice for people who want to create folk music. As far as the appearance is concerned, these guitars have the 000 size, which is not only suitable for different playing styles but is also portable, so you can take it around easily. Also, in these guitars, the strings are connected to the tuning machines, and steel strings are usually used to create bright sound.
Dreadnought Guitar
Dreadnought guitar is another famous style of guitar available in the market, and it is widely preferred by people who are just getting started with guitar. This style of guitar was first proposed by the C.F. Martin Company back in the year 1916. These guitars are known for their bolder and larger design, and we don't mind saying that you can get the idea about the sturdiness from the name.
For the most part, dreadnought guitar gained more popularity among acoustic guitarists. On top of everything, these guitars are known as some of the best acoustic guitars out there. These guitars are suitable for playing different styles of music, including bluegrass, rock, blues, and country. It promises powerful and loud music which makes it possible to compete with electric bands without extra support.
However, some people do struggle with the projection, especially because of the big size. The dreadnought guitars can create sharp mids and lows for a seamless sound experience. The dreadnought guitar can create huge highs and chords, especially with bluegrass music. These guitars have a broad waist, deeper body, and narrow upper bout, which gives them a distinct shape.
However, it also has a square-like design on the bottom and shoulders. For this reason, one needs to be big enough to handle these guitars as it's not easy for the smaller people to use these guitars. Still, it's safe to say that dreadnought guitars have an iconic shape. These guitars are designed and manufactured to maximize sound, volume, and projection.
In addition, it has subtle curves which manage to deliver deep, complete, and bold tones. Also, this design makes them suitable for strumming and finger playing. On a concluding note, these guitars are better for songwriters and singers or anyone else who is trying to create complete sound and bold low end. With all these factors, which guitar do you like more than complies with your convenience and sound quality?