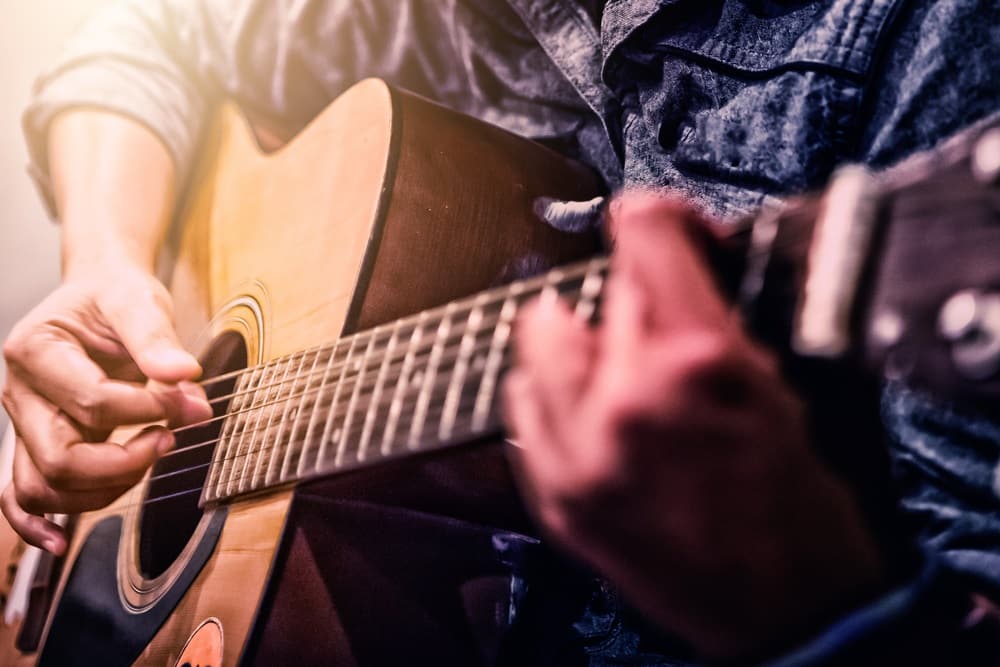 Music is our favorite and it wouldn't be wrong to say that people have been seeing the guitar as the portrayal of "coolness." With this being said, we are pretty sure that you've always people with guitars more appealing; so, why not learn how to play acoustic guitar on your own.
DISCLOSURE: This post may contain affiliate links, meaning when you click the links and make a purchase, we receive a commission.
Many people are interested in playing acoustic guitar but they don't know where to start. For this purpose, we have lined out this article as we have added 6 best ways to learn acoustic guitar. Are you ready?
Best Ways To Learn Acoustic Guitar
1. Online Acoustic Guitar Lessons
The traditional music lessons aren't a cup of tea for everyone because people cannot always go to the coaching center. That's when the online acoustic guitar lessons come into play and help you out. Consequently, there are a variety of ways through which you can learn acoustic guitar online but our top pick is the online music learning websites.
Online learning websites are designed to meet the diverse needs of music enthusiasts. As you are finding the online learning websites, don't forget to try out ArtistWorks as it's the top-notch choice!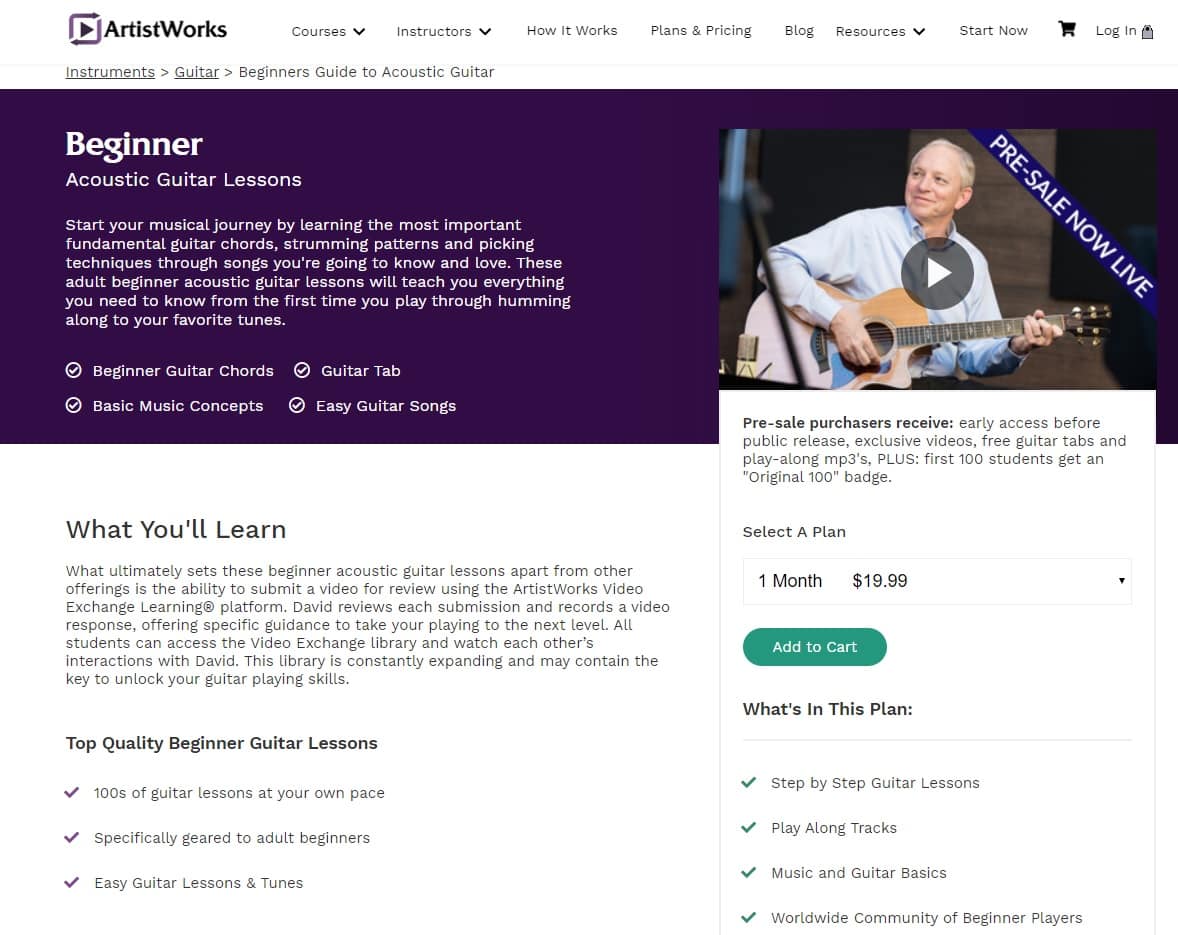 When it comes down to the online music learning websites, checking our ArtistWorks should be your first priority. They have come up with this beginner course with David Butler. The acoustic guitar lessons are designed to help you learn the guitar chords and harness the strumming patterns. In addition, you will be able to learn how the picking techniques work.
The course is designed to teach you how picking and strumming change with the songs. There are special beginner guitar chords in the course, along with the basic music concepts, so you can learn the beginner techniques. Also, it has a guitar tab that will teach you how to read music as it positively influences music learning.
This course not only teaches the humming techniques but also shares information about the different guitar songs. The course will offer access to the video exchange library, so the students can submit the recorded videos. Consequently, David Butler will share the feedback by watching your videos, so you can improve your skills. Also, you can access the videos for in-depth learning.
This course is designed by David Butler who is also the co-founder of ArtistWorks. He has been a lifelong guitarist. He has sharp skills in 60s music and has been influenced by different musicians. With this being said, he has mastered various acoustic guitar techniques, such as fingerstyle and pick style. He studied computer engineering as well and practiced it for ten years before switching to the music field.
He has also won three different US patents. He is responsible for sharing the step-by-step guide on acoustic guitar playing. Other than this course, he also teaches advanced guitarists. The course will also teach skills tot eh advanced players, without compromising on the ease of tunes. With this course, you can also learn about the chords and how you can tune them.
The course has been designed to share different notes and how to combine them. The course also has nine sections to teach various techniques. In addition, the course provides learning tips, along with the basics of acoustic guitar. Lastly, you will learn about music theory for better learning.
2. Apps
When it comes down to acoustic guitars, one needs to learn the chords and strums to meet the needs of different tunes. With this being said, you can use the music learning apps. There are some generic apps while some apps are focused on teaching the acoustic guitar only. These apps can be found on Google Play Store and Apple App Store.
The apps are designed to offer convenient learning for people interested in acoustic guitar. Usually, the apps are designed with the illustration of acoustic guitar, so you can strum different chords and see how it makes the music. In addition, there are special instructions that work on a step-by-step basis. Also, keep in mind that free apps are only suitable for beginners because it teaches basic techniques.
On the other hand, if you opt for the paid apps, you will be able to learn the advanced techniques that are more focused on the acoustic guitar rather than generic information. So, choose the apps wisely!
3. Private Tutor
When it comes down to learning acoustic guitars, you can never go wrong with private tutors. These private tutors usually offer in-person lectures. With this being said, you can hire a private guitar teacher by searching in closer proximity. In addition, you can find the private teacher online through LinkedIn, so you know that you are choosing the professional person out there.
As far as the private tutors are concerned, we suggest that you mutually decide the calm place for practicing and learning. In addition, you need to keep in mind that private tutors will be expensive because they are simply giving two straight hours to you. The best thing about private tutors is that they will focus on little details, so you can learn the in-depth techniques.
4. Groups
For everyone who cannot study alone, we are pretty sure that you wouldn't be able to learn acoustic guitar with a private teacher. With this being said, we suggest that you opt for the guitarist groups because it comprises multiple people learning the skills with each other. Also, you need to understand that group people will have small secret tips that will greatly impact the music playing outcome.
These groups usually play acoustic guitar in parks and host regular events. You can search for such events on Facebook and join them if you have the time. consequently, some groups are paid while some people are simply working together for the betterment of the music community. The bottom line is that acoustic guitar groups are the influential method of learning the skills and techniques.
5. Workshops
In case you couldn't find the right acoustic guitar groups in close proximity, we suggest that you look for the workshops. These workshops are usually held by full-fledged music schools. Usually, these workshops will be reasonably-priced and are designed on a one- or two-days basis. With this being said, you can join these workshops and learn the basic techniques.
the acoustic guitar workshops are conducted with the professional player in charge, so you don't have to worry about the authenticity of the workshops. In the same way, we suggest that you run the background check before paying for the workshop ticket.
6. YouTube
For everyone who wants to learn how to play acoustic guitar through videos but doesn't want to pay for them, we suggest opting for YouTube. This is because YouTube is fine for beginner guitarists if they want to learn the basic concepts. However, the lesson videos on YouTube are not designed according to your skills, so you will need to improvise. Above all, we suggest that you find out the relevant videos first and make a playlist, so you can learn how to play an acoustic guitar without any interruption.
The Bottom Line
The acoustic guitar is one of the most amazing musical instruments out there. This is the prime reason that people are so enthusiastic about it. You can choose the desired ways to learn acoustic guitar in this article and kickstart the guitarist experience!