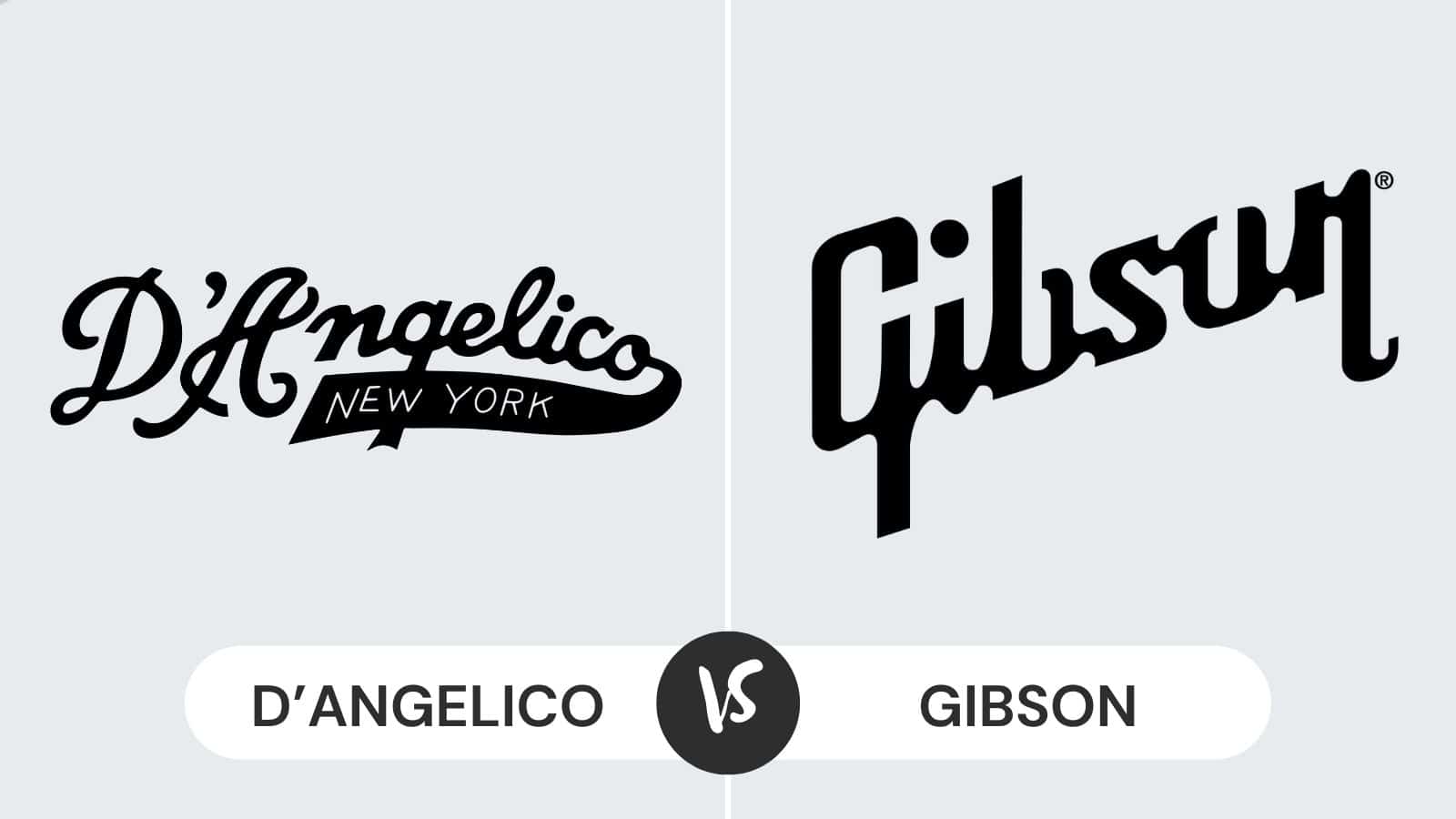 Guitar brands have always been a big thing to consider for guitarists who are looking to make it big and want more than the ordinary.
Guitar brands do carry a heritage to their name and essentially a design philosophy as well that is loved by the artists and brand loyalty is different with guitars and musical instruments that you might find on some other purchases you might have made.
But with so many different guitar brands out there in the market, it can be a bit difficult to choose the right one for your needs.
There are many popular brands that you should know about, several of which are used by some of the biggest names in the industry.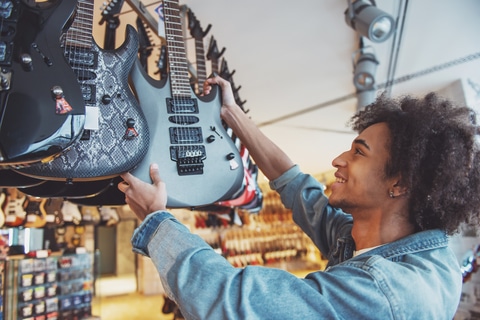 D'Angelico and Gibson are two such popular American Guitar manufacturers that are highly sought-after and sometimes might even be compared as competitors to one another.
That makes the decision a bit difficult for you if you are looking to pick a guitar model for yourself. If you want to know the difference between both these brands to choose the best option for yourself, here are a few things that you will need to know about.
Comparing D'angelico vs Gibson Guitar
| Features | Gibson | D'angelico |
| --- | --- | --- |
| Guitar varieties | Acoustics, semi-acoustics, electric | Acoustics, semi-acoustics, electric |
| Formed in | 1902 | 1932 |
| Price point | $1,000-$6,000 | $1,000 - $3,000 |
D'Angelico Guitar
D'Angelico Guitars is an American musical instrument manufacturer. They are based out of Manhattan, New York, and was founded back in 1932.
With close to a century of experience that you can get the advantage of with choosing D'Angelico guitars, you will certainly be getting a lot of bang for your buck.
D'Angelico guitars are manufacturing some of the best guitars with hollow bodies, semi-hollows, solid bodies, and acoustic guitars for you to choose from and if you know a thing or two about musical instruments, you probably know that the company makes some of the finest guitars in the industry.
D'Angelico guitars are certainly the best ones out there in terms of design aesthetics and philosophy, but there are a few features that set it apart from the rest of the offerings on the market.
Variety
There are different series of single-cut and double-cut guitars with multiple design aesthetics that are certainly loved and adored by a wide range of audiences.
The durability is certainly never a point of concern for you if you go with the D'Angelico guitars since all the guitars are locally made and parts are sourced to ensure the high standard of quality as well.
However, there is a lot more that you will need to know about the D'Angelico guitars and the specific model that you might be considering.
Yes, they are certainly a lot less expensive than most of the other options out there, and if you don't require some extensively performance-oriented features, they might just be the right pick for you for any of the performances you might be planning.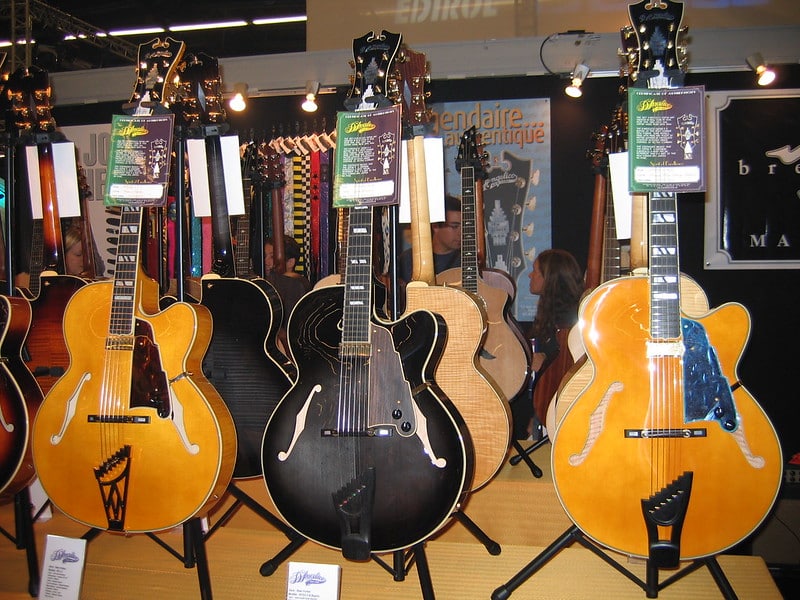 One of the things that you should know about D'Angelico Guitars is that they aren't generally suitable for playing rock music, for instance.
Or, you can't expect to rock out a Metallica tune on a D'Angelico. While the humbucking pickups are quite versatile, these guitars are made from playing different kinds of music.
You can get guitars with semi-hollow bodies, or you can get a solid-body electric that looks like a Les Paul too.
In terms of design aesthetics, D'Angelico guitars have a slightly rounded headstock, with the iconic design language that you'd expect from a middle-end guitar line.
Design and Style
Their pick guards are also more unique when compared with Gibson, extending to either side of the bridge. More importantly, you can get guitars that come with a tremolo, such as the Deluxe Bob Weir Bedford, or go with a standard, fixed bridge.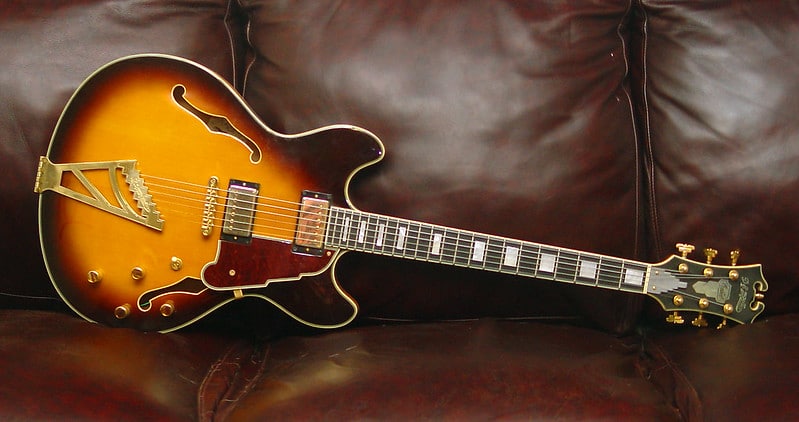 Their acoustic guitars are pretty decent, starting from $999 for models like the Excel Lexington.
These guitars are made from good quality wood, and are generally marketed towards people who are looking for something that's a cut above the rest of the competition.
If you're interested in playing some jazz or soft rock, many of D'Angelico's F-cut guitars would be right for you.
The company is actually known for their semi-hollow guitars, so if you like playing some funk or jazz music, you can't go wrong with a D'Angelico.
Material Choices
D'Angelico doesn't offer as much material options as Gibson does, and that's simply due to the fact that the company is focusing on a niche market, unlike Gibson, which caters to virtually all classes of guitarists.
For starters, you'd be hard-pressed to find a D'Angelico with a maple fretboard. They primarily manufacture guitars with rosewood fretboards and conventional ivory inlays.
While most of their guitars have humbucking pickups, you can also get a few that come with a SSH formation, which include two single-coil pickups, one in at the neck and the center, and the bridge pick is a humbucker.
This gives the guitar more versatility and flexibility, allowing you to tap into different musical genres as well. All in all, this is a great choice for people who are looking for a high-end, good-quality instrument that's made from decent materials.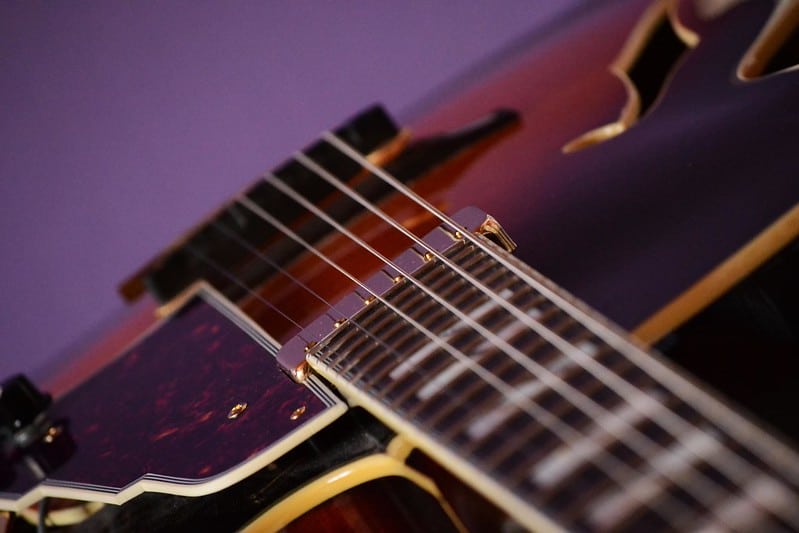 Gibson Guitar
Gibson Brands, Inc. is another American guitar manufacturer that does not only specializes in guitar but has certain other musical instruments down their inventory as well that are highly popular and are renowned for their attention to detail.
Gibson is based out of Nashville, TN but certainly, the guitars are popular all across the world especially in America.
The company was founded back in 1902 and ever since then, they have managed to deliver excellence and musical instruments that are highly sought-after due to their utility, performance, and a wide range of features that you can get on them.
Of course, the design philosophy of Gibson guitars is certainly unique. Since some of the most popular artists have been using Gibson guitars in their performances, it has managed to become the inspiration for many newcomers in the musical world.
As opposed to D'Angelico the variety of choices that you will be getting in terms of models, features, design, and guitar types is pretty much unlimited.
Iconic Guitar Shape
You will never have to look for some other brand if you are looking for certain features or guitar shape.
The signature design philosophy of Gibson Guitars makes it the right choice for most of those guitarists out there who are playing the Gibson guitar for some cultural music options.
With the wide inventory, you will also get to enjoy the best possible support services as well.
Gibson's guitar lineup is one of the best in the industry. The company is renowned for their iconic Les Paul line, which is one of the most widely copied guitar shapes in the world. However, Gibson's legacy extends far beyond the success of its Les Paul lineup.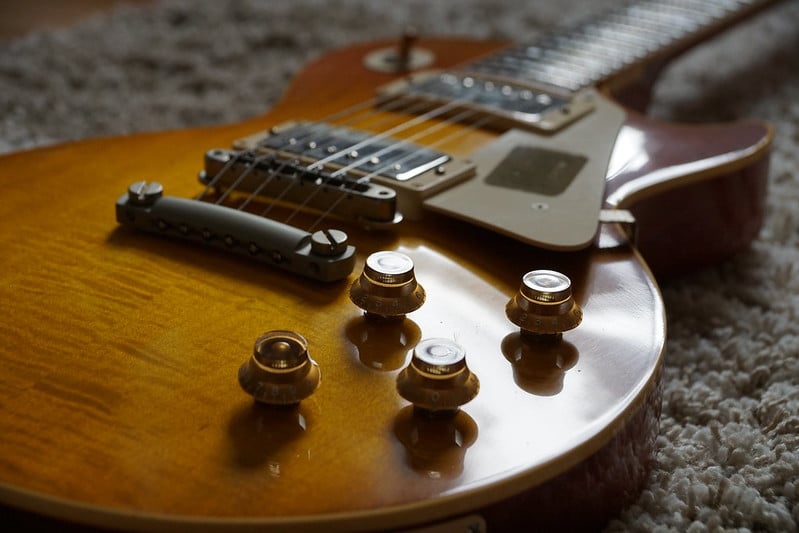 For starters, the company's other guitars, like the Gibson SG, are also incredibly popular. Used by guitarists from popular bands like Led Zeppelin and AC/DC, Gibson is a fantastic guitar to buy.
Gibson's known for its unique humbucking setup, which produces rich tones and offers greater versatility.
On top of that, the company also offers a wide range of acoustic guitars. They even have a cheaper lineup from a different brand known as Epiphone.
Variety
Gibson also offers semi-hollow guitars, with their ES-335 being one of the most iconic guitars of all time.
Played by BB King, the guitar is now known as Lucille and is widely preferred by professionals who want an instrument that's going to last them for ages and is going to perform exceptionally well.
When it comes to tone, there's hardly a better pick than a Gibson, and that's saying something. Gibson guitars are known for producing rich, deep tones that have now become the signature sound for many acclaimed musicians.
The Verdict – Which One Wins?
If you're thinking of picking up a new guitar and have the money to spend, you can't go wrong with a Gibson. They have some of the most amazing guitars available in the world today, but the only downside is that they are quite expensive.
A top of the line Les Paul can cost you upwards of $5,000, which is obviously not everyone's cup of tea. However, if you want something at a more affordable price point, then you may want to consider going with a D'Angelico.
These are better-priced than Gibson, but they do a fine job of producing a good sound. If money's an object, then D'Angelico is an excellent choice.