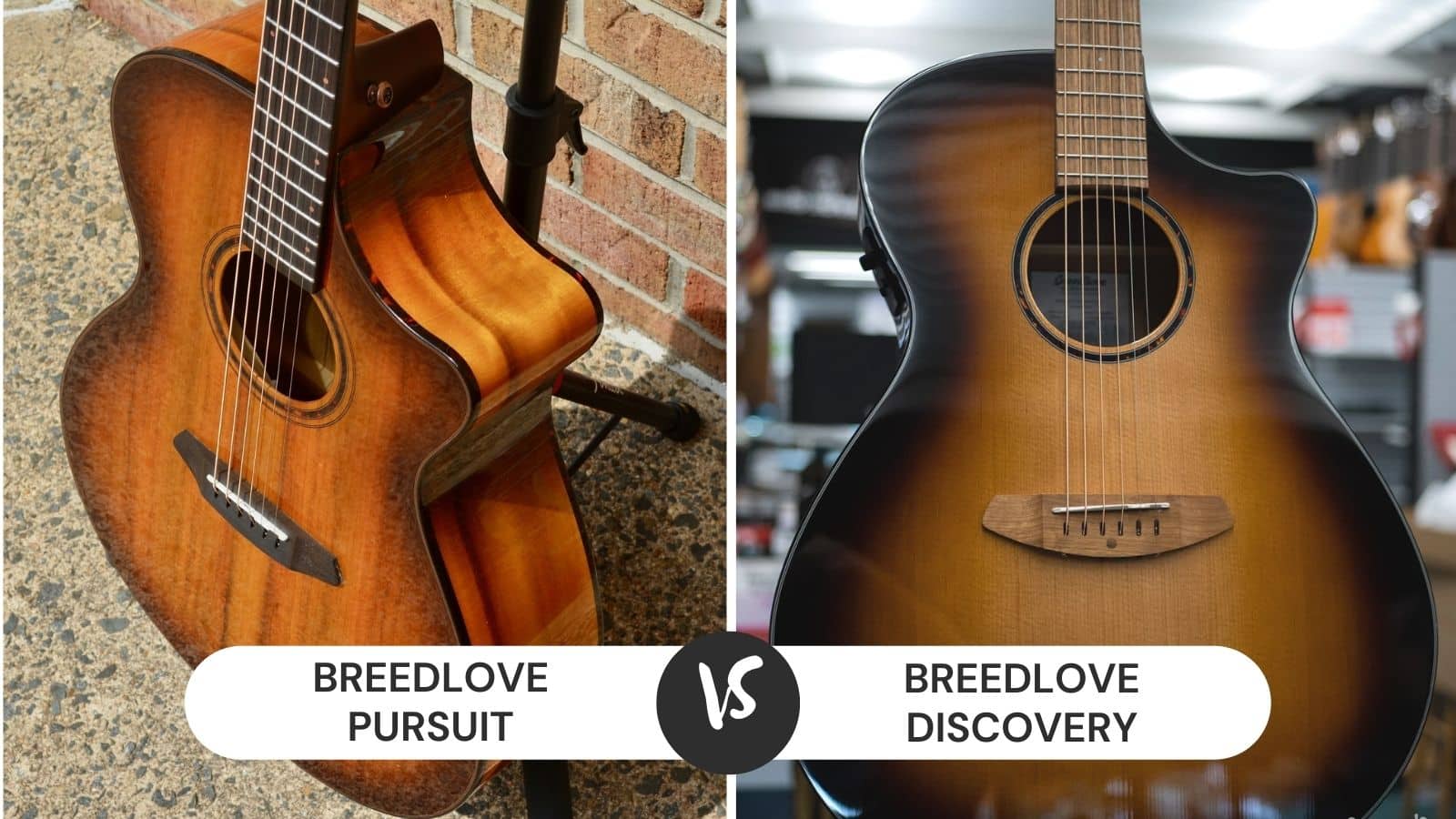 Breedlove is one of the top American brands that manufactures acoustic musical instruments. If you are looking for a guitar that has an amazing design and is highly durable then you should definitely get your hands on a Breedlove guitar.
Acoustic guitars are great for beginners or professional musicians. No matter where you are in your career as a guitarist, you can always enjoy a great quality acoustic guitar.
This brand manufactures other kinds of instruments too but their acoustic guitars are quite popular. They have a wide variety to offer in this particular category alone, so you have way too many options to choose from.
If you enjoy playing guitar then playing a Breedlove instrument should be on your to-do list.
Breedlove Discovery and Pursuit are two variants from this brand that have gone viral over the years. They both give a great output and an amazing overall experience to the guitarist.
However, if you have to choose any one among these two then you need to read ahead to find out the details of these two guitars.
To make an informed decision you have to weigh out the pros and cons of both the options so that you spend your money in the right place.
Breedlove Pursuit vs Discovery Comparison
| Features | Pursuit | Discovery |
| --- | --- | --- |
| Price | $539 | $329 |
| Neck | Slim | Slim |
| Build | Medium | Small |
| Fretboard | East Indian Rosewood | Indonesian Rosewood |
Breedlove Pursuit
This is not your typical classical guitar. However, it does give you that conventional classical guitar output. If you find a guitar at an affordable price point, you might wonder at the back of your mind if it is a reliable instrument or not.
With Breedlove Pursuit, you have no such worries. It does provide the perfect classical sound output at an amazing price.
Design
It is a sleek and smart instrument that comes with no extra trimmings. The design is quite standard and basic but the music output is great so you get a good deal.
The fretboard is made up of East Indian Rosewood. It has tuners that are made up of chrome die-cast in a 15:1 ratio. The Breedlove Pursuit has the perfect concert-type body and a mahogany neck.
The top of the guitar is made up of solid cedar and has a glossy finish. With mahogany back and sides you get a sturdy guitar that can beat many other alternatives in terms of design and music output.
The perfect combination of cedar and mahogany goes along perfectly with its ISYS electronic system. This system amplifies the sound while keeping the effect quite close to natural. The 20 frets on this guitar give great playability.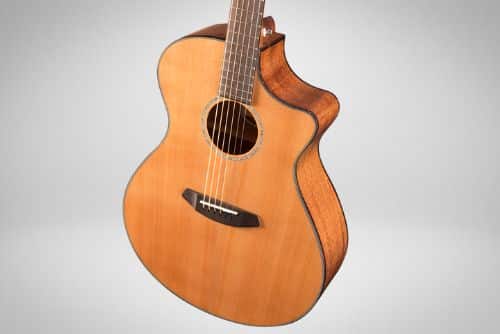 Sound
The sound created by Breedlove Pursuit can be best described as earthy, mature and warm toned. The tonewood combination on this guitar helps it to create amazing music.
When you use this instrument, you will get a proper response even on all the lows along with the mids and highs.
It has a slim neck which allows guitarists to play for a long time without hurting their necks. People with small hands appreciate this feature because they can move their hands easily and quickly over this instrument.
It has a Pin-less bridge which means that there is no concern about breaking or losing the pins.
Breedlove Discovery
The first major difference that you will notice between the Discovery and Pursuit guitars is that the former has a vintage finish with a two-toned paint.
This guitar is the perfect combination of modern technology and traditional craftsmanship.
Breedlove Discovery is a guitar from a budget line but it manages to prove its capability despite the incredibly affordable price point.
The smaller body size, gloss finish and tonewood combined with a x-bracing that is forward shifted scalloped, gives out a unique tone that is refined, balanced and powerful enough to suit different genres.
Design
It has laminated mahogany sides and back, Ovangkol bridge and fingerboard, Nato neck and a Sitka Spruce top.
Even if someone were to cover your eyes and allow you to touch a Discovery guitar, you will know that it has been made by Breedlove. It has been crafted in a typical fashion that this brand is famous for.
The Discovery is a beautiful instrument that looks better than any other guitar lower than a $300 price point.
You get a great quality build plus top-notch playability. It is a good choice for beginners and any professional who just wants to try out something different.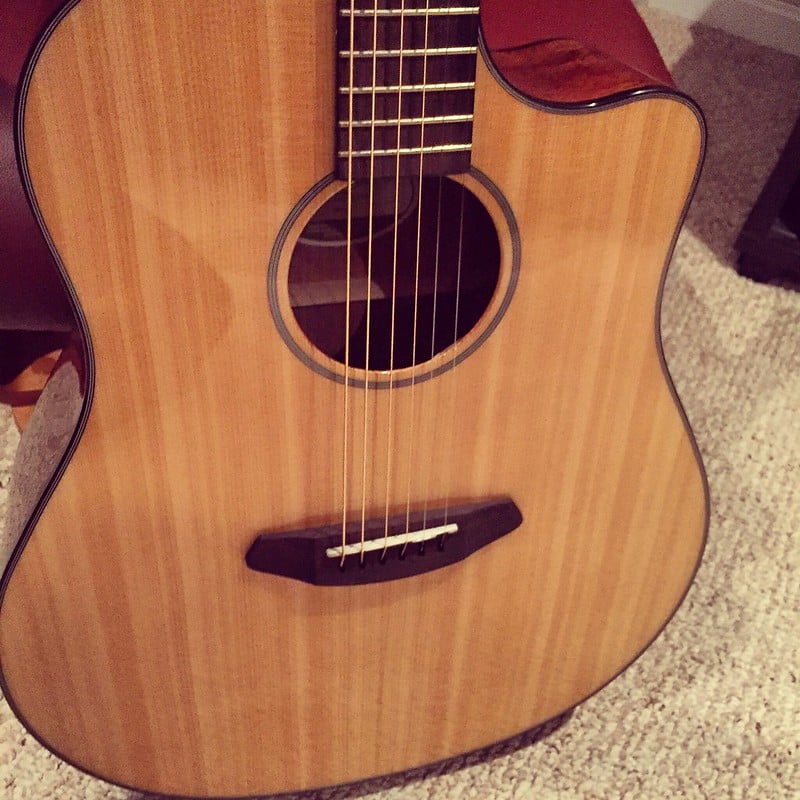 The Bottom Line
If you are someone who is a beginner then the Discovery is a perfect instrument for you due to its smaller body.
Since a beginner is still learning and trying to get used to running his or her hands all over the guitar, a smaller build is perfect to get the best out of your experience.
Due to the affordable price point of both the guitars, it is difficult to pick any one based on just the price alone. If you love a more traditional and old-school look then the Discovery is for you. The Pursuit has a bit of a modern look to it.
You need to give both of them a try to decide on any one option. Since both instruments are so similar, it will be a good plus point if you can find someone who has a Pursuit or Discovery guitar that you can try out first.
Otherwise just go with your gut based on the features mentioned above.