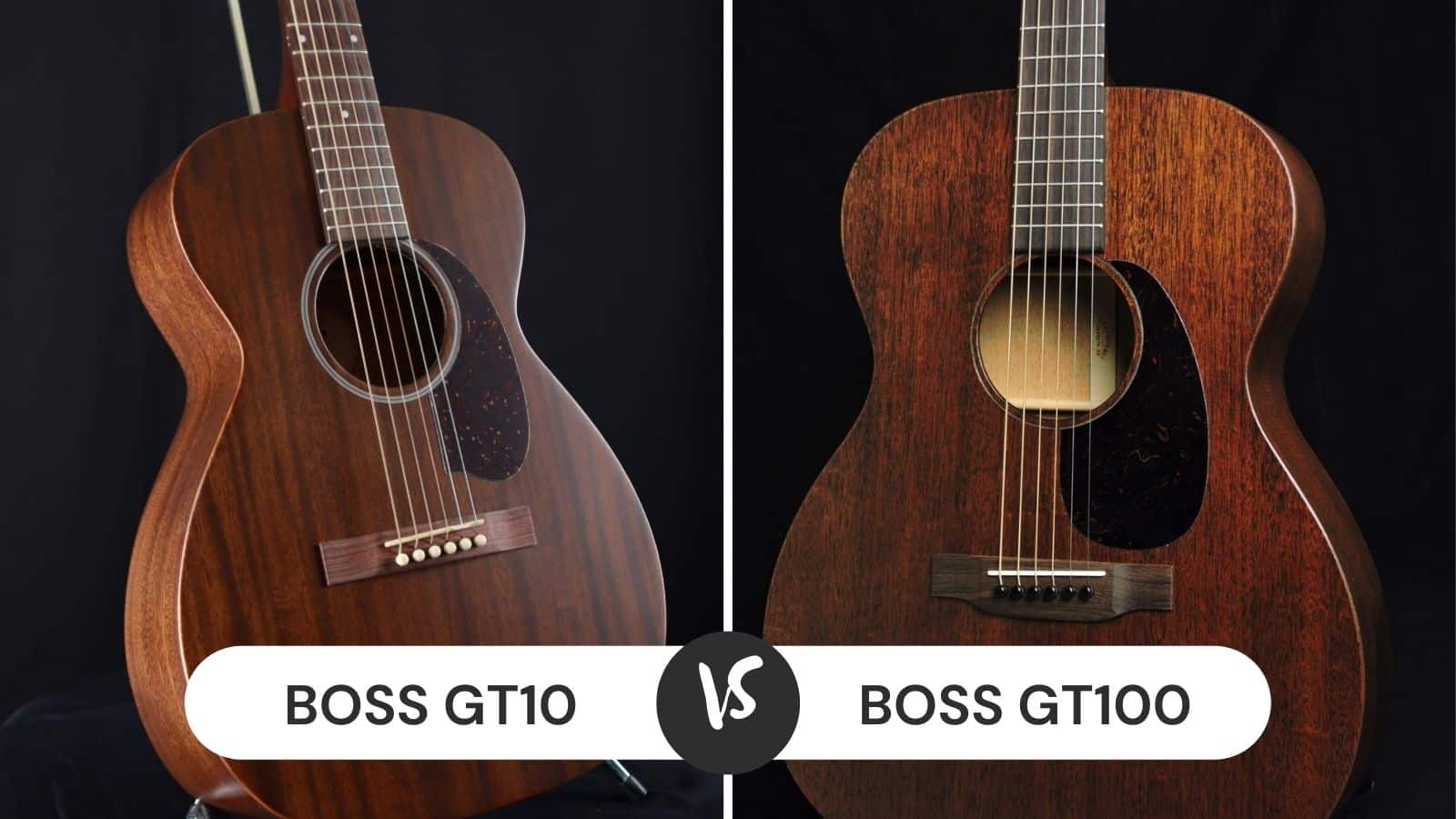 With an extensive range of guitar brands available in the market, guitarists have multiple options whenever they have to purchase a new guitar.
However, Guild M-20 and Martin 000-15M are two widely preferred acoustic guitars with high-end performance. To choose one of these guitars, it's important to understand the unique features and significant differences.
Comparing the Guild M20 vs Martin 000 15M
| Features | Guild M-20 | Martin 000-15M |
| --- | --- | --- |
| Build | Solid mahogany top and rosewood fingerboard and bridge | Solid and genuine mahogany wood with East Indian rosewood for fingerboard and bridge |
| Finish | Satin varnish | Nitrocellulose satin |
| Frets | 20 | 20 and 14 are clear |
| Weight | 1.57kg | 9.07kg |
| Genre | Only suitable for blues | Suitable for all music genres, including blues |
Guild M20
Guild started launching the flat-top guitars back in 1954, but the M-20 was launched around 1958 with its all-mahogany design. However, the wide-scale production started in 1967. It has a neat-looking appearance and a dark chocolate color.
In addition, it has an old-school look to it. This guitar is designed for concerts, hence a very compact size and lightweight design.
1. Sound
The neck shape of the guitar looks like a C, but it has steeper shoulders that add the tones of a D guitar. This is why the sound of this guitar is very deep, and the overall design makes it quite comfortable to use.
Guild M-20 is integrated with the wide nut width and short scale with wide string spacing, which makes it a suitable choice if you want to use a fingerpicker. For this reason, it's a comfortable choice for people who want a comfortable experience during night-long concerts.
It is a suitable guitar to play the blues licks. With the all-mahogany construction, the guitar is able to emphasize the treble and bass, which leads to a more woody sound.
2. Construction
It is constructed from solid mahogany material, but some say that its bridge and fingerboard are made from rosewood. According to the company, the guitar's sides, top, back, and neck are made from solid mahogany material.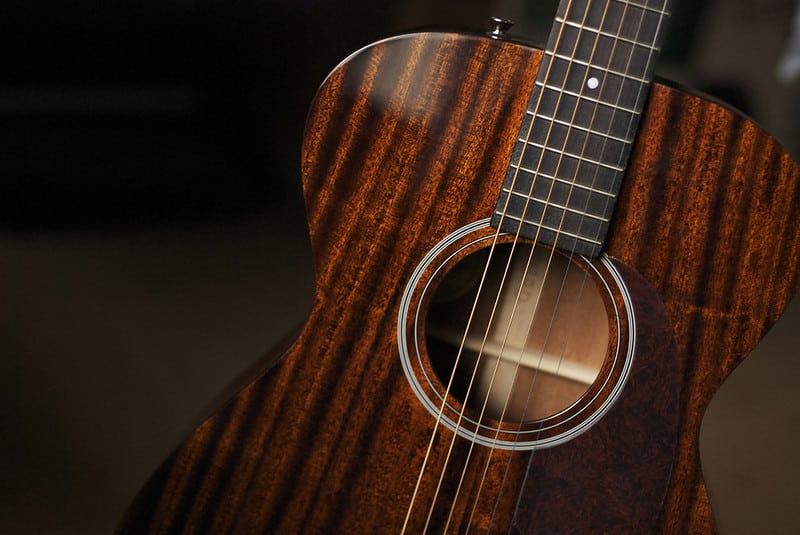 This is because it's a tonewood that adds a centered tone to the music and adds warmth. The mahogany construction also eliminates the chances of shrillness in sound's clarity and muddiness.
The bridge and fingerboard are made from rosewood, which improves the harmonic overtones of the guitar. Overall, it has an inviting and warm appearance, given the minimal design.
3. Body
This is an acoustic guitar and is known for its small body. It has a concert-style body that is focused on the midrange tone. As a result, the notes will be clear and loud. The guitar is suitable for flat pickers and fingerstyle players.
In addition, the guitar has smaller dimensions, which means it will be comfortable to perform at concerts. Also, the back, sides, and top of the guitar are made from solid mahogany material, and the guitar has a satin finish that helps create a balanced and warm sound.
In addition, the neck has a slim profile, which makes it easy to navigate around the fretboard. The mahogany top of this guitar helps with subdued treble, while the C-shaped neck promises easier bending of the strings.
There are light gauge strings added on the lower part of the neck, which is convenient to use. It is a suitable choice for strummers as it helps achieve the midrange punch and the strings exhibit darker clarity.
The guitar has a moody and dark timbre, so it works exceptionally well for the blues. Given this body, the guitarists will have the easy and quick playability of an electric guitar but the warm and smooth sound of an acoustic guitar.
The guitar has a scalloped X bracing pattern, which helps reduce the overall weight of the guitar and allows free vibration, leading to more volume. In fact, this bracing is a good choice if you like to play in acoustic settings.
Pros
Top-notch build quality
Competitive pricing
Minimal design
Warm sound and faster performance
Comfortable to use
Cons
Mellow for some guitarists
Martin 000 15M
Martin 000-15M is one of the best guitars for people who like blue music and bright yet sweet trebles. In addition, the guitar offers midrange sound quality, so it can cut through the loud vocals.
It promises great articulation and clarity across the tonal spectrum. This guitar was launched in 2010 and it has a mortise and tenon joint, which improves the structural integrity of the guitar.
It has a no-frill design, which is comfortable to play with for a longer time.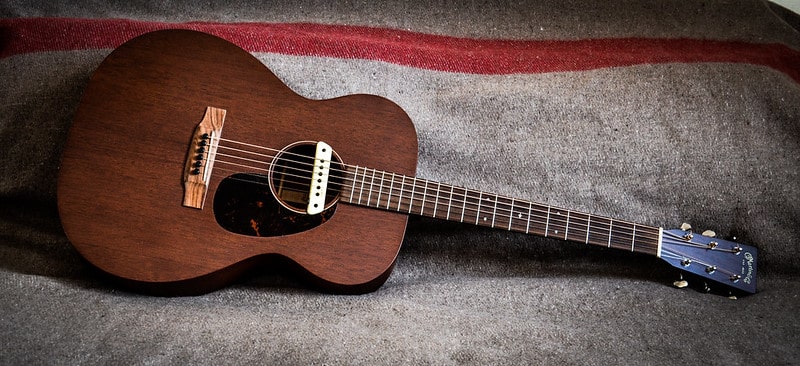 1. Sound
The guitar has a mahogany top, which delivers a balanced tone and doesn't have any sag. Instead, the guitar offers tuneful and highly responsive results. In addition, it has accurate articulation and clear sound.
However, many people have said that the sound spectrum is a bit narrow as you won't get much bass or treble. The instrument's tones and voice are matched evenly. It creates a bold voice that can create single notes.
It has a compact design with all-mahogany construction. In addition, there is a thin satin finish, which is extremely appealing to touch.
Overall, it can create a warm bass, clean clears, and gritty punch, making it suitable to play different music styles and genres, including delta blues. The guitar does a great job in the low-frequency range since it can create mellow and warm sounds.
2. Construction
This guitar is made from solid mahogany material and has a darker stain, which adds a vintage touch to the plain design. This is a six-stringed guitar, and the company has used solid timbers for constructing this guitar, including the neck, back, and sides.
Martin 000-15M guitar uses the East Indian rosewood for the belly bridge and fingerboard. In addition, the nut and saddle have bone construction with a white and black soundhole rosette.
The pickguard is made from pucker Delmar and has the open-gear tuners to add an old-school design. The inlays of the fingerboard have the abalone diamond markers, and there is an ebony endpin.
The tenon and mortise neck joint is connected with the help of a glue and bolt system, promising a solid structure. There is an offset box that includes the bridge plate, which helps amplify the vibrations of the strings.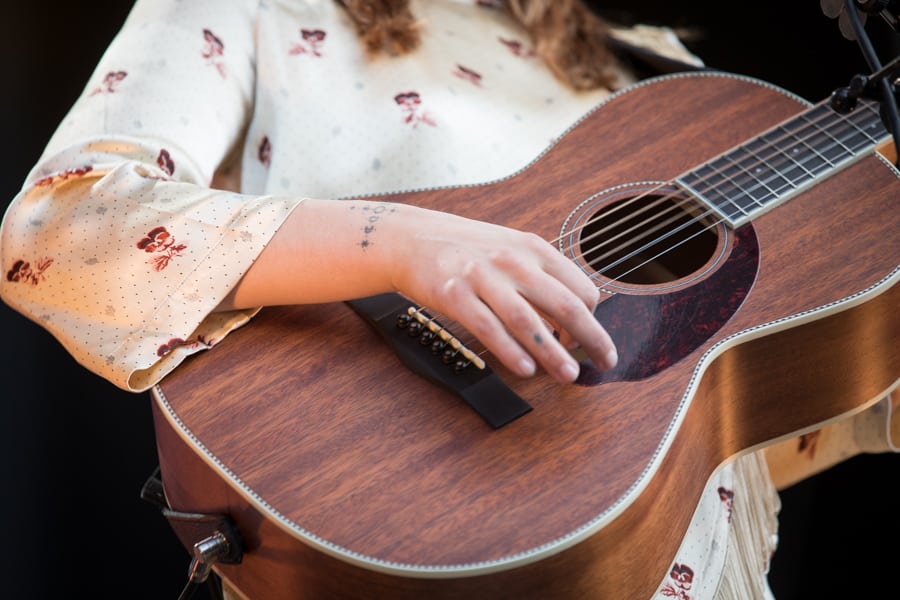 3. Body
The body is made with fourteen clear frets, and the neck is made in a modified low oval shape. It has a C meets C profile with a slender design on the nut – the profile's dimensions are 43mm, which makes it a good option for all-rounder guitarists.
There is no cutaway, but you will find enough clearance on the top end, promising easier tuning to E. The guitar has a C-shaped neck that promises better handling, hence easier strumming and overall comfortable use.
There are open-gear tuners on this guitar, and there are three tuners on each side, so you can fully utilize the strings. It has C patterned braces within the guitar that promises better support to the guitar top.
The headstock has the Martin logo. Also, the fretboard has amazing grain, and the frets are carefully sized to create a vintage look.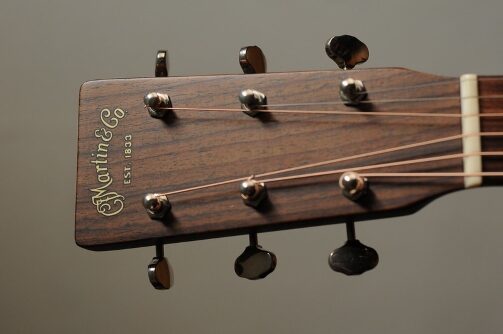 It has a small pickguard and elegant rosette, which helps maintain the intonation. In addition, it doesn't require frequent tuning since it can maintain the tuning with the help of die-cast tuners.
The fingerboard is made from a wide piece of rosewood and has twenty frets, along with dot markers (the markers are white in color).
Pros
Appealing design
Warm and mellow tone
Higher playability
Compact size
Mahogany build
Convenient strumming
Cons
Expensive
Heavier weight
The Final Verdict
Both Guild M-20 and Martin 000-15M guitars are designed for guitarists who like vintage aesthetics for their guitars and compact size.
Guild M-20 is a more suitable choice for people who want a lightweight guitar that only works for blues music and is more comfortable to handle.
However, if you want to play different music genres, you can depend on Martin 000-15M, but it weighs more.