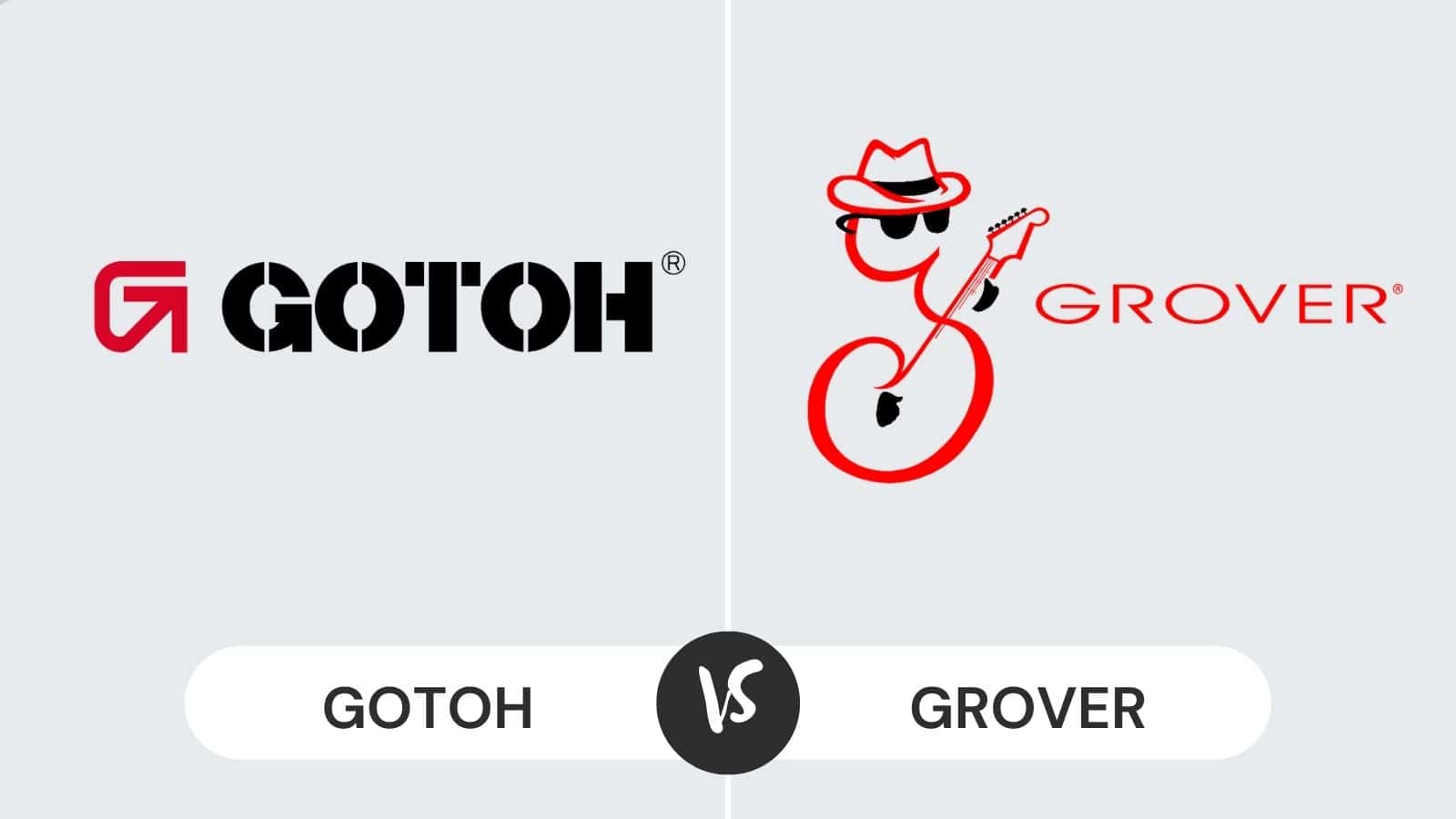 Guitar has always been an important instrument in the music world. It is ubiquitous in pretty much every culture of the world and has been used to play millions and millions of songs.
Even those people who are not into music are familiar with their types, shapes, and tones. It blends perfectly with other instruments, allowing you to play whichever genre you like.
A guitar uses lots of components to produce the tone that we hear. Every component plays its role in defining the sound quality, be it strings, neck, or bridge of a guitar.
Apart from these components, musicians also recommend using other performance-enhancing tools, such as a guitar amp or a vibrato tailpiece.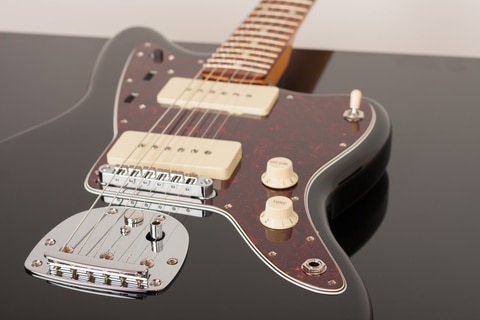 So, if you are looking to buy accessories for your guitar, you might get confused by the countless number of options. Choosing the right brand to buy accessories holds paramount importance if you want to get the right product at a reasonable price.
Among all the brands, Gotoh and Grover are the two most popular ones. They have been around for a long time and offer a wide range of knick-knacks for better playability. But which one offers the best experience? Let's find out!
The Differences Between Gotoh vs Grover
Below is a detailed comparison between the Gotoh and Grover brands.
| Features | Gotoh | Grover |
| --- | --- | --- |
| Price | Reasonable | Reasonable |
| Website | Yes | Yes |
| Warranty | For some products | Yes |
| Availability | Worldwide | Worldwide |
Gotoh
Based in Japan, Gotoh is a popular company that specializes in manufacturing top-of-the-line guitar gear.
With its quality products, it has earned a great reputation and is a go-to choice for millions of guitarists worldwide. It was established in 1960 and has been on a roll since then.
Gotoh offers an extensive range of guitar gear. It is a one-stop-shop for all your playing needs. Whether you are looking for a tuner or a guitar bridge, everything is available at Gotoh.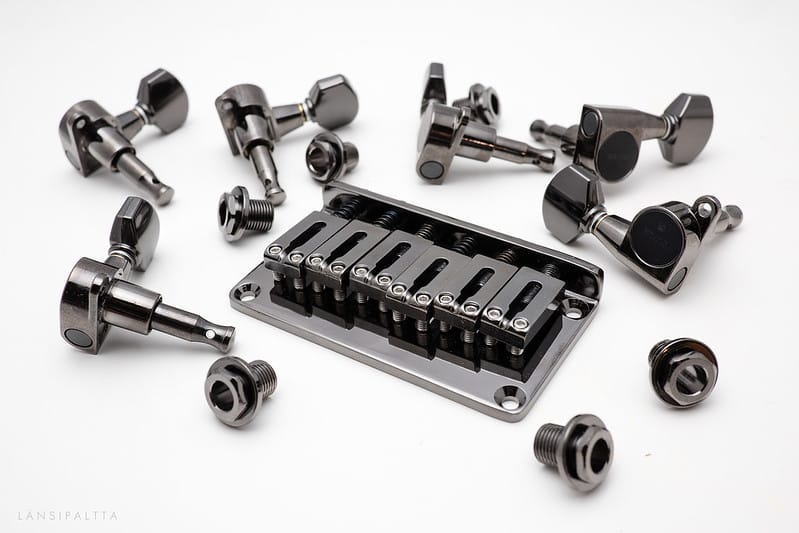 This is the main reason for the company's popularity; they have everything for everyone. Apart from guitars, the company offers accessories for other musical instruments as well, such as banjo, mandolin, and many others.
They are easy to source and are readily available all over the world. Just go to your nearby guitar store, and you will find a bunch of accessories by Gotoh there.
Website
Gotoh didn't take long to notice the digital revolution, and it launched its website for the best shopping experience.
The website is responsive and can be used from any device easily. All you need is a stable internet connection, and you are good to go!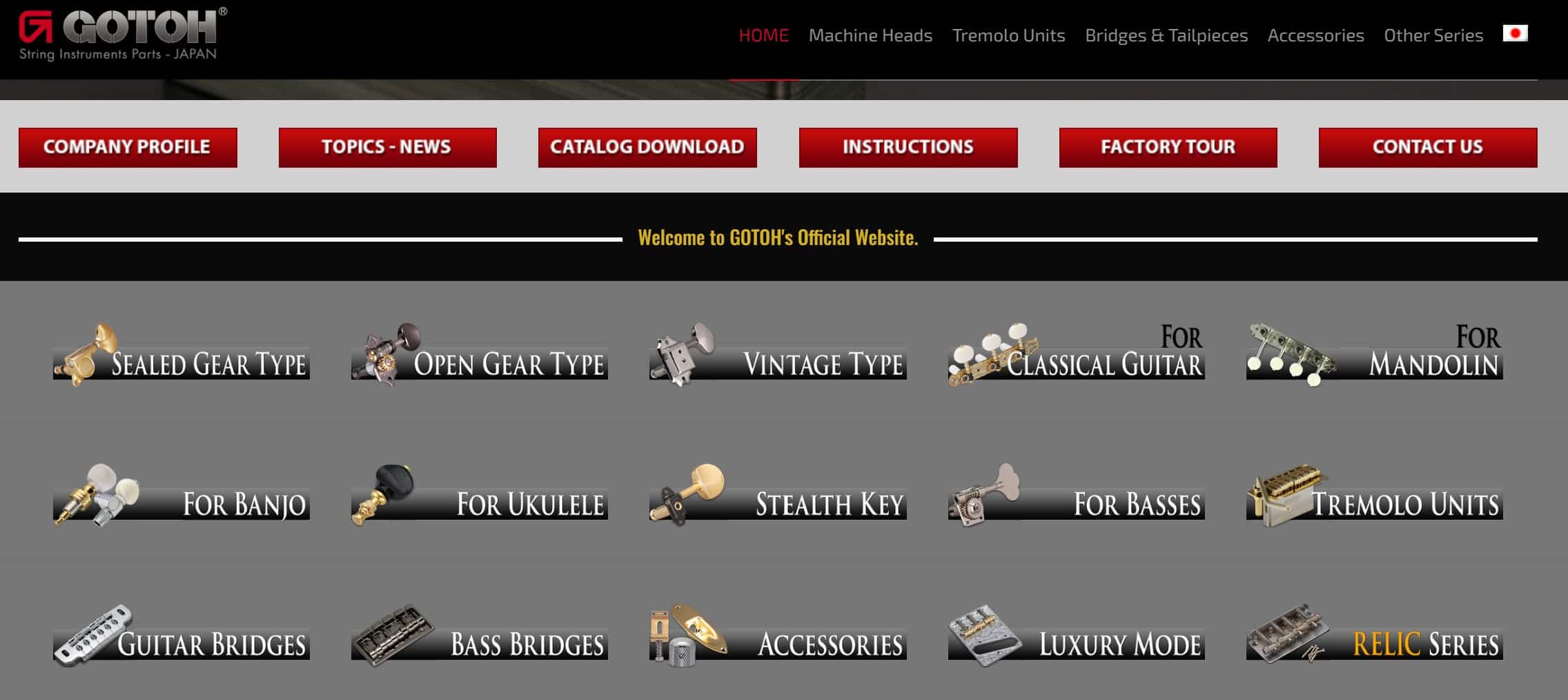 The website has been designed nicely and has a user-friendly interface. The texts are easy to read, thanks to the appropriate color scheme.
You see all the product categories, along with the newly introduced products, so that you do not have to scroll all the way down to hunt for your desired product.
Customer Service
It goes without saying that customer service is one of the most important aspects of online shopping. Talking about Gotoh, it provides its customers with exceptional customer service for the best shopping experience.
Just visit the company's website if you have any questions, and you will find the contact information there.
The Gotoh customer service requires you to fill out an inquiry form where you will have to explain your concern. They have an active customer support team, and they will soon contact you.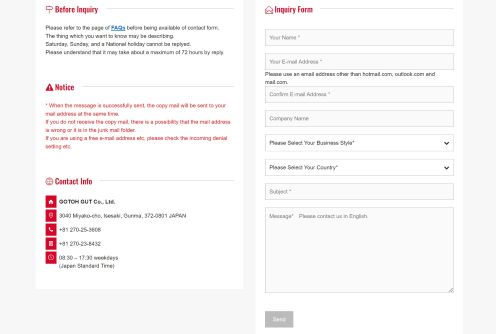 The inquiry form may be a hassle for some users, but it explains the problem precisely.
In addition, you also get a dedicated FAQs section on Gotoh's official website. It is recommended to go through this section before contacting the customer care service, as you may get your answers there.
Prices
Gotoh has a history of selling products at cheap prices. Of course, the prices vary as you move from one product to another. But it is seen that the prices are far lower than the competitors.
This is another reason why the company is so popular among the players. Whether you want a set of strings or a tuner, you can get everything at a surprisingly affordable price.
Grover
Grover is another popular brand that offers industry-leading guitar tools and accessories. The company is based in the USA, has been in the business since 1922, and is among the pioneers of this business.
With their amazing products, they have built a sound reputation over the years. Although Grover manufactures a vast array of guitar accessories, it is best known for its top-notch tuners and machine heads.
If you have done some research on the tuners and machine heads, the chances are that you'd have heard about Grover. When it comes to these accessories, no other company does it better than Grover.
Apart from the aforementioned accessories, Grover offers lots of other products as well. Tuning keys, bridges, replacement parts, you name it, they have it in their arsenal.
And yes, although the company manufactures all of its products in the USA, they are available in every corner of the world.
Website
As far as the website is concerned, Grover has a highly responsive and beautifully designed website for your convenience.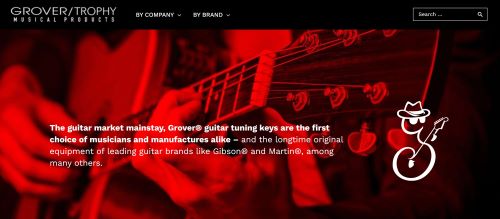 It loads in a flash, so you won't have to wait for hours for it to load. Grover has teamed up with many popular companies, and you can also shop by brand on its website.
Furthermore, there is also a dedicated section for reviews on the website where you can read reviews from other customers to gain deeper insight. These testimonials are helpful to the customers buying for the first time.
Customer Service
Like Gotoh, Grover also has a "Contact Us" page on its website. Customers visit this page to get their questions answered. You can also read the frequently answered questions (FAQs) on its website.
The company is pretty active on other social media platforms as well, and you can reach out to the company on those platforms too.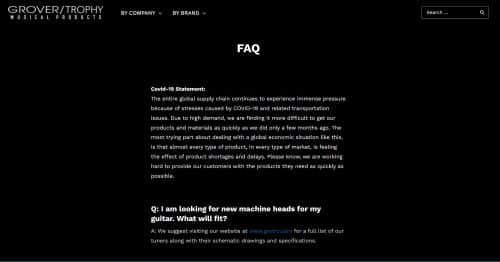 Prices
Price is one of the biggest selling points of Grover's products. From tuners to necks, everything is affordable at Grover. What's the best part? You won't have to compromise on the quality either.
All products by Grover represent the best quality, and the company even offers a warranty on its products. This tells you about the trust it has in its products.
Final Verdict
When it comes to guitar gear, Gotoh and Grover are two household names in the industry. These companies have been in the business for decades and have millions of happy customers.
Both companies manufacture lots of stellar products and offer them at similar prices. The customer care service is also satisfactory. However, the extensive range of products makes Gotoh the winner of this battle.