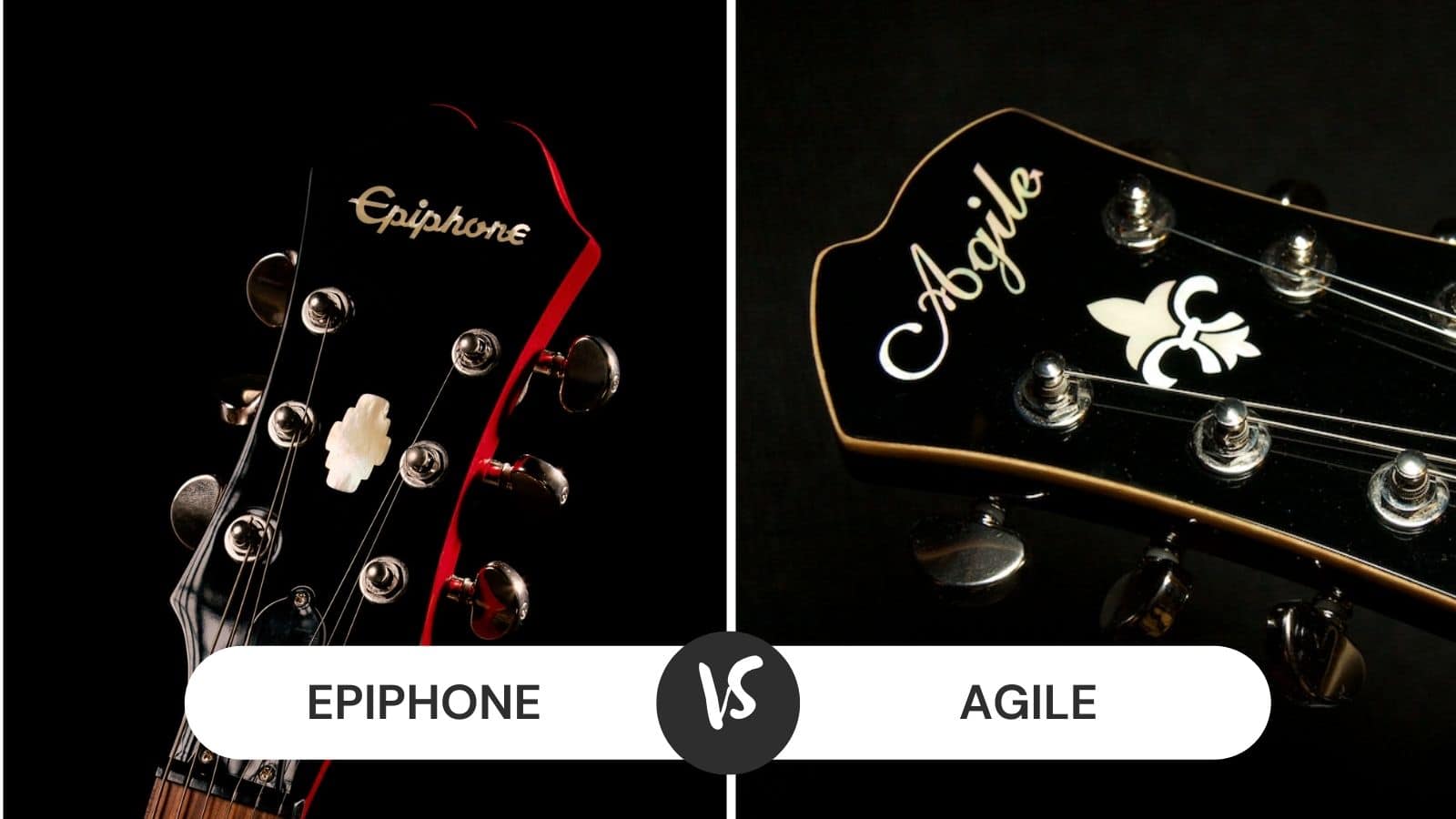 There are plenty of different guitar brands out there. However, if you're looking for a budget instrument that has all the perks of a high-end guitar, you can't go wrong with an Epiphone. But, there's another competitor in the market in the form of Agile Guitars.
With hundreds of different brands out there, you can certainly get confused as to which guitar you might want to buy to have the perfect experience for you.
Epiphone and Agile are two such guitar manufacturers that you can choose from, and they are certainly some of the best guitar manufacturers out there.
Both are considered to be competitors, but you will certainly need to ensure that you are learning all about them if you want to get the best possible experience from the guitar that you are going to buy.
A few things to know about the Epiphone and Agile to know which one would be a better pick for you are:
Comparison Between Epiphone vs Agile
| Features | Epiphone | Agile |
| --- | --- | --- |
| Parent Company | Gibson | Rondo Music |
| Origin | Turkey | American |
| Founded | 1873 | 1962 |
Epiphone Guitar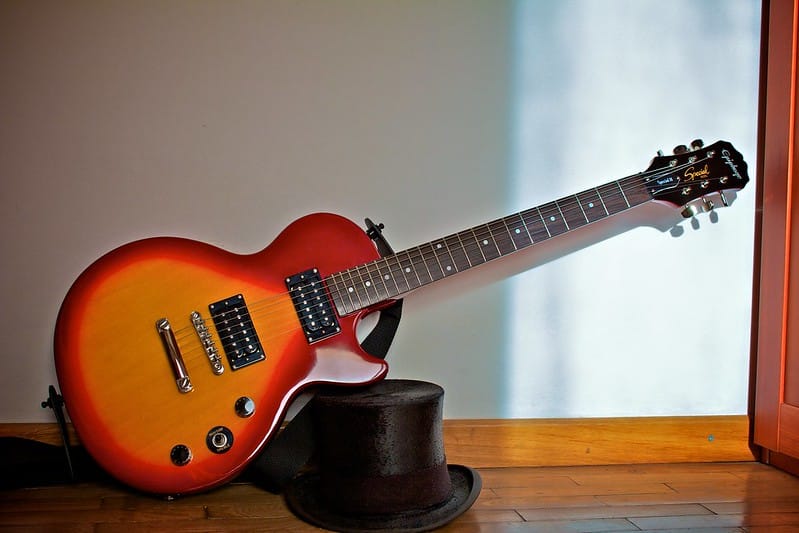 Epiphone is originally a Turkey-based guitar manufacturer that is offering their products all across the world and you will certainly be getting the right experience out of them.
Epiphone has been in the business since 1873 and they have moved to NY back in 1908 and have been offering their products out of Nashville, TN ever since. Yet, you will be able to find Epiphone guitars all across the world.
That's because they have managed to retain customer satisfaction and you will be enjoying a perfect touch of contemporary features and older looks that will be the best combination for softer genres such as pop or folk.
Epiphone guitars had the parent organization Gibson and that is why you will be getting some vibes from Epiphone guitars. These are similar to the Gibson, but you will certainly be getting most of the modern features on these guitars.
Gibson Ownership
In 1957, the company was struggling, and was unable to scale. That's when Gibson stepped in. Gibson Guitars was an established brand by then, riding on the success of Les Paul model.
They decided to purchase Epiphone, and began to offer cheaper instruments with the same shape and style of other Gibson instruments.
Design and Build
One of the things that you should know is that all of Epiphone's guitars are made in Asia, in a factory that's owned by Gibson. That's good, because Gibson doesn't use any contract manufacturers.
Most of the guitars from Epiphone are made using mahogany, though some of their really cheap instruments are made using poplar or okoume.
Many others also have a maple top, though they also have some expensive models which are made using quilt maple.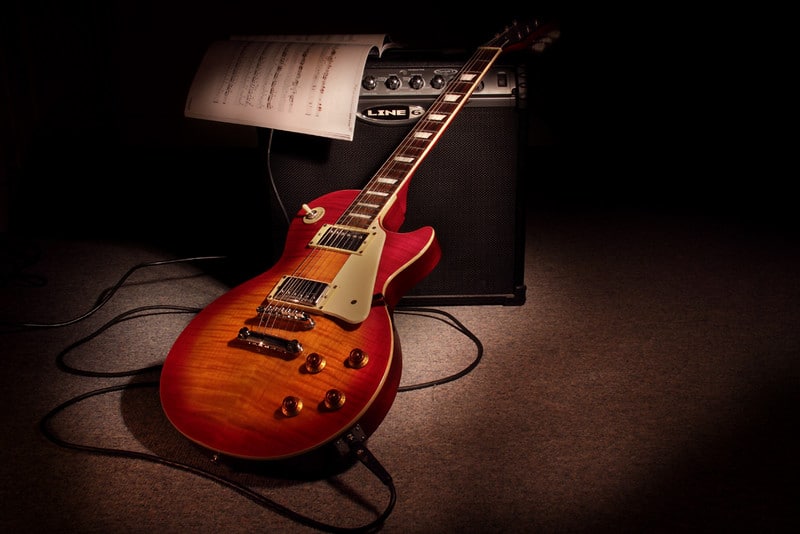 Their double cutaway models, or the Les Pauls, are by and large their most popular offering, though you can also get other choices like the SG models.
Neck
Most of the Epiphone guitars have a set-neck, though there are quite a few that come with a traditional set-neck. This makes it an excellent choice for people who want to customize their guitar a bit.
Another thing that you should know about these guitars is that they often have a rosewood fingerboard, especially the more premium lines.
But, there are quite a few that are made using pau ferro, and, some very exclusive lines also come with a fretboard that's made from deluxe ebony.
Finish
Because of their low pricing, the company often cuts costs. That's one of the main reasons why most Epiphone guitars feature a polymer finish.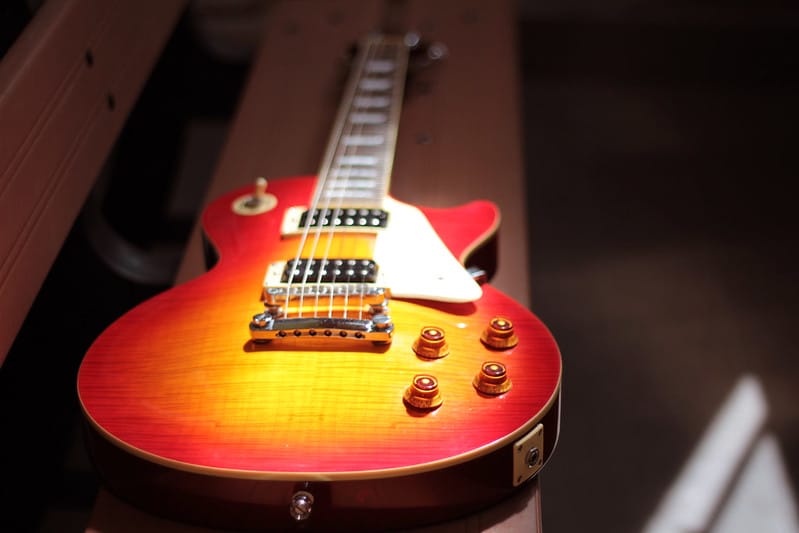 For those who don't know, polymer is a cheaper choice, and it's quite durable, which makes it a pretty decent choice for Epiphone guitars.
Cost
The company's cost cutting measures might not have a major impact on the sound of the guitar, but they definitely impact the manufacturing cost.
That's one of the reasons why Epiphone guitars are some of the most affordable guitars on the market right now.
Even their most expensive variants are considerably lower than Gibson, which makes them a fantastic choice for people who want the same shape and sound of an iconic Gibson guitar, but aren't interested in paying such an insane sum of money.
Overall Sound Quality
Like most Gibson guitars, Epiphone also uses humbucking pickups. These provide a rich, warm tone that you don't get with a conventional single-coil pickup.
But, the company also uses cheaper pickups, so don't expect the deeper sounds that you'd get from an expensive Gibson. All in all, Epiphone is a great guitar brand that firmly targets the budget market, and they're really good instruments.
Agile Guitar
Agile guitars are essentially designed by Rondo Music and it is one of the most popular Korean brands out there.
The most interesting part is that Agile guitars or Rondo guitars don't have a manufacturing facility of their own, and their guitars are manufactured at the same plant that manufactures the guitars of all the other Korean brands.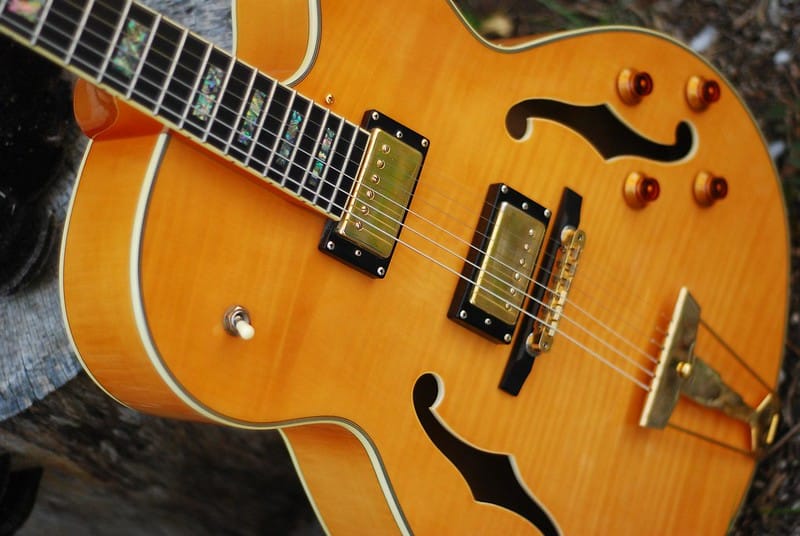 That might be a bummer for some of the guitarists. But it makes the choice easier for some of the people out there since if they don't like the overall build quality or the Korean guitars, it would be easier for them to avoid Agile guitars.
Yet, the best thing about Agile guitar is that you not only get a wide range of options on them with the design aesthetics that allow you to enjoy the best of pop music since Korean pop is being appreciated all over the world.
But, you will also be able to choose the features and get a fully customized experience.
That means the customization options on Agile guitars are not just limited to the dynamics and design, but you will also be getting options to enjoy picking all such features such as tuners, and controls that you want to add to your guitar
That will be the best thing to have the personalized experience that one can seek from their guitar.
However, it's important to mention that the Agile Guitars brand has taken off considerably.
While most of their instruments have the same Les Paul shape or the Strat shape, you should know that they are a cut above the rest in terms of their style and features.
Design and Build
Like most other Korean guitars, Agile also keeps costs low. There are some instruments that feature a full, solid mahogany body and a maple cap, while there are others which are made from cheaper types of wood.
The company has tried to appease as many parts of the market as possible, which is why their costs are considerably lower, starting from $300 and going to around $600.
These guitars often have a pau ferro fretboard or an ebony fretboard, with abalone inlays to denote frets.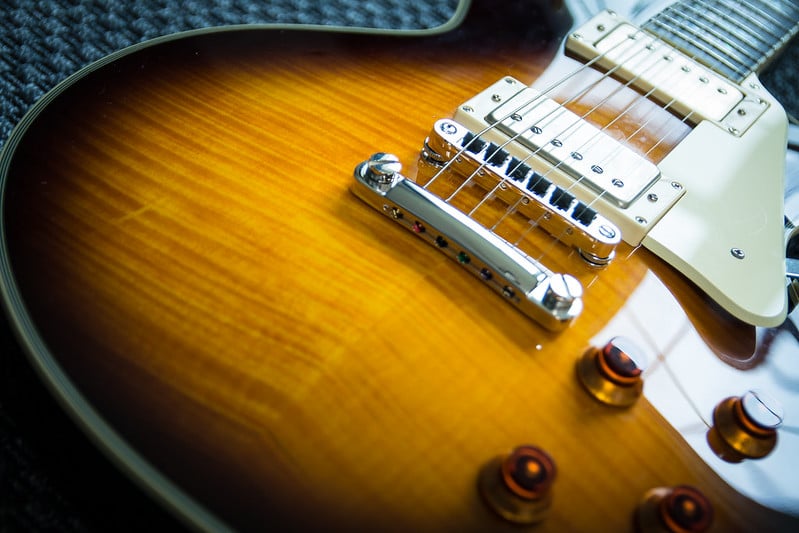 Electronics
Now, when you compare the controls, you'll realize that there are two Type V Alnico humbucking pickups, which are good, but nothing home to write about. On top of that, the company uses 18 gauge wire to establish the connections.
There's a three-way pickup selector, a Gotoh bridge on their high-end models, and Grover tunnels. This puts it on par with several other budget manufacturers in the market.
Overall Quality
If you're looking for an instrument that's slightly better than the rest of the Korean guitars that are inundating the market, you should absolutely consider going with one of Agile Guitars.
Just know that the company is based in the United States, though all of their manufacturing is done outside.
The Bottom Line – Epiphone or Agile?
If you're looking for an affordable instrument that doesn't cost a lot of money, you can't go wrong with an Epiphone. It's a proven brand that's been around for years, and they have a reputation to maintain, so you can expect good quality instruments.
But, if you want something that's really low-budget and don't mind the Korean instruments, then Agile might be a great choice for you.