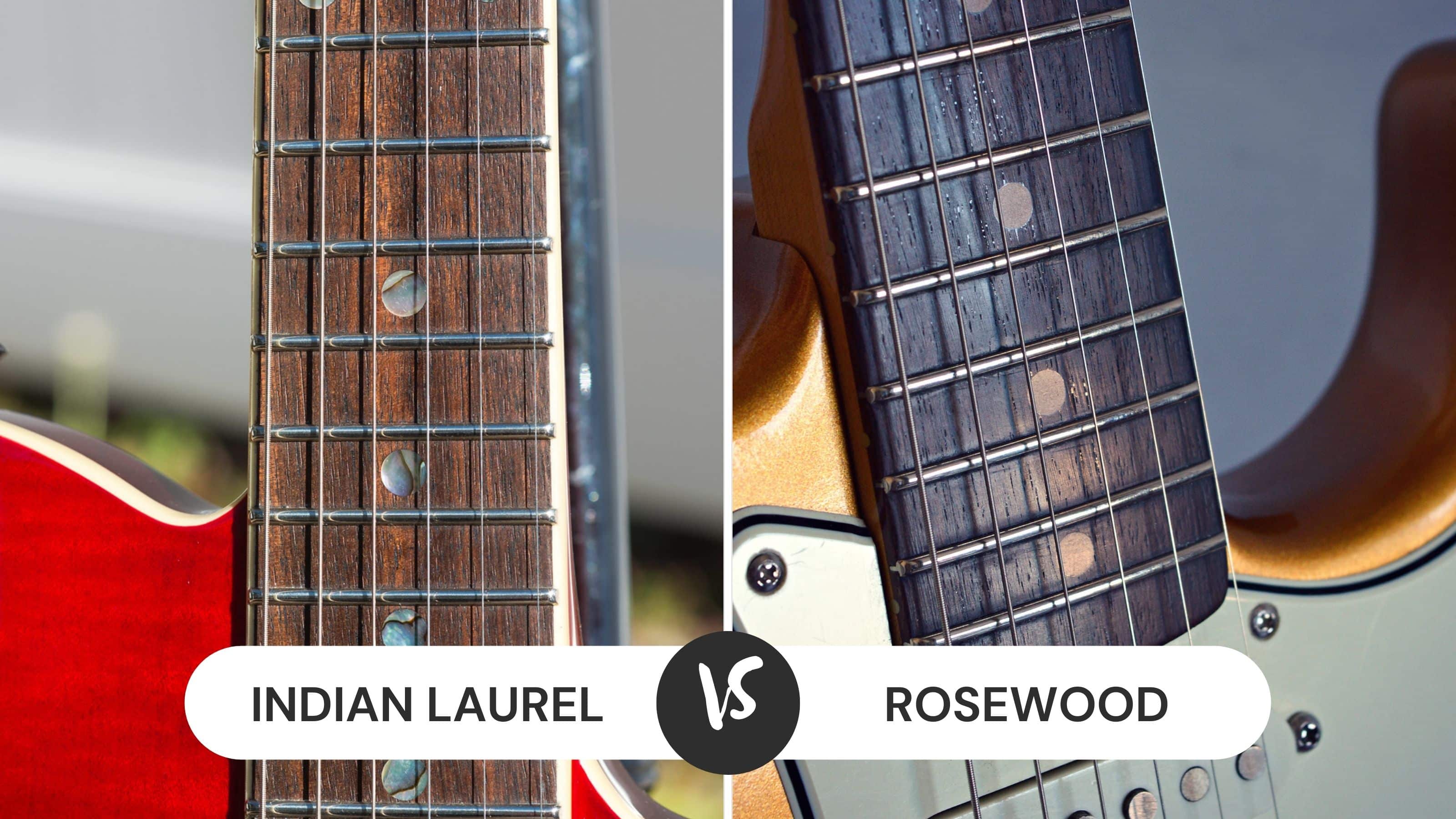 The intertwining of guitars and wood is so amazing that one cannot talk about the tune produced without mentioning the wood type. The latter not only affects the weight and look of the guitar but also its sound and tune.
There are a lot of experiments going on to look for better, more efficient, and more durable woods for guitars. Everyone wants to bring the most tonal characteristics out of the guitar while playing it, and wood type has a huge role in defining those characteristics.
In addition, the wood type impacts the resonance, bass, echo, and definitely, the design aesthetics. In the long list of wood types for guitars, Indian Laurel and Rosewood are the most popular ones to manufacture guitars.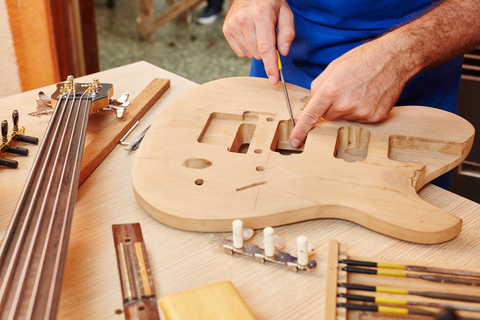 The comparison between the two of them clears out which one is better to purchase.
Indian Laurel vs Rosewood Comparison
| Features | Indian Laurel | Rosewood |
| --- | --- | --- |
| Type of Wood | Hard | Hard |
| Color hue | light to dark brown with black streaks | golden brown to a deep purplish brown |
| Grain | usually straight, sometimes slightly irregular or interlocked | narrow, interlocked |
| Texture | medium to coarse | medium |
| Density of wood | 855 kg/m3 / 53.38 lb/ft3 | 830 kg/m3 / 51.8 lb/ft3 |
| Hardness | 10,390 N / 2,336 lbf | 10,870 N / 2,445 lbf |
| Elasticity | 12.46 GPa / 1,807,000 psi | 11.50 GPa / 1,668,000 psi |
| Tone (Warm/Bright Scale) | bright | warm |
| Cost | moderate | moderate to high |
Indian Laurel
The scientific name of Indian Laurel is Ficus Microcarpa. It is a common tree in China, Australia, Central Asia, and Tropical Asia.
Indian Laurel is also used as a side material and back material of the guitar. The excellency of a fretboard tonewood like an Indian Laurel is clear through the tonal experience it gives. Its density and hardness are as apt as they can get for a guitar.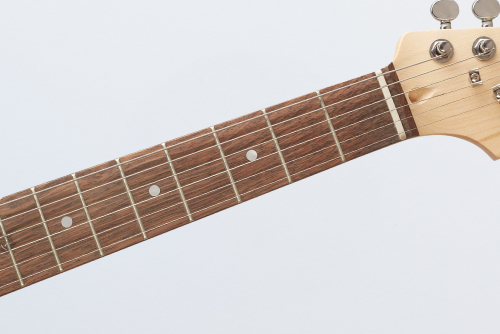 The color of Laurel tonewood is light brown to dark brown. You will observe medium to coarse texture with straight grain. The work with this tonewood is easy, thanks to its high hardness and good finish.
The bending is not easy, but planing and sanding can damage the pieces with complex grain patterns.
The best thing about the wood of Laurel is its elasticity, which enables you to feel the guitar in the right manner. You will realize the softness once your fingertips touch the fretboard.
The overtones and highs of Laurel are rich and brilliant, respectively. Talking about the low end it maintains, it's warm. The lows and highs can shine brightly because of scooped midrange.
If you are looking for a durable tonewood, Indian Laurel is the one. For a perfect experience with your guitar, you need to maintain the right tension between the strings. Laurel has the appropriate rigidness and elasticity for the maintenance of tension in the string.
You will get nothing less than a perfect tune on a guitar made with Laurel. If you have budget limitations, you can pick Indian Laurel tonewood.
Rosewood
Rosewood is a common tonewood that guitar manufacturers use. A number of different tonewoods comprise the category of Rosewood, but only the real ones are from the genus Dalbergia. Rosewood is a native of East India, Madagascar, and Brazil.
Rosewood is also called a richly hued timber that comes from Bubinga trees. However, it wasn't after 2019 that the ban on cutting this tree was lifted. Since then, it's legal to use the wood from Bubinga to make guitars and other musical instruments.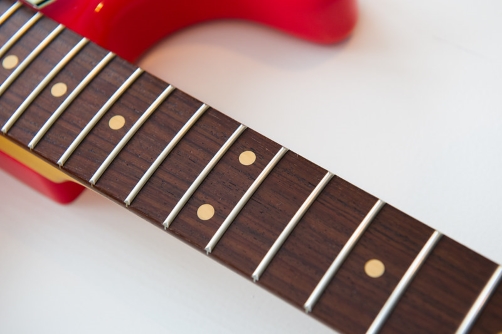 As far as the color is concerned, it is dark. It comes with a bunch of natural patterns that add more charm to the fretboard. It has the ability to add more value to the design and look of your guitar.
If you plan on getting Rosewood on your guitar, you'll be surprised to see the tonal frequency and spectrum that it provides. There is nothing that can beat the tones resulting from Rosewood.
Most of the guitars made from Rosewood have royal and luxurious features that outshine the rest of the instruments.
Rosewood's number of extraordinary characteristics proves that it's worth every penny. Rosewood is an ideal choice for people who can spend money on the guitar with the best graphics and unique tunes.
Comparison Between Indian Laurel And Rosewood
Although there are some striking similarities between Indian Laurel tonewood and Rosewood, you can also see distinguishing features that set them apart. There are obvious differences between them when sound and appearance are concerned.
With the Indian Laurel fretboard, you will experience a balanced output not only across the bass but also across the mid and treble range. You get complete control over the dynamics, and the reason is the lack of any sort of weak spots on the fretboard.
Talking about Rosewood, the sound you will get will have a slightly warmer touch as compared to Indian Laurel. However, the level of balance across the fingerboard is as good as Laurel's.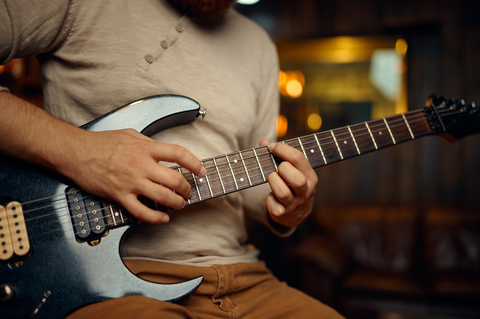 The harsh frequencies get smoothened out well by both Rosewood and Laurel. The responsive nature of both of these tonewoods is equally great.
No other attribute of a tonewood is as important as its feel. Most people see Indian Laurel as an ideal replacement for Rosewood because it offers the same feel as Rosewood. You can also see the similarities in their playability.
Indian Laurel is a hardwood that gives you the delicacy and feels that you are looking for. You will notice the effortless gliding of your fingers on the fretboard with the help of a little friction.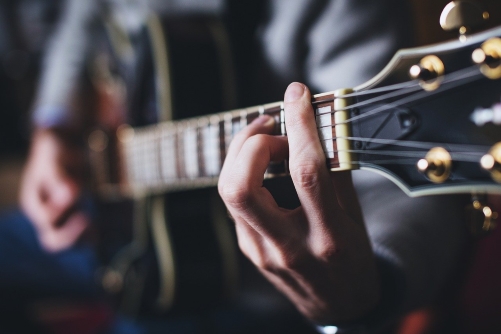 The smoothness of feel is also grand when Rosewood is concerned. The nature of Rosewood is also hard like Laurel's, which keeps it from wearing out over time. You can keep playing the instruments for years and won't see a drop in their smoothness and comfort.
The less oily nature of Indian Laurel makes the requirement of finish necessary for it. However, the oiliness is not enough to stop it from being used in guitars.
Indian Laurel and Rosewood show remarkable appearance as guitar's fingerboards. They look so similar that you might fail to tell them apart.
It's not just the fingerboard appearance that's common between them; you can also see that both Indian Laurel and Rosewood have similar-looking grains. You can see the same hardiness, rigidity, and durability of Indian Laurel in Rosewood.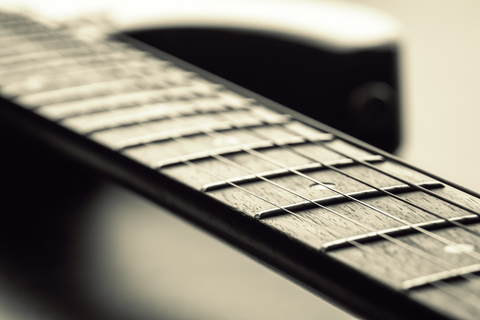 Final Thoughts
There are multiple factors on which comparison can be set between Indian Laurel and Rosewood. They differ in some aspects, but both of them are exceptional tonewood, thanks to their great feel and a balanced sonic output.
Nothing makes Indian Laurel superior or inferior to Rosewood. You can use it as an excellent replacement that gets you the tone and feel you want.
However, you might face difficulty in getting a hold of a Rosewood guitar because of its sustainability and environmental concerns. On the other hand, you can easily purchase Indian Laurel because it is available on multiple sources.