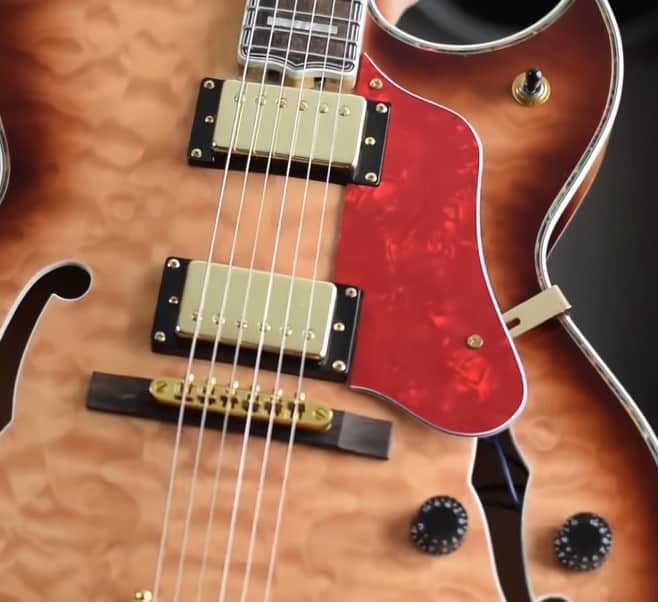 Starshine Musical Instruments are another instrument that is based on eBay, Alibaba and other online retail sites. Starshine Musical Instruments are a Chinese instrument brand that primarily focuses on guitars. They have factories situated in China, Hong Kong, and Taiwan. They aren't exactly new when it comes to guitar manufacturing, meaning that they have got experience under their belt. They focus on standard electronic guitars as their main front and have a variety of different electronic guitars available on their pages. They also deal with different types of electronic guitar, providing players with variety on that front as well.
Starshine Musical Instruments factory has more than 12 years of experience, so you can trust their decision making when it comes to instrument manufacturing. They make ukuleles, banjos, electric guitars, and other instruments, however as mentioned above, they mainly deal in guitars. Starshine Musical Instruments takes advantage of all the great items imported by china and uses them to research and then manufacture great guitars, amplifiers, electric guitar sets, etc. and attempt to do so in line with international standards. So that all their customers are satisfied with their products, no matter what part of the world they may live in. They produce and manufacture over 200 types of acoustic and electronic guitars and guarantee their buyers that they will be satisfied with the sound and craftsmanship of any instrument that has been made by them.
All About Starshine Guitars
Starshine guitars aren't all that different from most of the bigger electronic guitar companies. Their electronic guitars have good craftsmanship and have great features as well. Some of these features include:
Great materials. Almost every guitar model made by Starshine Musical instruments is crafted with materials that can only be spoken off in a positive manner. They make their guitars with rare and exotic woods that significantly help with the tone of the sounds produced by the guitars, while also helping the guitars look more appealing in terms of appearance as compared to how they already are. They can also make metallic guitars for you if you specifically request it, however, custom orders will cost you a great deal extra, depending on how many changes you are looking to make.
They are designed to help you play better. Starshine Musical Instruments attempt to design their instrument in a manner so that they will actually assist you in your playing. They try their best to shape it into a guitar that will make you feel as comfortable as possible during playing and will also help you with your finger dexterity. They are designed in a way that you will have no problems playing one string at a time, as the strings are positioned well enough, so that they do not feel too close to each other, making you pull an extra string by mistake, while also not being so far apart from each other as to disturb your fingers all that much when playing them. What's impressive about this is the fact that they keep their beauty on top of this as well.
Quite a few of their models are hollow, which can be a good or a bad thing, depending on what type of guitar you are looking for. If you don't know all that much about guitars since you are a beginner, a hollow guitar is basically a type of guitar that has been modified in such a way so that it can make much louder sounds as compared to the standard acoustic or electric styled guitar. This can be helpful if you're looking to play in front of crowds or just want warm or cleaner tones, but if you want the opposite, you should consider other options.
A lot of their models also feature humbuckers. If you don't already know about them, humbuckers are a sort of pickup for electric guitars that are used to ''buck the hum'', which, as you guessed it, is the reason they are called humbuckers in the first place. These are used to cancel the humming effect that you might get when playing an electric guitar, which is a sound that a lot of players prefer to eliminate when they are playing.
Another great thing, that you will find to be very helpful, especially if you play in a band, is that these guitars are very easy to transport. This is because of their design, but mainly because of the primary factor when it comes to transporting things, which is the weight. Which brings us to our next point.
Most of their models are lighter compared to some other guitars. This normally leads to guitars being less durable due to their light interior and exterior, however, most of their instruments are surprisingly durable when you take into account the weight of them. This factor helps in transportation as mentioned above, and it also helps to make the guitar feel more comfortable to play, however, heavier guitars will definitely provide you with a deeper tone of the sound. And although not all of their guitars are lightweights, most of their best ones are.
Excellent craftsmanship. A thing that a lot of players look for when buying a guitar is a beautiful design. This is especially true for some beginner players, as they believe that the beautiful designs help them to stay motivated in terms of playing since the beauty of their instruments sound and appearance attracts them. Their guitars are well crafted and are well designed as well, some being more energetic feeling than others that are plainer in terms of energy and color while also inducing a feeling of calm and serenity.
One of the best things about Starshine Musical Instruments is the fact that unlike their name suggests, they also make other items as well and not just instruments. This is helpful because these other items just so happen to be props and other items to be used with said guitars. This allows you to customize your guitar, while also being able to buy props that can be used with your guitar specifically, as Starshine has specific picks in store for a good deal of their guitar models.
Starshine musical instruments definitely may not be the biggest brand of musical instruments that you have ever heard of, but they are definitely one of the better-growing prospects. They are improving by the day and have excellent delivery rates, keeping buyers happy and satisfied with their products. They also have good customer service, and respond to any emails sent to them rather quickly, as they take only a day at most to consult your needs.
They also have good deals on some of their instruments, and a lot of their guitars are really great once you take into consideration the prices that they offer. They sometimes offer free guitar picks along with the purchase of their instruments and most people have seemed to be satisfied with what they have received. There aren't man reviews available for their models on multiple websites, however, most of their reviews on Amazon, eBay, Alibaba, etc. have been near perfect which is always a good sign.
As mentioned above, their guitars are lightly weighted which may bring you into thinking that their guitars might not last, however they are durable enough, and even so, if your product breaks before the due time they will provide you with a refund, which is definitely a factor that has helped them when it comes to keeping customers satisfied.
Another great thing that they offer is the ability to customize your guitar. This obviously comes with a higher price compared to their other standard models as making customized instruments is obviously more expensive, but even these customizations come at a fair price. These customizations including adding any custom design to the soundboard of your guitar, customizing the color of the strings, or completely repainting your guitar with a design of your choice. This can also be handy if you've got a friend that's into guitars, as you can personalize it into resembling something that they like.
Taking all things into consideration, the prices on some of their guitars are absolutely great, as has been mentioned above, and the quality of these guitars and their sounds are great as well. If you are on a budget and need a good acoustic or electronic guitar at a fair price, you will get your money's worth and then even more with the Starshine Musical instrument's guitars.
Their guitars are easily portable, they are light and heavy in weight so that you can order whichever version suits you, and they can be stylized into looking more appealing than they already are, however, there are some default styles from the company that is great as well. You can trust them and the fact that you will get your money back if something goes wrong, and you can surely trust that you'll have a unique piece as compared to others, as these guitars aren't exactly the most used in the world.