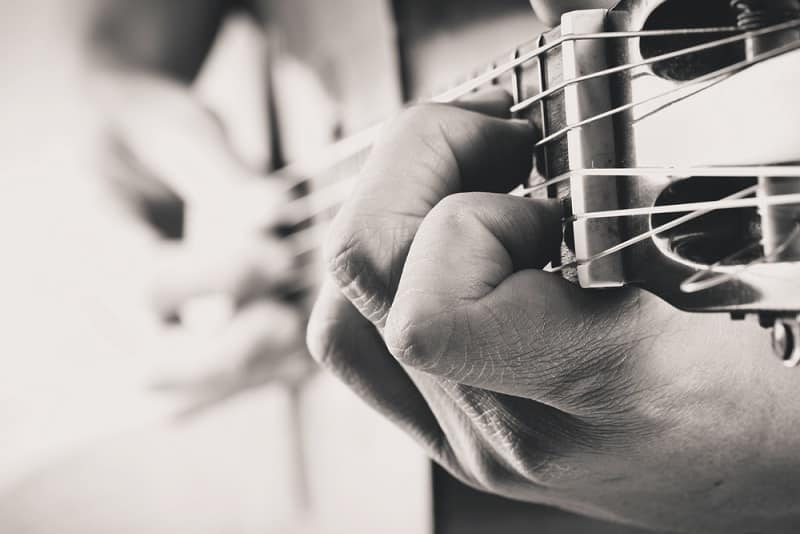 Classical guitar is one of those instruments that everyone likes to hear, but not many actually listen to these days. We know who some of the best electric guitar players are, but what about classical guitarists? Here are the top 7 famous classical guitar players you should know about.
7 Famous Classical Guitar Players
1. Andrés Segovia
No list of famous classical guitar players can be complete without the mention of Andrés Segovia. This man alone has done more towards establishing classical guitar as a proper concert instrument than anyone that came after him. He has paved the way for modern classical guitarists by spearheading a new type of playing technique that combined the traditional dogma with a modern, more vibrant style.
Segovia was born on February 23rd, 1893 in Jaen, Spain. He has been active for almost 80 years and has had a very rich career. Segovia never set his guitar down up until his timely death in 1987 at the ripe age of 94. If the classical guitar community owes anything to anyone, it's to Andrés Segovia.
2. Pepe Romero
Being next in line to Segovia is a hard position to fill. However, Pepe Romero from the famous Romero family might just be the right choice. Pepe is one of the three sons of Celedonio Romero – a composer, guitarist and overall musical genius who fled Spain during the '50s. Franco's state was no place for aspiring artists, at least not those who valued freedom of expression.
Pepe Romero is the prodigal son who along with his brothers and father has done a lot towards introducing America to classical guitar. Pepe has held tenure at USC, UCSD, and several other universities. He's known for his unique take on classical flamenco technique as well as his colorful original pieces. Pepe Romero has recorded 60 albums. Half of these are his solo project but half were recorded with The Romeros guitar quartet.
3. Alirio Diaz
For our next pick we are staying in the Americas, or to be more specific, South America. Alirio Diaz was a classical guitar legend from Venezuela. He was born in 1923, on November 12th in Carora. Student of both Segovia and Regino Sainz de la Maza, Diaz had access to every tool necessary to propel his career into legendary heights.
Despite spending a considerable amount of time studying in Europe, Diaz is best known for his unique ability to express Venezuelan culture and spirit through his music. He was always standing at the edge of traditional classical technique, flirting heavily with popular Venezuelan ethnic styles. Alirio Diaz lived to be 92, passing away in 2016. He has left behind a legacy that will forever be a part of Venezuelan culture.
4. Andrew York
Compared to the previous names on our list, you could say that Andrew York is a more modern classical guitarist, but a talented one nonetheless. York was born in 1958 in Georgia, grew up in Virginia where he got a degree from James Madison University. He later moved on to get another degree from USC only to move to Spain to further his studies.
What defines York as such a prominent classical guitarist is his ability to innovate. York's compositions are vibrant, refreshing and often times challenging the most dogmatic aspects of traditional technique. This approach to classical guitar has earned him a GRAMMY award among others. If you are wondering where the modern classical guitar is going, just listen to York's more popular projects.
5. Dušan Bogdanović
Speaking of refreshing takes on modern classical guitar, we have to talk about Dušan Bogdanović. Born in Serbia in 1955, Bogdanović quickly showed an affinity towards the guitar. His studies have taken him to Geneva Conservatory where he studied composition and orchestration as well as classical guitar under Maria Livia São Marcos.
Bogdanović would later move to United States where he taught at both USC and San Francisco Conservatory. Bogadnović is a master of styles. His ability to infuse a classical piece with traces of jazz and even ethnic music is next to none. Aside from his very rich discography, Bogadnović also dwells in theoretical work regarding polymetric and polyrhythmic studies. He is definitely one of the more influential classical guitarists of our time.
6. John Williams
From the land down under comes one of the greatest technicians of our time. John Williams has been playing guitar ever since he was a little boy. That is nothing unusual seeing that his father, Len Williams would end up founding the London Guitar School.
At the age of 11, Williams was attending courses with none other than Andrés Segovia himself. His more official education was continued at the Royal College of Music in London where he actually created and ran the guitar department for a couple of years. Although he is a fierce technician, Williams was and still is a strong proponent of ensemble playing. This has always been one of his more passionate arguments. Williams was awarded the GRAMMY award which he shares with his colleague Julian Bream, a BRIT Award and BASCA Gold Badge Award.
7. Manuel Barrueco
Last but not least we have one of the more prominent Cuban classical guitarists of our time. Manuel Barrueco was born in 1952 in Cuba. He started playing the guitar at a very young age of 8. His formal education began at the Esteban Salas Conservatory in Cuba but was interrupted when he and his family fled the country to the United States as a political refugee.
Once on US soil, Barrueco started creating music and hasn't stopped since. His works are numerous and reflect a traditional classical guitar sound that is backed up by impeccable technique. His career is full of performances in all of the important musical centers around the world. Barrueco's sound is something every aspiring classical guitarist needs to experience.
Conclusion
The cumulative skill and talent listed in this article offer a decent cross-section of what classical guitar of our time has been all about. We've mentioned some of the absolute legends without whom this awesome instrument simply wouldn't have been as prolific as it is. Overall, these names deserve recognition.