A guitar is a staple instrument in many genres. It is among the most widely used instruments, and for good reasons. For starters, it is extremely versatile. You can perform solo with a guitar, or you can also play it with your band.
It is relatively portable and makes a great travel companion. Furthermore, research suggests that playing the guitar is beneficial for your mental health as well.
With that out of the way, as people started buying guitars, more and more brands joined the industry and started manufacturing them. So, picking a guitar could be an anxiety-inducing task, especially if you are purchasing your first guitar.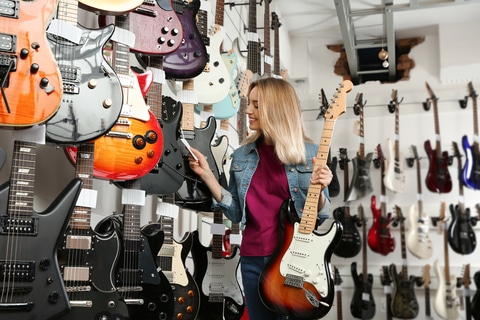 Robin Guitar is a popular guitar manufacturer headquartered in the USA. The company is best known for its quality electric guitars.
Most of the Robin guitars are still functional, even those that were manufactured decades ago. It was able to make its mark in the industry, but it stopped manufacturing all of a sudden.
So, what happened to Robin, and why did it stop manufacturing guitars? Did Robin produce good guitars, and how were they different from its competitors? Today that will be the premise of our discussion. But first, let's discuss how it all started.
All About Robin Guitars
How It All Started?
Robin guitars was established in 1982 by two guitar enthusiasts, John Wittrock and Dave Wintz. John and Dave also owned the Rockin' Robin guitar shop at that time.
The shop imported guitars from Japan, where they were manufactured by Tokai, a famous Japan-based family-owned guitar manufacturer.
The Freedom bass guitar was the first full-scale bass guitar manufactured by Robin guitars. Robin guitars found immediate success in the USA market.
The company offered some great-sounding instruments that won many guitarists. They had reversed headstocks back in the day, which distinguished them from other guitars.
The Trademark Issues
Robin guitars also faced trademark issues when it got into a feud with Fenders. This affected Robin's reputation, and as a result, it lost some customers too.
The Separation
Robin guitars broke ties with Tokai, mainly because of customs investigations. The company stopped its operations in Japan and founded the "Robin warehouse" in the USA, where they started manufacturing hand-made guitars.
According to Wintz, the company was still popular, but it never produced a large number of guitars. They only manufactured around 60 guitars a month as they did not want to compromise on their quality.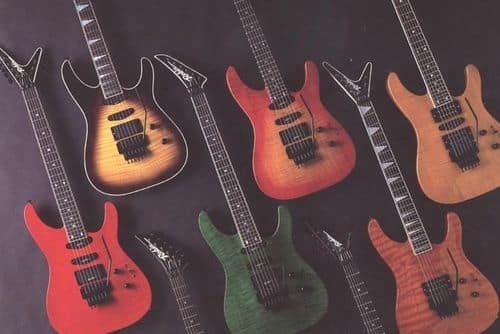 After the advent of new companies, Robin guitars couldn't retain its popularity. In January 2010, 28 years after its inception, Robin guitars ceased taking orders and phased out guitar production.
Now that we have discussed the company's history let's take a look at its offerings.
The Progressive Models
With Robin Guitar's contract with Tokai, multiple progressive models were designed that kept the company alive. The company offered guitars in three series, RV, RH, and RG.
The company kept experimenting as it used the wood-neck and bolt-neck designs in some guitars, but it was the reversed headstocks that garnered' the musicians' attention.
While the RV series guitars had coil tappings with mini-toggles, the RG series had the traditional Strat look.
The design of the RV series was similar to the RG series, but the pickups and bodies had different colors. Only the RV series found success, and the RG and RH series were discontinued after a year.
The Mighty Robin Ranger
The Robin Ranger is surely one of the highest-selling guitars by Robin guitars. It was manufactured by Tokai and was released in 1982. It came with tons of cool features and was embraced by many musicians back in the day.
Jimmie and Stevie Ray Vaughan used the 6-string standard neck and 6-string octave neck double-neck guitars in the 1980s for their stage shows, and Eric Johnson was also seen performing with a Robin guitar.
The thing that sets the Robin Ranger guitar apart from the rest is its reversed headstock. This headstock makes bending the strings a bit easier as it slightly reduces their length. It also improves playability as the guitar is less likely to go out of tune.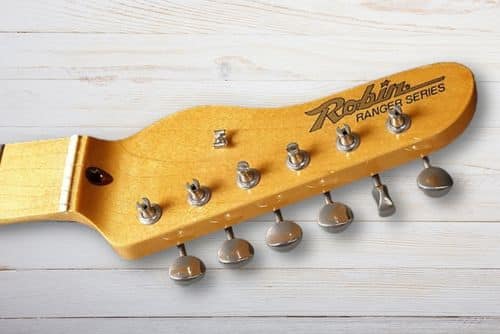 The Robin Ranger guitar has an ash body, which we don't see in guitars nowadays. It gives the guitar a balanced tone with great upper-midrange and clear bass.
Apart from that, the exceptional sustain and resonance of this guitar have also impressed the guitarists.
In addition to that, the ash body also makes the Robin Ranger guitar highly durable. Ash is considered one of the most durable wood materials for guitars as it is more resistant to scratches and dents.
This also gives you peace of mind as you can rest assured that your guitar won't get scratched easily. It goes without saying that scratches can quickly ruin your guitar's look.
Having said that, it is better to keep your guitar in a case when not in use. Fortunately, a hardshell case is included in the package.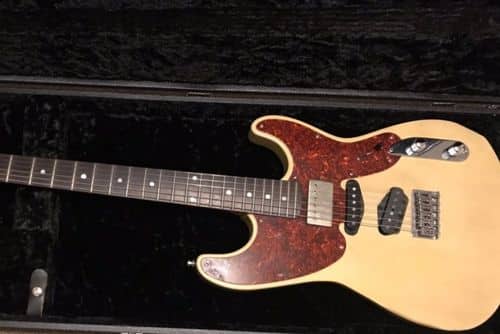 Talking about the pickup, the Robin Ranger guitar uses a Rio Grande pickup at the bridge and a humbucker in the neck position. For those who don't know, Rio Grande is Robin guitars' sister company.
The pickups represent the best quality and improve the playability as they create a warmer and more balanced sound as compared to their single coil pickups.
It also has a five-way pickup selector switch that allows for five pickup combinations for the best playing experience. With all these features, it would be safe to say that the Robin Ranger guitar was ahead of its time.
The neck of the Robin Ranger guitar is made of maple wood, which is one of the best materials when it comes to guitar necks. It does not swell or contract with the weather changes. Furthermore, it also helps your guitar to stay in tune.
The Robin Ranger guitar has light strings, making it a perfect option for jazz and blues. So, if you love playing aggressive genres, consider choosing this guitar as its light strings won't hurt your fingers.
All in all, the Robin Ranger guitar is a well-constructed guitar with great sound output.
SG Takes Over Robin Guitars
Robin guitars also manufactured a soloist guitar in 1982, which was quite popular among guitarists back in the day.
It had a mahogany body, which not only gave it a vintage look but also improved its longevity. The fingerboard was also made of premium-quality rosewood.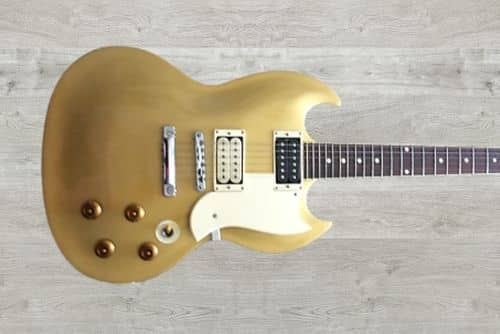 In terms of performance, the soloist Robin guitar produced a bright tone, thanks to quality components. As a cherry on the cake, it had a light body and was pretty portable too.
Despite its good performance and sound construction, it was discontinued in 1986.
Did Robin Guitars Stop Innovate?
No, Robin guitars had a history of producing powerful instruments, and they did not stop innovating. As a matter of fact, it introduced a few designs in the market.
However, the company wasn't able to manufacture many guitars, and eventually, it lost its popularity as new companies joined the business.
The Bottom Line
Established in 1982, Robin guitars was a popular electric guitar manufacturer. In this article, we have discussed their history, along with their most popular guitars.
The Robin Ranger is one of the best-selling guitars by Robin. The company stopped manufacturing in 2010.