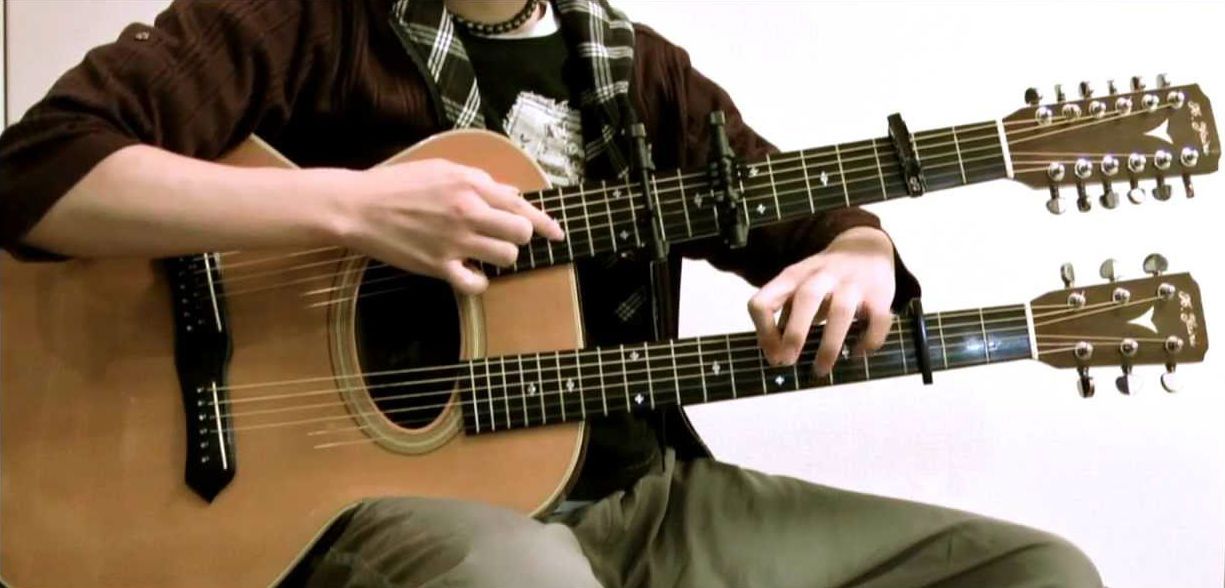 It's becoming more common to discover hidden talent lurking just around the corner. Andy McKee was one such find, now having garnered several million followers after posting his unique guitar styles on youtube. I imagine a similar fate for Japan's acoustic guitar wizard T-cophony.
American indie band Walk Off The Earth started showcasing T-cophony's amazing talents on Facebook. My first introduction was through this video, noting the wild design of what appears to be a modified double-necked acoustic guitar. However, upon further examination you can tell that one neck is a 12-string and the second neck is a regular 6-string. He has capo-ed both necks and uses a combination of finger-work, harmonics, and strumming to create elaborate sound textures, all with one instrument.
The sound design reminds me of some of the electronic rock of the 80s, meshed with more modern EDM styles. It's not far off base to conclude in this way. T-cophony's musical inspiration comes from 60s and 80s rock as well as ambient and electronic music of the last 3 decades. Originally a drum student, he picked up an old guitar and taught himself to play, originally on electric and then switching to acoustic because he grew tired of fixing the circuitry on the electric.
His website states that he spent a period of time suffering from mental illness and wrote some of his songs about the effects that sleeping pills and medication. The result is a different approach to not only songwriting, but instrumentation as a whole.