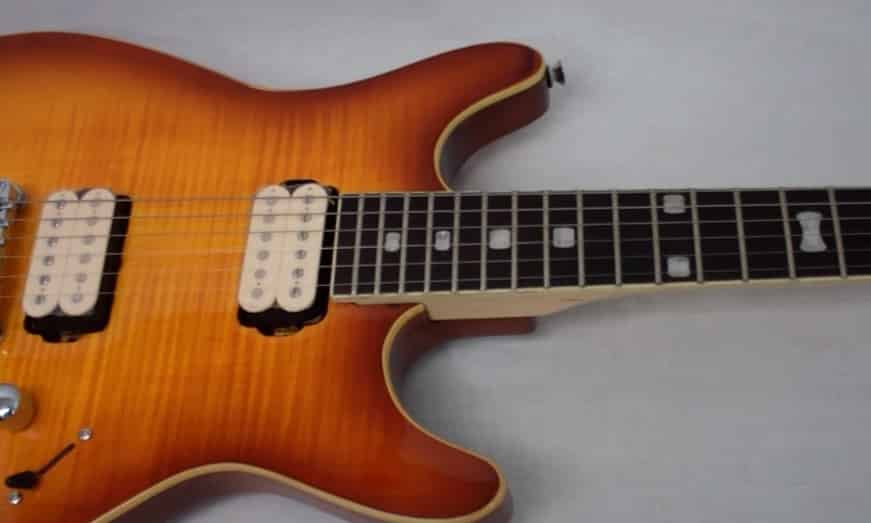 Guitars are considered a vital part of modern-day music. It is hard to find some melodies that do not have their tunes to thanks the guitar. Guitars as we know them today have a long history of innovations and upgradations to new technologies. What makes them special is their shape, the unique and soothing sound that can be used in different genres of music and compatibility.
All About Canvas Guitars
Canvas guitars with their slogan "New Old School" is upholding the significance of guitars, keeping the traditions alive. While there are numerous changes and upgradations to the guitars, the history of modern guitar shape goes back to 150 years.
Canvas guitars believe in keeping the traditional guitar shape and adding features and a touch of modernization to these guitars. Their guitars are a perfect fit for any professional or hobbyist. That being said, they bring out some uniquely creative and innovative designs for guitars that are appreciated by almost every guitar user.
Canvas guitar is the name of innovation in the world of musical instruments. They understand our nostalgia and attraction to the old school shape and feel of the guitar. Canvas Guitars do a great job with bringing out all the innovative and latest features, combined with the same old feel and shape of these guitars that you will love to feel and play. These guitars are endorsed by most professionals for their durability, efficiency, and of course the aesthetics that have been given its due consideration. With Canvas guitars, you don't have to choose between looks and performance. They offer a complete package.
Canvas guitar has three main categories to choose from depending on your usage and likeness. They have Canvas Acoustic, Canvas Electric, and New Old School series. All three series are unbeatable in terms of quality and durability.
Canvas Acoustic
Canvas Acoustic series is a state-of-the-art project. They have put years of their experience in the field to good use and brought out some truly astonishing marvels of melody. These acoustic guitars are inspired by the old shapes from the 60s and 70s. Combined with the latest innovation and most recent trends, it is hard to not fall in love with these awesome instruments.
Coming to the shape and overall build quality, they have done a marvelous job. Mahogany wood is used in all the series that gives these guitars a great finish along with the durability. These guitars are comfortable for long playbacks and you cannot get enough of them.
As far as performance is concerned, Canvas guitars will never cease to impress. It is the same with Canvas acoustic series and all of these guitars give out superb tones. The tones are balanced and just right, thanks to the digital tuner and XLR balanced output on these Canvas guitars.
Canvas allows you to choose from a wide range of finishes with a traditional and modern touch. Whatever your preference may be Canvas has got something for you regarding the finish. Also, you can choose from a wide range of cuts and sizes that suite your playing style and preferences.
Canvas Electrics
Electric Guitars are merely 75 years old. Thanks to the modern Jazz bands and Western Swing that created the need for louder music and more clear tones on guitars. Ever since theses, electric guitars are constantly getting their fair share of innovations and technological advancements are being introduced for these electric guitars to improve the performance.
Today, there is no band that does not have an electric guitarist to live up the crowd and play some high tones. Canvas has aced the need and design for these electric guitars. With guitar being the pinnacle of Rock music, electric guitars are the right instrument for EDM and all those rock and roll bands.
When it comes to Canvas, they seem to stop at nothing and their Electrics series guitar is the right proof of their devotion to the industry. There is a whole buffet to choose from, and they have several different series for Canvas Electric Guitars.
While some people do appreciate the advancements and endorse the features of these modern-day electric guitars, they miss the feelings and vibes that those old wooden guitars used to give. Canvas has worked hard to give you the same feelings with their electric guitars and traditional textures on them. They are bridging the gap between the old and the new. Their guitars give you a feel of déjà vu when it comes to the vibes, combined with all the modern features that one might need in an electric guitar.
Their wide range of options can sometimes get you confused as to which to choose for your music pleasure and best vibes. Each series is a marvel of innovation, without missing out on the traditional feeling of a guitar. They have numerous series for electric guitars including:
Modern Series
Modern Series of Canvas Electric Guitars fits those youngsters full of energy and passion. These guitars are high performing instruments that you can play for hours without getting tired of having the feelings of giving up. Their super comfy posture comes handy when you have to give hours-long playback. These guitars are highly popular among the new generation who are working on music and have to go through the rehearsals all day.
As standard, the series is double cut and have various features with each guitar. These guitars are a perfect fit for EDM and stretching out your playback. There are two most popular among these canvas electric guitars that are:
CMF20
With a Mahogany body, Maple neck, and Rosewood Fretboard this guitar simply feels straight out of heaven in your hands. 25.5" scale really allows you to stretch your limits and keep the tones alive and energetic. With this beauty in the right hand, there is nothing that will keep it from living up the music. The guitar is available in Black, Bright Red, and Dark Navy-Blue finishes.
CMB20
CMB20 is an electrical bass guitar that is suitable for long playback for bass guitarists. With Ash Body, Maple neck and Rosewood Fretboard anyone would fall in love with the feeling of holding this guitar. The guitar packs some greatly interesting features that are endorsed and loved by most bass guitarists. It has a 34″ scale that is just perfect for the bass tones. CMB20 is available in Orange Sunburst Flat and Oil Walnut ash. These colors, obviously signify the power that suits a bass guitar.
Electric Vintage
Now, there are some among us who don't want to jump into the world of EDM and rock and roll. For all those classic tones lover, Canvas presents their electric vintage series. These guitars do not only look like traditional vintage guitars but also pack the same tones.
What is the best part? They are electric. Yes, astonishingly tremendous isn't it? These guitars have the looks and feelings of classic guitars. Yet, they come pre-loaded with all the features of electric guitars. You don't have to force the strings to produce those soothing classic music tones. You can enjoy the features and feels both with these marvels. These guitars are popular among songwriters and playback guitarists. Some of the most endorsed guitars from Vintage series would be:
CVF10
CVF10 is a single cut electric guitar that has tones from a traditional guitar. Not to mention the feelings and textures that include Black, Vintage sunburst, and Transparent Cherry. The guitar has Mahogany body, Maple neck and Rosewood fretboard for extended comfort and durability. This guitar comes with 1 volume, 1 tone, and 3-way sound.
CVN20
CVN20 is what you can call a truly hybrid guitar. It has a non-cutaway shape for those who are really into old school guitars. Yet, it packs all the powerful features of the modern-day bass guitars and much more. It is compiled of Mahogany body & neck, and a spruce top. To spice up the things, Fretboard is rosewood as all the guitars made by Canvas for additional comfort and durability. This guitar is simply superb with a fully loaded electromagnetic platform with one P and two jazz tones that add extra cutting power to each tone you make with this guitar.
The Dream Behind Canvas Guitars
Canvas is acing the world of guitars with their extremely powerful instruments. It is needless to say that they are filling the gap between traditional and modern-day guitars. With Canvas, you will never have to choose between the latest features or the classic shape and design that you love. You can have both with Canvas guitars and produce some extremely powerful and rock n roll tunes. They live up to their motto "New Old School" with each model of guitar they introduce.
The Bottom Line
This article presents you with the moto behind Canvas guitars. Their passion-driven love for the classics is evident in each release. These guitars come with vibrant finishes and textures and are pre-loaded with all the advanced features you would like in a guitar. The article also contains some highly informative insight on the top models from Canvas so you can choose from them and rock-on.