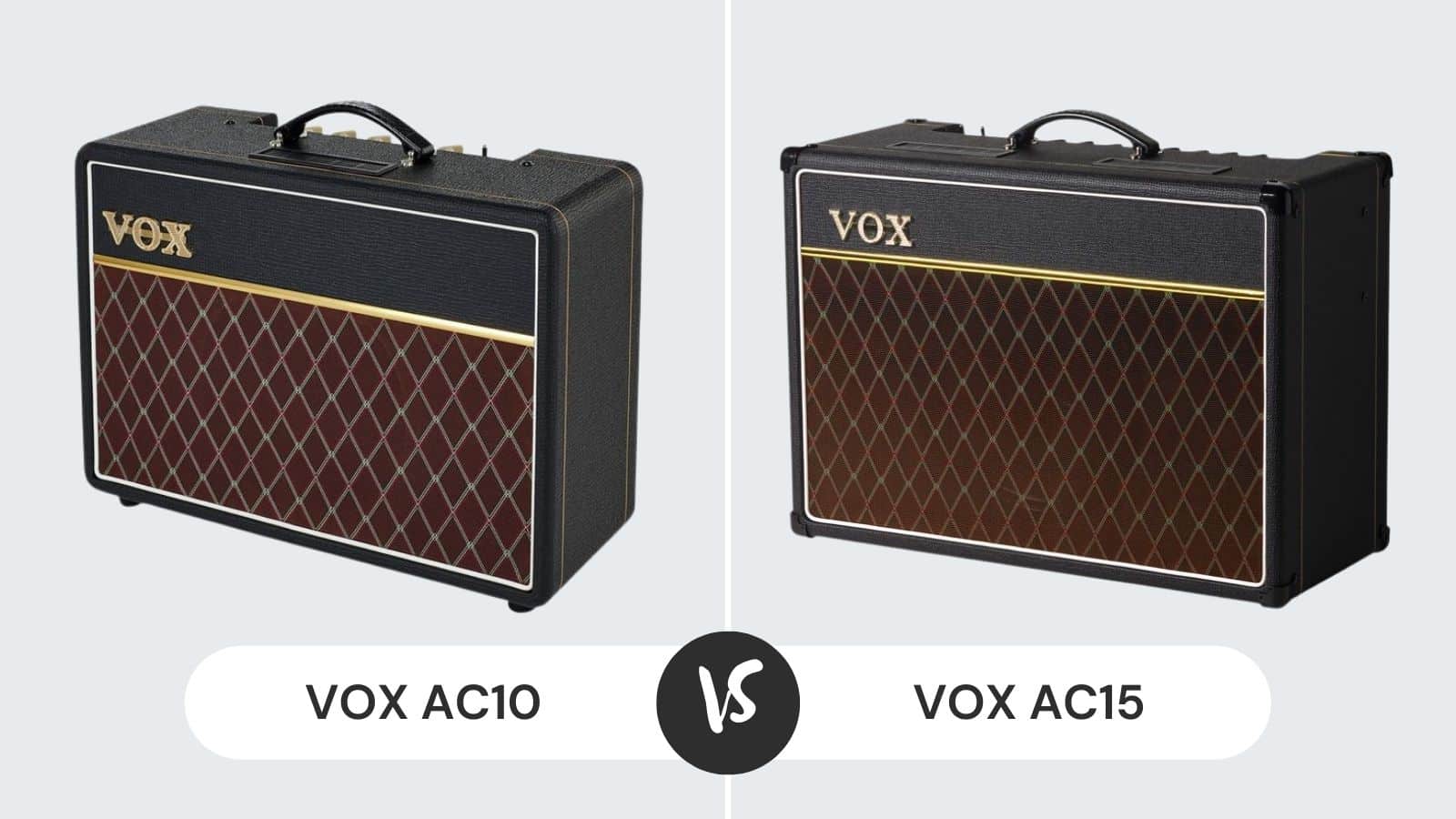 Isn't it strange that the guitar comes up in mind almost every time whenever people think of the music? Without a shadow of a doubt, the guitar holds a special place in the hearts of many guitarists, and its popularity has only increased ever since its invention.
It is readily available, affordable, and versatile, which are some of the many reasons for its immense popularity.
Having said that, no matter how skilled a guitarist you are, you always need a few tools and equipment to rock your performances. A guitar amplifier is one such tool that every guitarist uses. Beginners often take them as an unnecessary tool.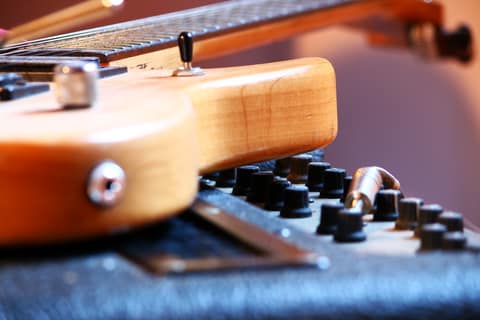 However, guitar amps come into their own when performing against big crowds. Essentially, they strengthen the guitar signals to whatever strength you like.
When it comes to guitar amps, a myriad of brands manufacture these tools. Among all guitar amps, The Vox AC10 and AC15 are particularly popular. These are the two big names in the guitar amps industry. While they both possess pretty similar features, they differ in some areas.
This article intends to compare these two guitar amps so you can make an informed purchase decision.
Vox AC10 vs AC15 Overview
Below is a detailed comparison between these two guitar amps, so you know which one to buy.
| Features | Vox AC10 | Vox AC15 |
| --- | --- | --- |
| Power | 10 watt | 15 watt |
| Speaker(s) | 1 | 1 |
| Preamp tubes | 2 | 3 |
| Weight | 17 lbs | 49 lbs |
Vox AC10
If you have been playing guitar for years, the name would have brought many memories. It is one of the first guitar amps by Vox and is one of the highest-selling guitar amps by the company. Even after the advent of modern amps, its popularity has not declined.
Although the company phased out the Vox AC10 in 1965, it was again introduced in the market in 2015. So, it is the company's modern take on the classic guitar amps.
Speaking of its design first, the Vox AC10 has a vintage look that everyone is a fan of. It looks like a briefcase wrapped in leather and has the company's logo written over it. The knobs under the cover feel so great that you'd want to play forever.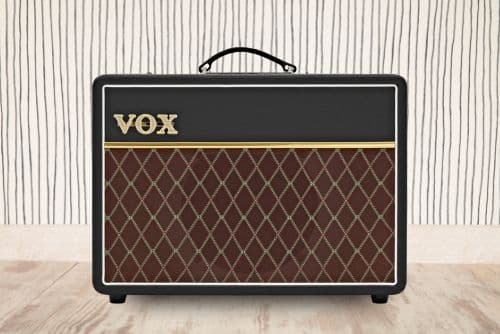 In terms of features, the Vox AC10 bridges the gap between the Vox AC4 and the Vox AC15. It is rated at 10 watts, which may make you think that it is not loud enough.
However, it is seen that its sound is incredibly louder for a 10-watt guitar. The Celestion VX10 speaker also represents the best quality. Essentially, it combines portability and power to offer the best playing experience.
Talking about its layout, the Vox AC10 features a simple structure that is super easy to operate. It includes gain, bass, treble, reverb, and volume controls. The built-in reverb is a studio-quality digital version with a long decay time.
As far as the performance is concerned, the Vox AC10 sits right between the Vox AC4 and the Vox AC15. It perfectly strengthens your tone and allows you to shape your tone with tons of cool features. The Vox AC10 is powered by two EL84s and is equipped with two preamp tubes.
While we all love the treble and bass controls, a mid-EQ would have further enhanced its performance. You won't notice any distortion or unwanted sound even when playing it at higher volumes.
As for construction, the Vox AC10 has been built exceptionally well. It comes with a handle to help you carry it around easily. The handle is sturdy enough, so you can rest assured that it won't come off after a few sessions. All controls are responsive, and the color scheme is also pretty decent.
The Vox AC10 is a great choice for anyone looking for a balanced guitar amp. It is certainly not the loudest guitar amp, but it is loud enough so that you will be easily heard in small to mid gigs.
It is an excellent choice for practicing at home if you do not want to bother your neighbors. You can easily manage its volume as per your needs.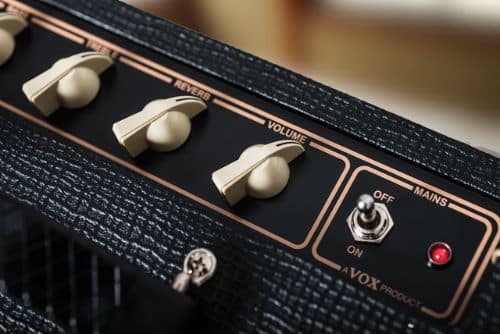 Portability is another area where the Vox AC10 excels. At 12.3 kg, it is among the most portable guitar amps by Vox. If you travel a lot with your music gear, it would be the right choice for you. All in all, the Vox AC10 is a pretty balanced deal.
Vox AC15
Moving on to Vox AC15, it is a flagship-level guitar amp by Vox. It continues the Vox legacy with its great features and is an automatic choice for many guitarists. It nails all the fundamental pillars of what makes a great guitar amp and has everything that you need to rock gigs.
As for its design, the Vox AC15 has an instantly recognizable Vox design. It looks pretty identical to the Vox AC10 and has the same leather body with the handle at the top.
It's simple yet attractive, and it is clear that the company has not overdone anything regarding its design. You get more color options so you can choose it according to your personal preferences.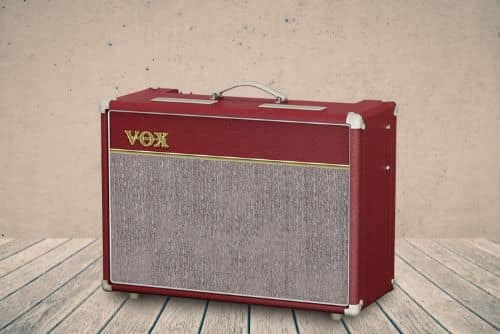 Like the Vox AC10, the Vox AC15 is also equipped with a standard Celestion speaker, which does the job pretty well. The layout is quite different from the Vox AC10, and it has many extra features that the Vox AC10 lacks.
You get features like depth, speed, and tone cut that you don't see in most guitar amps. The two channels include normal and top boost, and both come with their own volume control.
In addition, you get lots of cool effects, such as reverb and vibrato. The Vox AC15 does not have an effects loop, which might be a snag for some guitarists.
The Vox AC15 is a 15-watt guitar amp that comes with three 12AX7 preamp tubes and two EL84 power amp tubes. It also features a footswitch, enabling you to control the effects better.
In terms of performance, the Vox AC15 is as good as anything. It has a richer and more fulfilling tone and is way louder than the Vox AC10.
Essentially, it took all the features of the Vox AC15 and took them a step ahead. If you are to perform against large crowds, you can't go wrong with the Vox AC15.
Now that we have discussed its pros let's address the bummers. Firstly, the Vox AC15 is a premium guitar amp that costs an arm and a leg. If you are low on the budget, you may need to look elsewhere. Yes, you get lots of robust features, but those features do not come for free.
Apart from that, the Vox AC15 weighs 49 lbs, which is far higher than the Vox AC10. Expectedly then, it is not suitable for traveling. Carrying it around is a troublesome experience for most users. If you are looking for a portable guitar amp, consider buying the Vox AC10.
Final Verdict
The Vox AC10 and Vox AC15 are the two most sought-after guitar amps on the market. While the former is portable and ideal for playing at home, the latter boasts premium features for better playability.
The Vox AC10 is fairly loud, but it's not a good option for playing in large gigs. Both have a clear tone and all the effects that you need in a guitar amp.