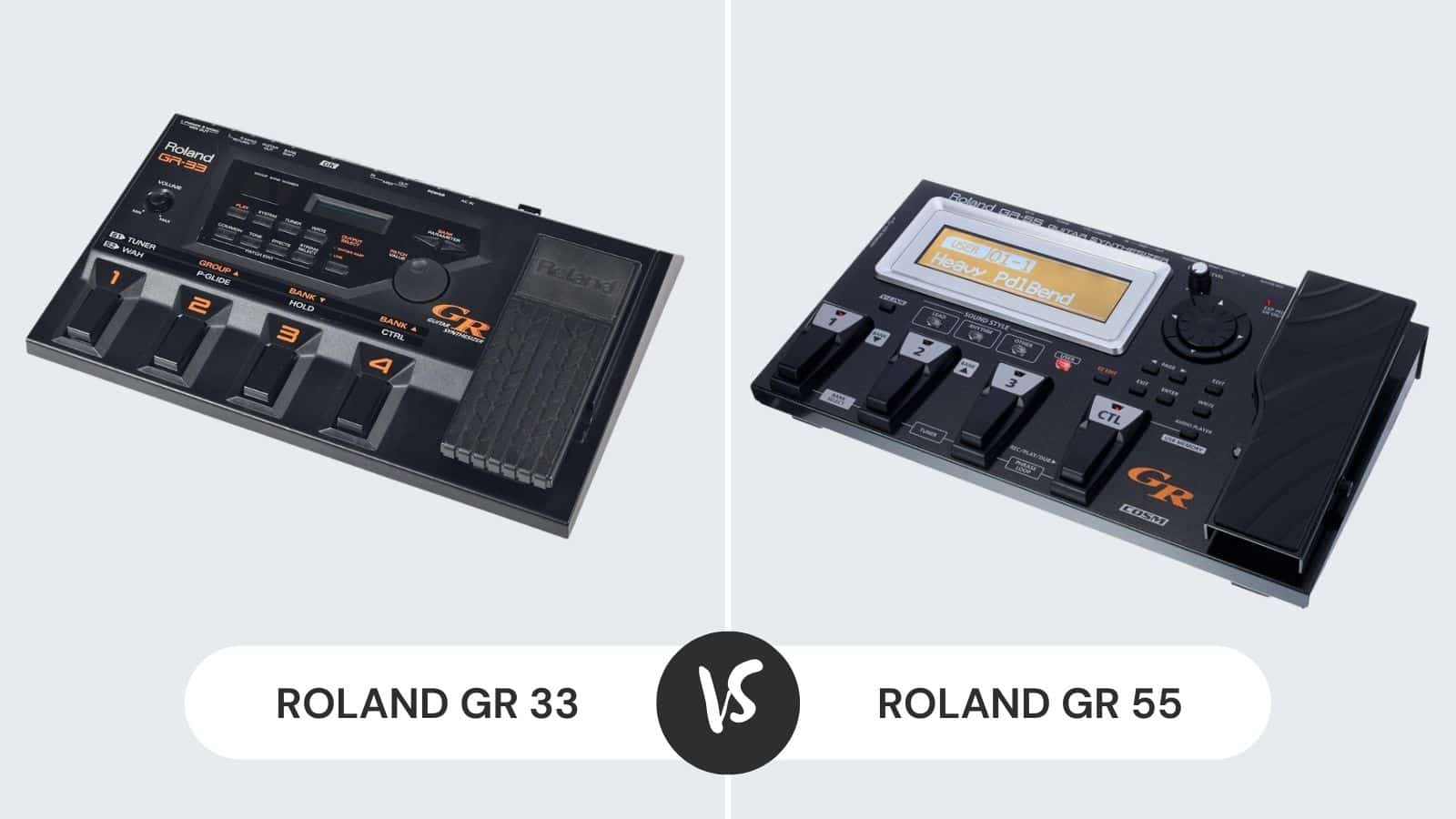 Roland has become a well-established name in the guitar equipment industry. Their guitar accessories are made with top-notch quality control so that passionate guitar players can use them for their performances.
Professional guitarists know that if the playback is not good then their skills do not matter. They make sure that they invest in accessories that can help them with a great performance.
Along with all these different types of equipment, you will also need a guitar synthesizer. It is a device that uses information input from a guitar in place of a keyboard. Synthesizers use guitars instead of keyboards triggers or inputs.
These devices are also used to enhance the overall sound produced by your guitar. They can help in fine-tuning your performance. There are many brands that produce guitar synthesizers but Roland is the most popular choice for most professional guitarists.
Roland GR 55 and GR 33 are two products that have built quite a reputation in the music world. Both the devices help the users in giving a flawless performance but there are some minor differences that can only be picked up by a seasoned guitarist.
If you are someone who wants to invest in a guitar synthesizer that can enhance your performance then read ahead to pick between these two great options.
Difference Between the Roland GR 33 vs GR 55
| Features | Roland GR 33 | Roland GR 55 |
| --- | --- | --- |
| Price | $299 | $899.99 |
| Performance Speed | Average | Lightning fast |
| Customizability | Low | High |
| Sounds Library | Limited collection | Massive collection |
| Target Customers | Professional | Beginners and professionals |
Roland GR 33
The Roland GR 33 is manufactured as a floor-based unit that is suitable for both studio and live environments.
The synthesizer receives a separate signal from each individual guitar string. These signals are then sent to the circuitry so that the string pitch can be analyzed in order to drive the synthesizer.
The GR 33 comes with a number of new sound effects and a top notch sound engine. These updated sound effects will streamline your guitar playing experience.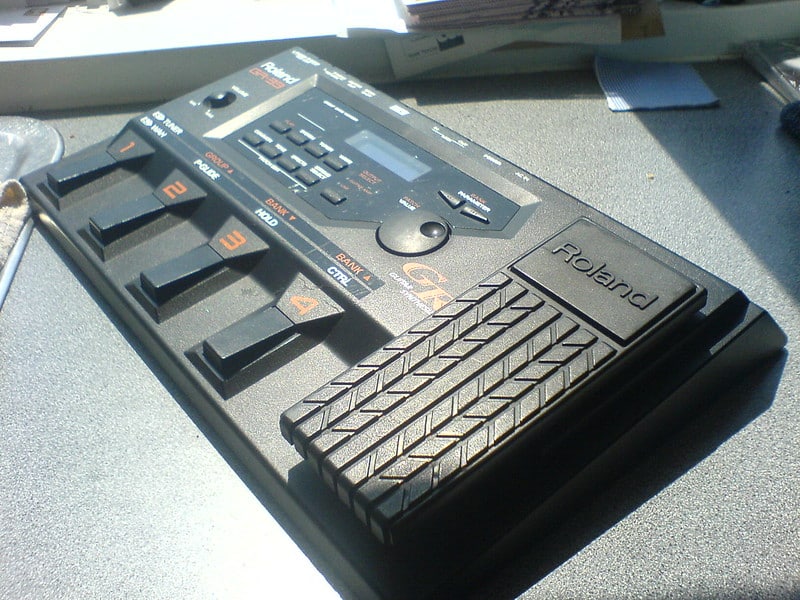 Speed Tracker
It has an upgraded speed tracker that when coupled with Roland's new synthesizer module JV-1080, makes the user achieve the best results. Another great thing about the GR 33 is the 384 amazing instrument sounds that come along with it.
You also get a dedicated reverb and chorus processing module along with this device. The design is made with strictly keeping in mind the ease of use on the floor and the durability that is required along with that.
You will not face any problems like scratches or wear and tear due to floor usage.
Power Supply
It has a power supply of AC 14V and it has 40 multi-effects which include overdrive, rotary, etc. It has an onboard arpeggiator and assignable expression pedals which you can use to customize effects according to your personal preference
It has a feature called Synth Harmonist which can add an "intelligent" harmony to any individual note.
Panels
The front panel has physical controls which have been kept simple so that it can be user-friendly. Aside from data and volume knobs, there are a few more buttons and a tiny LCD window for 3 digits only.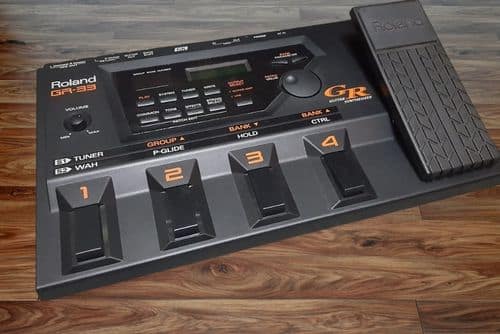 Roland GR 55
It is the latest version of guitar synthesizers from Roland. It is a great device that has quite successful predecessors too.
The technology in this gadget is quite advanced and it is a great product for guitarists who are professional players and need the latest products for their performances.
The effects on GR 55 are definitely modern and futuristic which can give an added advantage to any professional guitarist.
Sound
It offers a great combination of COSM guitar modeling and guitar synthesis. You get four sources of sound at a single time.
It is highly user-friendly and you can easily experiment with over hundreds of ready-to-use, great sounds for pop or rock guitarists. The advanced technology provides lightning-fast processing and flawless sound quality.
Roland GR 55 comes with 900 PCM sounds that are totally editable which include vintage synths, strings, organs, pianos.
It has two types of engines which provide multiple effects along with chorus, global reverb, onboard looper, etc. There is a USB audio player which is built-in and can be controlled by foot.
You can literally get ready to rock your guitar performance once you invest in this device. The massive library of great sounds which do not require any editing, is at your disposal.
There is a great line-up of presets which you can use without any hassle and they can be easily accessed with simple buttons. With the Roland GR 55 you will literally feel like there is no pain in the process.
After years of immense research and investment, Roland has been able to manufacture a guitar synthesizer that has lightning fast tracking.
It is the fastest guitar synthesizer that has ever been made. That is a huge achievement for a brand like Roland that has been in the market for years.
No doubt, this makes them the leader of this industry. The COSM engine does not require any detection time and enables the device to respond right away.
LCD
It is incredibly easy to use with its EZ edit feature and there is a large LCD which requires little to no guesswork.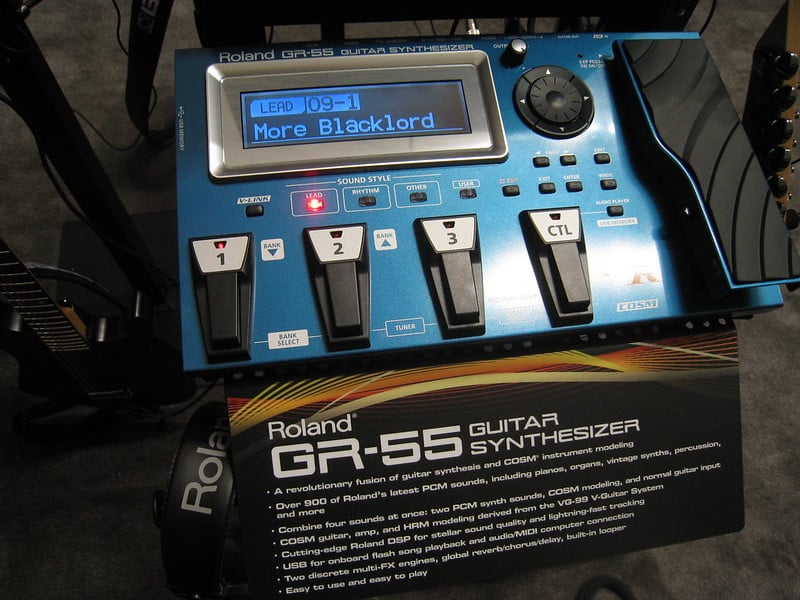 For those guitarists who wish to go even deeper down the customizability hole, you have a large collection of parameters that can be easily controlled.
Professional guitarists will love the customizability and advanced features on the GR 55, whereas those who are beginners will enjoy the ease of use of this device.
Conclusion
Roland GR 55 is quite clearly the winner amongst the two. The primary reason for this is that it is simply the latest device amongst the two. Anything that is released later will obviously have more advanced features than its predecessor.
It will have the latest technology and more options. That makes Roland GR 55 the more superior device. The large number of presets also make it easier to use.
It also increases the user base of the product as beginners and seasoned guitarists both can use it for their performances.
However, many would argue that if you do not need the presets and are quite well established in your guitar skills then GR 33 should suffice for you too.
If you already have a GR 33 and are looking for an upgrade then these minor differences might help you make a sound decision. However if you are a first time buyer for a guitar synthesizer then GR 55 is the way to go.
Mainly because of the ease of use that it provides for new users who have never used such a device before. Using a new gadget for the first time can be a daunting experience.
However, with the large library of sounds that are included in the GR 55, you can find the perfect place to start your journey with a guitar synthesizer.
The speed of the GR 55 is also a major factor that makes it better than its predecessor. It helps in putting the GR 55 ahead of any guitar synthesizer ever produced. Many professional guitarists prefer Roland GR 55 because of its performance speed.
When you are performing professionally, these things matter a great deal, mainly because so many things can go wrong at one time. But your GR 55 will save the day.