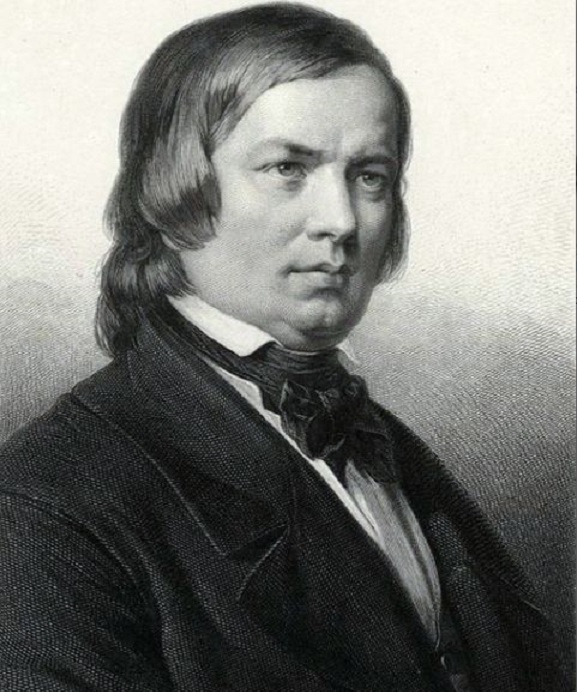 Robert Schumann (1810 – 1856) was one of the 19th century's most influential composers. During his lifetime, Schumann brought about a change in the general world of music, helping to champion the rights of young and upcoming musicians. Although he contributed to classical music in considerable and amazing ways, sadly, Schumann is one of the most undervalued of the great classical composers.
Read: The Best of Robert Schumann
Schumann suffered from serious bouts of depression and as a result, his compositions were often classified as works of pure madness. Nonetheless, his music was extremely open and he was one of the few who dared to incorporate autobiographical components and descriptive titles and programs. To further understand the man and the legend, here are 10 interesting facts about the composer Robert Schumann:

Feel free to Subscribe to Our YouTube Channel if you like this video!
Facts About Robert Schumann:
He was incredibly smart
The youngest of 5 children, Schumer's father was a bookseller, which also implies that he was exposed to an array of literature. He was completely enamored by the books in his father's store such that he considered a career as a writer or novelist. Great literary giants such as Bernard Shaw praised Schumer for his writing ability claiming that he was just as good a composer as he was a writer.
2. Pushy mom
Schumann's father passed away in 1826 when he was just sixteen years old, which left his mother in charge of the family affairs. As it turns out, Schumann's mother did not want him to pursue a career in music because one in law would be much more prestigious. To honor his mother's wishes and to ensure that he got his inheritance, he left for law school in Leipzig. It is said that Schumann did not attend lectures often as he was more interested in studying music, literature, hanging out with beautiful women and drinking.
3. He wanted a career as a concert pianist
Schumann only turned to composing after he hurt his finger using a homemade device intended to prop up his fingers while practicing. Schumann was so eager to succeed that he thought the crude instrument would get him there faster. Instead, he ended up permanently injuring his two fingers on his right hand, immediately ending his ambition as a pianist.
4. He made his first suicide attempt soon after leaving law school
Schumann's brother Julius, as well as Julius' wife (Schumann's sister in law), passed away from extreme complications arising from the worldwide cholera epidemic of 1833. Their deaths were too much for Schumann to handle, and he experienced his first case of extreme depression, which caused him to commit suicide for the for the first time in1833.
5. He was not the biggest fan of contemporary composers
In 1934 after his first suicide attempt, Schumann created the Neue Zeitschrift für Musik, otherwise known as the New Journal for Music, which was published for the first time on 3rd April 1834. Schumann published his most critical writing in this journal and he was particularly fond of criticizing contemporary composers including the followers of Franz Liszt and Richard Wagner. According to Schumann, these contemporary composers often tried too hard to feature flashy technical displays. He did, however, applaud a few for their prowess such as Chopin and Hector Berlioz.
6. Forbidden love
In 1834, Schumann like all human men fell in love with the 16-year-old adopted daughter of a rich noble known as Ernestine Von Fricken. The two were set to get married but Schumann broke off the engagement after he fell head over heels for 16 years old Clara Wieck. Robert and Clara met in 1830 when Schumann was still under the impression that he would pursue a career as a pianist.
Read also: Clara Schumann Facts
Both Clara and Schumann were, therefore, students of Friedrich Wiek (who was also Clara's dad). Although Wiek strongly opposed their relationship, the two lovers continued their tryst and in 1840, when she attained legal age, the two got married. They remained together and had 8 children. His wife Clara served as a source of inspiration and criticism throughout his life and she even performed piano pieces that he had written as he could not do them himself.
7. Schumann's Year of Song
After 1840, when he got married, Schumann was so happy and in love that he could not stop composing new songs. The year became famous known as Schumann's Year of Song which was characterized by 140 lieder including the celebrated cycle Dichterliebe (A poet's love).  Some other large-scale works include a piano concerto for his wife, Genoveva, and many more works.
8. He was extremely shy and quiet
Much to the dismay of his close friends, Schumann was incredibly shy and would prefer to listen rather than talk. He loved to spend time in quiet and serene environments and he was known to take walks in the countryside where he could enjoy the sounds of nature. although he was shy in public, his music was extremely open as it often revealed what mood Schumann was in. For instance, whenever he would undergo depression, there was great sadness in his music, but when he was well, his romantic composing side would return and nurse him back to a path of health.
9. He loved being a father more than anything
Schuman and his wife Clara managed to have a large family and it is reported widely that he loved his role as a father to his 8 kids. He was very involved in their upbringing, helping to feed, clean, and play with them. This was truly remarkable because fathers at that time were generally disinterested in domestic duties and responsibilities.
10. Sad ending
Because he suffered from depression all through his life at a time when mental illness was deeply misunderstood, he had quite a troubled existence. Eventually, his symptoms became too severe and he was institutionalized in a mental asylum where he passed away.