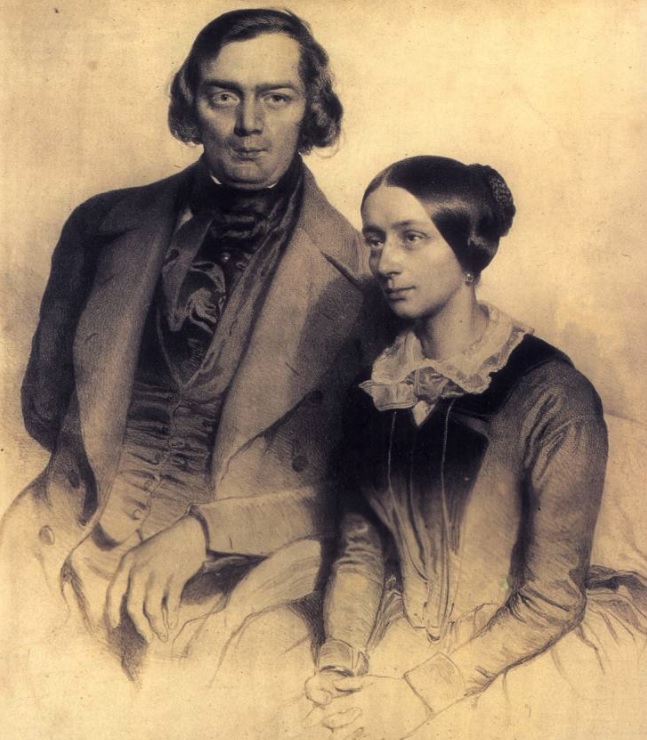 If you speak the name of Schumann it is almost one hundred percent certain that the conversation will swerve towards Robert Schumann; that troubled musical genius who eventually died in a Dusseldorf sanatorium having thrown himself from a bridge into an icy river.
Read also: Clara Schumann Facts
How many, I wonder would mention or even know of his astonishing wife Clara who supported and nurtured Robert throughout the majority of his adult life? And who for the most part ensured that his music is with us today even at the expense of her own. This article pays a modest homage to the life and work of Clara Schumann.
From a distance of over 150 years, it is often difficult to fully comprehend the lives of the people who lived then. Our 21st Century perspective can often be unsympathetic or simply wrong. Clara Schumann was brought into the world in 1819 (Clara Wieck), the very same year as the Imperial Queen Victoria's birth.
Schubert was already quite prolific at the time and curiously suffered a similar fate to Robert Schumann. Clara was born into a family with high musical expectations of their children. Her Father was by many accounts, a cruel and determined man who taught the piano as a profession and someone who did not suffer fools gladly. It was Friedrich Wieck who instilled and determined Clara's raison d'etre: to be a Concert Pianist.
Robert Schumann was also a pupil of Clara's Father. He had been drawn to Clara for a variety of reasons, including her outstanding musical abilities but Friedrich was not at all pleased about the prospect of Robert courting his daughter. As far as Friedrich was concerned Robert was a man of little promise, an unknown composer, and too old for Clara.
In spite of her Father's wishes Clara began to cultivate a relationship with Schumann, probably slightly in awe of this young pianist and composer which was deliberately cut short when the Wieck family moved to Dresden and Friedrich cut all links with Robert Schumann.
The young couple was not deterred and maintained by all accounts, a secret correspondence through an intermediary. Finally, in 1840 against her Father's wishes, Clara married Robert Schumann. At the time this was a bold decision, especially on Clara's part as women in Germany were not legally able to marry without their Father's consent.
There was a year-long court case over Clara and Robert's marriage but after all the proceedings were concluded the marriage remained intact. Robert and Clara amongst all the turmoil of their lives together produced eight children of which only seven survived. Clara maintained her professional role as well as being a devoted mother to their children and later a carer for Robert as he grew sicker; always placing Robert's career before her own.
Before Clara had met Robert Schumann and after their marriage, she continued to do what she loved most: perform. She was an astonishing pianist with what has been described as a formidable technical facility that placed many of her contemporaries in the shade. Her concert programs often included some of her own compositions although she frequently favored the works of Scarlatti, J S Bach, and Felix Mendelssohn.
Later in her career, she championed the music of the young and rather handsome Johannes Brahms. He, in turn, became a significant figure in Clara's life notably after the tragic death of Robert. Clara continued to perform and to teach almost until the end of the 19th century and remained a true advocate of Robert's work throughout her career.
Like many composers before and after, Clara's compositions use the word opus(work) followed by a number that indicates the catalog position of the composition. Clara began as you would expect, her composition catalog with her Opus. 1 she gave the title of "Quatre Polonaises" pour Pianoforte. This she composed in 1831 at the age of twelve. These are modest but florid pieces that show the young composer's fluency and emerging musical aptitude.
Clara's attention soon moved towards larger scale and more ambitious musical forms. Her Op.7 is called a Concerto for Piano and Orchestra in A Minor (1836). The work is in three movements (Allegro; Romanze; Finale) and pays more than a passing glance to composers she admired like Mendelssohn, Chopin, and Bellini. As the work of a fourteen-year-old musician, it represents a reasonably good attempt at this challenging musical form. It is historically interesting to note that the first performance of the Concerto was conducted by Felix Mendelssohn at the Gewandhaus in 1834.
A number of songs and more pieces for the piano followed, broadly speaking a composition each year which given that Clara was regularly performing, mothering her growing number of children, and promoting and supporting Robert Schumann was no small achievement. For me, the next and possibly the most important addition to Clara's catalog of works is her Op. 17 Piano Trio in G Minor (1846). Even though later Clara commented that the work was inadequate and sentimental in comparison to her husband's own Piano Trio in D minor (1847), for many admirers of her work this stands as a fine composition in its own right.
The Piano Trio comprises of four movements as follows: Allegro moderato; Scherzo: Tempo di Menuetto; Andante and Allegretto. Unlike the criticisms often leveled at the earlier Piano Concerto, the Piano Trio to me shows Clara in full control of the musical material and structures. It also clearly highlights Clara's fine ear for musical textures and in spite of what we might expect from such a gifted pianist, does not overplay the role of the piano within the ensemble.
Only four additional compositions are included in the rest of Clara Schumann's compositional oeuvre. These include "Variations on a Theme of Robert Schumann" (Op. 20 – 1854); and possibly most notably the final Op. 23 "Six Songs". Clara also wrote cadenzas for the third and fourth Beethoven Piano Concerti and one of Mozart's Piano Concerto in D minor K. 466 which she loved to perform.
Even though her compositional output did not follow her into old age Clara pursued her teaching, editing, and performing passions throughout her life. Her final appearance on the concert platform was in 1891 and following a series of strokes during the next few years, on the afternoon of May 20th, 1896 Clara Schumann departed this world.
Listening links:
Piano Concerto in A Minor
Piano Trio in G Minor
Three Romances for Violin and Piano
Six Songs Op.23
Further Reading:
Clara Schumann: A Dedicated Spirit by Joan Chissell (Hamish Hamilton, London-1983) ISBN: 0-241-10367-3
One of the recommended books about Clara Schumann