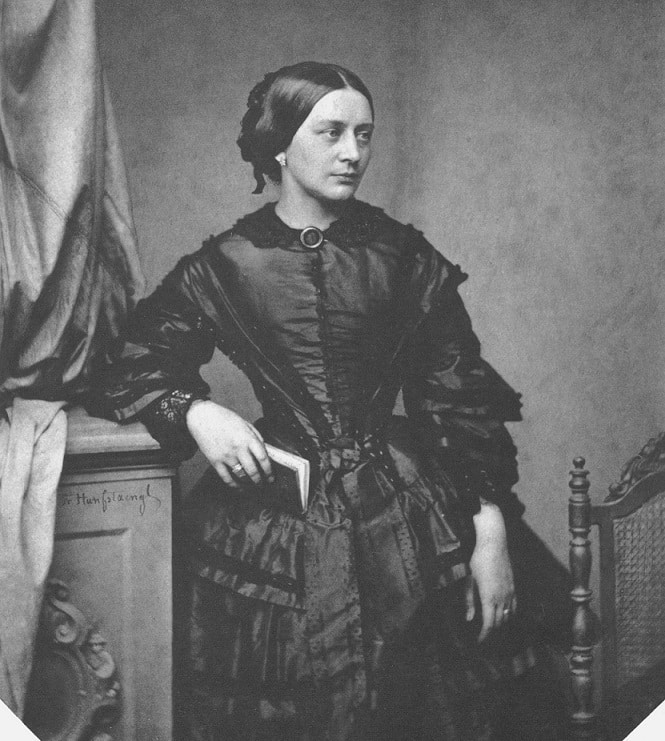 German pianist and composer Clara Schumann (1819 – 1896) was a force to be reckoned with despite opting to settle for a career dominated by male composers and in spite of being married to her better-known husband Robert Schumann. Her career spanned decades, 61 years in concert to be exact, and she managed to win the highest praises and accolades for her unique musical style.
Read also: Robert and Clara Schumann
Clara Schumann was sometimes referred to as the European Queen of the Piano as a result of her unique technical ability. Since she lived at a time when female composers of her caliber were extremely rare, she also holds a special place in history. Over the course of her long and successful career, she transformed the configuration and repertoire of piano and she left behind an impressive body of composition that is still enjoyed and performed today. Here are 10 interesting facts about the composer Clara Schumann:
Facts About Clara Schumann:
Family life
Thanks to her accomplished father, Clara received an enviable education that enabled her to become one of the foremost women in piano in the 19th century. Long before she was even born, Clara's future had already been determined by her successful and ambitious father Friederich Wieck. As such, Clara started receiving her training from very early on because her father had set a goal in place to make her a performing piano player of the highest rank. As a result, she had already started performing by the time she turned 9 under the guidance of her father.
2. Child prodigy
Clara received an extraordinary musical education because her academic background was often relegated to the background. Her father would spend every waking minute supervising her formal training in both theory and composition, which started after her 5th birthday. When she was 11, Clara made her first professional debut in a solo recital in Leipzig. The critics in attendance had nothing but positive to say about her work. Owing to her success, she went on a European tour in 1835, where she acquired the title of a child prodigy.
3. Clara and Robert Schumann
Well known and respected composer Robert Schumann would have found it difficult to realize the amount of success that he did without the assistance of his wife Clara. Clara and Robert met when she was only eight years old while performing at the home of Dr. Ernst Carus, but their friendship did not develop into love until Clara was a highly regarded pianist. As it so happened, Friederich Wieck, was also Robert's teacher.
Wieck was deathly opposed to their relationship as Robert was still a penniless composer at that time. Fortunately, after years of pining for each other, the two got married in 1840. Clara inspired her husband on many levels and encouraged him to expand his range. When he injured his hand, Clara was responsible for performing a lot of his pieces that were made for piano.
4. Taking Wieck to court
When Clara's father Wieck took note of the blossoming relationship between Robert and his daughter, he flew into a blind rage and forbade Clara to communicate with Robert ever again. Wieck did everything he could to keep them apart including threatening to shoot Robert, as well as threatening to end Clara's career.
The couple remained apart for 18 months until Clara turned 18, upon which Robert asked for her hand; Wieck refused. What followed was a three year long battle between the couple and Clara's father. Eventually, the couple took their case to court and although legal proceeding lasted for months, on August 1, 1840, the court allowed them to get married without Wieck's consent.
5. Sacrificed her career greatly
After getting married, the couple moved around for a bit before settling down in Dusseldorf in 1850. Although she was happy, she found it difficult to play or performing because Robert would demand complete silence when composing. Women were still expected to support their husbands and do as they are told during these days; as a result, her piano playing fell behind and despite her first-rate musical upbringing.
6. Wonder woman
A huge portion of Clara's time was spent handling the domestic duties and taking care of her family. In the 14 years that they were together, Robert and Clara managed to get pregnant 10 times and have 8 children namely Marie, Elise, Julie, Emil, Ludwig, Ferdinand, Eugenie, and Felix. Although she had to endure multiple pregnancies and motherhood, Clara still continued to perform, playing 139 public concerts in the period between 1840 and 1854 across the world.
7. She often doubted herself
Although Clara's works were very well received by performers and composers alike, she seemed to have little confidence in her creative ability. She often wrote in her diaries and letters that because society believed that women should not compose, she found it difficult to believe that she had creative talent despite her husband's and father's encouragement.
8. Famous works
Throughout her life, Clara created 66 pieces including works for 20 pieces for solo piano, 4 for orchestra and piano, 29 songs, and cadenzas for piano concertos. She also traveled for numerous concert tours in various parts of Europe and England. She was also a respected teacher especially in her later years where she taught mainly at home. She is best known for Piano Trio in G Minor (1846), Drei Romanzen (1853), and Liebesfrühling (Love's Spring), 1841.
9. Performing from memory
Clara was one of the only musicians from her time to perform music from memory. Before the 19th century, playing or performing publicly without the score was considered arrogant. Clara felt that playing from memory and heart allowed her to feel the music more powerfully. As the classical music continued to develop era after era, more and more teachers would start encouraging their students to memorize their scores.
10. Famous friends
It is a well-known fact that Clara's husband Robert suffered from serious mental issues that caused him to eventually attempt suicide in 1854. While Robert was in a sanatorium recovering in Endenich, Clara was not allowed to see him for the 2 and a half years that he was confined there. During this time, she developed close bonds with other musicians such as the singers Pauline Viardot and Jenny Lin, violinist Joseph Joachim, composers Felix Mendelssohn and Johannes Brahms. She developed a particularly close bond with Brahms and there are even rumors that the two even became involved in a secret love affair.