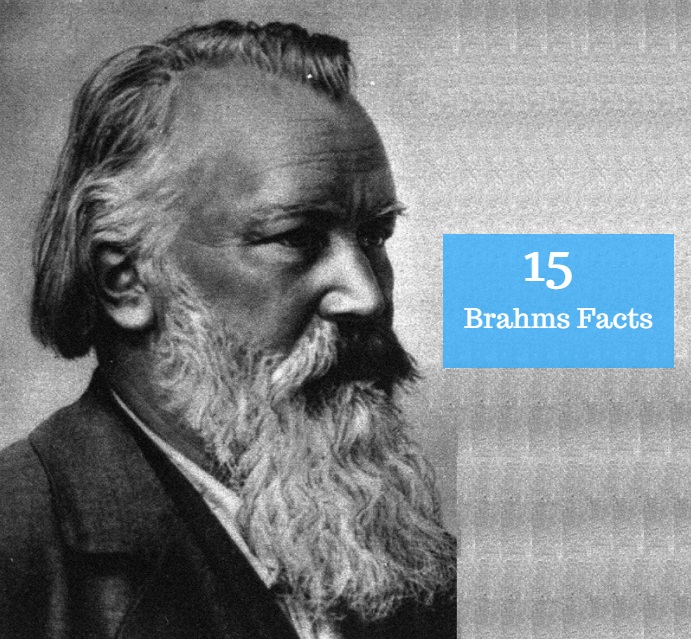 Here are the facts about the great composer – Johannes Brahms (1833 – 1897).

Feel free to Subscribe to Our YouTube Channel if you like this video!
Facts About Johannes Brahms:
Something that was frequently ignored by early biographers of Brahms was what he did musically during his formative years. Coming from a very poor family, the young Johannes was sent to play piano at the local inns, brothels and taverns to supplement the family income. To make matters worse, the young Johannes, slight, blond and pretty, was made to witness sexual and violent acts which affected him badly.
Throughout his life, Brahms was afflicted by his own reticence and modesty; unlike Liszt and Paganini he was not very good at self-promotion. Writing to a close friend about a new work, the Double Concerto for Violin, Cello and Orchestra (Opus 102), he called it his latest 'piece of folly'. The slow movement of his Violin Concerto he described as a 'feeble adagio' and the whole of the B-flat Piano Concerto (Opus 83) was passed off as '..a tiny, tiny piano concerto with a tiny, tiny wisp of a scherzo.'
Brahms' music is deeply influenced by folk and Gypsy music. This was a result of having met the Hungarian refugee violinist, Eduard Remenyi in 1850 when Brahms was only 15. Remenyi had been banned from Hungary due to his taking part in the Hungarian Revolution in 1848. The two of them subsequently toured together in 1853.
Robert Schumann, the composer and writer, was deeply impressed with the young Brahms' music, and wrote about him in his magazine, Neue Zeitschrift fur Musik (New Journal for Music); he called him a genius and heralded him as the one to overthrow the New German School of Wagner and Liszt – it the beginning of what became known as the 'War of the Romantics'. Brahms was deemed to be more old-fashioned at the time whilst Liszt and Wagner were more progressive; they pushed the boundaries of structure, harmony and they advocated programme music. Brahms stood for absolute music – music for music's sake.
It has always been assumed that Brahms was in love with Schumann's wife, Clara; she, like so many composer's loves, was unobtainable as she was married. When Robert Schumann died in 1856, Brahms went to comfort Clara and between them, they reportedly destroyed letters between the two of them. They remained good friends, but no more; Brahms never did marry (he did get engaged briefly to Agatha von Siebold in 1859, but he broke it off), and remained alone for the rest of his life.
Brahms became a wealthy man through his composing although he didn't show it. He lived in a small apartment and happily gave money to friends and aspiring musicians. He was also known to give candy to children in the streets, which was probably an OK thing to do back then. He was known to eat in the cheapest restaurants and dressed like he was homeless with a large safety pin to hold his coat together.
Brahms didn't work very quickly; he was a perfectionist. After destroying all his early music because he thought it no good, he then wrote over 20 string quartets before finally presenting his first official one. His first Symphony (Opus 68 in C minor) took 22 years from first putting pen to paper to a performance.
When he died, he was buried in the Vienna Central Cemetery where, if you were deemed worthy enough, you were placed in a special area; Brahms was buried close to Beethoven and Schubert and was later joined by Johann Strauss and Arnold Schoenberg. There is even a memorial to Mozart; Salieri, Mozart's great adversary, didn't get put in the same special area, however.
Brahms died almost a month to the day after hearing a performance of his Fourth and final Symphony (Opus 98 in E minor). It was his last public appearance and he died of suspected liver cancer aged 63.
When he wasn't composing, Brahms liked walking. He undertook holidays in Italy and Switzerland. On one such trip, he was joined by a business associate, Rieter-Biedermann and his wife and youngest daughter, Ida, who was apparently attracted to Brahms. Clara Schumann wrote to Brahms in 1868 suggesting that the girl was a good match; 'I am told she has become really lovely and she is, moreover, well off; an important asset for a composer'. It seems that Brahms wasn't interested. Ida eventually married Edmund Astor in 1872.
Brahms' German Requiem (opus 45) was his longest composition with seven movements; it can last up to 80 minutes. It was composed between 1856 and 1868 and was thought to have been inspired initially by Robert Schumann's attempted suicide, and then by grief from the loss of his own mother in February 1865.
Clearly, not everyone loved Brahms' music. In Boston (US) in 1885, the Evening Transcript reported the following; 'It must be admitted that to a larger part of our public, Brahms is still an incomprehensible terror'. But by 1905 they seemed to have eased their views on his music slightly. After a performance of Debussy, they reported, 'Poor Debussy, sandwiched in between Brahms and Beethoven, seemed weaker than usual….forced and hysterical….it is musical absynthe.'
The conductor and pianist, Hans von Bulow, who had originally been a supporter of Wagner's, decided that Brahm's First Symphony (Opus 68 in C minor) was Beethoven's 10th. This was a great accolade, but Beethoven's day was passed. As the nineteenth century came to an end, it took with it Brahms as the clever, bearded iconoclast who always knew that Beethoven and Mozart were his superiors.
Although not a prolific composer when compared to others, and taking into account his perfectionist approach to his work, Brahms did complete 4 Symphonies, 2 Serenades, 2 Piano Concertos, a Violin Concerto, the Academic Festival Overture, 200 Lieder and 3 Piano Sonatas. Not forgetting, of course, his biggest work, the German Requiem.
Brahms was, apparently quite a disagreeable, grumpy character. He did have a lot of friends, however, and enjoyed cigars and beer; he drunk in the Red Hedgehog Tavern in Vienna on a daily basis.