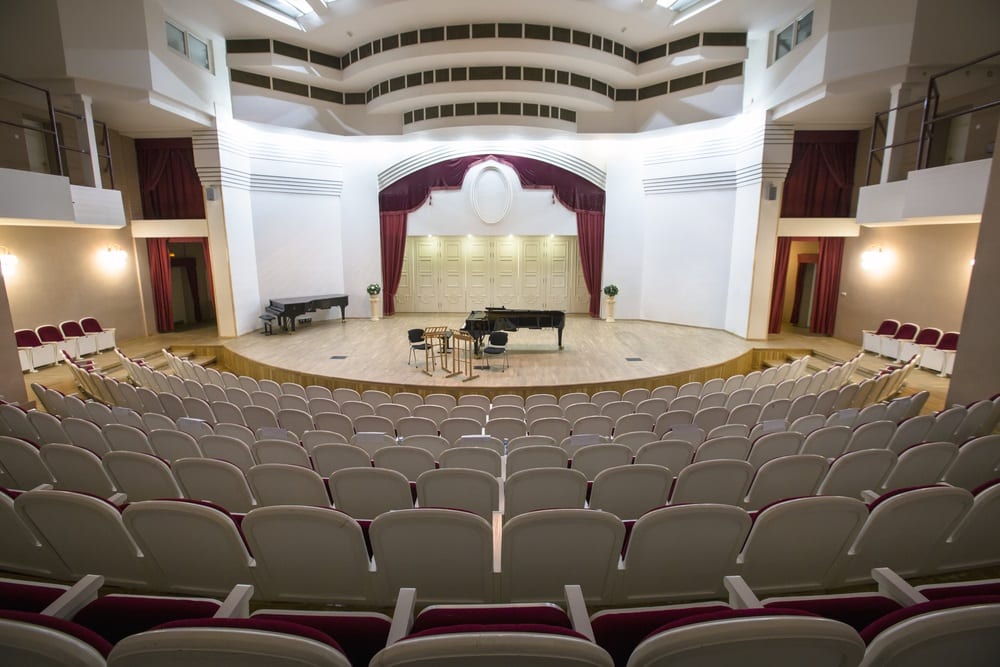 Whilst there are not, as far as I am aware, conservatoires dedicated purely to the piano, many established conservatories offer extensive study options for the aspiring pianist. The main difference between going to a conservatoire as opposed to a University is that the courses they have on offer are specifically designed with a professional performing career in mind. This is not to say that courses run by Universities do not hold similar aims but that the conservatoire focuses very specifically on the preparation for a professional career as a pianist.
Piano Conservatoires
There are many top-quality conservatoires in the United Kingdom for example, that anyone wishing to tread the professional pathway would do well to consider. Competition is fierce as you would imagine, but the opportunities available through these educational establishments almost unparalleled. Many people hold the opinion that the older conservatoires are the better ones, whose reputation has been upheld for decades.
In the UK these would include The Royal College of Music; The Royal Academy of Music; The Royal Conservatoire of Scotland; Trinity Conservatoire of Music and Dance; and the Royal Northern College of Music. These institutions alone present an extensive range of courses to students wishing to study the piano.
Conservatoires like other places of Higher Education regularly divide their courses into undergraduate and post-graduate. Taking the United Kingdom educational model as an example, the Undergraduate courses are on offer to anyone over the age of eighteen and are commonly aimed at those students who have just completed their A-Levels.
The Royal Academy of Music currently provides a BMus degree for instrumentalists and vocalists that lasts for four years. Following this term of study, the options then continue to become a Master of Music that requires a further year of study. There are also advanced level diplomas in the performance that facilitate the ablest pianists (and other musicians), to achieve the highest of professional standards. It is also worth noting that many of the courses available do not restrict the qualifications to the world of Classical music but include a strong arm of Jazz too.
Another attraction of studying at a conservatoire is that some of the leading pianists alive today teach at these establishments. Conservatoire teachers and professors are frequently those who are already at the top of their game with formidable reputations and insights into the world of professional piano playing that may not be available elsewhere. It is also a very real opportunity to network and experience performing as well as learning possibilities that can make an invaluable contribution to starting your career.
Alongside the teaching expertise, you will also have the chance to play in ensembles, orchestras, and chamber groups that contain some of the world's finest emerging musicians. These may well be the musicians that you will be working with throughout your career as they develop their professional status too. One clear message that nearly all these conservatoires want their aspiring pianists (and other musicians too of course), is to become thinking musicians; all-around artists with all the skills they require to sustain a lifelong career.
Founded in 1905 the Juilliard School of Music in New York, USA is felt by many to be the most prestigious and top-ranking conservatory in that country. Certainly, the Juilliard School has some impressive students graduating from its hallowed halls including the cellist Yo-Yo Ma and jazz legend Miles Davis. Similar to the conservatoires in the UK, the Juilliard School offers music courses for both undergraduate and postgraduate students. Entry to this institution is extremely highly prized with between five and fifteen percent of applicants gaining a place at the college.
In a similar league to the Juilliard School is the Curtis Institute of Music has cultivated a remarkable reputation since its founding in 1924. The Institute is based in Philadelphia, US, and is well-known for including famous names like Leonard Bernstein and Nino Rota amongst its alumni. The pianist Lang Lang is also a product of the Curtis Institute as if you needed another success story to add to the awe-inspiring list.
With a clear focus on producing outstanding jazz musicians, the Manhattan School of Music boasts a collection of alumni such as Harry Connick Jnr. and Herbie Hancock. The student body of undergraduates numbers around 400 per year with a 40% applicant to admission rate. The programs of study are not only offered for jazz musicians but cater to a broad variety of stylistic needs.
Across Europe, there are approximately 300 Conservatories and Academies in some 57 countries. These are listed on the Association Européenne Des Conservatoires website to which these institutions belong. The AEC not only provides training for these educational establishments but offers a good place to start exploring their course offerings. As you might well expect, the range of courses is a little bewildering and as with any decisions regarding the musical study, a visit to the Conservatoire of your choice would be a journey worth making.
It is not the place of this article to make recommendations but I will list a few European Conservatoires that have in my experience acquired a justifiably glowing reputation for pianists alongside other disciplines. The first is the Universität Mozarteum in Salzburg, Austria. The teaching at this institute edges towards the traditional even though the buildings of the Mozarteum are modern and appealing. Many courses are available for the undergraduate and postgraduate with some notable pianists emerging from there over the decades.
If you were an admirer of the virtuoso composer and pianist Franz Liszt, you might wish to explore the Franz Liszt Academy of Music. The academy was founded by the great man in 1875 and houses several extremely valuable manuscripts and books that the composer left to the academy in his will. It is considered to be the most prestigious Academy of Music in Hungary and like many similar institutions has an ensemble of famous alumni names that include András Schiff; György Kurtág; Béla Bartók and Gregory Ligeti.
Depending on your musical objectives and desires, there are a vast number of conservatoires, academies, colleges, and universities that have first-rate courses available for pianists. The focus of many institutes these days is not only to allow the student to become the best player they can but also to have a sound working knowledge of the music business and how to secure a lasting career. Both are vital in the competitive music world in which all musicians find themselves.