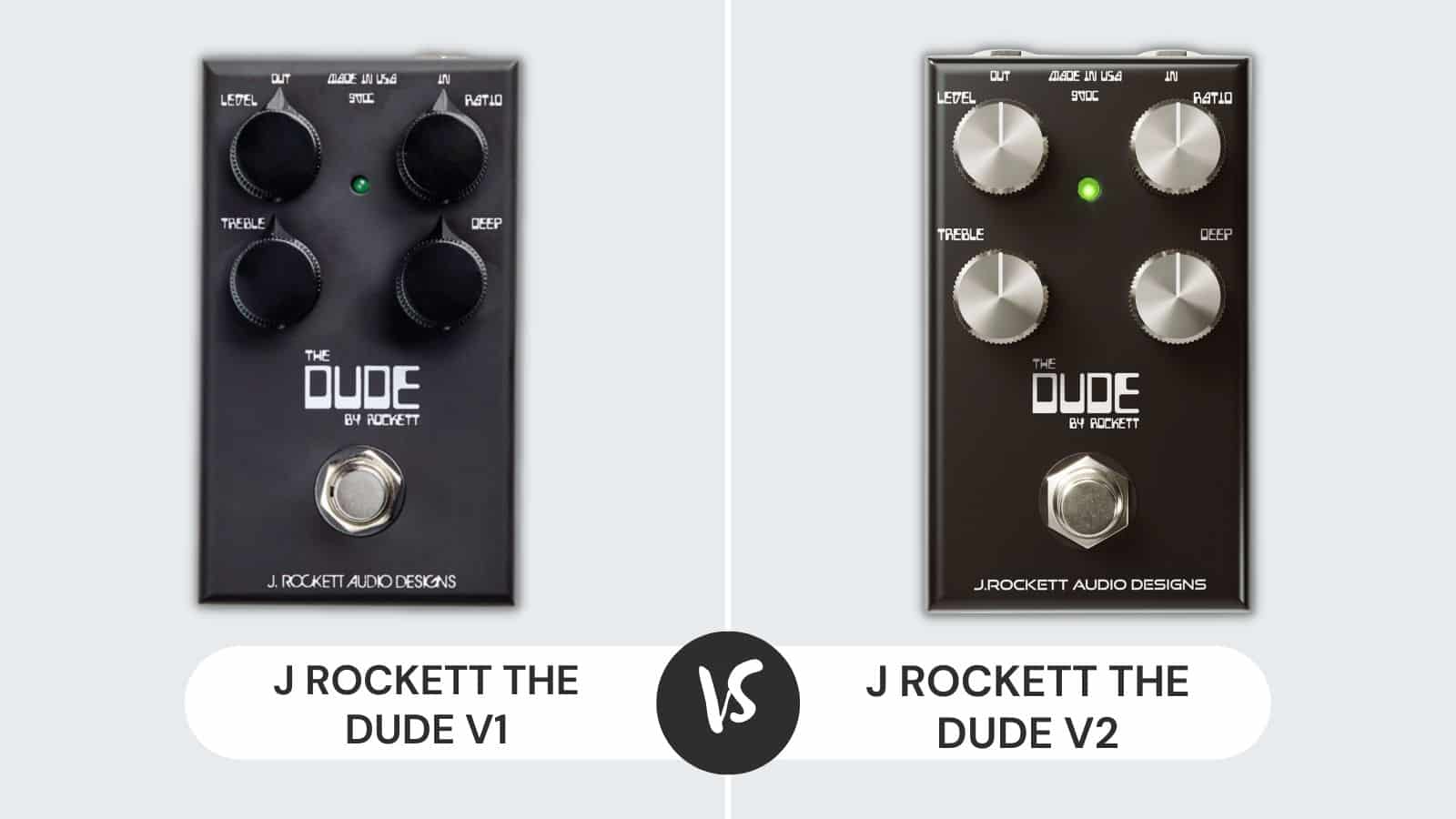 When buying musical equipment such as a guitar, you may often feel compelled to begin investing in additional accessories and add-ons that can potentially improve your overall sound.
However, it is important that before you buy any additional products, you should make sure that any such devices, amps, connectors, pickups, and overdrive pedals are all working in proper condition and they are the right object for your musical needs.
This is important for two important reasons: firstly, investing in additional equipment is not cheap. It can take up a huge chunk of anyone's hard-earned money. So, it is better to spend your money on the right device after careful deliberation.
Secondly, buying a device without proper research may cause harm to your guitar, especially if the two have to be connected.
In today's music equipment market, there are a variety of devices for you to choose from and so it becomes very important to do thorough research. This is also the case if you are considering looking into purchasing an overdrive pedal to enhance your music.
Overdrive Pedal – What Is it?
An overdrive pedal is a device that is primarily used to control certain preferences on the amp and the music played from a guitar.
Essentially this device can manipulate the notes of your guitar to the point of distortion and therefore, mimic what it would sound like if you were using a solid-state amplifier.
In simple terms, using an overdrive pedal would allow your guitar to sound like it was connected to a tube amp and therefore, produce a sound that is gritty and raw.
If an overdrive pedal is what you're looking for then some of the best options in the market include the J Rockett The Dude series of pedals. The band released two models, namely, V1 and V2, both of which have some notable differences and strengths.
J Rockett The Dude V1 vs V2 Comparison
| Features | V1 | V2 |
| --- | --- | --- |
| Color | Matte Black Finish | Matte Black Finish |
| Knobs | Matte Black Finish | Chrome |
| Potentiometer | Sensitive | Durable |
| Connectors' Location | Inconvenient- requires extra cord length | Top-side, allowing for better cord management |
| Compatibility | Compatible with several applications used on guitars | Compatible with several applications used on guitars |
| Sound/Tone | Versatile | Versatile |
| Price | High but affordable | Higher than the V1 |
| Overdrive | Versatile | Greater versatility that the V1 |
J Rockett The Dude V1
The J Rockett The Dude V1 comes with a rather contemporary design. This means that it can be used with several applications that you may already have on your guitar.
This overdrive pedal also works great on manipulating your sound in a variety of ways, including changing the sound to match a specific genre, its amplitude, and much more.
Finish
The V1 is ideal and known for providing users with the perfect experience. It comes with a matte black finish which is not only something that looks attractive but is also quite purposeful.
The color stays the same for years, making the device durable, and despite any wear and tear, the overall look of the pedal stays the same.
Alongside the body, the knobs also come with a matte black finish which can be a good thing in terms of easy maintenance and durability. However, some may find this not the most versatile or exciting in terms of design.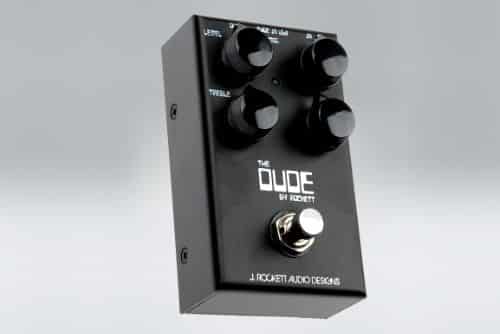 However, what it may lack in innovative aesthete, the pedal surely makes up in terms of performance. It meets the marks in terms of output, and power delivery, as well as showing great versatility when it comes to tone and overdrive.
J Rockett The Dude V2
On the other hand, the J Rockett The Dude V2 displays some great and big aesthetic changes. It is quite compatible with several applications that can be used on the guitar.
While this is something that comes with a matte finish black hue as well, it has the additional edge of chrome polished knobs that improve the overall look and attractiveness of the device.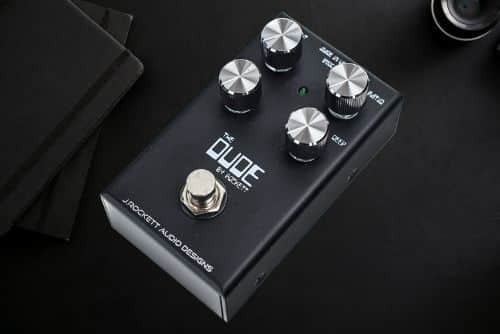 Features
The V2 also comes with light indicators which just make the whole device more user-friendly, and allow you to enjoy the dynamics of the overall design.
Alongside, it has more important features including, efficient and easy cord management as it has connectors present on the top part of the overdrive pedal. This reduces any hassle you may have otherwise had with cables and wires.
Performance
When reviewing the V2, you realize that not only doesn't it show noticeable improvements in terms of looks and aesthetics but, it also shows a major improvement when it comes to overall performance.
The device provides you with more command through the Treble and Deep controls which provide a variety of options to shape your tone.
It also has an improved potentiometer for voice controls as compared to the V1 which has been noted for being quite sensitive.
The V2 is strong and heavy with good processing, however, a downside that has been noted by some is that the chrome finish on the knobs can make them hard to read, especially under the reflection of the light. This is a letdown, particularly for its high price point.
The V2 was designed in such a way that it has seemed to meet the limitations of the V1. Both prove to be greatly versatile in terms of sound, tone, and overdrive, while also being compatible with several applications that are used on the guitar.
The overdrive pedals are both praised for their ability to manipulate sounds while still keeping each note played singular and crisp. However, if one was to pick a winner, it would be the V2.
Distortion
The distortion is quite different from the overdrive in that it is more aggressive. It is known to add grit to the sound that is more consistent unlike the overdrive with pushing the original tone harder.
A distortion takes the sound and completely changes it to create something different. With distortion pedals, the intensity of your playing does not matter, you will end up getting the same sound. It essentially has one job and that is exactly what it does.
Both the J Rockett The Dude V1 and the V2 have a fairly decent distortion, and they both produce a strong "twang" that guitar players will really like. However, the V2 has a sharper tone, which is much more nuanced.
Fuzz
Fuzz is more different in that it has a more aggressive form of distortion as compared to the distortion pedal. The fuzz pedal takes your sound and compresses the distortion to something completely different through a process known as square-wave clipping.
This pedal saturates your sound to make it heavy or 'fuzzy'. It is said that the fuzz makes it sound like your amp is broken.
When it comes to fuzz, we'd still recommend the V2 owing to its clearer and sharper tone. It's an excellent choice which delivers on all fronts.
Why Is v2 A Better Choice?
With the V2, the issues of the overly sensitive knobs found in the V1, are fixed. Alongside, the V2 also has voiceless foot switching and because their knobs are no longer matte black, like the V1, they are also easier to read.
One may argue that the price point is high for the V2, but with such good quality and versatility, the device is worth it.