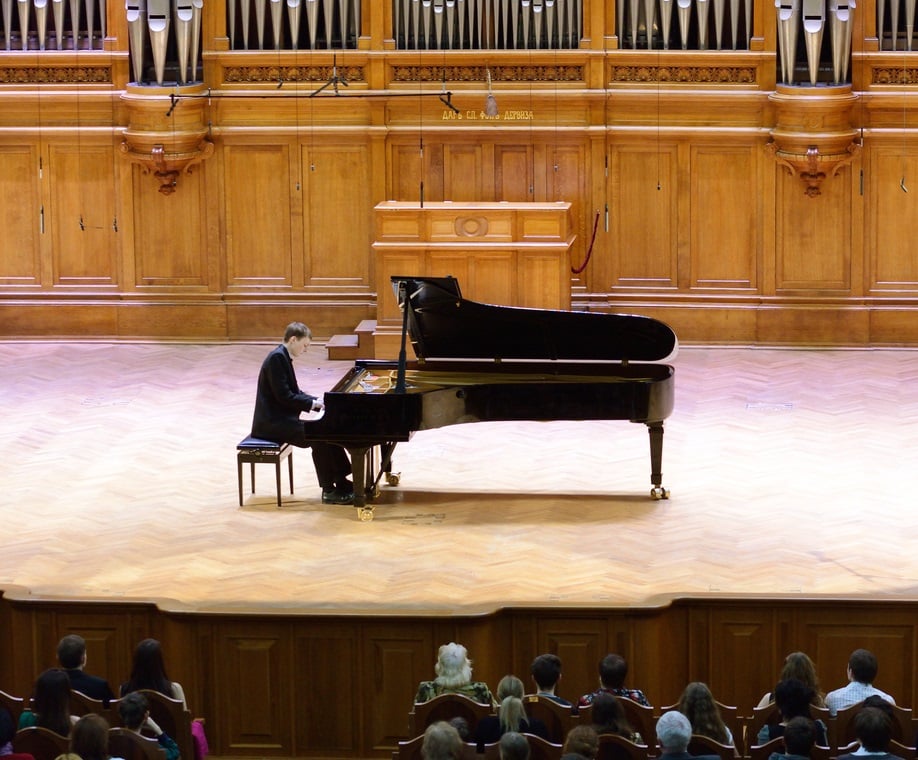 Many young pianists begin with the clear aspiration of becoming the next Lang Lang and playing to adoring audiences across the world. It's a great ambition and for some quite possibly realizable. What needs to be kept firmly in mind is that it is only the very top percentage of pianists who make it to the status of Concert Pianist and can form a lifelong career from it. Even more so these days as high-quality music education is available to nearly everyone, the competition for a place at the top is tough. This is not to say it is not possible but to recognize that the chances of success are reduced.
How To Become A Concert Pianist
The term Concert Pianist, I suspect is a relatively new title. I would speculate that the word came about with the emergence of the Romantic virtuoso pianists like Franz Liszt, Frederick Chopin, and later Rachmaninov. It was during these musical times that the piano literally began to take center stage, the piano concerto evolved into an extended and immensely challenging form and the status of these individuals became elevated to heights beyond what could ever have been anticipated before.
Today, we rightly associate the title with those pianists who are at the very top of their game, playing those concertos, sonatas, and other piano works that have become standard repertoire alongside, premiering new works for the piano. These pianists display dazzling technical facility, a broad and colorful canvas of expressivity together with a sound that is often uniquely their own. They can interpret pieces in an informed and educated fashion and even bring to light new and innovative approaches to the repertoire.
How then do you become a concert pianist? For many concert pianists, like other instrumentalists, you begin at an early age. There is numerous questionable start date for some pianists, but it seems perfectly reasonable for a child to begin at the age of four. Part of the reason for this is physical size, as you need to be able to manage to span even a short range of the piano and to be able to have the strength to press the keys. What is vital is that at this tender and impressionable age, any child learning the piano is taught in a sensitive, creative, and gentle manner that encourages exploration and fun.
All too often one reads accounts of draconian methods of teaching that thrive on a culture of fear and repression that may eventually lead to an individual becoming an outstanding pianist, but it will come at a terrible cost to that person. Instead, a teacher who can build a strong technique in a young player alongside cultivating a curiosity for all things musical is far more likely, in my opinion, to produce a student who has a passion for their instrument and their art.
Finding that first teacher then is the key to success. If you are fortunate to be able to afford piano lessons, then take the time to work with the right teacher for your child. The advantage of taking lessons is the experience the teacher brings to the learning experience. This not only will accelerate learning but pick up on any bad habits that may form early on in the student. Also, teachers can offer performing opportunities for students that can be a hugely valuable part of learning and for anyone aiming to be a concert pianist, a key element of their future careers.
In addition to the development of a solid technique on the piano, learning how to read music is vitally important too. Ambitious pianists need to cultivate their aural abilities and to work through techniques of memorizing music. (You will notice that the greater proportion of concert pianists do not have a score in front of them when they play).
Sometimes the importance of working on aural abilities is overlooked, but when you consider that music is an aural experience, not a visual one, this becomes clear how vital this side of the learning is. It also plugs directly into being able to memorize music. This is key as internalizing music and the facility to do so leads to very different types of performance. By this I mean the music really becomes part of you; you feel it and interpret it in a deeply personal way that can give rise to richer, emotionally charged recitals.
In the UK as in many other countries, there are opportunities to join the 'Junior' departments of leading Conservatoires and Music Colleges. Entry is usually by audition and the competition for places intense, but what is on offer in these established institutions is access to leading teachers and other working musicians at the top of their professions. It can be a costly experience financially but there is almost no substitute for students who wish to become a concert pianist.
Once under the wing of one of these colleges you will also have the opportunity to network, perform to informed and critical audiences and probably guarantee yourself a place to study there towards a degree or diploma post 18. It is possible to not take this route and given the location of some of these colleges and conservatories as well as the cost, there could be very sound reasons why this may not be an option.
Instead, maintaining a good relationship with a piano teacher will be even more crucial, and taking every opportunity to perform. You could also look at entering competitions (If based in the UK), like the Young Musician of The Year, or the Leeds Piano Competition. These can provide the necessary springboard forward into the spotlight and launch a career as a concert pianist.
Other areas to consider are the colleges' standard practical graded examinations (ABRSM; Trinity Guildhall). Having a track record of success in these examinations may grant you access to the Music Colleges with a scholarship that could provide a way into the world of the concert pianist. Ultimately, you need to be determined, hard-working, and passionate about music. Talent is not enough alone, nor is mere ambition. Perform whenever there is an opportunity to do so and make full use of the platforms available on YouTube, personal websites, and even artist management companies.