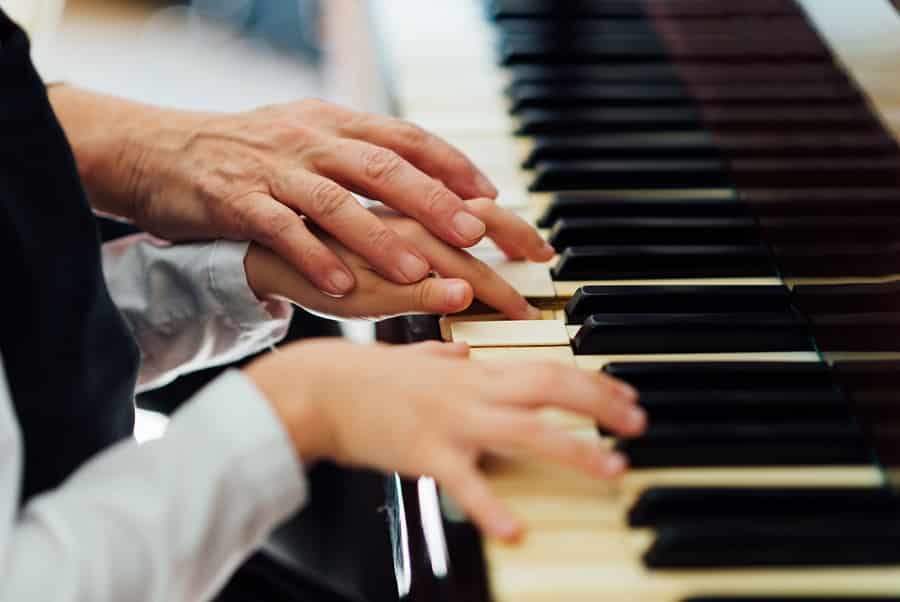 We think of Mozart, Beethoven, Chopin, and Liszt as masters of composition – and they were, of course.  But all of these great masters were also teachers.  Even in those days great composers often had no choice but to teach in order to earn enough money to make ends meet.  But some were really great teachers as well as amazing composers.  Some composers are more widely known as teachers due to the type of music they wrote – for instance, Muzio Clementi and Carl Czerny.
The World's Greatest Piano Teachers
1. Muzio Clementi (1752 – 1832) is most commonly known for his piano sonatinas and sonatas. He spent most of his life in England playing harpsichord, organ, and piano.   He also taught there for over 20 years.  One of his students was Ludwig Berger, who later taught Chopin.  Other students included Carl Czerny and John Field, who was to have an influence on future composers, most notably Chopin and Liszt.
Here is Anke Chen, age 5, playing Clementi's Piano Sonata in D Major Opus 36:
2. Carl Czerny (1791 – 1857) is mostly known for his piano exercises and music for intermediate students.
He was introduced to Ludwig van Beethoven who took him on as a student when he was ten years old.  Beethoven selected Czerny to premiere his first piano concerto in 1806 and his fifth piano concerto in 1812.  Quite an honor!
At the age of fifteen Czerny started teaching – mainly Viennese nobility.  However, his most famous student was none other than Franz Liszt.  He thought Liszt was so gifted that he taught him for free.  (Liszt went on to do his fair share of teaching too, but generally in groups in the form of masterclasses).  Here is a video of one of Czerny's teaching pieces – Etude in G minor, played by Corey Hall.  You can hear the influence this might have had on Liszt:
3. Frederyk Chopin (1818 – 1849) was one of the top composers and pianists of all time. Ironically Chopin did not enjoy performing.  It would appear he suffered somewhat from stage fright and could not forget that he was being watched, which he felt stifled his playing.  In fact, it would seem that he preferred teaching.  He wrote many Etudes which he used in lessons with his students.
He wrote fondly of his students but none of them became professional performers.  The main reason for this is that he mainly taught women and in those days women were not free to pursue such a career.  Whether or not some of them could have made a success of it we will never know for sure, but with Chopin as their teacher, it's very likely at least a few of them would have been outstanding.
Chopin charged a lot for piano lessons, which ensured he was mostly approached by serious students.  He scheduled about five lessons a day, which made him keep the majority of lessons to one hour.  Also, He taught on Sundays – as well as all the other days of the week – and that's the day he took as long as he felt was needed for a lesson – sometimes up to three hours.  He did not accept children or beginners.  He expected a student to have an advanced technique before they started lessons with him.
Here is Valentina Lisitsa playing Chopin's Etude in C# minor, Opus 10 No 4:
4. Nadia Boulanger (1887 – 1979) is arguably the most important piano teacher in music history.  Her list of proteges is astonishing: Leonard Bernstein,  Aaron Copland, Michel Legrand, Quincy Jones, Daniel Barenboim, Philip Glass, Astor Piazzolla, and Louise Talma, to name just a few.  When you listen to the vast difference in the style of each of these composers, you have to wonder how they all came through one teacher.
Boulanger taught hundreds of students from all around the world, including an estimated 600 Americans.  She didn't just teach her students scales and work through progressive books and standard piano repertoire.  She focused hugely on music theory, transposition, improvisation and particularly, composition.
What Boulanger did incredibly successfully was give each of these groundbreaking composers the freedom to evolve their own voice and the confidence to believe in their work, even if the world around them was unaccepting of them.  There is no doubt that music wouldn't be what it is today if it weren't for Boulanger's nurturing of these astonishing talents.
She championed Stravinsky's music fiercely, including the first performance of "The Rite of Spring" even though half the audience booed and walked out.  How did she keep her fierce belief unwaveringly through those difficult moments?
But actually Nadia Boulanger didn't just teach the world's most influential composers.  She was also the first woman to conduct major symphony orchestras such as the New York Philharmonic, the Halle, and the BBC Symphony, among others. She conducted notable world premieres by Stravinsky and Copland.
Not surprisingly, she was a composer herself but was overshadowed by her sister Lili who was an outstandingly talented composer.  When Lili died at the young age of 24, Nadia championed her sister's substantial body of work for the rest of her life.
Here is a rare video of Nadia Boulanger talking about teaching:
5. Dame Fanny Waterman celebrated her 99th birthday on March 22nd, 2019. Passionate about keeping music education in schools, in 2015 she said she was still working ten hours a day.  Soon after that, she stepped down from her position at the Leeds International Pianoforte Competition, which she co-founded in 1961.  This highly successful venture quickly became the benchmark for piano competitions worldwide and catapulted many winners into high-level concert careers.
Although she started off with a glittering career as a concert pianist herself, she put her career aside when she had her first child and concentrated on being a mother and teaching piano.
Dame Fanny Waterman wrote the best selling piano tutorial series "Me and My Piano"  which still flies off the shelves today, as well as several tutorials for beginner and intermediate adult learners.
Waterman taught Prime Ministers Sir Edward Heath and Sir John Major and was awarded an OBE in 1971, a CBE in 2001, and a DBE in 2005.  She was also awarded an honorary degree from the University of Leeds. She was the Director of the Postgraduate Certificate in Advanced Piano Performance at Leeds College of Music until 2006.
Here is a video of Dame Fanny Waterman, aged 93, giving a mesmerizing masterclass with Elliot Wuu, a hugely talented 13-year-old pianist.  It's so worth listening to his initial performance which is already astonishing.  But further on, when Waterman has coached him, listen to the difference in the sound he produces on the piano: