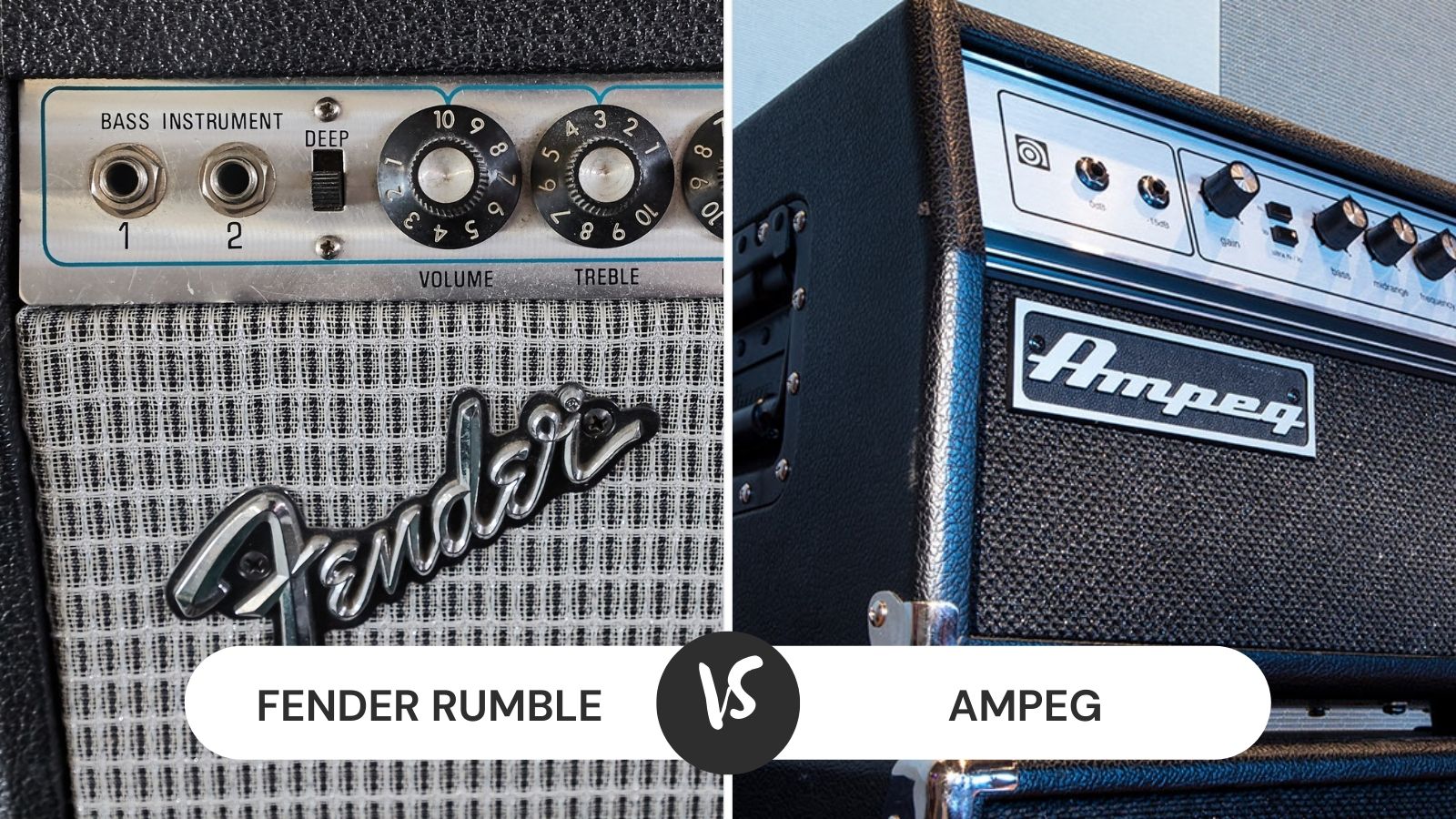 Fender and Ampeg are both promising brand names that create quality musical instruments and equipment parts. Both their bass amps are popular among beginner and experienced bassists alike.
Fender Rumble vs Ampeg
Fender's main bass amps line is the Fender Rumble, while Ampeg has several models and lines under the Ampeg brand name directly (such as the Ampeg BA). Both these offer fantastic practice amps that are durable and dependable.
While their bass amps share many similarities, they also have some unique features, which we'll explore as we review each product.
| Features | Fender Rumble | Ampeg |
| --- | --- | --- |
| Cost | Costlier, it starts at around $130. | Cheaper, it starts at around $100. |
| Variety Of Amps | 12 amp models based on wattage. | 5 amp models based on wattage in the Bass Amp series. |
| Max Wattage | 800 Watts. | 450 Watts. |
| Control Panel | 4-knob panel with easy controls. | Absent. |
| Weight | Much lighter. | Portable but comparatively heavy. |
Fender Rumble
Over time, Fender has designed some of the best bass amps out there, and the Rumble series is no exception. It's arguably the most popular bass amp thanks to its lightweight design, powerful features, and well–rounded tone. This bass amp's tone is perfect for blues, folk, indie, and rock bassists.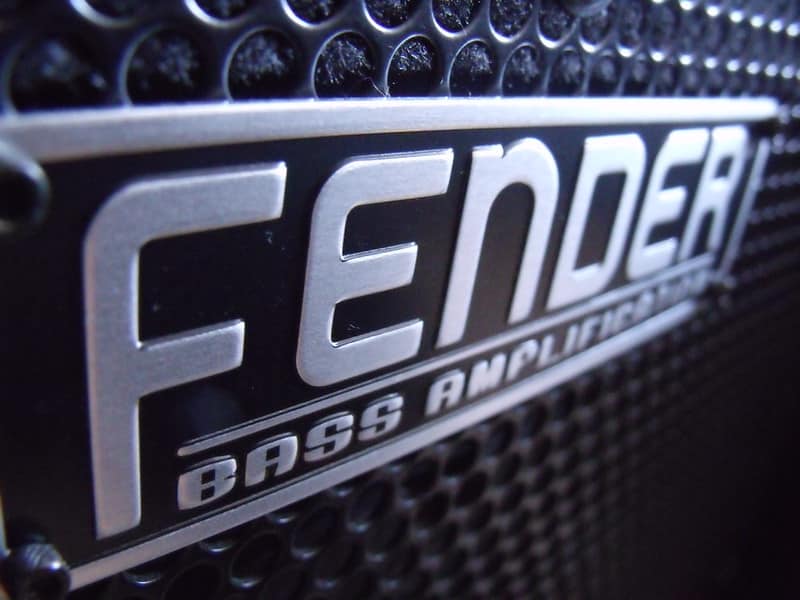 Design
One of the best things about the Fender Rumble is the overdrive feature, which makes playing bass super convenient.
Design-wise, it could be said that Rumble is a modern version of Fender basses- it's compact, lightweight, and easily portable, despite having the overdrive feature, which makes it a powerful and robust amp.
The control panel is easy to work with as it has four knobs that grant you varying degrees of control on specific parts of the bass.
The Fender Rumble weighs around 5kg, making it super convenient to move around. It has a flip-top that attaches and shuts directly with magnets.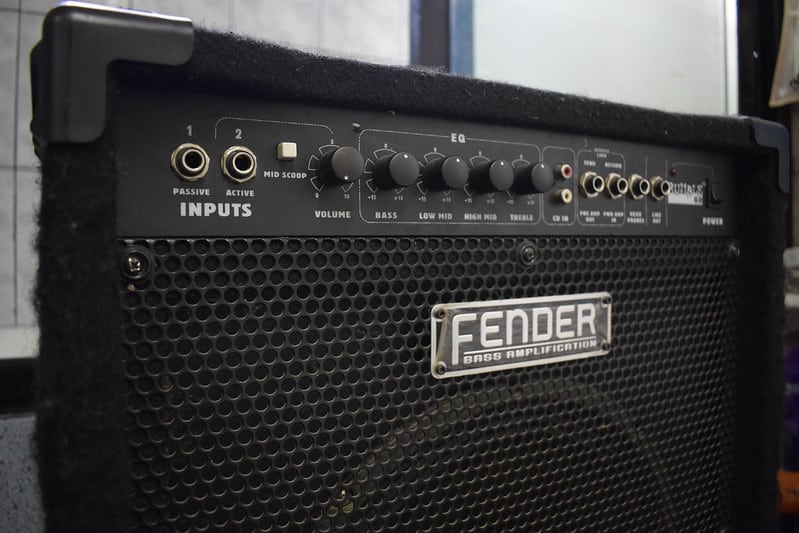 The amp also has several routing features and uses Rumble cabinets, which are found in flat-top guitars. This streamlines your performance. Fender Rumble amp also carries a solid-state design that gives you an easy way to dial tone and change other music settings.
You can get rounded and warm tones from this preamp when it's properly installed.
Sound Quality
You can expect a classic bass sound quality from this amp. The combo of up to 800W design and a 4ohm resistance creates those warm and rich tones that classic and vintage bass music demands.
The Fender Rumble sound quality is pretty similar to the popular Bassman- however, you don't have the option to sculpt the lower and mid ends, which can produce some muddiness in the overall sound quality.
Tweaking the sound with the driver knob in the overdrive circuit can reduce the problem- it's all about learning the controls with this one.
The wattage on these is more than enough for home practice sessions, but some models excel more when it comes to live performances. These bass amps come with a headphone jack for when you want to practice quietly too.
The speakers though are special Fender design (usually about 8 inches) and they improve the bass quality by a mile.
Fender amps have the best tonal capabilities with a 3-band EQ consisting of mids, treble, and bass. There are some other features too, but they're not important to learn before you start playing.
Review
In short, the Fender Rumble are solid bass amps focused on portability without compromising on the sound quality. They are especially aimed at beginners, but pro users can benefit from the four knob control panel and tweak with powerful and deep sounds.
However, you can't sculpt the mids and lows, so there may be some muddiness in the sound quality. But other than that, these amps are some of the best in the price range when it comes to design features that matter.
Ampeg
If you're a musician who is looking for classic design bass amplifiers with portability in mind, then you must check out the Ampeg lines. These amps have the ideal combo of power and headroom, despite being benign ultra-compact.
Ampeg models deliver everything from a mid-rich punch to a deep blow when amplifying the bass sounds. You can integrate these fun amps with different cabinets as a flat top.
Note that when referring to Ampeg, we're talking about the Bass Amp series (BA series), not the premium Heritage or Portaflex as they are full cabinets with amp heads and several other components.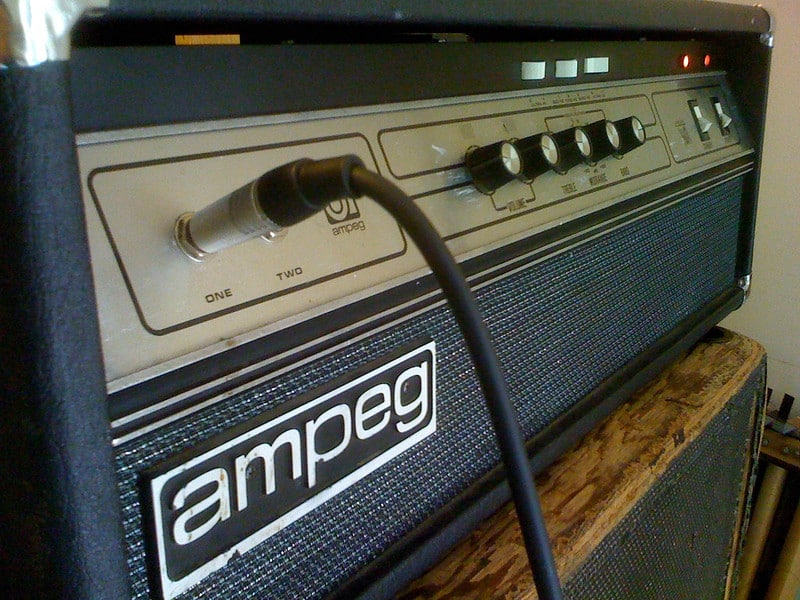 Design
While Ampeg BA are comparatively small and affordable, they're well-built and solid. Investing in these amps is a good idea as they're quite dependable.
They're not packed with features though, like how the low wattage models don't have a control panel, which can make taking charge of the amp difficult.
The speakers are the same size as Fender Rumble (8 inches) and start at 4-ohm. Key controls include a master volume knob, 3-band EQ similar to the Rumble, and a toggle of around -15 decibels.
There's a headphone jack for quiet practice sessions, two auxiliary inputs (¼ inch and ⅛ inch), and an AUX knob used to level the sound. It's found beside the EQ section to the right.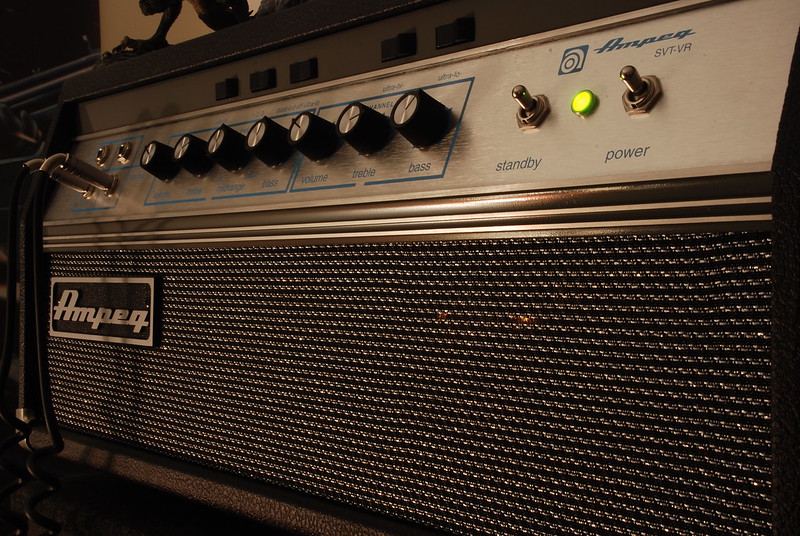 The hardware is an all-steel frame, combined with metal corners that are impact resistant (so you don't have to worry about internal damage), and the cabinet is solid-braced.
The smallest of the amps weighs around 12.7 kgs, so it's significantly heavier than the Fender Rumble, reducing its portability.
Sound Quality
Ampeg BA grants amazing sound performance through its ultra hi/low boost and the mid-tone control. It offers strong amplification, an efficient onboard compressor, a mute button, an attenuator pad, and a preamp out.
There's built-in compression too, and the five-position mid-control gets you the ideal sound quality and handling features.
The preamp can be connected using the flip-top cabinets designed by Ampeg, so you can keep the whole unit together for easier transmitting. The Ampeg is great at delivering warm sound and handling the high points of the bass.
There are tweaking features for the mid-range too and you can integrate the 5 positions of the mid-tone control for diversifying the sound quality and making easy adjustments. The low range has more richness though, and it's very easy to get that darker sound.
Ampeg comes paired with boost buttons- the Lo button provides a 3db deep bass boost to the sound, beginning at 40Hz and going all the way to 500Hz.
Tweaking the sound is pretty easy once you learn to twiddle between the EQ knobs and master control. Compression is also well-maintained thanks to the separate compressor.
Review
To sum up, the Ampeg brand offers top-quality bass amps, usually of the tube-driven style. Their premium Heritage and Portaflex lines are full enclosures/cabinets with bass heads while the BA line has a range of big and small amps with varying degrees of punchiness.
The controls are a little lacking, but the sound is clear and the mid-range is punchy.
The Winner
Beginner bass players often misjudge bass amplifiers- they look for the cheapest amp out there without considering its impact on the sound quality and tonal capabilities. And while bass amps shouldn't cost you thousands of dollars, the solid options all at least cost a few hundred.
That's why Fender Rumble and Ampeg are considered to be the best amps for beginners, considering they're not too expensive and don't compromise on production quality at all.
If you go with either of the two popular bass amplifier series, they will sound amazing and you won't be wasting your time or money.
That being said, if we had to pick a clear winner, the Fender Rumble has a slight edge over the Ampeg, most in part to its compact design that never fails to produce strong bass, and better amp controls.