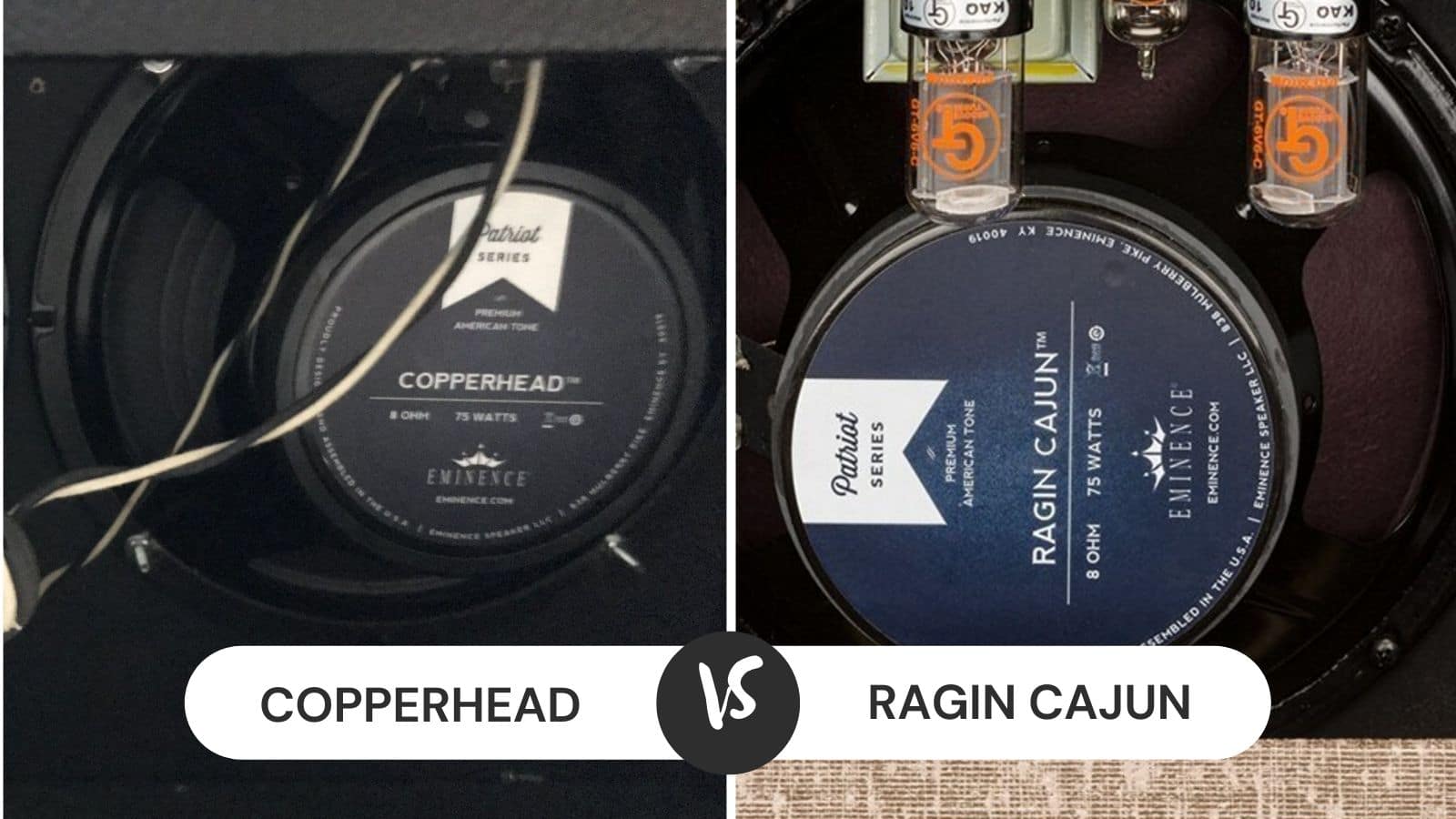 Guitar loudspeakers play an incredibly important role in the way your guitar sounds. Most people are fine with using an amp, but if you really want to improve the sound quality and play on the big stages, loudspeakers are what you need.
Guitar loudspeakers are different from your conventional speakers, as they are tuned to provide clarity to the sound and improve the tone of your guitar.
Most speakers sound a bit muffled if you plug them in, but that's not the case with guitar loudspeakers at all. So, the output devices that you are using with your guitar play an equally important role in developing the sound that you want.
While the amp plays an important role in making the tones right and gaining you the right amplitude that you might have been seeking on your guitar, speakers are of equal importance.
Eminence Copperhead and Ragin Cajun are two popular speaker types that you can choose from. These are some of the best guitar speakers that you will be getting your hands on. With these two, you can really make your guitar shine.
However, if you are confused between these two, here are some important factors that will help you out to make the right decision for yourself.
Comparing the Eminence Copperhead vs Ragin Cajun
| Features | Copperhead | Ragin Cajun |
| --- | --- | --- |
| Weight | 20 oz | 25-30 oz |
| Wattage | 75W | 75W |
| Size | 10" | 10" |
| Price | $100-$120 | $90-$110 |
Eminence Copperhead
Eminence has the perfection of getting you the right audio output for all the different instruments that you might be having.
They are manufacturing a wide range of guitar loudspeakers and other devices that will go perfectly with your musical instruments. With that, you will be getting just the right amount of clarity, output levels, and more.
If you need a solid package that's perfect for all kinds of playability, you can't go wrong with the Eminence Copperhead.
The Copperhead is one of their best offerings, providing integration options to connect with a pedal and a guitar amp, without ever requiring you to compromise on performance.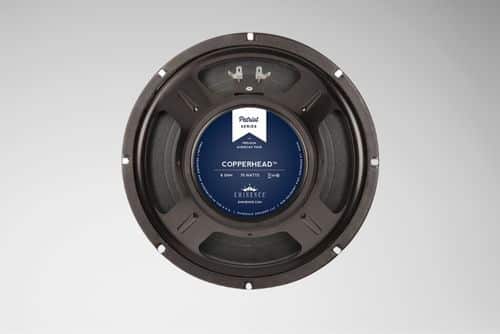 Weight and Size
The speaker hardly weighs 20 oz and is of 10" size that would be getting you the right experience for any sort of amp you might want to couple it with.
A true American guitar speaker, it produces an incredibly bright tone, and it's quite sensitive, so expect a bit of bite with the sound. One of the ways that this speaker stands out is because of its construction.
Construction
It's made using a copper voice coil that's rounded around polyimide voice coil former, and there's a ferrite magnet in the mounting hole with a non-vented core.
Along with the Zurette dust cap and the pressed steel basket, this thing is going to last you for quite a while.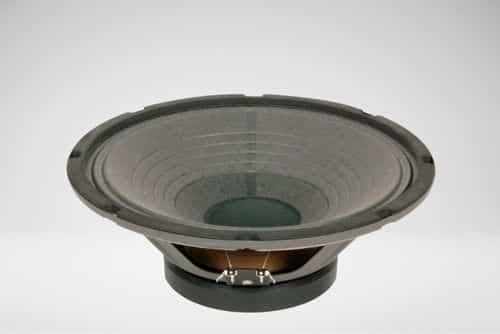 The coloration is great, as the guitar produces balanced vintage tones and generates a bit of country honk, though you can still hear that classic tone. This makes the Eminence Copperhead an ideal choice if you like playing the blues.
But, it's not just for blues, however. You can also throw in a bunch of country music and funk, and it will handle that just fine. If you're looking for a versatile loudspeaker that you can use for playing a variety of different genres, this is it.
It's also incredibly affordable, so you won't have to pay a significant amount of money. In general, you can get it anywhere between the $100-$120 range. That makes it one of the best speakers in the market for the price range.
Tones and Performance
However, because of its bright tones, don't expect to play heavy metal music through this loudspeaker. It's quite capable, but the heavy distortion's going to affect performance considerably, and you may get some muffled tones as a result.
The Eminence brand is trusted by many musicians, and is one of the best choices if you want that classic American blues-y tone.
The speakers are built in Eminence's facility in Kentucky, so you can expect the classic American quality at an unbeatable price point.
And, if you want a replacement speaker for your amp that's ideal for smooth, driven leads or one that you can use to play rhythm guitar on, then this is the best choice.
The sheer versatility that it brings to the table is hard to compete with, making it the best choice for all kinds of musicians.
Ragin Cajun
Ragin Cajun is one such type of speaker that you will be enjoying for sure to make it work for all the different needs you could be having. These speakers are also 10" in size and are rated for 75W of power to be coupled with your amp.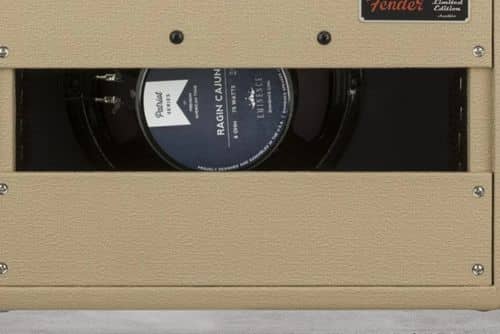 This one also packs quite a bite, so you can expect some really loud tones from this guitar loudspeaker.
Loudness
One of the clear differences between this speaker and the Copperhead is that the Ragin Cajun is quite loud. The low end response is quite aggressive, making it ideal for playing grunge or some loud tones.
It's one of the loudest speakers in Eminence's lineup, but that doesn't take away from the fact that it's incredibly good.
You will not only be getting the best power in terms of output but the right audio quality and clarity as well.
Ragin Cajun might be a bit more expensive than the Eminence Copperhead, but you will be enjoying them for sure to make it through any of the performances that you might have been planning for and you are looking for just the perfect equipment to go with it.
Frequencies
The mid-range response of the Ragin Cajun is quite crisp, so you don't have to worry about the sounds getting muffled.
And, when it comes to overall coloration, the Ragin Cajun is incredibly loud. It's touch sensitive, and has a very responsive output.
You'll get a pleasant bell sound at the top end, with a bit of bite. Since it's capable of producing up to 75 watts of power, you can expect it to bring the house down when you play indoors.
It's ideal for both lead and rhythm guitars, making it a very versatile addition to your speaker stack. The low end shape is generally chunky, while it gets aggressive as you move towards the high-end.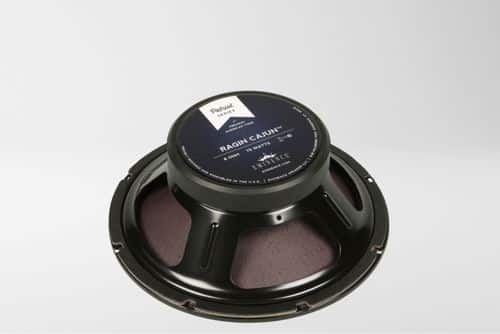 Performance Upgrades
If you're thinking of upgrading the speaker in your amp, going with the Eminence Ragin Cajun is a great idea. It can fit in seamlessly in any amp that supports a 10" speaker.
If you're looking for something versatile that'll bring the best out of both single and double coil guitars, the Eminence lineup is hard to beat.
And, if you're into country music and need something that brings out the twang, you'd be hard-pressed to find a better alternative in this price range.
Conclusion
The bottom line is that both the Eminence Copperhead and the Eminence Ragin Cajun are fantastic replacement speakers.
If you're in need of a 10" guitar speaker that you can fit into any amp to breathe new life into it, you should absolutely consider either of these.
That said, know that the Copperhead is slightly cheaper than the Ragin Cajun, but that shouldn't be a deal-breaker for you. Both bring excellent perks to the table, and are ideal for different music genres.