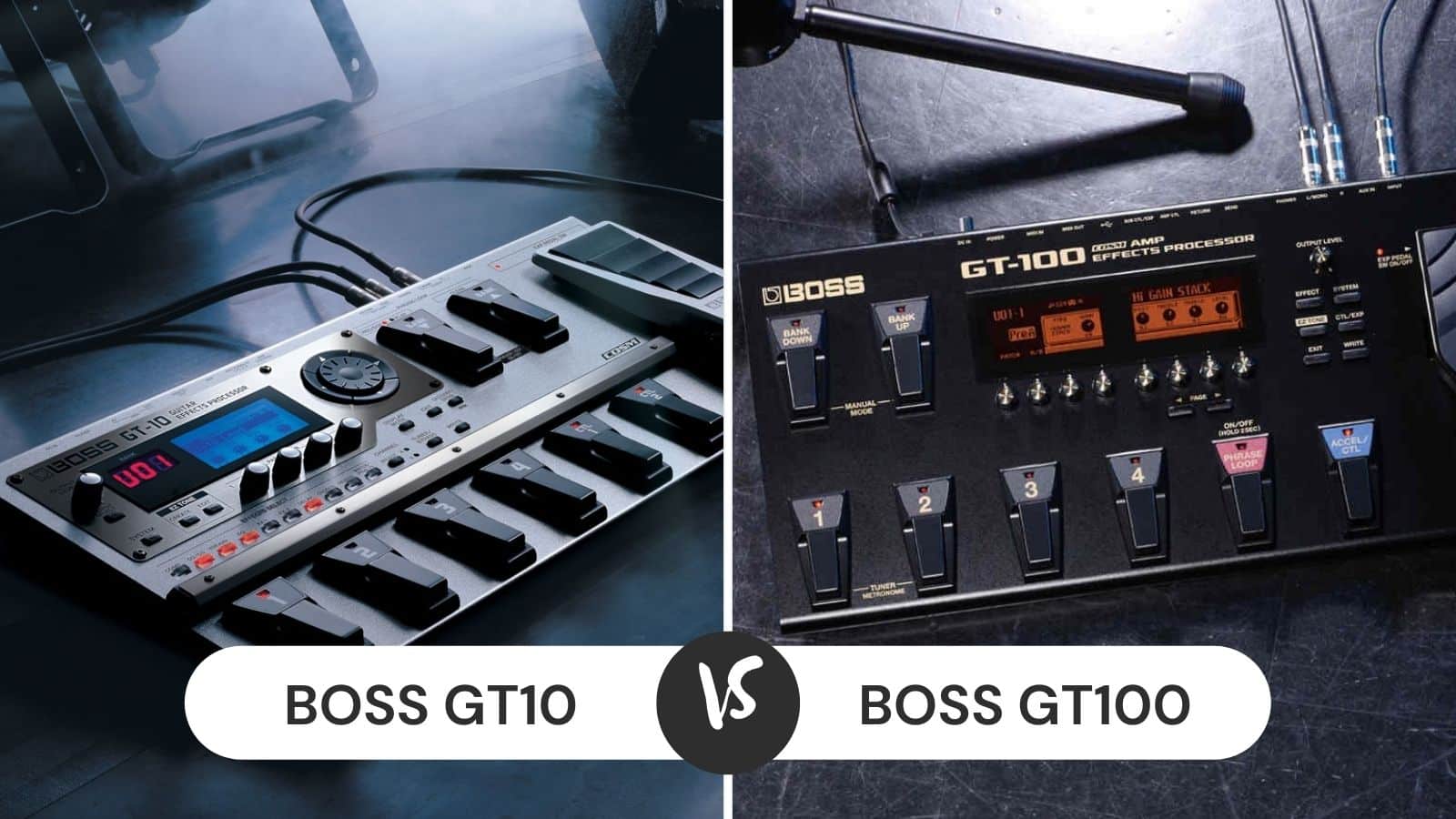 The brand Boss has achieved a unique and legendary status as being one of the leading companies in manufacturing guitar accessories including the pedals and effects processors.
They are beloved by guitarists worldwide for providing them with the right audio and musical needs. They don't only have a unique and attractive aesthetic but also produce some of the most user-friendly, top-quality products out there.
When buying for Boss, you will find that you have a variety of options within each category to choose from, each with its own strengths and weaknesses.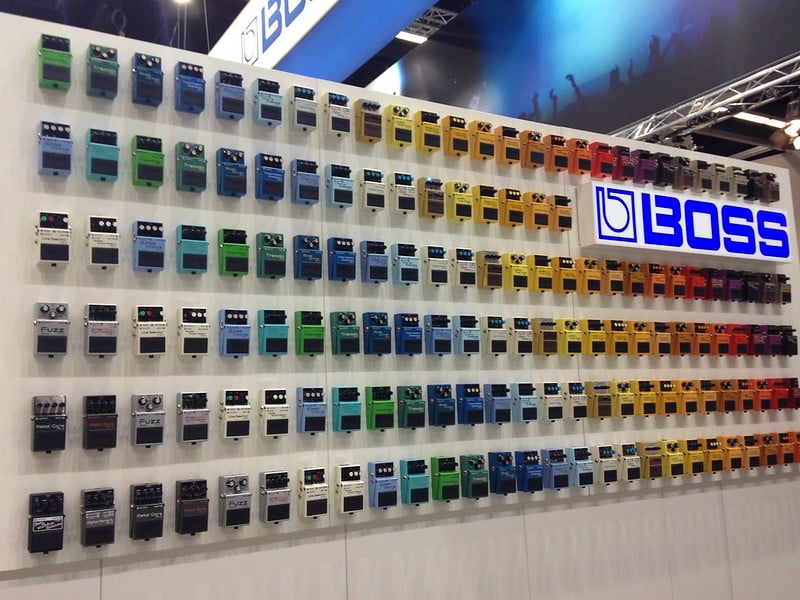 They also come in a range of prices so if you are on a budget you can easily find yourself the right product here. Be it speakers, amps, or processors, you are sure to find one to suit your needs.
Boss provides some of the best effects processors out there namely, the GT10 and GT100 which both provide users with a great experience. There are both an effects processor and pedal board and certainly some of the best equipment you would find today.
When looking out to buy one it is important to understand what each is and does and how they are different from each other.
What is a Guitar Effects Processor?
Before we begin talking about the G10 vs G100, it is a good idea to first understand what a guitar effects processor is and what it does.
A guitar effects processor is an electronic device that takes the signal and sound of an electric guitar and adds special effects to it. It is used by many as a preamp device, which means the signal goes from the guitar to the processor before it reaches the amp.
However, the process can also be built into a headphone amp. With the help of an effects processor, a guitarist can create several effects and changes to his sound just by pressing it with his foot.
These effects, such as overdrive, echo, reverb, or distortion may be found on an electric amp but the knobs need to be physically turned for the change in sound to occur. With the processor, therefore, it becomes much simpler.
Another benefit of a processor is that users can create their unique patches and place them over existing ones by applying effects such as echo, reverb, gain, and more.
Boss GT10 vs GT100 Overview
Comparision Table
| Features | GT-10 | GT-100 |
| --- | --- | --- |
| Colour | Silver Matte | Black Matte |
| Boss Tone Studio | - | Access Available |
| MIDI Connection | Available | Available |
| USB | Available | Available |
| Display | LCD with backlit segments | Graphic LCD |
| Price | Affordable | Affordable |
| Processing strength | Strong- flagship model | 2.0- Stronger than GT-10 |
Boss GT-10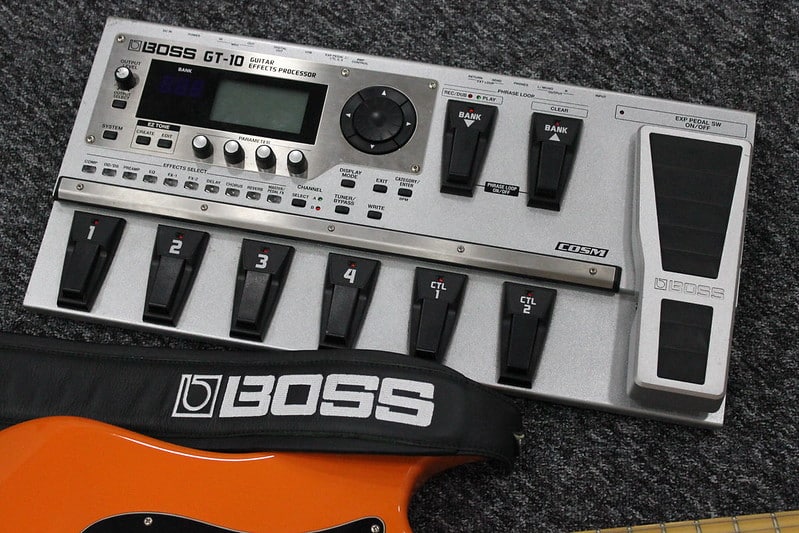 The Boss GT-10 is probably one of the best things you can buy. It is a flagship floorboard that provides you with a variety of features. It has 6 paddle switches.
Four of those have settings that are present while two are customizable for you to create as you please. Here you can create your own patches using several effects and create a sound that is unique to you.
DSP and Sound
Additionally, you also get the custom-made DSP and sound-modelling COSM engines with the G10. These are proprietary to the Boss brand and therefore, you will be getting something completely unique.
The overall design and aesthetic of the device are attractive and sleek, while also being user-friendly and interactive. It, therefore, ensures that your overall experience with the product is a positive one.
Finish
The device comes with a matte silver finish, which not only makes it quite contemporary but is also easy to read. The display on the device is interactive and this gives you various ratings.
To add to the strengths of these devices, it also has wonderfully responsive knobs that are fast, efficient, and easy to use. Using the board is quite enjoyable.
Knobs
The knobs allow you to individually control all the features and that is great because you can manipulate your sound as you wish.
In addition, the G10 is quite affordable to anyone on a budget, while still giving you a processor that is of top quality and has little to no faults or problems.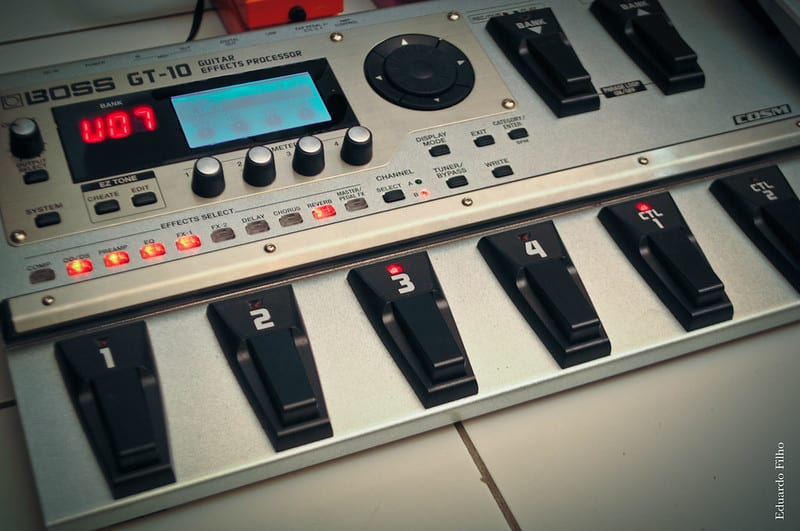 Boss GT-100
The Boss GT-100 is another masterpiece of equipment and is an updated version of the Boss GT-10. Your experience is, therefore, also increased as compared to the G-10.
To make the device even more attractive, it comes with the 2.0 update which makes the processor even more powerful and stable. This allows you to have an even more meaningful time creating music, be it live, in-studio, or at home.
Audio Effects
With the GT-100, you also get two amp-types that are embedded into the floorboard device. They are enhanced with MDP effects that are cutting edge.
It has an acoustic guitar simulator that is helpful to make sure you don't face any problems when it comes to your guitar, your playing, or your overall experience. It provides audio effects and a guitar-to-MIDI function that is available on the board.
Connectivity
This function allows you to connect your laptop, computer, or device to the GT-100 fast and efficiently without having to worry about anything. Additionally, a perk of using Boss equipment, is that they allow you to download Boss Tone Studio software to use to help create your distinct sound.
This is compatible with your GT-100 and you can easily download a collection of various presets, many of which are made by some of the top guitarists in the world. These can all be downloaded from the Boss Tone Central website.
You will have optimized playback and connectivity between your GT-100 and the Boss Tone Central Library, so you will have several effects ready and available in the palm of your hands.
The GT-100 is also compatible with USB connections and it has expanded to provide more flexibility with amplification applications. The graphical interface of the device is great, easy, and user-friendly.
Though both processors prove to be quite versatile and great to use, it is clear that if you are deciding to invest your money in a guitar effects processor, you would need to go to the BOSS GT-100.
This device is created primarily as an improvement to the GT-10, and though the predecessor is more affordable, the GT-100 has several features that make the price point completely reasonable.
Why The GT 100 Is Better?
A great advantage of the GT-100 over the GT-10 is its connections to the Boss Tone Central website. This online library is a goldmine of some of the best presets in the world, many of which are created by professional guitarists and several famous names.
Imagine sitting in your home and being able to use a preset of one of your guitar heroes. This is actually an advantage you get if you buy several of the Boss brand equipment and therefore, can also be seen as an advantage of buying Boss over any other brand.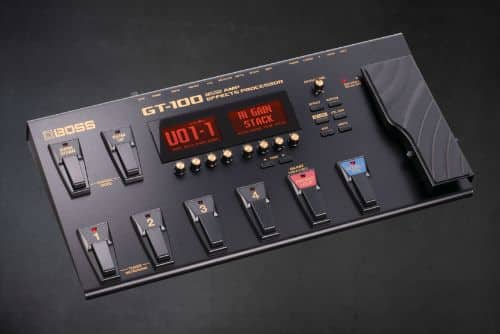 Another great thing about the GT-100 is that since it is a 2.0 update, it is even more powerful than the GT-10. It has two new amp types, along with MDP effects that are considered revolutionary. It also comes with an acoustic guitar simulator and a rotary effect that is very much improved from its predecessor.
The USB audio of the GT-100 has also expanded and allows more flexibility for re-amping. Alongside it also has a graphic LCD screen that is wonderfully user-friendly. It allows you to easily edit any of your GT-100 patches or even just download presents from the website for you to enjoy.
If you're thinking about buying a processor, the GT-100 is definitely the way to go.