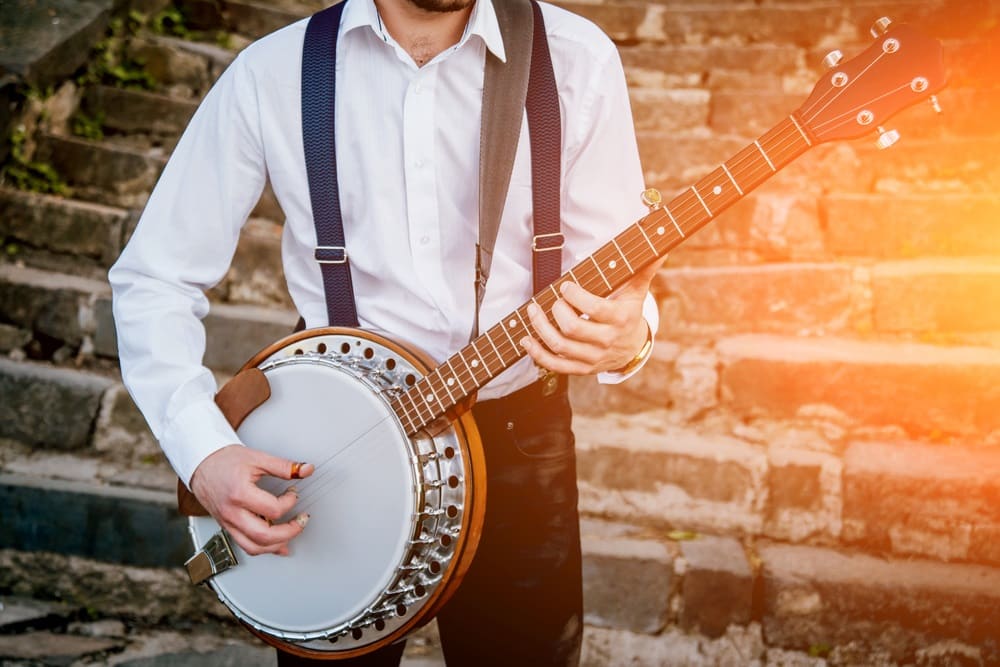 Banjo is another stringed instrument that is from the North American region and it was originated back in the 1800s, so it would not be an exaggeration to call it a proper native American instrument that is still being used for most genres of folk and pop music.
Also, the banjo is another stringed instrument but with a significantly thin membrane that you might call the neck. The body or frame of the instrument is round and made of soft plastic or traditionally animal skin was used for it.
Banjo is not an easy instrument to learn and requires certain skills to gain the right precision and proficiency over the instrument. So, if you are looking for some ways that will help you get the right learning edge over Banjo, here are some of the best ways for you to learn it properly.
Best Ways To Learn Banjo
Given the contemporary uncertain situation around the globe, many people prefer to have an online learning module for any subject or skill that they might want to learn. So, online learning would be the best choice for you to learn Banjo lessons that would help you in certain ways and you can enjoy a comfortable edge of learning at your home. A few great options that you can get for online learning are shown below.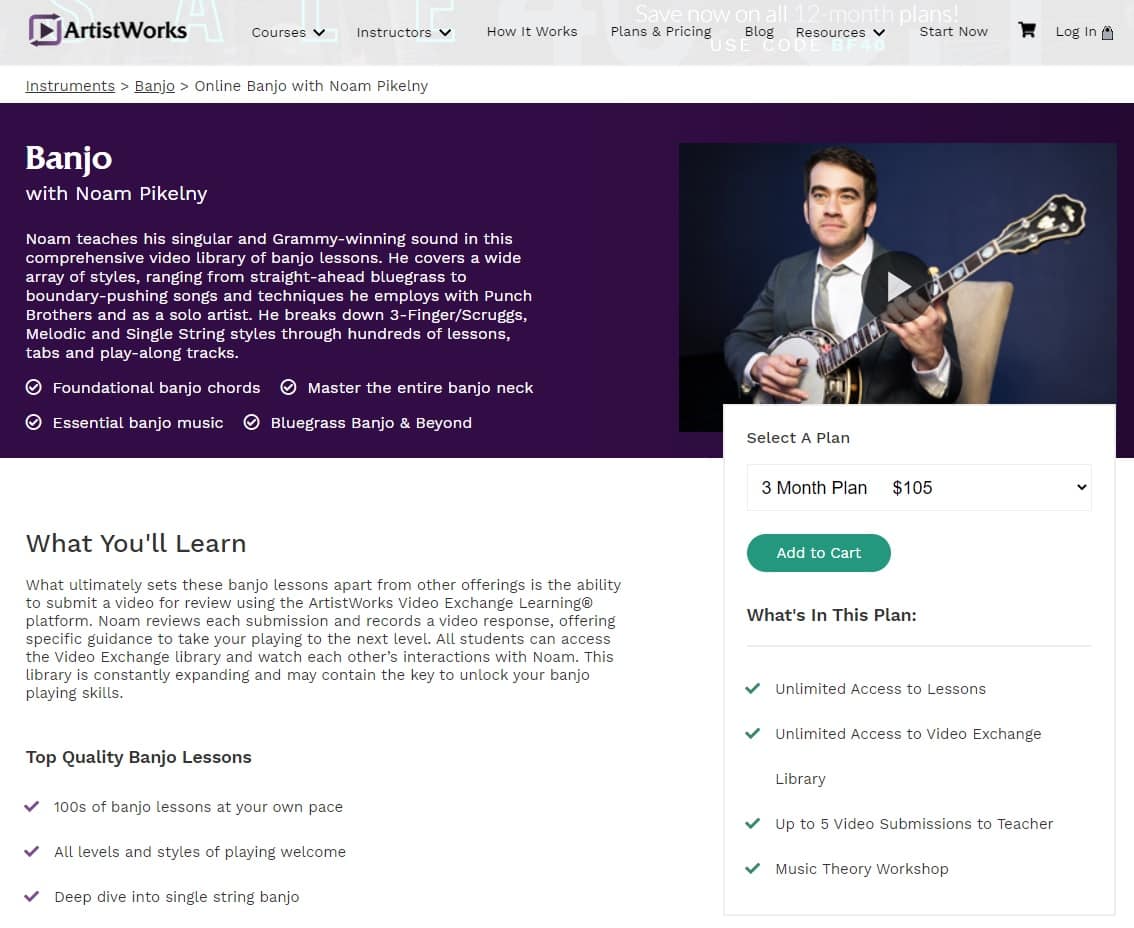 Noam Pikelny is the name that hardly requires any introduction in the world of Banjo and folk music. His contributions to folk music have a long list and with his extensive experience of not only playing Banjo but teaching as well, this course would be the perfect choice for anyone at any level rather beginner, intermediate or expert to have the right edge of Banjo and achieve the level of perfection that they have been seeking all along.
This course allows you unlimited access to video lessons and a video exchange library so you cannot only learn conveniently at your own leisure but also get the right edge of learning and you can revise any of these lessons whenever needed. This way, you can create your own schedule for online learning that allows you to have the best advantage of your time.
You can also submit up to 5 videos for submission to the teacher and have a review from Noam Pikelny himself on your work and learning so far over the course duration. The feedback will help you improvise on any aspect that you might be lacking in and you can achieve the right proficiency and skill levels that you want.
Moving forward, this course with Noam Pikelny shares great insight on the Foundational Banjo Chords, mastering the entire banjo neck to get perfect tunes out of it, and a lot more. You will also be learning through his singular, Grammy-winning sound in the comprehensive library and elaborative breakdown on the chords. You will also be able to learn a wide array of styles including melodic and single-string styles through multiple tabs and play-along tracks to practice efficiently.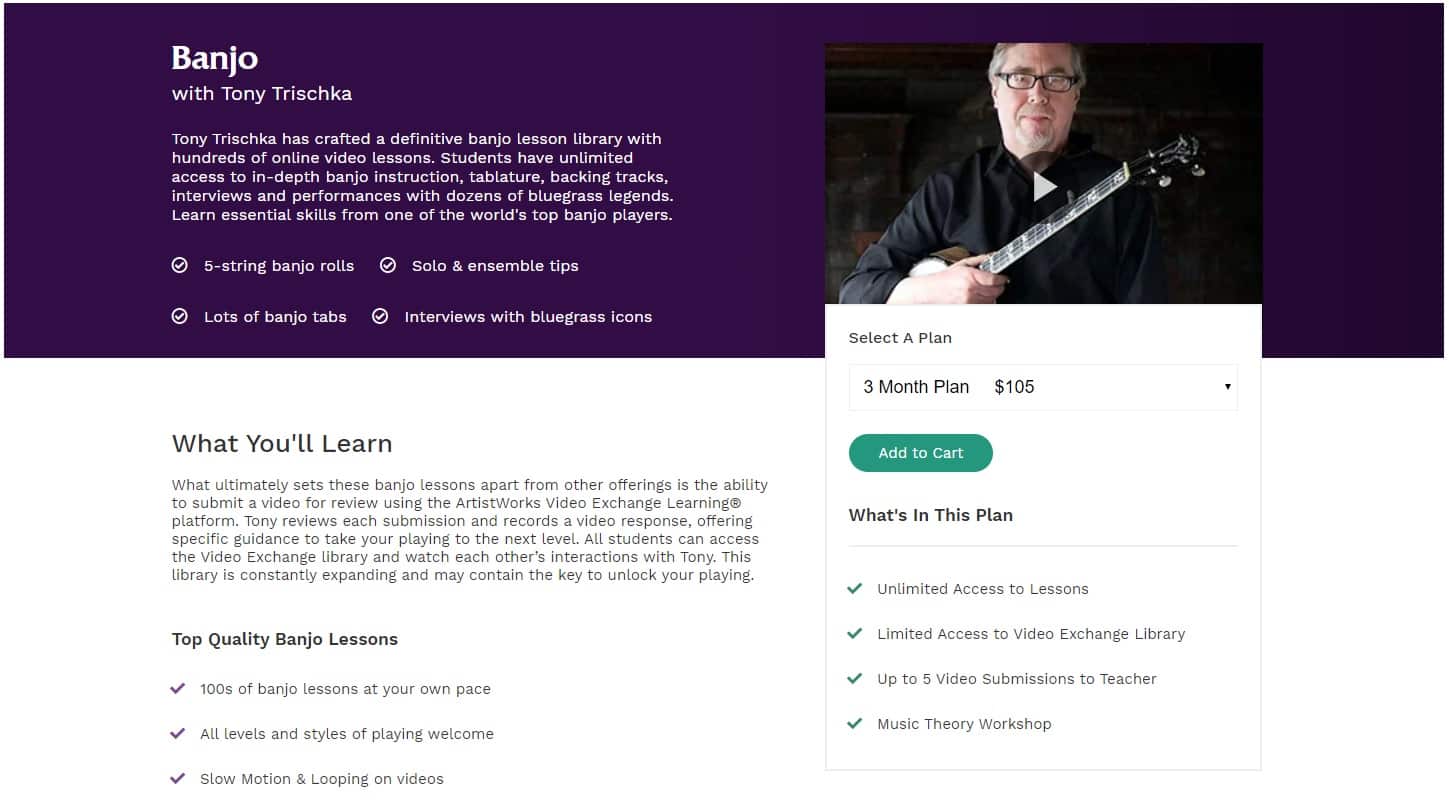 Tony Trischka is a living legend and to learn Banjo from him is a dream for most people out there. With the help of this great course on Artistworks.com, you can get the chance of a lifetime to learn all those essential skills from one of the most renowned and top Banjo players across the globe.
With this course, you will not only be getting full proficiency over the solo sting roll but a complete 5-string banjo rolls easily with this course. You will be learning all those Solo & Ensemble tips that are required to be playing the Banjo for any band or even all alone for a performance.
There are tons of banjo tabs added to the course that increases the efficiency and learning edge significantly and you will get to enjoy a perfect banjo playing experience with this one. Needless to say, that you get all those perks with the Artistworks like unlimited access to video lessons and exchange library, music video submissions to the teacher, and more.
So, if you are looking for something out of the ordinary that will enhance your banjo playing experience and you want to have the right learning edge with slow-motion & looping on videos, and 100s of video lessons that you can learn from at your own pace, this would be the perfect choice for you to have. Moreover, you will get the right practice with an in-depth breakdown of 100s of banjo tracks to understand them better and play along with them.
Some Other Learning Methods
Online learning is undoubtedly the best method to learn playing Banjo but there are some other options out there that will make your learning experience bliss and you are going to love those as well. Some options that you can choose if you think online learning is not something for you would be:
2. Music Studios
There are millions of music studios all around the world that are teaching to play Banjo and you will simply love learning from them. You can choose the right music studio that is around your place to have a convenient commute to the place and get the best possible learning there. Learning from a music studio will get you the right edge as you will be surrounded by like-minded people who have similar interests and you will get to interact with them to supplement your learning process by a great deal.
Not only that, but you will also have the right attention of a teacher and they will be readily available for you to help you out of any tight corners that you might find yourself stuck in.
Moreover, a music studio allows you to have all the resources that you can need for your learning handy and you can practice the right way with some of the best equipment available. Moving forward, you can have all the guidance with posture correction, you can talk to people with experience out there who will help you understand what it means to be playing banjo either solo or with a band.
Learning from a music studio also gives you a sense of confidence to be able to play banjo in front of any sort of audience since there are always people around you so you will not feel any sort of nervousness at all for a performance you have waited for so long and want to give out your best.
3. Private Tutor
Now, this might be a tad bit expensive option but if you feel like online learning is not working out for you and you are unable to manage your schedule in accordance to a Music studio, getting a private tutor is the best option for you that will help you get the perfect banjo playing skills over a relatively shorter course of time. You can decide upon timing and a venue to take your music lessons and choose the place and time that you both are best comfortable with.
Having a private tutor for learning banjo also helps you in a certain way that you have dedicated attention from the tutor who is there with the sole purpose to help you learn Playing Banjo and make you perfect with it. You can have any mistakes that you might be making pointed out in no time and fix them with the right guidance.
Not only that, but you will also be getting a deeper learning experience with the right posture, finger placement, choosing the right instrument that suits your playing style and goals, and a lot more.
With a private tutor, you don't have to follow the curriculum and you will be able to learn all those playing styles, techniques, and skills that you want to learn for yourself, and this way, you can have a truly personalized banjo learning experience without any hurdles or issues.
The Bottom Line
These are some of the best methods that you can get your hands on to learn banjo lessons and choose according to your convenience as to which method would suit you perfectly. So, all you need to do is make sure that you do your research well and check on your schedule to perfectly understand what would be the best option for you. Although, online learning still is at the top as it allows you to learn at your own comfortable schedule.