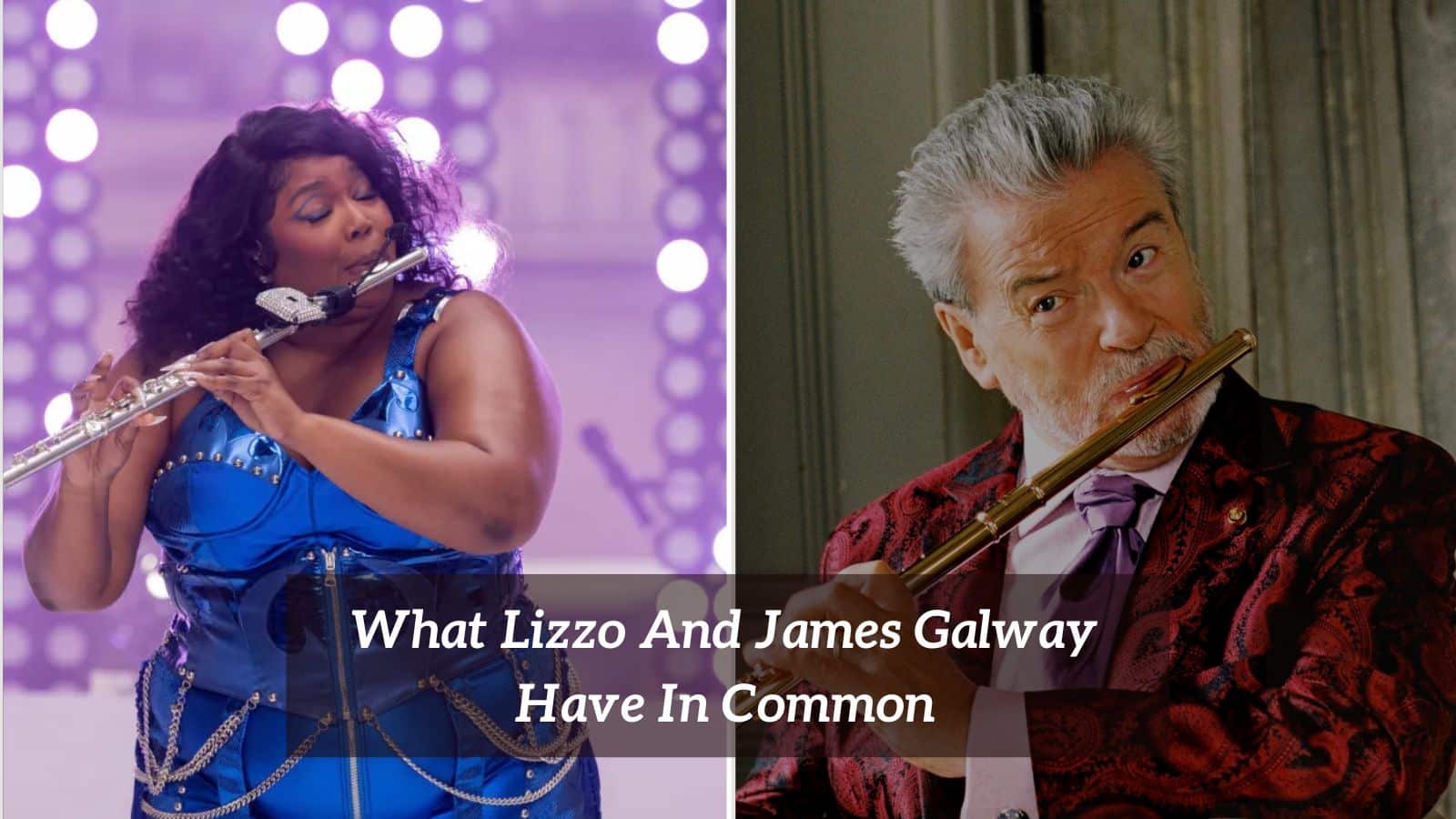 The flute is a beautiful instrument that has been a popular choice for musicians around the world for centuries.
While it is typically used in classical music contexts, such as in orchestras, bands, chamber ensembles, and solo performances, it has been incorporated into many other genres, including jazz, rock, and pop.
Regardless of what type of music is being played, most audiences can recognize a true star, and they have done just that with two of the most important modern flutists: James Galway and Lizzo.
What Lizzo And James Galway Have In Common
Who is James Galway?
Ask anyone on the street if they can name a classical flutist, and more likely than not, they'll say James Galway. The eighty-three-year-old Irish flutist is largely responsible for popularizing the instrument.
After studying at prestigious schools such as the Royal College of Music, the Guildhall School of Music, and the Paris Conservatoire, the first part of his career was focused on orchestral playing.
He played in numerous excellent ensembles such as the Royal Philharmonic Orchestra and the London Symphony Orchestra before landing the coveted position of principal flute in the world-renowned Berlin Philharmonic.
After a decade and a half in the orchestral field, Galway departed the Berlin Philharmonic to pursue a solo career, something that is notoriously difficult to do on a wind instrument.
However, he managed to triumph in this pursuit; he has sold over 30 million copies of his music.
In addition to the standard classical repertoire, he has produced numerous recordings of contemporary music, championing new composers, as well as Irish folk music and other popular tunes.
His flute playing can also be heard on the soundtracks of the Lord of the Rings franchise. He frequently travels the world giving performances and educating young flutist.
He is so successful that he was knighted in 2001, becoming the first wind player in history to achieve this honor.
Who is Lizzo?
Melissa Viviane Jefferson, more commonly known as Lizzo, is a thirty-four-year-old recording artist who performs mainly hip-hop and pop music.
After releasing a few lesser-known albums, Lizzo achieved widespread success with her 2019 album Cuz I Love You. She is famous for popular singles such as Truth Hurts, Good as Hell, and About Damn Time.
Her work regularly tops the US Billboard Hot 100 chart; she even broke the record for the longest leading song by a female rapper. She has been recognized with top honors such as three Grammy Awards, a BET Award, and being named Time's 2019 Entertainer of the Year.
However, Lizzo has something that sets her apart from the typical rapper: she is also a classically trained flutist.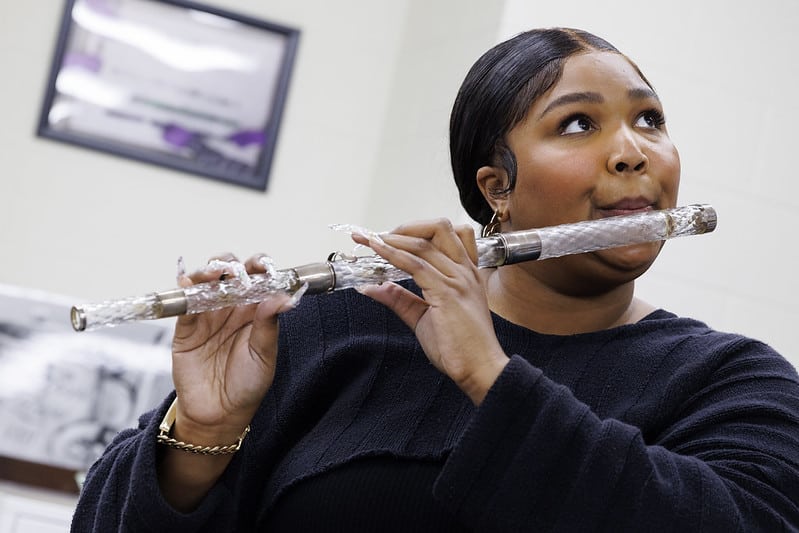 She studied flute throughout her childhood and even at the University of Houston. She has named her instrument "Sasha Flute" and frequently brings it on stage with her while performing.
Many people credit her with a resurgence of interest in the flute; while some believe support for classical music has waned in recent years, her enthusiasm for the instrument is sure to inspire a new wave of young flutists.
But what on earth do these two have in common?
At first glance, it might seem like James Galway and Lizzo have absolutely nothing in common, other than the obvious: they both play the same instrument, both studied classical music at one point in their lives, and have both become highly successful musicians.
It's true: James Galway is Irish, male, white, and eighty-three years old, and while he is relatively famous, has not quite reached the same level of mainstream success as Lizzo.
On the other hand, Lizzo is in her thirties, black, female, and one of the most famous recording artists of today, though she may not carry the same respect and reverence in classical music circles that Galway does.
Both of these artists did something revolutionary with their respective careers. James Galway broke the mold of what was expected of him as a classical flutist.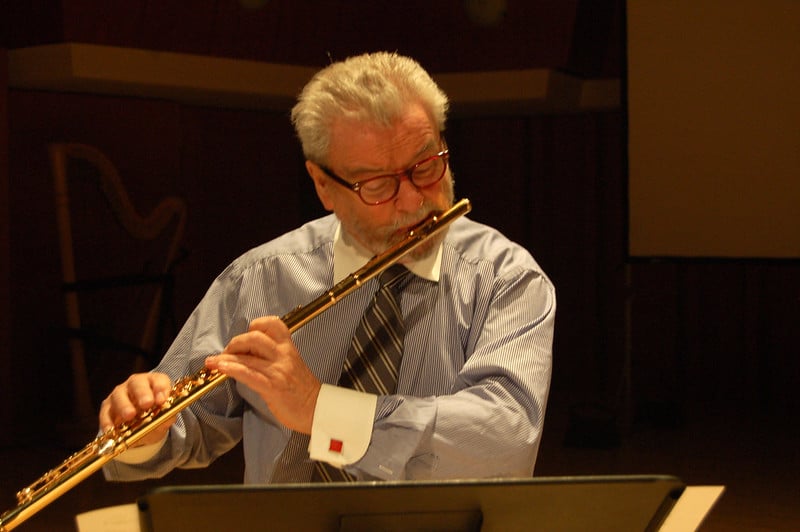 Even though he achieved the ultimate orchestral position, a job that most flutists can only dream of, he decided to push past the invisible barriers and become a soloist.
Many people might also have believed that the flute should only play classical music, but Galway proved them wrong as well. By recording popular and folk music, Galway was able to reach a whole new audience of people and expose them to the beauty of the instrument.
Similarly, Lizzo had certain expectations of her as a hip-hop artist. Most people don't expect to go to a hip-hop concert and hear an orchestral instrument.
In fact, she was probably initially laughed at for the idea. But she was proud of her abilities on the flute and found a way to incorporate her beloved instrument into her music, opening the door for a whole slew of new possibilities in mainstream music.
A legacy
Probably the most important thing that both artists have in common is their legacy.
Galway is older and his contributions to the flute world are perhaps more obvious; tens of millions of people have fallen in love with his sound on the flute and grown an appreciation for the instrument and classical music as a result.
Thousands of students across the world have also benefited from his teaching, whether it has been directly as his longtime student, through masterclasses, or even simply by listening to his recorded interpretations of the flute repertoire.
Lizzo stands to have a similar impact, which will likely continue to grow over the next several decades.
As previously mentioned, she has attracted more people to the instrument and inspired more people to listen to what the flute has to offer.
She has also shown the music industry that there are so many ways to meld classical and mainstream music together to produce amazing results, and has given hope to students who love music but may not want to pursue classical music as a career that there are other options available to them.
It takes excellence, charm, and passion to inspire audiences and young generations of musicians, and that is what both of these artists bring to the table. Both will be heralded in the flute community as champions of the instrument forever.