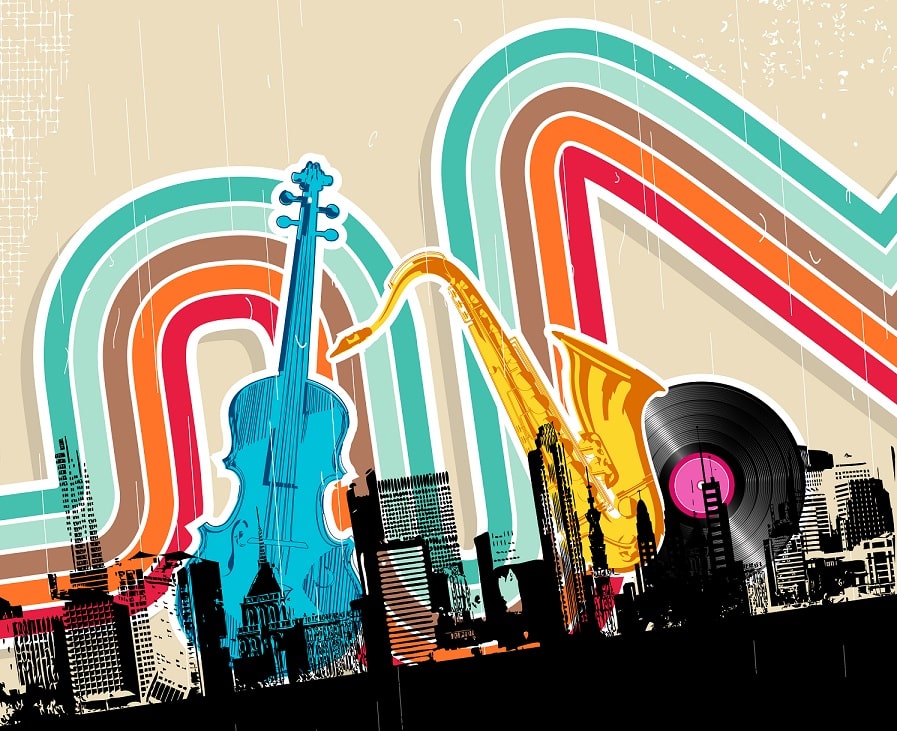 The way I intend to explore this question is both modern in terms of modern classical music and modern popular music. Both genres have evolved from the rich cultural traditions of the past thousand years or more, building their own niche on the principles that have developed during that vast time span. Perhaps it is the almost endless creative possibilities inherent in the music of the past that has given rise to such diversity today.
How Classical Music has Influenced Modern Music
Throughout the different periods of classical music, there has been a development that arises through a reaction to what has previously been the established set of norms. An example of this is the change from the Baroque to the Classical periods. This was a dramatic shift in terms of outlook and style. The ornate, highly polyphonic Baroque style was superseded by the more streamlined, measured music we hear in the Classical period. The Classical period, in turn, looked back to the world of the Ancient Greeks for inspiration and in so doing developed a lasting musical genre. This trend has been a common theme throughout the periods of music.
Stravinsky is a composer who was considered by many to be a neo-classical composer. Following the riot that was The Rite of Spring, Stravinsky turned towards the music of the classical composers for inspiration. This was not in an attempt to create pastiche but to dig into what classical music offered and to place it in a 20th Century light. Stravinsky used classical forms and ideas to allow his own compositional advancement. This can be heard in works like "The Pulcinella Suite" (1920) is an interesting example.
In the piece, Stravinsky re-works the music of Pergolesi in a very 20th century way leaving you with the feeling of temporary disorientation at hearing 18th-century music as it might have been composed in the 1920s.
Turning towards popular music, the influence of classical music was clearly evident in the Progressive Rock movement that flourished in the early 1970s. Bands like Genesis, King Crimson, Pink Floyd and Yes similar to Stravinsky took what they could make use of from the classical world and made the music their own. This was a reaction to the somewhat formulaic approach many bands took to songwriting where a verse, chorus approach was standard, workable and easily digestible by the listening public.
Prog Rock as it became known, is full of songs that not only explore the possibility of extended song structures but also fully integrated music albums. In parallel with Berlioz's, ideé fixe, the prog rock musicians created studio albums that linked the songs by musical ideas. The Genesis album titled "The Lamb Lies Down On Broadway", (1974) is a 94 minute, double album that exemplifies this point in detail. As such, the album has become an iconic concept album.
Other popular bands have taken an even more direct approach to the classical world of music. Sky, for example, was an instrumental progressive rock outfit active from the mid-seventies, right through until the early two-thousands. From their first album, "Sky" (1979), came one single titled "Dies Irae" with more than a hint of Verdi about it. The second album, "Sky 2" (1980), continued in a similar vein with two singles that could not be attributed to anything other than the classical music world. These were "Toccata" and "Vivaldi".
If you were imagining that the "Toccata" was related to the famous D minor Toccata and Fugue by JS Bach, you are correct. Sky devoted their careers to re-inventing the wealth of classical music, folk and world music; arranging it for their instrumental line up or composing within a given style. The track "Vivaldi" for instance is exactly that.
An unmistakable influence of classical music can quickly be discovered in the work of many well-known artists. In fact the more you look, the more songs you discover influenced by the work of the classical composers. On his 1983 album "An Innocent Man", Billy Joel makes an unashamed use of the main theme of the second movement of Beethoven's Pathétique Sonata (Op. 13) in his song titled "This Night". The melody and the chords are an exact copy. Barry Manilow used Chopin's Prelude in C Minor (Op.28), to act as an introduction to his song titled "Could It Be Magic" in 1973.
In Sting's track called "Russians", he sensibly borrows from Prokofiev's "Lieutenant Kijé". More recently Lana Del Rey blatantly borrowed the Romeo and Juliet Theme by Nino Rota. Another immensely popular classical piece that modern artists have enjoyed exploiting is the "Pavane" by Gabriel Fauré. These include Little Mix and S Club 7 with their track "Natural".
Many of today's songwriters owe a tremendous debt to one of the greatest classical composers, Franz Schubert. In his tragically brief life, Schubert wrote over 600 songs. This would have been a remarkable achievement alone but when you add in numerous chamber works, Piano Sonata, and nine symphonies it is all the more incredible. What Schubert achieved was to establish German song as a genre in its own right. He pioneered the concept of the song cycle in the full understanding that grouping songs together and linking with a narrative appeals to people.
His songs are also full of 'choruses' that are memorable. This was a deliberate decision in the compositional process so his work becomes memorable and enjoyed more than once. This approach is really very close to the modern day songsmith who for the most part is not interested in a one hit wonder and is trying to remain in the public ear for longer than a single song.
The influence of classical music upon the modern work of composers is far-reaching and worthy of a more extensive exploration than I have been able to achieve in this article. Far from the obvious fact that all music contains certain key elements, (tempo, rhythm, melody, harmony and structure), the links are unbreakable between the two genres. What is perhaps particularly interesting is that this influence travels more freely between genres that combine with a newer added fluidity than was previously possible. The musical future will be a bright and exciting one.