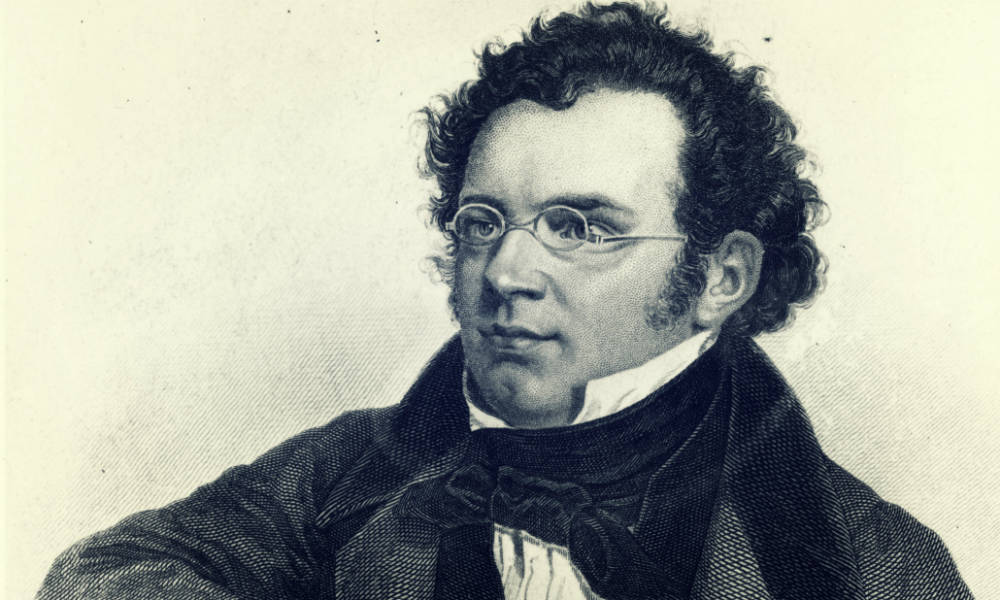 1) Franz Schubert was born January 31, 1797 and died 31 years later.
2) He was the only one of the great Viennese composers actually born in Vienna.
3) His first piano teacher was his older brother, Ignaz.
4) He later studied with Antonio Salieri, who was still a well-­respected teacher despite the rumours he had poisoned Mozart.
5) He began composing at age fourteen and wrote his first symphony at age sixteen.
6) Never one to wait for divine inspiration or pace the room composing in his head, Schubert sat down and wrote with diligent regularity. "I work every morning," he said, "When I have finished one new piece I begin another."
7) Schubert followed his father into a teaching career and worked at his father's school for three years. It was the most financial security he would ever have.
8) He composed "Gretchen am Spinnrade" (Gretchen at the Spinning Wheel), at age seventeen while working as a teacher. This piece inaugurated the German Romantic art song tradition, more commonly known as Lied.
9) His first public success and printed work was "Der Erlkönig" in 1815.
10) He had no special gift for opera but was convinced it was the only way to gain success and laboured over more than a dozen failures in this genre.
11) He was not a handsome man, nor an articulate one, nor a graceful one, yet he lived at the centre of a social and artistic group of bohemians after quitting his teaching career.
12) Schubert's companions called themselves the "Schubertians" and referred to their gatherings as "Schubertiads".
13) He was nicknamed "Kanevas" for his habit of asking about new acquaintances, "Kann er was?" (What can he do?)
14) He was also known as "Schwammerl" (Tubby).
15) He once performed "Der Erlkönig" on a comb and tissue paper.
16) Unlike Mozart and Beethoven, Schubert was not a piano virtuoso and could not achieve recognition as a soloist.
17) When famed baritone Johann Michael Vogl first met Schubert and heard his works, he told the young composer, "You do have talent, but you are too little the actor, too little the charlatan." Vogl would nevertheless become a friend and benefactor.
18) Schubert had terrible business sense and publishers took great advantage of this. Even when he was well known, he sold some of his "Winterreise" songs for the equivalent of twenty cents apiece.
19) He only met Beethoven twice but was selected to carry a torch in Beethoven's 1827 funeral procession.
20) He started what would become the Unfinished Symphony in 1823, when granted an honorary membership at the Musikverein of Graz.
21) Schubert completed two movements of the Unfinished Symphony before it was confined to the drawer of his friend, Anselm Hüttenbrenner, and left unperformed until almost forty years after his death.
22) Schubert likely learned he had syphilis in late 1823, which biographer George R. Marek theorizes prompted his abandonment of the Unfinished Symphony. However, Schubert lived another five years after the onset of this illness and composed a great many other pieces in that time. Why he never returned to the Unfinished Symphony remains a mystery.
23) Little is known about Schubert's relations with women. In his youth, he experienced unrequited love for a singer named Therese Grob and wrote some of his early songs for her but she married a baker. Schubert never married.
24) It is likely Schubert contracted syphilis from a prostitute, as many did during the age. Vienna in the 1820s housed some ten thousand prostitutes.
25) Schubert died on November 19, 1828 and was buried a few feet from Beethoven's grave.
26) Schubert's tombstone epitaph reads: "The art of music here entombed a rich possession but far fairer hopes."
27) It took most of the nineteenth century to gather and survey the totality of Schubert's work. "From the beginning," Jan Swaffords notes, "He wrote as if he knew how little time he had."
28) In 1838, Robert Schumann discovered the C major Symphony at the house of Schubert's brother Ferdinand.
29) In 1865, the Unfinished Symphony was finally made public. It is considered the first true Romantic symphony.
30) George Grove (later of Grove's Dictionary of Music and Musicians) and Arthur Sullivan (later of Gilbert and Sullivan) uncovered more works in Vienna while looking for Schubert's incidental music to the play "Rosamunde" (which they eventually found as well).
31) The final tally of Schubert's work includes over six hundred lieder, eight symphonies, twenty­-two piano sonatas, thirty­-five assorted chamber works, many short piano pieces, six masses, and fifteen operas.
Source: The Vintage Guide to Classical Music, Jan Swaffords