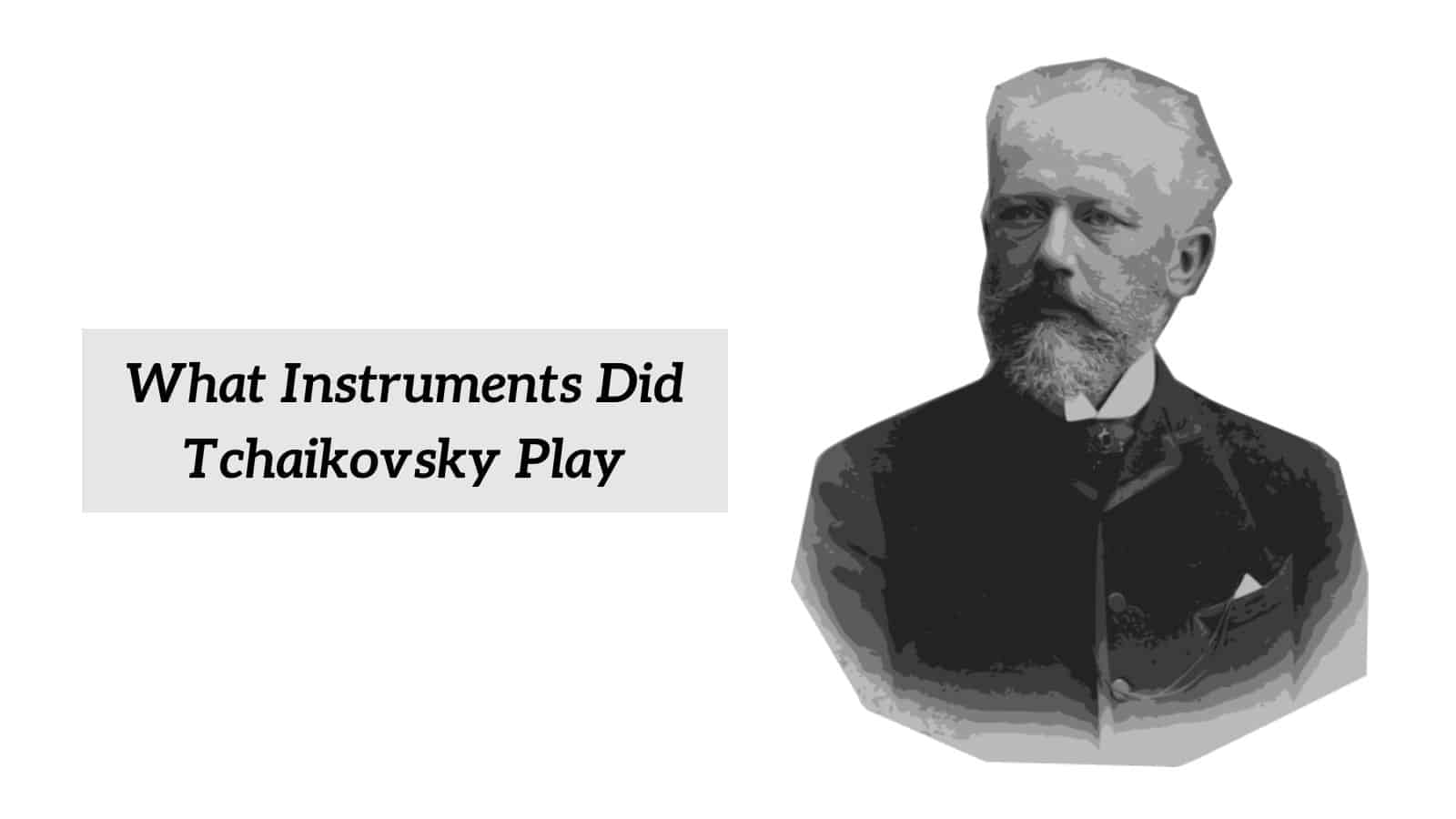 It feels slightly wrong to simply title this article with the name Tchaikovsky when he properly deserves his full title of Pytor Ilyich Tchaikovsky (1840 – 1893).
Of all the composers heralded from Russia Pyotr Ilyich Tchaikovsky is probably the most famous, most performed and even most misunderstood. He is a composer whose prowess dominates the landscape of Romantic music.
From his six symphonies through to his piano concertos and ballets, the name of Tchaikovsky resonates will millions of people who adore his music.
What brings such great appeal to Tchaikovsky's music is different for every individual but there is no doubt about the power of his orchestrations, the beauty of his melodies accompanied by the luxury of his harmonic language.
However, you plug into Tchaikovsky's catalogue of works, I've yet to meet someone who doesn't enjoy most of his work. The question naturally arises if Tchaikovsky was such a legendary composer, what instruments did he play?
What Instruments Did Tchaikovsky Play?
Surly his colourful and skilful orchestrations would indicate an intimate knowledge of each orchestral instrument. Wouldn't the quality of his piano concertos also point to the fact that he was a superb pianist?
Unlike many earlier composers, we have a reasonable quantity of reliable information about Tchaikovsky's life. Often composers' lives are very challenging to trace and even more to verify facts.
Tchaikovsky was one of six children who survived childhood. He was the second. His father held a reasonably responsible and important job managing the Kamsko-Votkinsk iron works.
Tchaikovsky's mother was of French descent and perhaps most noted for leaving the young Tchaikovsky at boarding school.
According to some sources, his mother had a terrible time persuading the boy to remain at the school and Tchaikovsky apparently clung to the wheels of her carriage to prevent her departure.
Given the incredibly sensitive boy, Tchaikovsky was this must have created a deep trauma in him that probably lasted a lifetime.
Tchaikovsky showed musical promise at a very young age. He was deeply interested in the art form and is thought to have composed a song as early as age four.
I imagine Tchaikovsky naturally used his voice to express his ideas as at that time he had no other means of expressing himself musically.
A song as a first composition seems highly probable indicating that his first instrument could reasonably be thought of as his voice. This was certainly not the last song the composer wrote.
We also know that Tchaikovsky entered the preparatory class in the Imperial School of Jurisprudence where he is supposed to have seen a worthy performance of Mikhail Glinka's 'A Life for the Tsar'.
This performance made a great impression on the young composer.
Whilst at school Tchaikovsky made progress in many subjects but continued to demonstrate a significant gift for music. Under the extraordinary eye of choirmaster Gavriel Lomakin, Tchaikovsky honed his vocal skills in the school choir.
His voice was described as being a rather beautiful boy soprano. Tchaikovsky's choirmaster must have agreed as Tchaikovsky recalled singing a prominent line in a liturgical work.
Shortly after at around the age of five, Tchaikovsky embarked on his first piano lessons with a local tutor called Mariya Palchhikova. Through her, Tchaikovsky became familiar with the works of Russian composers and maybe, more importantly, the music of Frederic Chopin.
No music other than the choir was freely available during his nine years at boarding school. Tchaikovsky almost certainly composed during this time and perhaps taught himself the piano.
Three years of study were spent at the renowned St. Petersburg Conservatory founded in 1862 by the brilliant pianist Anton Rubenstein. It was Rubenstein who helped Tchaikovsky at this time by sending him piano students hand-picked by him, for Tchaikovsky to teach.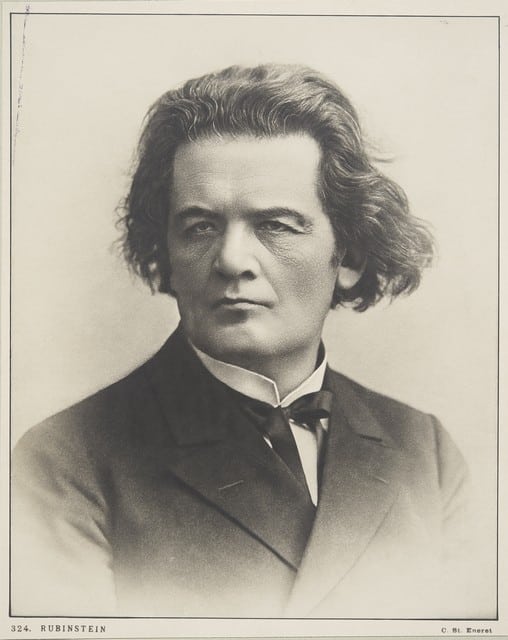 During these years at the conservatory, Tchaikovsky covered a considerable amount of academic ground.
He was allowed to skip piano classes due to his already strong facility for the instrument but he endured a strict regime of counterpoint, orchestration and harmony.
As an ambitious young musician, Tchaikovsky also elected to study the organ and the flute. Whilst it was not uncommon for pianists to make a study of the organ, it does seem slightly unusual for Tchaikovsky to have taken up the study of the flute.
Perhaps he felt it a useful avenue into woodwind instruments. Beyond this note, in the composer's biography, there seems little mention of further study of these instruments.
Anton Rubenstein was a significant support to the young Tchaikovsky and he in turn worked hard for his tutor.
From his instrumental studies through to his attempts at conducting, Tchaikovsky showed a powerful determination to succeed as a composer.
His determination lead him into direct conflict with Rubenstein on many occasions. Their relationship was nearly always this way.
From this point forward Tchaikovsky forged ahead with his work on composition. He graduated, following another altercation with Rubenstein with high results but only a satisfactory grade in conducting.
Tchaikovsky moved to Moscow in 1866 on the invitation of Rubenstein to join him at the Moscow Conservatory. Here Tchaikovsky taught a variety of classes but more importantly gained introductions to the influential friends of Rubenstein.
The compositions began to flow, from Symphonies to Operas and chamber works. Symphonie No.1 arrived in 1866 followed shortly by his debut opera The Voyevoda in 1868.
1869 saw one of Tchaikovsky's most admired works Romeo & Juliet arrive in the concert halls. His personal life continued to be entangled with romantic encounters, most of which ended badly, whilst his creativity channelled its passion into his music.
Towards the conclusion of 1874, Tchaikovsky completed his First Piano Concerto in B Flat Minor that perhaps could be seen as a triumph of his abilities as a pianist and composer.
Interestingly, Rubenstein was derogatory in his remarks about the piece but fate had a different idea and the work emerged as one of the most performed and celebrated of Tchaikovsky's works.