City Opera Vancouver gave three performances of the Lost Operas of Mozart in Oct 2016, a two-hour production bringing together three works left unfinished by the composer: Lo sposo deluso, L'oca del Cairo and Zaide.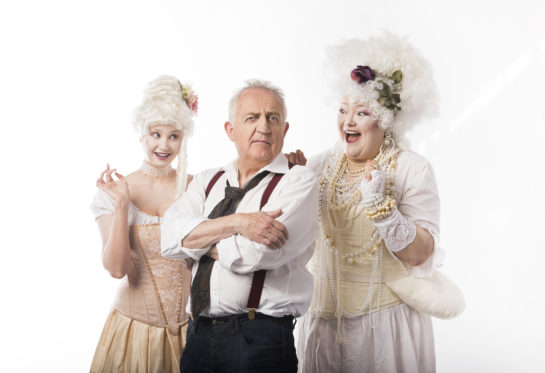 Mozart began these operas between 1779 and 1784, but each was left in various states of completeness due to new work becoming available. City Opera's production takes a new approach to bring these fragments to the stage: setting the scene in the 21st century and having the characters emerge from two centuries in Limbo in a bid to convince an impresario to allow them to perform for an audience.
The result was broadly successful. Lo sposo deluso and L'oca del Cairo contain only the beginnings of a musical composition (Mozart composed just five numbers for the former), but the plot manages to hold both works together in a coherent whole. This is helped by the comedic aspects of the two fragments and the transition scenes involving the impresario, which taken together form act I of the Lost Operas.
And of course, there's the music. Even though Mozart abandoned these operas unfinished, his genius and creativity shine through in the scores of each. It was refreshing to see a Mozart opera with a chamber orchestra of 14 musicians, giving something of a sense of what the orchestral performances would have sounded like in the late 18th century when ensembles were much smaller.
Act two was devoted to Zaide, for which Mozart wrote approximately 75 percent of the music. The characters naturally have the time to develop more and the opera's themes of oppression and injustice still seem contemporary.
At the Saturday performance,  Zaide's opening aria was sung beautifully by Robyn Driedger-Klassen and another highlight was the love scene between Zaide and Gomatz.
The first two fragments were in the original Italian, while Zaide was performed in an English translation. For me, hearing the German original would have been even more enjoyable. But given that Zaide is a singspiel, with lengthy passages of dialogue interspersed with the singing, it's easy to see how this could have added extra challenges to the production.
Judging by the ovation given at the end, when even the grumbling old impresario is won over to the talents of his unexpected visitors, and the quality of the performance, The Lost Operas of Mozart deserves a wider audience.
You can watch a video clip below where the City Opera of Vancouver explains the concept behind the production.