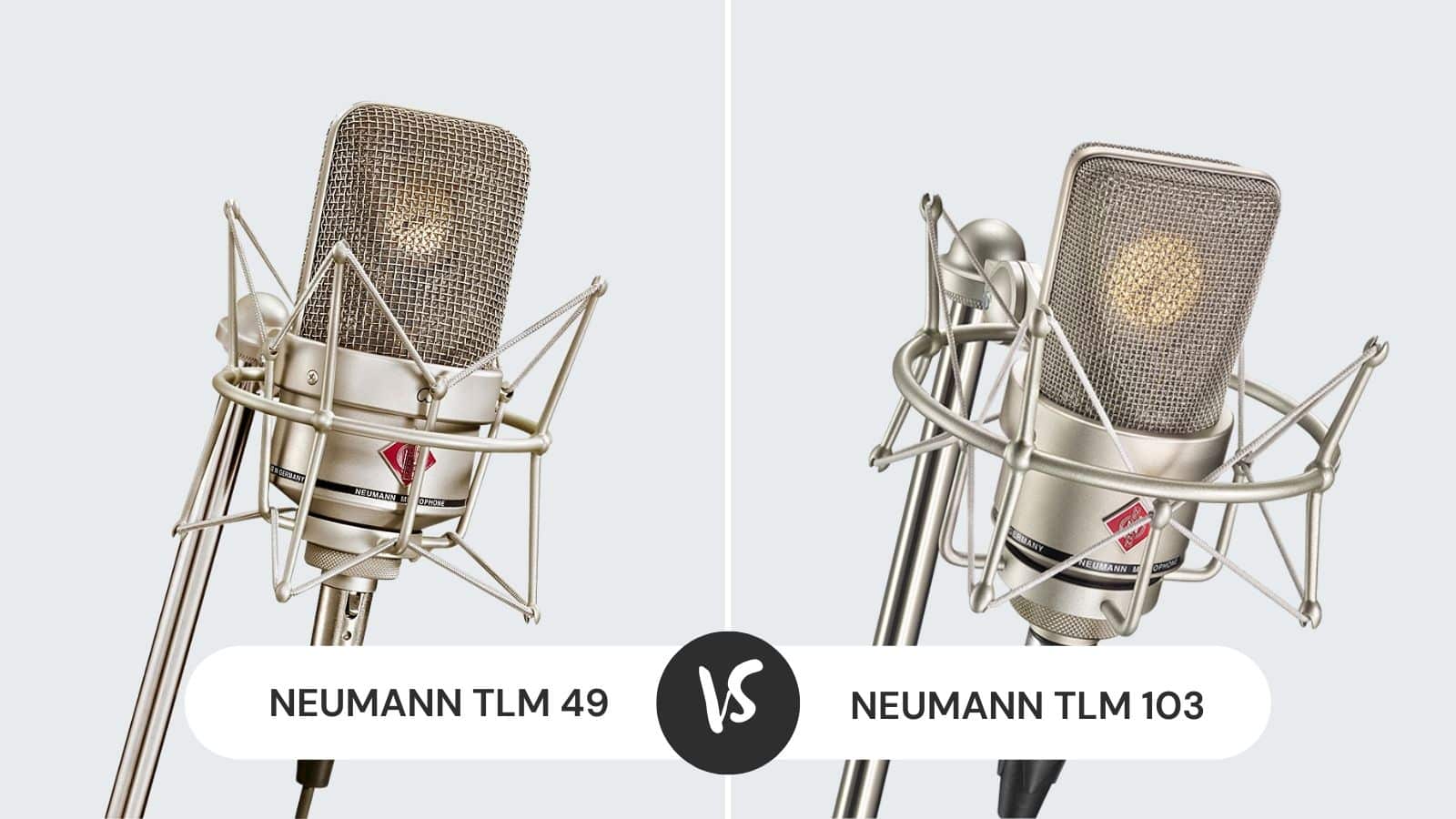 The microphones are essential for recording songs with clarity and without worrying about the background noise. Neumann is known for making the finest microphones for decades, but the majority of them are expensive
On the other hand, TLM 49 and TLM 103 are two affordable microphones with top-notch performance and clarity of sound. Both of them have unique features that you must know.
TLM 49 vs TLM 103 Comparison
| Features | TLM 49 | TLM 103 |
| --- | --- | --- |
| Max SPL | 138dB | 110dB |
| Signal-to-Noise Ratio | 87dB | 82dB |
| Output Impedance | 50 ohms | 50 ohms |
| Self-noise | 7dB | 12dB, 23dB |
| Weight | 1lb | 1.82lb |
| Shock Mounts | Available with package | Not available in package |
TLM 49
This microphone looks like a vintage mic, but it has been integrated with the K47 element. This is a cardioid directional condenser mic with advanced technologies, such as transformerless output, which promises seamless vocal clarity and reproduction.
It comes with a shock mount that improves the installation and looks aesthetic. The microphone has a robust and high-quality build quality, so you can get value for money.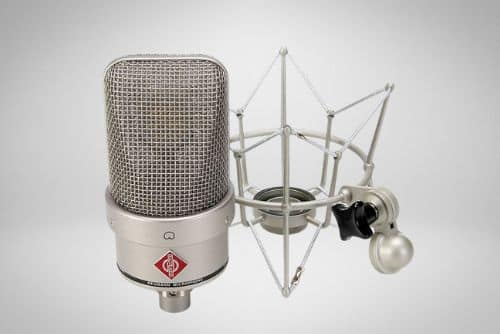 1. Sound
TLM 49 has been designed to optimize vocal performance. For instance, it has a linear frequency response, and the presence boost ranges from 3dB to over 2kHz. This boost can capture air from the vocals, which brings out more clarity in the tracks.
For this reason, it has the lowest self-noise and can manage over 114dB sound pressure levels without causing any distortion. In addition, it has a cardioid pickup pattern that's helpful for higher frequencies.
It promises incredible sound quality with solid construction. For instance, it can create in-depth and detailed sound, so even the softest music will sound bigger.
As already mentioned, it comes with a shock mount that helps reduce the unwanted noise, but it's best to keep the mic four to eight inches away from the mouth to ensure the best vocal output.
The microphone will be able to add warmth to the guitars with distortion issues without resulting in a muddy or dull sound. This is because Neumann TLM 49 adds a natural warmth to the sound by maintaining clarity and frequency response.
While it can be used for guitars, voiceovers, and talk shows, you can also use it with stand-up bass, piano, and cello. However, it doesn't work well with drums. Having said that, you can use it for home studios, professional-grade music studios, films, and broadcasts.
2. Transformerless Circuit Technology
It has been integrated with the transformerless circuit technology, which allows the microphone to utilize the higher gain levels while ensuring the lowest level of self-noise.
In addition, it tends to capture air from the voice, promising smooth and warm tones for everyone, including men and women. It prevents radio frequency interference, given the common-mode rejection.
It can provide a 102dB range and operates at a pressure level of over 114dB without any distortion.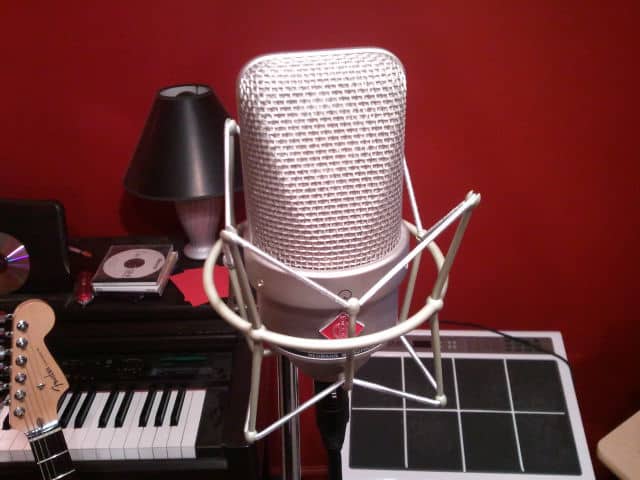 3. Frequency
The frequency response curve of this microphone shows that it's designed for vocal use. This is because it has a peak frequency of 5kHz and gradually reaches 20Hz, promising smoothest sound transitions.
As a result, it is able to provide precise, full, and round sound, which can handle the breathiness of the low end. Similarly, its internal design supports the harmonics, which promises a better experience for singers, and you can also use it for talk shows and voiceovers.
4. Diaphragm
The TLM 49 microphone has been integrated with a bigger diaphragm capsule that helps sustains in-depth and richer vocal tones. In addition, if you want to add sound effects, it will be able to optimize the vocal sound.
The diaphragm also enables the users to use post-production effects, including preamps and compressors. It can capture the acoustic energy better than a smaller diaphragm, so you can shape the sound however you like.
It has a diameter of 34mm and can manage directional frequencies as well.
5. Shock Mount
TLM 49 comes with a shock mount, which helps transmit the low-frequency signals without any coloration. This means that the mic is sensitive to wind noise and vibration noise at a low-frequency range.
Moreover, it comes with EA 3, which helps protect the mic from plosive sound and structure-borne noise.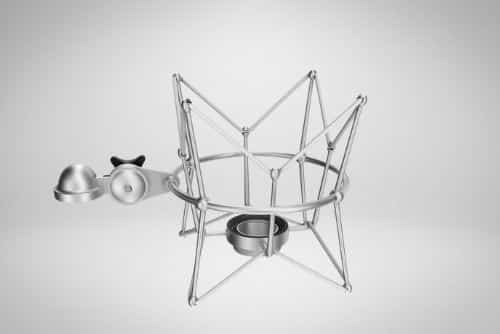 Pros
Appealing design
Makes a smooth and rich sound
Suitable for songs, voiceovers, and talk shows
102dB dynamic range
Large diaphragm
Manages directional frequency
Cons
Packing is not very strong
TLM 103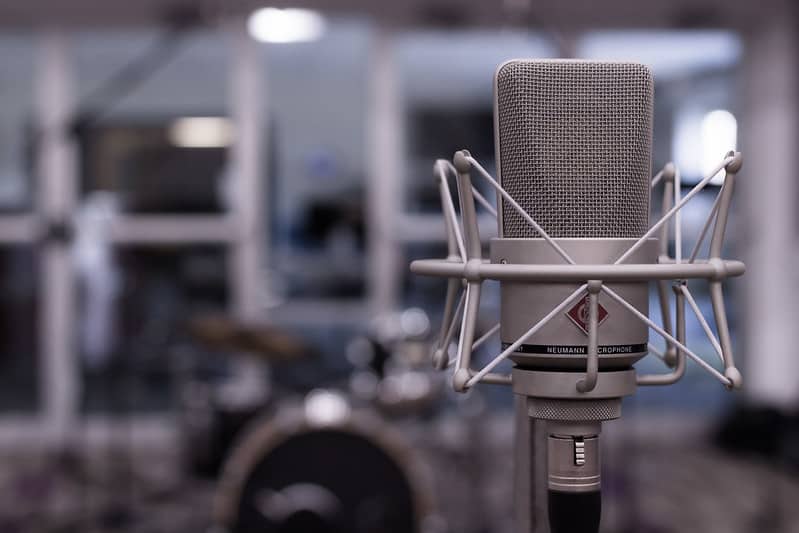 TLM 103 microphone is known as the universal cardioid microphone, which promises a directional pattern. It has a heart shape, which means it can accept the sound from the front side and rejects the ones coming from the back, eliminating the chances of background noise.
The microphone is available in a matte black finish as well as a satin nickel finish, but the latter looks better.
In addition, it comes with an elegant swivel stand adaptor with plastic construction to cover the mic. The screws on the microphone work as thread covering and include a locking ring to adjust the angle of the adapter to enjoy better outcomes.
1. Sound
The microphone is designed with a polar pattern and a clean off-axis pickup which improves the front-back rejection, promising clear sound quality.
It has a huge headgrille with wire mesh to prevent pop noises and plosive sounds. It has a cutting-edge sound quality that helps maintain the impulse responses and will be able to reproduce the finest music without any coloration.
This is the prime reason this microphone is suitable for fricative singers. It can produce clear and seamless sound with extreme clarity. There are elastic mounts in the mic, which help alleviate the noise.
2. Build Quality
The microphone has a solid build quality and has a cleaner design. For instance, there are no filter switches, pads, and pattern selection, leading to minimal aesthetics.
However, the mesh grille tends to be fragile, but it also improves sensitivity. It utilizes the electronic circuit, promising better audio signals with higher purity levels. In addition, the build quality helps reduce the electromagnetic interference to ensure there is no signal degradation.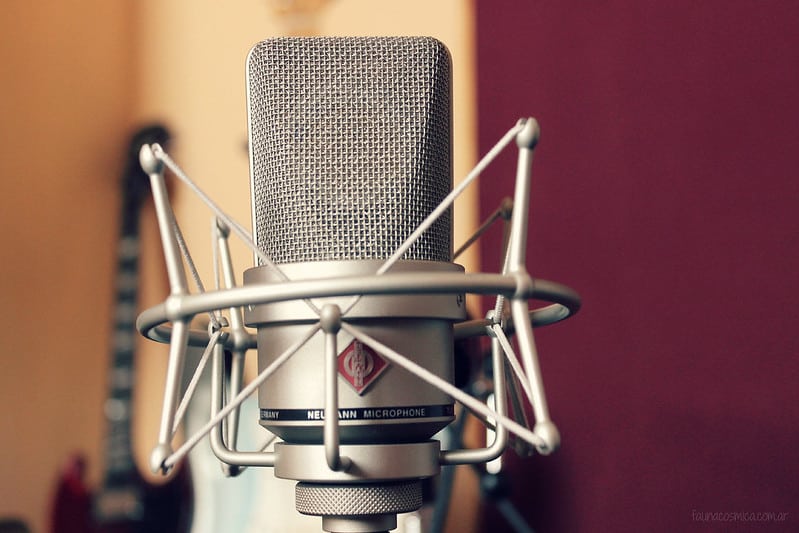 3. Frequency
Neumann TLM 103 is designed to reach frequencies below 20Hz, and you won't have to worry about coloration even at the low bass signals. The highest SPL of this microphone is 135dB, which means it can handle the loudest sound.
However, it cannot handle the environment recording, so it's best to create the silent recording ambiance to gain the most value because it can capture the ambient sound in the noisiest places.
Overall, it has exceptional frequency response, but it tends to create mild accentuation when you play the high-range pitch. Other than this, the mic achieves a stable curve, resulting in consistent performance.
4. Diaphragm
The TLM 103 microphone is integrated with a large diaphragm capsule, and when you hit the frequency of 5kHz, you will be able to utilize the capsule along with the 4dB improvement.
Neumann conducts more than fifty tests before the final launch, so there are no compromises on the performance. It can achieve an exceptional signal-to-noise ratio, which means it can significantly impact the sound quality, depending on the proximity.
So, as long as you are keeping enough distance from the mic, there won't be any overblown and distorted sound.
5. Shock Mount
The microphone can be installed with the help of a shock mount, which can be used for connecting and installing the mic in one place.
It has a compact design, and you can connect a pop filter with the shock mount during recordings, making it a suitable choice for home studios, full-grade recording studios, and professional broadcasters.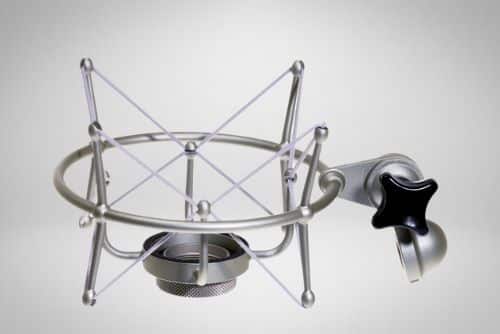 However, the shock mount doesn't come with the mic, so you have to purchase it separately.
Pros
Unique yet appealing design
Professional-grade sound quality
No filters and polar patterns
Reliable signal-to-noise ratio
Cons
Fragile mesh grille
A shock mount isn't available
The Final Verdict
Neumann TLM 49 is a suitable choice for people who want to record music in different recording rooms as well as in outdoor conditions and has better noise cancellation.
On the other hand, TLM 103 is suggested only for indoor recording sessions and has a fragile mesh grille, which means it won't do a good job with noise cancellation.