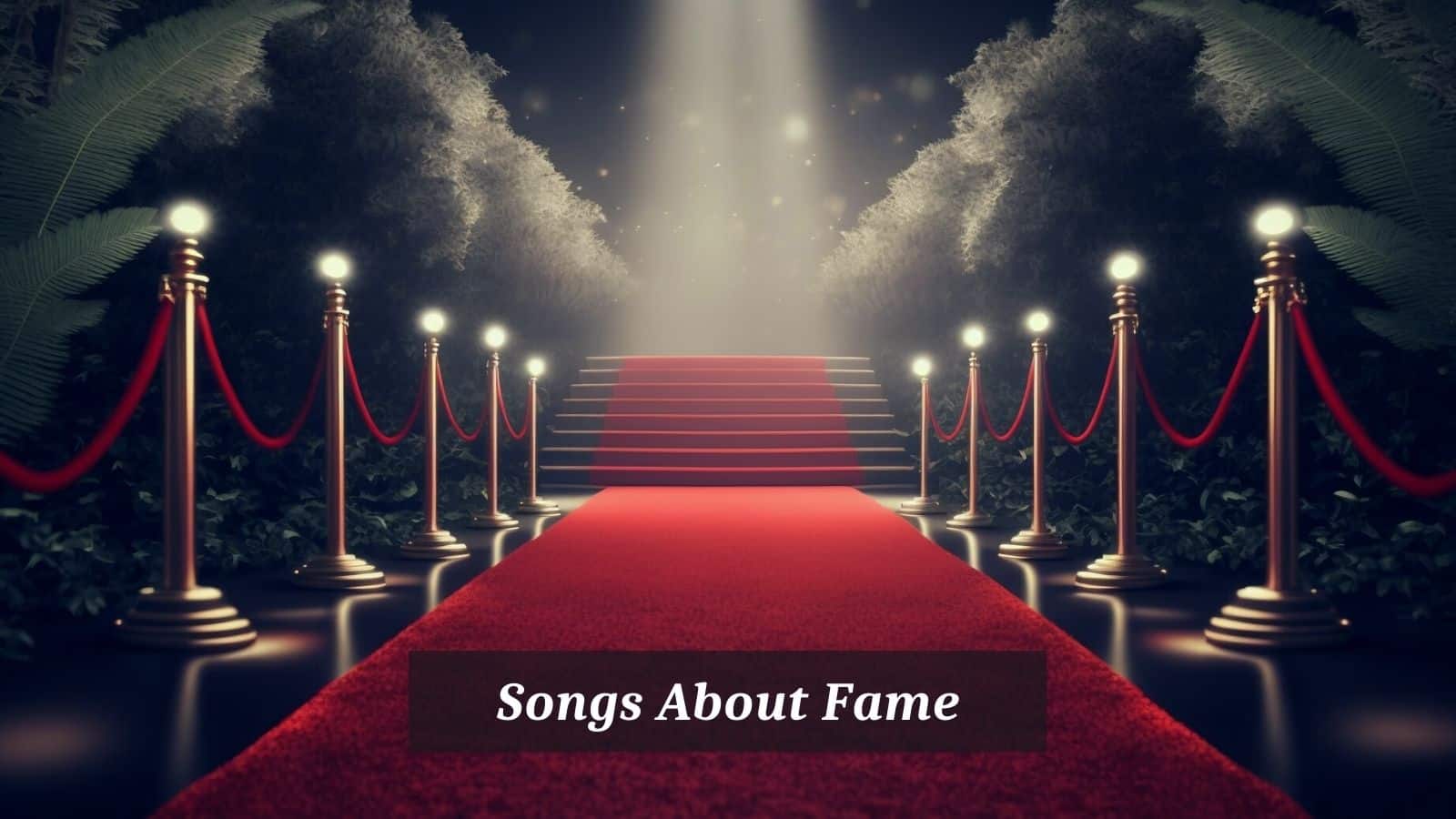 Fortune sadly often comes hand in hand with misfortune. We've collected some stand-out rock and pop songs about fame detailing both the good and bad sides of attaining celebrity status and worldwide recognition, from tracks illustrating addiction to outlandish, drug-laced lifetyles, to pieces humbly rejecting the idea altogether.
Songs About Fame
1. David Bowie – Fame
Appearing on his 1975 album, Young Americans, David Bowie's funk rock hit, Fame, depicts the lunacy and narcissism inherent to fame-seeking and the tumultuous aftermath of reaching celebrity status.
This track is considered to reflect Bowie's own judgement, offering a unique insider take into the mayhem of rock and pop stardom from one of the era's most interconnected and informed artists;
"Fame makes a man take things over, fame lets him loose, hard to swallow, fame puts you there where things are hollow, fame, it's not your brain, it's just the flame that burns your change to keep you insane."
Padding his perception with rejection of the maniacal luxury which taunts him, this Bowie track transcends its nearly 50-year old sentiments with a timeless and cutting sense of honesty.
2. Lady Gaga – The Fame
The titling track from Lady Gaga's debut album, The Fame is an electro pop / rock track about selling your soul to the entertainment industry.
Gaga's eccentric take on her genre allows a naturally vibrant yet striking exposure of the falsehood underlying fame and fortune;
"All we care about is runway models, Cadillacs and liquor bottles, give me something I wanna be, retro glamour, Hollywood, , we live for the game, doing it for the fame, 'cause we wanna live the life of the rich and famous."
Despite illustrating the attention-seeking dishonesty and delusion of being famous, Gaga's track isn't necessarily against it, her narrator instead revelling in an addiction to its narcissistic lyrical ideals whilst putting a self-aware spin on the concept;
"I can see myself in the movies, with my picture in city lights, photograph my mind and whatever else you'd like to shoot, you decide, all we care about is pornographic girls on film and body plastic, give me something I wanna see, television and hot blondes in odd positions."
3. Vory – F*** Being Famous
Vory's dark trap / hip-hop track, F*** Being Famous captures the opposing opinion to Gaga's hit, his message composed with an outstandingly down-to-earth approach compared to the predominant take of his rap sub-genre.
This is a track about seeking success and contentment without the curse of being a celebrity, the narrator motivated to surmount the weaknesses recognised in those around them;
"These n***** ain't lit like you think they lit, the count up is too legit, got too much to do with this, gotta learn how to move with this … I give a f*** 'bout the fame, I really got nothing to say, my family straight, I want the house on the lake and I make sure my mama done ate, try not to get in the way."
4. Rema – Fame
Rema's hip-hop / pop freestyle, Fame, comes from the perspective of a new-comer to the music industry battling the balance of love, work and stardom.
Rema's fresh, upbeat sound and addictively velvet voice contrasts the almost despairing message woven throughout his lyrics, centred around the struggle to find and uphold a true and trustworthy relationship with so many other distracting aspects commanding your attention elsewhere
"S*** I think I changed, things don't feel the same, I don't wanna play no games, since I got this fame, it's been so hard to love again, girl your love is in vain."
5. Adekunle Gold – Fame
Adekunle Gold's sunkissed acoustic pop track, Fame, reminisces on the journey taken towards success and the many leaps made forwards, whilst casting this sentiment in a sad light of feeling irreparably detached from your roots;
"Everybody says don't change, but how will I grow? I'm scared to do the things I want, but people don't know … I'm here in my house, but home seems so far, I've tried to cut the distance, but it feels so far."
Despite setting his track against a nourishing, uplifting soundscape, Gold devotes his lyrics to emphasising the isolation spawned by fame and fortune, reflecting rather than running blindly towards further achievement;
"Sometimes my mama's house don't feel like home, sometimes my baby's arms don't feel like home, sometimes with my friends I feel alone, sometimes I feel alone."
---
Morgan Wallen's contemporary country pop / rock single, Livin' The Dream, inverts its title to portray the faults of fame.
This track uncovers addiction to the relentless lifestyle which ruins your sanity as much as your physical health, draining your worthwhile life experiences and replacing them with cyclical, intoxicating escapism;
"I look like a rock star, in and out of cop cars, living out a suitcase, trashing hotel bars, if I see the sunrise, it's 'cause I stayed up all night, drinking 'cause I need to, damn it what a good life… People would kill to be, but y'all, it ain't as good as it seems, this livin' a dream is killing me."
Wallen's most profound lyrical element is the lack of self-recognition after being blinded by the haze of fame, crafting a track for anyone frightened they've lost themselves somewhere along their journey to success;
"There's a stranger in the mirror, but according to the pictures I'm a rock star."
6. Brent Faiyaz – price Of Fame
This tranquil R&B tune by Brent Faiyaz is a realistic look at the materialism and popularity-induced idiocy rampant within the rap industry, disclosing the toxic nature of being both celebrated and used by the media, fans and competition;
"All of the things they want, they don't know why they want it (I know, look), they don't wanna give you time to heal, they just wanna bleed you dry, for real … The fame, I swear it isn't everything, glitz and glam, it isn't everything."
Price Of Fame criticises the cut-throat nature of chart-topping competition with dignified advice with results easily outshining the prospects of fame; "You don't need someone to make you feel better than you've ever felt, what you need is someone who will be there when you don't feel yourself."