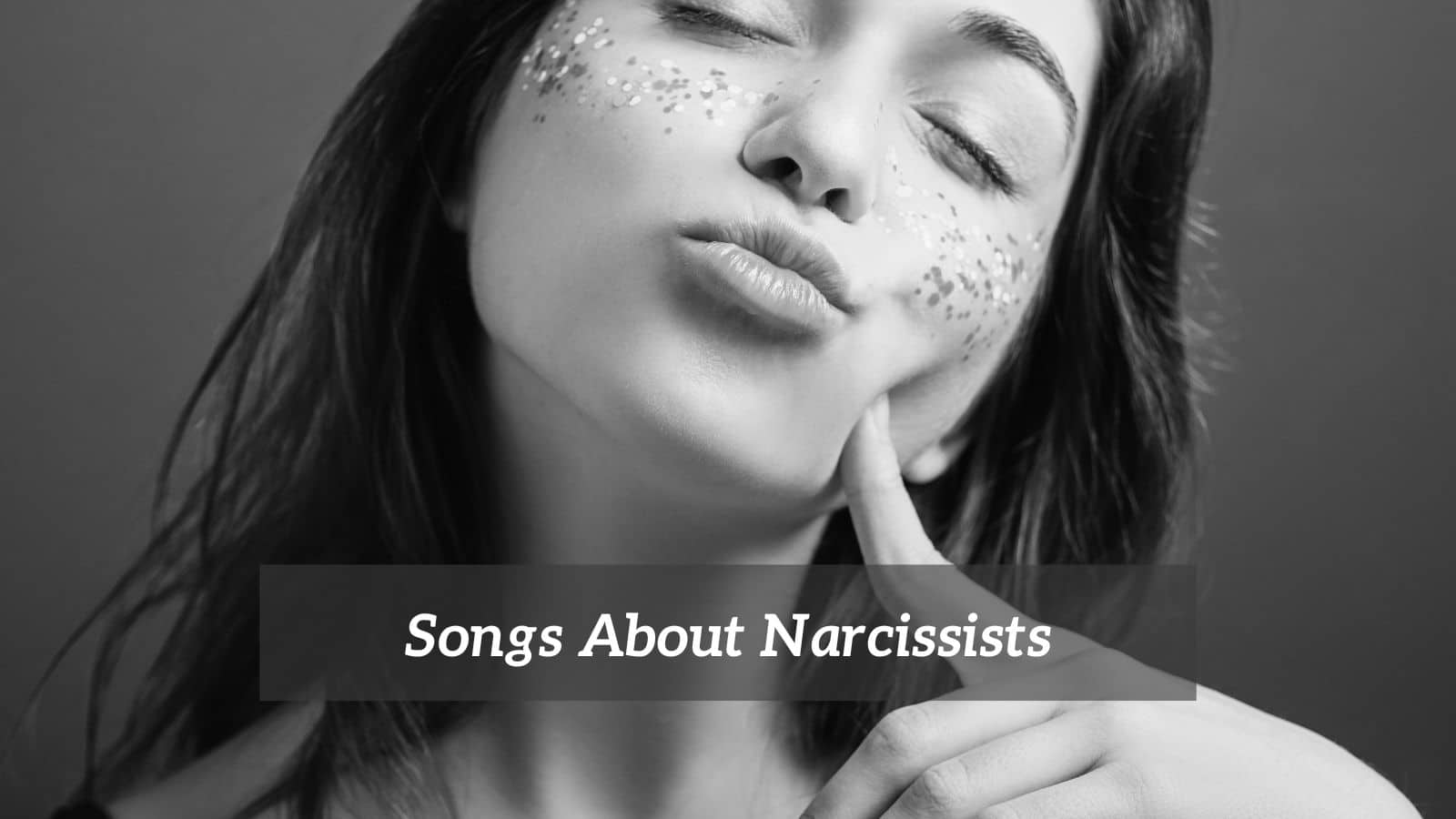 Some people are impossible to please. The self-absorbed nature of a narcissist can be draining, their god-complex often ruining every one-sided, unfulfilling relationship they form.
They're impossible to make happy, yet impossible to let go of even though they cause you pain.
Our playlist delves deep into the effects and the reasoning behind narcissism, while rekindling the comfort and positive energy you need to finally break free from the chains of your own abuse.
Songs About Narcissists
1. Lily Allen – Not Fair
Lily Allen's catchy country pop tune is tainted with a narcissistic flair. Not Fair is an anthem riddled with girl power, suited for anyone who feels unsatisfied or discarded in their relationship, or whose partner expects more and more while neglecting your needs in return.
Although he "treats me with respect, he says he loves me all the time," Lily paints her partner as being rudely self-centred, and mentions the mind-games that come hand in hand with dating a narcissist;
"Then I remember all the nice things that you've ever said to me, maybe I'm just overreacting, maybe you're the one for me."
2. Skepta – Ace Hood Flow
Skepta's Ace Hood Flow gives an intriguing insight into some of his own self-obsessive traits.
Skepta tells his story of being raised in the rough end of London, feeling like "I was wasting life, so I put down the cling film and picked up the mic," embracing music rather than drugs and making millions from it.
Skepta toys with the concept of narcissism by laying out his lavish achievements ("I got a manager, a DJ, 7 MC's and five producers on my label.") while garnering respect for showing his personal struggle and vulnerability.
From poverty to riches, he probably deserves every right to lyrically brag about his achievements in the narcissistic style all too common in rap.
3. Amy Winehouse – Back To Black
Amy Winehouse's sultry masterpiece Back To Black is laced with her heartbreak after being left by a narcissist.
Her bluesy ballad is drenched with the feeling of emptiness after being abandoned by someone who evidently didn't care for her anywhere close to the extent that she did, swapping her for someone else.
It's a song filled with the vibe of smokey vintage jazz clubs, with Amy bearing the attitude of a lioness despite her suffering.
4. Frankenstein Drag Queens from Planet 13 – I Love Me [Explicit]
An obscure, explicit glam-punk song from the 90s, FDQ's I Love Me is a narcissist's nirvana.
FDQ's vibrant and ironic self-love song, written from the chaotic perspective of a narcissist, comes with a comically aggressive message; "So f*** off baby cause I love me, I love me, I love me, I don't need you, motherf*****."
Their relentless energy is wed with the egocentric attitude deep-set within any narcissist, summed up in their cut-throat lyrics, "Looked in the mirror, it was love at first sight, I proposed to myself just last night."
If you need some self-love and can't stand Christina Aguilera's Beautiful, this is the song for you.
5. Alanis Morissette – Narcissus
Alanis details everything you'd ever want to say to the self-obsessed dimwit ruining your life. She crafts the anti-hero of love letters, breaking down the personality of a narcissist in the same cold but clever way they try to break you down.
Narcissistic partners will always twist their way into getting more than you, without completely being capable of true devotion, sparking a heartless imbalance.
Naricissus cleanly reflects this torturous feeling with gut-wrenching waves of truth; "You've never really had to suffer any consequence, you've never stayed with anyone longer than ten minutes … Why do I try to love you when you really don't want me to?"
6. Mary J. Blige – No More Drama
No More Drama is the epitome of renewal and recovery following an abusive relationship with a narcissist.
Backed by the transcending power of gospel music, Mary J. Blige seeks strength as she comes to terms with the wreckage of her relationship and the torments she was put through.
Her song evokes colours of cleansing and hope as she refuses to endure her burdens any longer, detaching herself from pain and casting it out of her life; "No more drama in my life, no one's gonna make me hurt again."
Embedded in the song is one of the most inspirational verses to grace any track about heartbreak; "Only God knows where the story ends for me, but I know where the story begins. It's up to us to choose whether we win or lose, and I choose to win."
7. The Beatles – I Me MIne
George Harrison described his late-Beatles song as being about "the ego; the eternal problem."
His spiritual spin on narcissism relates to the Hindu expression that those who break away from the ego of "I," "me," and "mine" are forever free and are united with the Lord.
Harrison weaves this sentiment into his lyrics, "Now they're frightened of leaving it, everyone's weaving it… All through the day, I me mine," alluding to Western society's vain fixation upon consumerism, entertainment and other ignorant, narcissistic traits rather than true being and spiritual oneness.
8. Dave – Environment
We've saved the best till last: Dave's Environment gives a penetrating, honest insight into the narcissism which runs fluidly throughout the worlds of rap and grime.
Using profound poetry, his inside scoop tells that the lavish lifestyles and self-obsession portrayed by bragging musicians is often an unsuccessful attempt to cover up their own traumas and demons.
And we all know that deep struggles are prevalent among the lives of many celebrities, from Judy Garland to Britney Spears.
Dave says it best:
"Champagne bottles and all the screaming girls
It's ironic how you'll never hear a scream for help"
"Look, you see our gold chains and our flashy cars
I see a lack of self-worth and I see battle scars
He has to be with twenty man when he wears jewelry
And you see it as gangsta, I see it as insecurity"
Dave doesn't make excuses for the extent of narcissism that brings horrific abuse to relationships, but Environment nonetheless illustrates the anguish which leads to that self-absorbed rapper attitude while shining a needed light on the darker side of music and celebrity.