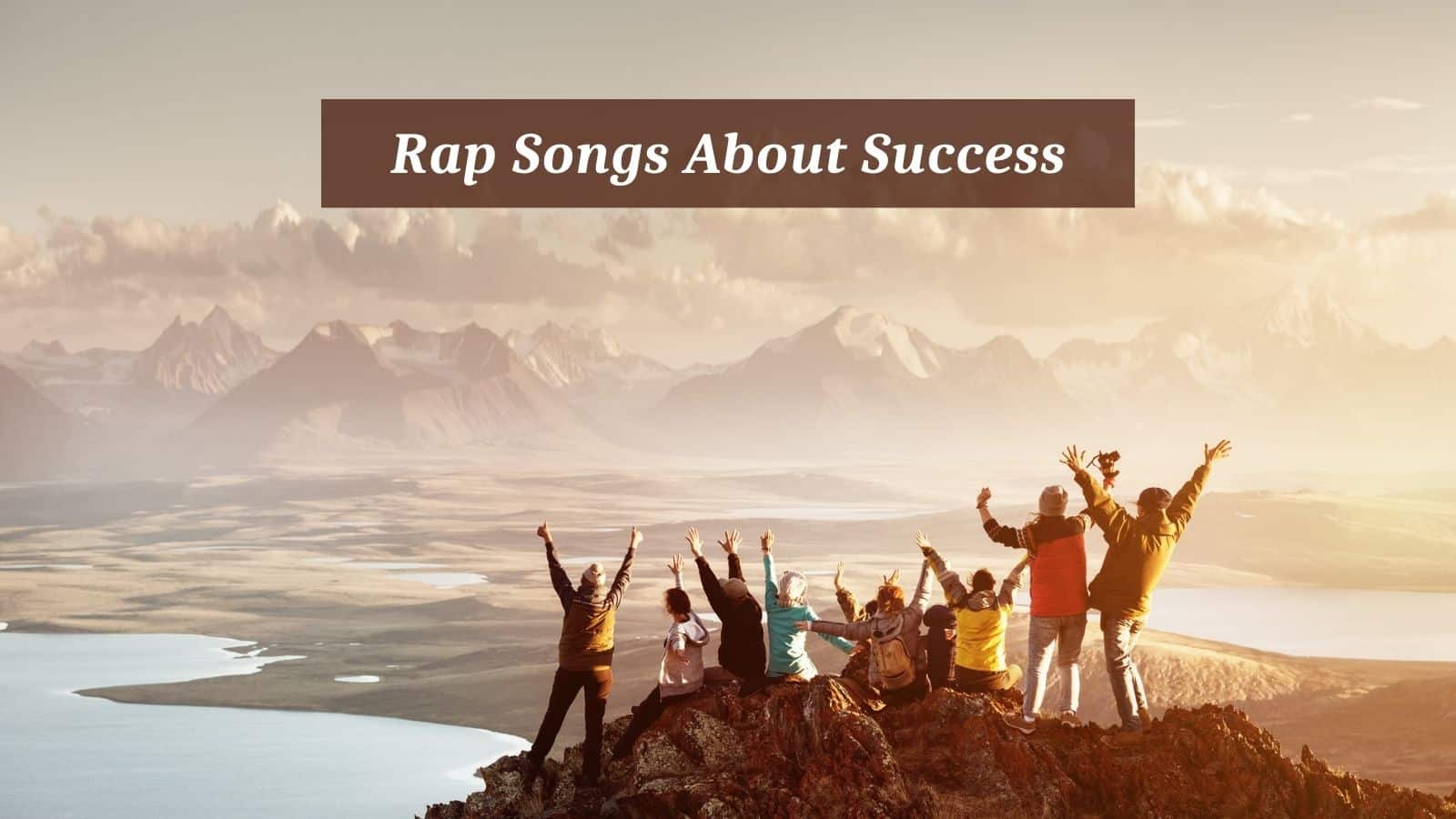 Success, winning and achievement are undoubtedly some of the landmark themes of rap music.
From the predominant, narcissistic approach of bragging and self-glorification, to tracks highlighting the struggle endured to make your dreams a reality, our list of rap songs about success crosses the eras and covers it all.
Rap Songs About Success
1. Young M.A – Successful
This hip-hop / rap track by Young M.A is crafted with a darkly panoramic soundscape, its trap inspired beat plushly padded with hypnotic synths and samples harnessing a deep, disoriented midnight feeling.
Young M.A draws on the stereotypical elements of narcissism prevalent within his rap genre, using a half-menacing harmony to backup his egocentric message of self-fulfilment and respect;
"I don't give a f*** what you did first, I probably did it better… I'm a living legend, even when I die I'ma live forever, I'm one word with ten letters, successful."
2. NF – When I Grow Up
NF's music is recognisably ominous, blending dread-fuelled rap, bitter honesty and cinematic horror to put a compelling twist on the concept of success.
When I Grow Up is about aspiring to be a rap artist despite the odds stacked against you, feeling the brutal sting of failure whilst dreaming of making millions;
"When I grow up, I just want to pay my bills, rappin' about the way I feel, I just want to make a couple mil', leave to the fam and in the will, I just want to sign a record deal, maybe buy a house up in the hills."
When I Grow Up is an eerie track for anyone stuck in a menial job and striving for a positive change from irrepressibly emptiness, worthlessness and rage.
3. JAY-Z ft. Nas – Success 2
Jay-Z & Nas' 2022 collab, Success 2, is set to a captivating jazz backdrop adorned with a lo-fi piano melody and lush saxophone riffs. This track takes an interesting stance on success and vulgarity, Jay-Z using his own lifestyle to parade the sentiment that money cannot buy happiness;
"And this what success is all about? A bunch of n***** acting like bitches with big mouths, all this stress, all I got is this big house, couple of cars, I don't bring half of them s**** out… I got watches I ain't seen in months, apartment at the Trump I only slept in once."
Jay-Z & Nas flush their lyrics with megalomania, materialism and immovable self-love as a show of their success, despite these being the very things their message is so against.
Nevertheless, Success 2 is an anthem for those struggling to balance pride in their accomplishments with realism and humbleness.
4. Fat Joe – Success
Fat Joe's 1995 single, Success, captures that nostalgic yet ever-fresh hip-hop sound of his era, laying its glimmering beat with a diamond-studded message; "Hustlin' is the key to success, money is the key to sex, the life is gettin' cash, drinkin' mo', gettin' blessed."
Fat Joe's crowning theme of surmounting the odds and finding success as a low-key criminal is backlit by a message of finding your place on the streets and marking your territory, using your success like a bulletproof vest;
"The streets are full of vengeance, and it's expensive, if you don't organise your words right in your sentence, twelve gauge holes take souls and lives are lost … Bring ten, bring twenty, the more guns the merrier, nobody's bad as me, no cops nabbing me, front if you dare and I'll change your whole anatomy."
5. Drake ft. Trey Songz & Lil Wayne – Successful
This 2008 collab between legends Drake, Trey Songz and Lil Wayne centres itself in a trancelike synth sound stained with a crestfallen ambience, mirroring their lyrical story of high aspiration clouded by the inescapable feeling of failure.
Successful is split between in-the-moment carelessness, egotistic confidence, and the harsh reality of hindsight, all played out against the backdrop of dreaming of being a rapper and surmounting your personal battles;
"A lot of y'all are still soundin' like last year, the game need change and I'm the motherf****** cashier … And brought a thousand dollars worth of drinks and got poured up, damn, my reality just set in … And life change for us every single week, so it's good, but I know this ain't the peak."
6. Nesbeth – Success Story
Nesbeth's 2017 reggae release, Success Story, beautifully captures the golden energy that comes with rising from the ashes and becoming an inspiration.
This contagiously uplifting track has found its place amongst those escaping poverty, people in recovery and remission, and child abuse victims alike, its positive Patois lyrics beaming across all generations and situations where one grasps the opportunity to turn their life around;
"Born and mi grow in a place weh me never get no respect, never get no good education can't get no big cheque … Make it past twenty five, so me haffi celebrate mi life … I am a success story, yeah, success, a success story."
7. Big Sean ft. Drake & Kanye West – Blessings
Big Sean's iconic 2015 collab with Drake & Kanye West, entitled Blessings, is a modern landmark of rap / trap tracks about success.
Lining each verse with the blessings and curses of being a successful rap artist, Big Sean crafts this anthem for anyone enjoying the ecstasy of living their dream and settling in peace.
This collab draws lyrical influence from becoming the man of the house as a young boy, igniting an admirable life-long impulse to attain better for the future;
"Million dollar goals, man it's to manifest it, the family never goin' anorexic, I pay my mortgage and electric, never goin' under even with anaesthetics, at the top of the rap game and progressin'."
8. YBE – Success Brings Enemies
YBE's rap / hip-hop track, Success Brings Enemies, is a track about staying alert and on top of your game, backed by the philosophy of success attracting nothing but trouble;
"People talking like they know what I've been through, it's hard to live my life without having some issues, success brings enemies
Defining success as wealth, YBE highlights the importance of adopting an unstoppable state of mind in order to persevere and achieve success;
"Some people hate me cause I'm living their dream, I'm doing my thing, just tryna succeed, they hate to see me shine, but they would never knock my grind, I gotta get mine, gotta get mine."