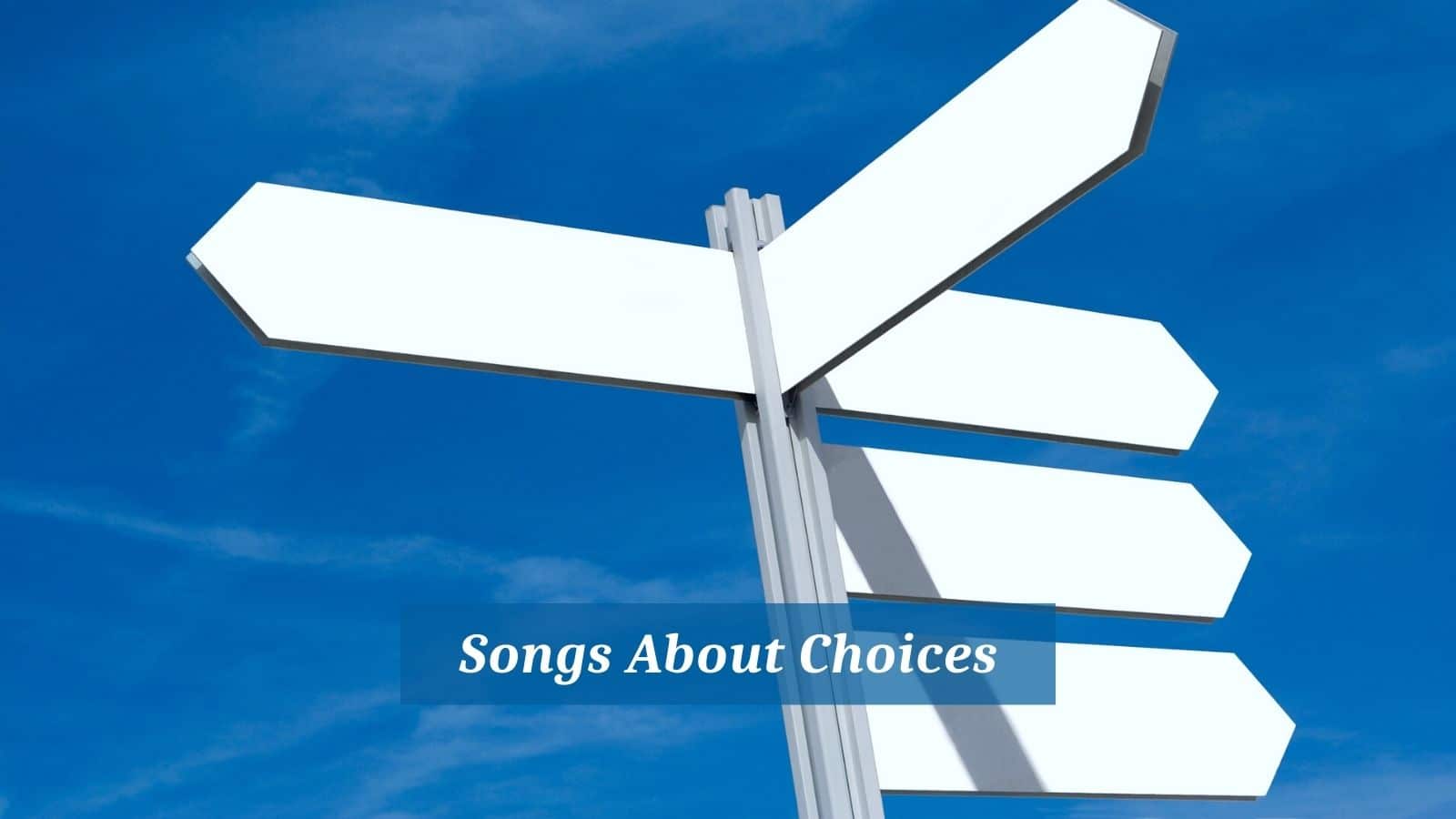 Whether you're following your gut instinct, stuck in your bad habits, or simply going with the flow of life, our playlist collects some of the best songs about choices to inspire your day, each carrying a different take on self-assessment, escapism and personal evolution.
Songs About Choices
1. Kiana Ledé ft. Pell – I Choose You
Kiana Lede's uplifting R&B / pop track is centred in a plush, lovesick harmony, covered in a dreamy, Ariana Grande-style ambience.
Ledé's vocal virtuosity is as captivating as her lyrical content, fashioned as a love-letter to her one and only; "Don't you know that I choose you over anybody else… I'm good on my own, but with you I'm something else."
I Choose You is about opening up to the person you love about the way they make you feel, stepping into the decision to be with them and finally embracing your true emotions;
"Even when you knew it was heavy, you was still holding me up, even when you were in pieces, you would hold me together … Your soul breathes into my body like a cloud of smoke, I should have known that you'd stay in my system even when you're gone."
2. The Strokes – Bad Decisions
This 2020 indie rock track by The Strokes is anchored in a striking, post-punk riff mesmerisingly reminiscent of eras other than their own.
The Strokes don't pack too much content into their lyrics, circling their track around a general theme of compulsively making bad choices under the influence of another, in a futile attempt to feel part of something much grander than you actually are;
"Pick up your gun, put up those gloves, save us from harm, safe or alone … Making bad decisions, making bad decisions with you."
3. Astrid S – Good Choices
Astrid S' aesthetic pop hit, Good Choices, depicts the thoughts of somebody stagnating in their bad habits and aspiring to positive, nourishing change.
This ambient track captures the clarity needed to evolve as an individual through peaceful self-assessment and self-care; "Should pick myself up, should love me non-stop, should give me a shot and be my own friend, should cut myself slack, should quit holding back, I owe myself that, believe in myself."
Astrid's most striking element is the subtle choice against rhyming her verse and chorus lyrics, artfully reflecting the bad decisions her track refers to; "I really wanna make good choices, but I keep messing up over and over, and some days I swear it's like trouble keeps calling my name."
4. Benny Blanco, BTS & Snoop Dogg – Bad Decisions
This dance-pop collab between Benny Blanco, BTS and Snoop Dogg resounds with a sun-centred ambience, embodying a modern evolution of disco music, threaded with retro-inspired flairs of funk and 2010s-style synth-pop.
Bad Descisions is about savouring the moment and indulging in ecstasy, toppling the rules and boundaries in place to attain the youthful essence of freedom;
"Let's do things you always wanted, have some fun and live your life… Let's make some bad decisions, I want you, ooh baby, all of the time, so give me all your kisses, I want you Monday, Tuesday, Wednesday, baby, every night."
5. Tame Impala – No Choice
Tame Impala's quirky synth-soaked track, No Choice, is another piece capturing a sound more enchantingly vintage than its own origin date.
Layering an array of psychedelic, indie rock and disco-style elements within its phaser-drenched soundscape, Tama Impala focus their lyrics upon the feeling of being swept by the tides of life, stagnating whilst being pulled rashly in a direction different to what you wished for;
"It doesn't matter if I want to go somewhere new, at the end of the day, I have no choice, it wouldn't matter that I had to break it with you, going over and over brings no joy."
Underlying Tame Impala's theme of leading an involuntary life is the instinctive need to free yourself from purposelessness and strive for something which truly nurtures your sense of self; "Nice and short, there must be something more, life's a chore, what are we living for?"
6. E-40 – Choices (Yup)
E-40's eccentric hip-hop hit, Choices, is crafted around an addictive hook of 'nope' and 'yup' resounding after every lyric, posing and answering questions about life whilst exposing decisions the narrator's had to make;
"Ever told on a n****? (nope); Ever squeezed a trigger? (yup); Ever set a n**** up? (nope); Ever helped a brother out when he was down on his luck? (yup)."
This 2014 track carries a fine mix of humour, bleak reality and bright motivation, devising an instantly inspiriting track for anyone recounting both the good and bad decisions they've made in the past;
"You a loser? (nope), winner? (yup); Starving? (nope), dinner? (yup); You still sell dope? (nope); Now you cleaner than a bar of Dove soap? (yup)"
7. The Hoosiers – Choices
The Hoosiers' 2010 indie pop single, Choices, illustrates our concept from a contrasting perspective, shedding light on the discomfort of being faced with too many choices.
The Hoosiers mould their narrator's view as being overwhelmed by the many routes ahead, choosing to surrender himself to the tides of life instead, shaping a song for anyone who can't seem to make the right decisions and find their true place in the world;
"So forgive me 'cause it's more than I can bear, in demand, I make my mind up by deciding not to care, stop giving me choices … I'm the victim of this day and age, I've forgotten how to feel, I've forgotten how to change."
8. Black Sheep – The Choice Is Yours
This catchy old-school hip-hop track by Black Sheep is crafted around an iconic ultimatum carried within its chorus; "You can get with this, or you can get with that."
The Choice Is Yours is padded with decisions made by the narrator in order to stay top of the rap game and stay strong within himself;
"Therefore I ignore, do as I feel inside, I live with me, I've got my back tonight … Any time capacity was filled, tried to rock it, any time a honey gave us play, tried to knock it, never was a fool, so we finished school, never see us sweat, and you'll never see us drool."