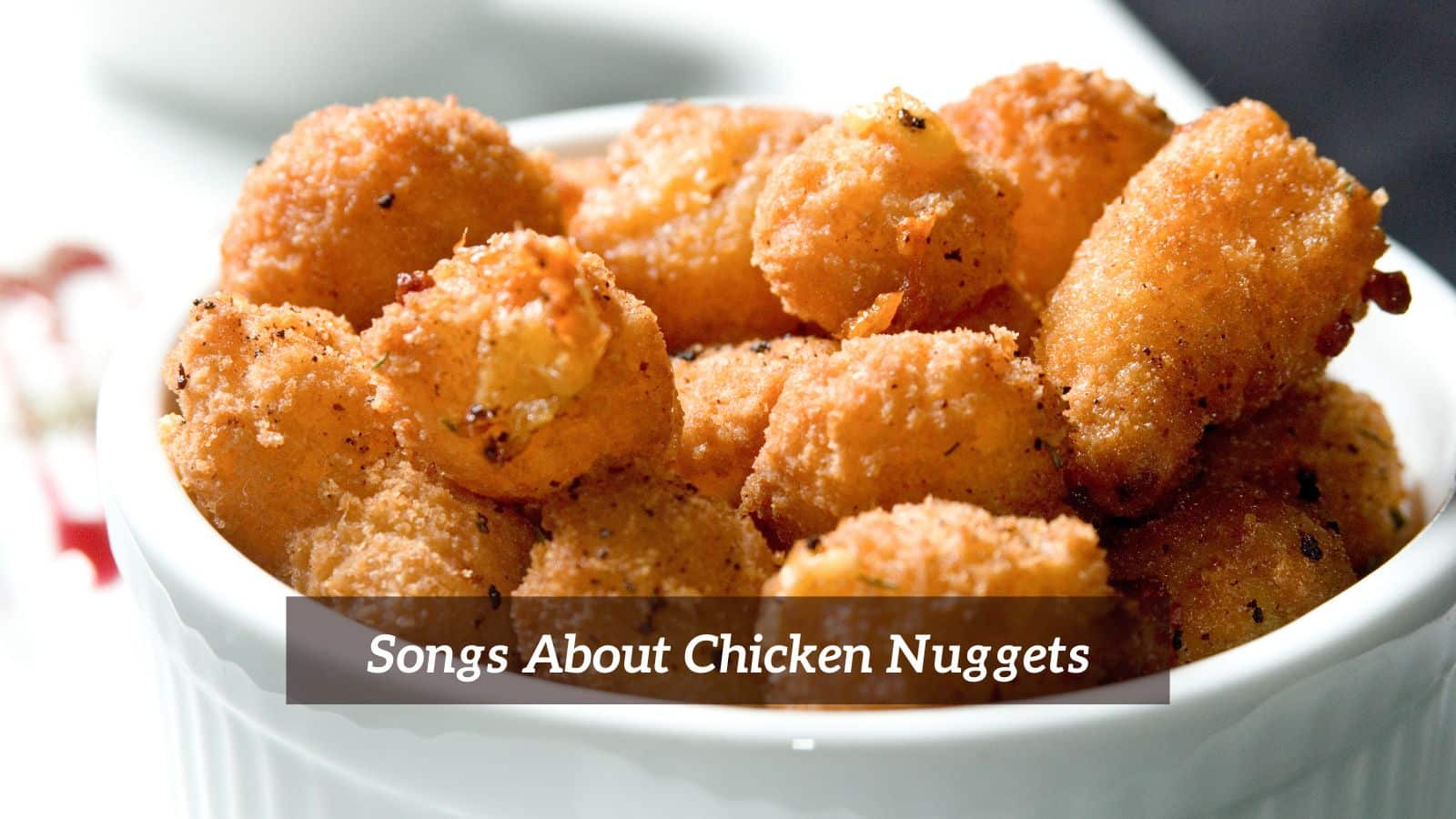 Songs about chicken nuggets are amongst some of the strangest, eccentric and obscurest tracks you'll ever hear in your life.
Our playlist collects some of the stand-out songs about the deep fried treat, whilst ruffling your feathers with the madness of hungry cravings.
Songs About Chicken Nuggets
1. Rico Nasty – Chicken Nugget
Possibly the only non-comedic song about chicken nuggets in existence, Rico Nasty's track is a love-letter to her baby boy.
Chicken Nugget is about being overwhelmed with unconditional love from the moment you meet your newborn, whilst respecting your own parents for their strength and patience.
Rico embeds a truly captivating line within her track, stolen from the heart of a musical mother thinking of her son's heartbeat; "It was the sweetest BPM I've ever known."
The harmony hidden beneath the beat is absolutely enchanting, with a lush, trancelike vibe, perfectly captures the richness of love a mother feels for her little chicken nugget.
2. IIanIsRofl – Chicken Nuggets
This track is a tiny time-capsule as well as a hidden gem of YouTube parodies. IanIsRofl twists Wiz Khalifa's iconic hit Black And Yellow into a hilarious glorification of chicken nuggets.
His Wiz impersonation is on point, his bars shockingly better than the original, coated with shameless humour and seasoned with vibrant, youthful energy. This is a song to turn up and turn heads any time you drive home with a fresh box of chicken.
3. Cannon & Farris Regan – Chicken Nuggets
Rockstar dad Farris Regan let his toddler, Cannon, go wild on this adorable track. With dad crafting a heavy metal soundtrack to let his child vocalist shine, Cannon proves that kids raised on metal can put grown men to shame without even trying.
Cannon's piercing screams, endless energy and impassioned, clear-cut inspiration could be envied by any spent metal vocalist out there.
This is a truly cute snippet of a song, studded with the dominating childish dinnertime energy every parent secretly fears; "I want chicken nuggets! I want them now! Give me sauce! Honey mustard! Give me drink! Aaah! I want chicken nuggets!"
4. Display ft. Saske – Chicken Nuggets
Display and Saske's rap track Chicken Nuggets has an intoxicating beat and bassline, as golden and addictive as deep fried food itself.
Their track is centred around the line, "Chicken nuggets for my dinner," crafted with a compelling double meaning when looked at from a gangster perspective;
"Now they see my killing spree, little chicken cut you up, leave behind a bloody sea," transferring sections of their song to morbidly relate to mass murdering humans as well as animals.
5. Thee BlackBadger ft. B Nice – Chicken Nugget
Thee Blackbadger & B Nice dedicate their rap song to their favourite Chick-Fil-A chicken nuggets.
Their vocals are crazed with an insatiable hunger, obsessing over nuggets with insane tones whilst uplifting the dish to the golden standard, heralding it as 'food for your soul.'
B Nice's verse lists the endless combos that fluff up your nuggets, crafting a rap song for all the family;
"Sometimes I get 'em alone with some fries, sometimes I get 'em as one of my sides, sometimes I get 'em and make 'em get saucy, sometimes I get 'em and get a McFrosty, gotta get his and hers, cuz, anything worse, you're stealing from wifey."
6. The Fish Police – Chicken Nuggets For Me
The Fish Police's 2013 track, Chicken Nuggets For Me opens with a well thought-out list of all the ways you can eat chicken, getting surprisingly excited about the prospect of having BBQ chicken with BBQ sauce, before devoting the track to telling us their all-time favourite way to eat chicken.
Chicken Nuggets For Me is as funky as salmonella, with a cool dance vibe baked into every beat, maddened with strange electronic elements and smatterings of searing guitars.
The Fish Police embellish their bridge with cute clucking, feathered with the subtly dark twist of being eaten.
7. Woebn & Dikke Dylan – Chicken Nugget Party
Woebn & Dikke Dylan's obscure dance track is built upon the truth; "There ain't no party like a chicken nugget party."
Capturing glimmers of inspiration from retro 8-bit video game music, this track is quirky as an erratic chicken, threading subtle tempo changes through every section to create a sonic illusion of consistency which unravels during the song's final moments.
8. Big Willy Status – Chicken Nugget
Big Willy Status' track Chicken Nugget has a captivatingly dark undertone to its hyperactive dance harmony. Their message is clear and simple, "Chicken chicken nugget, yeah I freaking love it.
'What size do you want sir?' Uh, I'll have a bucket," weaving their lyrics with clever wordplay such as 'chicken-ebriated', and a stoner thought sample, "You guys ever wonder, like, what part of the chicken is the nugget? I think about that all the time," crafting an anthem for anyone clucking for nuggets.
9. Cake – Nugget
Cake's Nugget carries lush classic rock guitar tones, its captivating riff mixed into a funky, hip-hop style, sounding with a fresh yet nostalgically retro ambience. Their lyrics give a political twist to our chicken nugget concept;
"Heads of state, who ride and wrangle, who look at your face, from more than one angle, can cut you from their bloated budgets, like sharpened knives through Chicken McNuggets"
10. Annie Bars – Chicken Nugget
Annie Bars' 2020 track Chicken Nugget is dedicated to a single nugget, showing that it doesn't take a boxful of chicken to make a girl happy.
Her video is hilarious, vibing with one nugget like it's her best friend in the world; something we can all relate to when food turns out to be better than actual human beings.
11. Sean Al – Chicken Nuggets
Sean Al sweetly mixes his daughters vocals into his homecrafted pop track, Chicken Nuggets, threaded together with his own verses to create a cute hit for foodie families.
His lyrics are addictively catchy, written simply and almost nonsensically in a way which only kids would understand, "My head go boom boom boom when I eat it at home, the taste of chicken nuggets, I say num num num, my head goes boom boom boom when mama serves it at home, I eat the chicken nuggets, it tastes num num num."