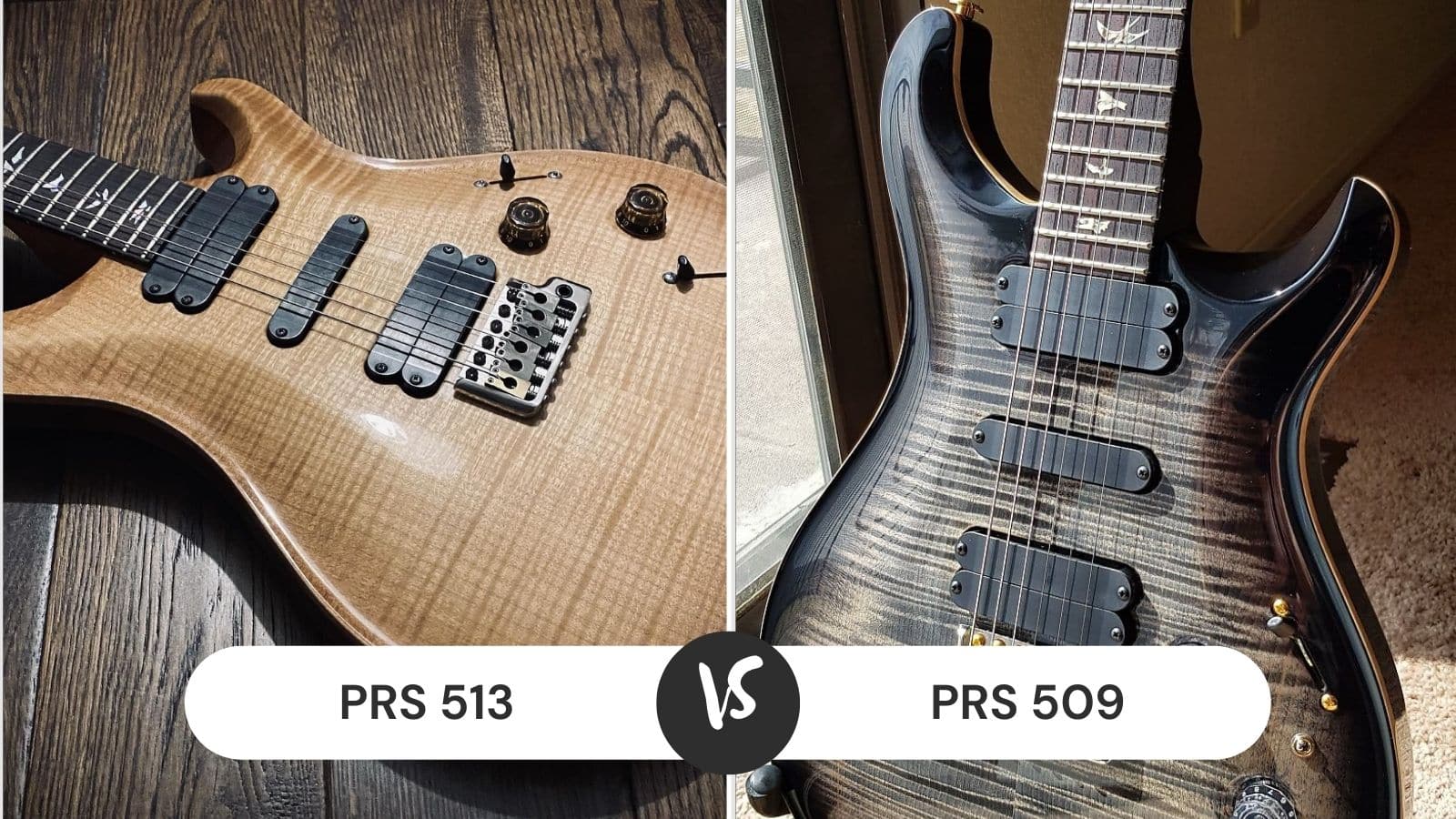 PRS is a popular guitar manufacturer. Their instruments are known to provide the perfect balance of durability, efficiency, and quality playback.
PRS guitars are somewhat costly, and you're looking at spending upwards of $2500 for a quality piece, but these are lasting models and well worth the bucks long after purchase.
Even though PRS guitars are somewhat exclusive, there's a wide inventory offered by the brand and choosing between their extensive catalog can be quite hard.
If you're interested in buying a PRS guitar, we recommend checking out either the PRS 513, or its continuation, the PRS 509. Both of them are popular models with some general similarities and key differences
We've highlighted the differences below so you can pick between the two.
The Differences Between PRS 513 vs 509
| Features | PRS 513 | PRS 509 |
| --- | --- | --- |
| Manufacturing and Price | It's a discontinued model. You can land a 2nd hand guitar for $2500-3000. | The model is still manufactured. New release can cost around $4350. |
| Humbucker Output | High/Low option present. | Absent. |
| Pickup Combinations | 13 different sounds. | 9 different sounds. |
| Switches | Two switches to move between bridge-tapped and neck humbucker or vice versa. | Single switch move due to pre-set taps |
| Humbucking Mode | Heavier thanks to uniquely wound wiring. | Lighter. |
PRS 513
PRS 513 is the original vintage PRS with a timeless design. It's the perfect electric guitar as it gives you the right blend of contemporary design aesthetics, gloss finish, and double cut carving.
The guitar features a solid rosewood body with excellent pickups too.
Unfortunately, one thing to note is that the PRS 513 is now discontinued, and any model you purchase from a dealer would likely be used.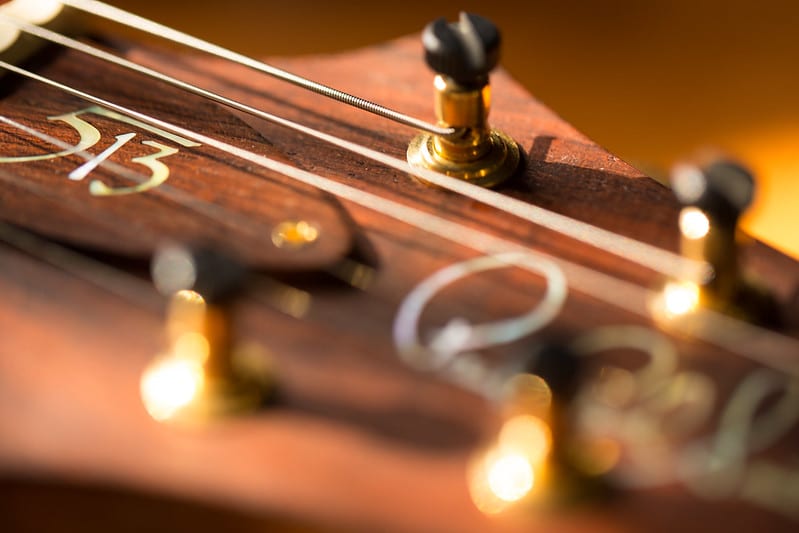 The 509 succeeds this model and those come in brand new conditions. If buying a new, untouched guitar is the dealbreaker, then we recommend opting for the 509.
Cost
Though this electric guitar cost $4200 when released, since it's discontinued, you can expect to get your hands on a 2nd hand PRS 513 for $2500-3000, depending on the condition.
The special order Santana and West Street versions (limited-edition) are going to be much more expensive than the standard 513 we're talking about. These two ediitons are the most expensive PRS double-cut models today.
Design
With that out of the way, let's talk about the main features of PRS 513. The guitar has a lovely and warm Indian rosewood fretboard, a luxurious mahogany neck, and a fine maple top with carved figures.
You can splurge a little for a gold hardware and flame maple top design, though these are unnecessary features and only contribute to the aesthetic.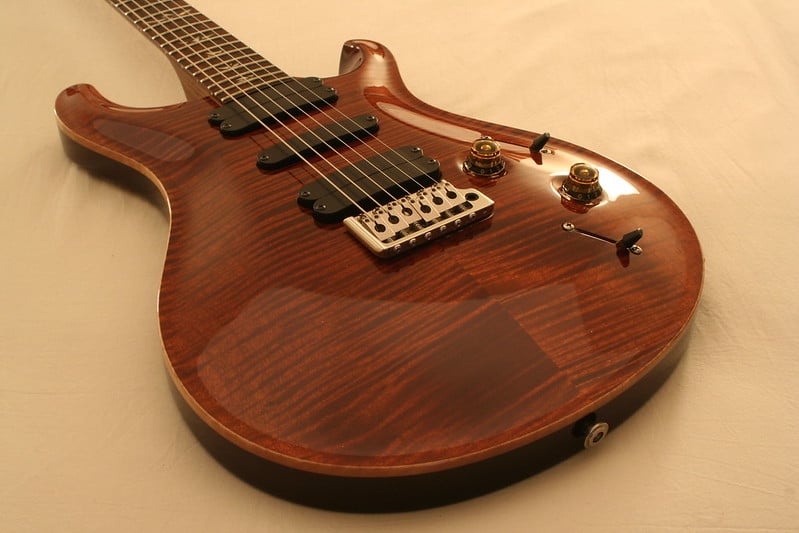 The design has ergonomic curves that give users a more comfortable handling experience and it's easy to find the right posture for playing for hours on it. The Indian rosewood fretboard has PRS bird-shaped inlays.
The mahogany neck features a regular neck profile pattern. The vintage body design has a vibrant fire burst color with Tremolo and Phase 3 locking tuners for fine tuning the audio.
Pickups
The pickups are standard 513 systems. There is 1 tone, 1 volume, and 3-way toggle mode, complete with a 5-way blade.
The pattern on the neck is an upgraded replica of the 80s PRS models, giving you a more nostalgic feeling if you have an old guitar collection. There are 22 frets stretched over a 25.25 inch scale length, which is uncommon for guitars this size.
This length hits the right spot between a regular PRS and Strat guitar, so it should be fine for all sorts of guitar players. The top is carved and all the hardware is handmade.
Sound
Moving on to the tonal differences, as you might've noticed, the 513 lacks two frets. Instead, there's a neck pickup underneath the 24th fret harmonic. This gives the guitar a very naturally fluid and organic tone.
22 frets are always a welcome sight for most guitarists for this reason.
The wiring on the guitar is 3-way- hambucking, single coil, and clear hambucking, which is basically a combination of coil taps, coil splits, and normal wiring, all present in one guitar.
The 513 actually stands for 5 pickups and 13 sounds, which is critical in explaining the unique wiring mechanism.
Despite having a ton of tonal contrasts and options, the guitar is very identifiable and has a unique sound.
It's punchy and clear all throughout the range, from low-end riffs to high-pitch sounds. It has its own vibe that you can't pull away from, despite being quite culpable with its pickups.
PRS also excels in build quality- all their outputs and guitar models are consistently outperforming new boutique guitars at almost every front.
Their finishing is excellent, the detailing in hardware is quite in-depth, the fretwork, wiring, alignment, and fundamentally everything else that's required in building a guitar is added without flaws. With PRS guitars, the craftsmanship speaks for itself.
Pros
To sum up, the PRS 513 is a wonderful electric guitar with high quality build, single-coil tones, and a lot of versatility. It has a great set of controls and the design sets it apart from others of its kind.
This electric guitar is suitable for recording, practice sessions, and live performances in concerts as well.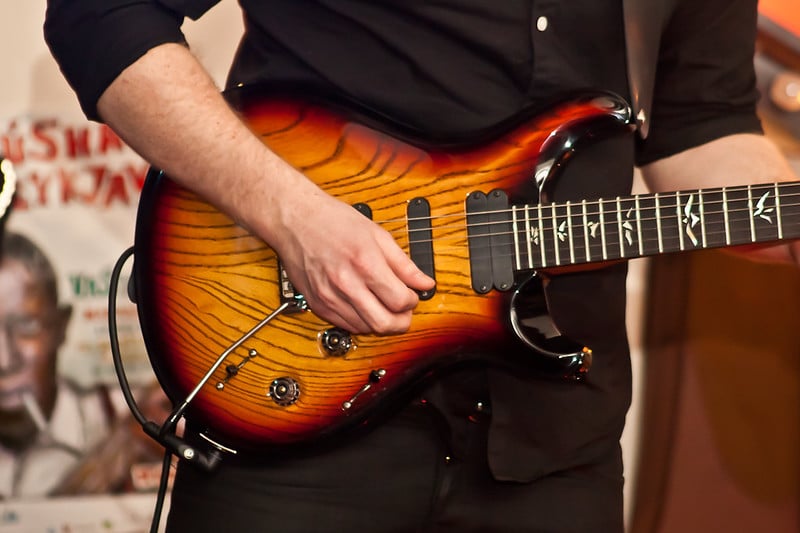 Cons
However, there are some cons, unavailability being the main issue. You can get a pre-owned version from a dealer, but that will require some research and trusting your guitar shop.
The look of the pickups and the flat fret top are also minor cons, though they don't affect the end product and sound quality.
PRS 509
PRS 509 is one of the latest models of electric guitars from PRS that serves as a continuation of the 513. The guitar has a similar price point to the 513 when it was released.
That being said, a 2nd hand 513 is obviously going to be cheaper than a new 509 by quite a big margin.
Design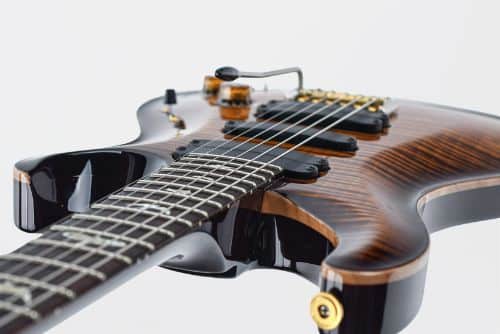 The PRS 509 is one of the best electric guitars being manufactured today, and for good reason- it's the most versatile PRS model (even though its versatility is more restricted than the 513).
The 509 guitar follows the 513 guitar's five single coil concept, however the number of available sounds is cut down from 13 to 9. While this reduces the versatility factor, you do get an easier handle on the various different guitar features.
The PRS 509 has a 25.25-inch scale length, similar to the 513. This is the longest length on PRS models besides the bass scales and extended baritone. The body heel is extended and a unique neck joint is present.
These two changes intend to add more low-end information, like with the Singlecut. Most of this guitar's aspects are very much PRS standard.
There's the go-to double-cut classic outline with a flamed mahogany construction (but featuring a mahogany top).
There are bird pickup inlays on the Indian rosewood fretboard. The fretboard are jumbo PRS ones, like the Santana guitars (though they're unbound).
The hardware is also familiar if you've used other PRS guitars before. The tuners are open-backed Phase 3 and have top-locks with aluminum buttons. The vibrato and reverb are fantastic thanks to the Gen 3 core-vibrato upgrade. =
The mounting screws on this guitar have a large thread with a comparatively bigger custom head.
To summarize, if you're looking for a modern guitar with a supercar feel and quality build, then the 509 is for you. It's a humbucking guitar featuring a single-coil sparkle, which produces crisp clear tones.
It's an upgrade on the 513 when it comes to pick up-related features, but the price point is quite high when comparing the two, as 513 is only sold 2nd hand and the 509 is mostly sold fresh and factory-made.
The Winner
Even though both the PRS 513 and 509 have their set of advantages, we recommend getting the PRS 513 simply because it has better humbucking options and more pickup combinations.
However, if you're unable to find a used model, you can always opt for the 509. The two don't have many major differences.