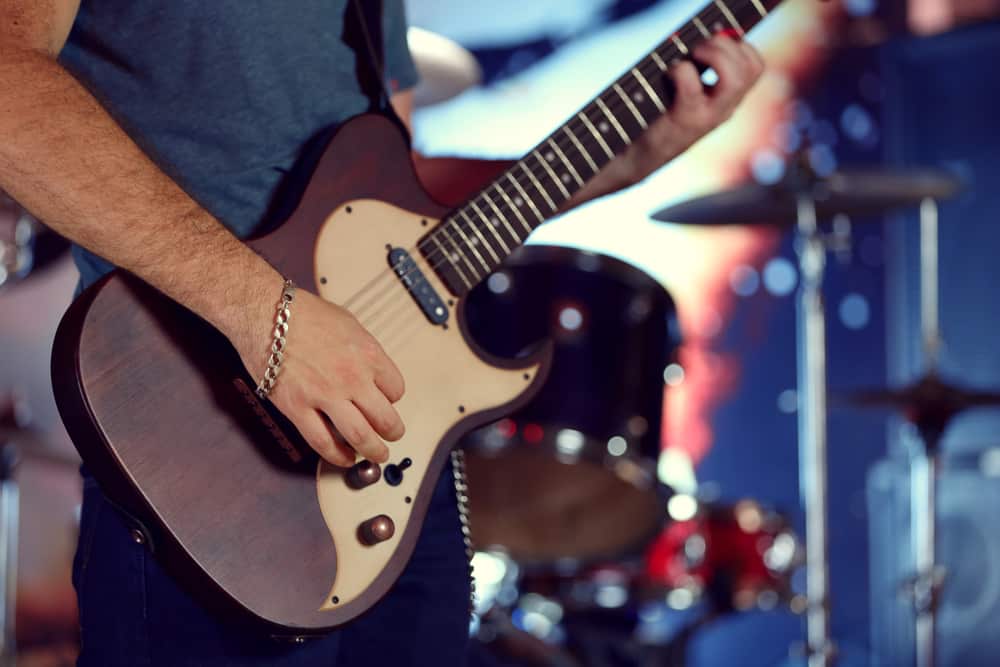 Even if someone doesn't know much about music, they would know about the guitar, right? Well, that's how much the guitars are famous and electric guitars have become extremely famous. With this being said, nothing can be as cool as playing the electric guitar but it can be difficult. So, if you are enthusiastic about playing electric guitar but don't know how to, we have added the 7 best ways to learn electric guitar. So, are you ready?
DISCLOSURE: This post may contain affiliate links, meaning when you click the links and make a purchase, we receive a commission.
Best Ways To Learn Electric Guitar
1. Online Electric Guitar Lessons
This is the world where having access to the internet has become essential and you can use that same internet for learning how to play electric guitar lessons. That's to say because you can access the online electric guitar lessons and learn the electric guitar tricks while on the go. The online lessons are fine for people who don't have time to walk to the coaching center.
With this being said, there are a variety of ways through which one can access online electric guitar lessons. For instance, there are websites that offer courses for people who are interested in electric guitar lessons. These websites offer courses to meet the diverse needs of the aspirant guitarists, ranging from free courses to paid ones.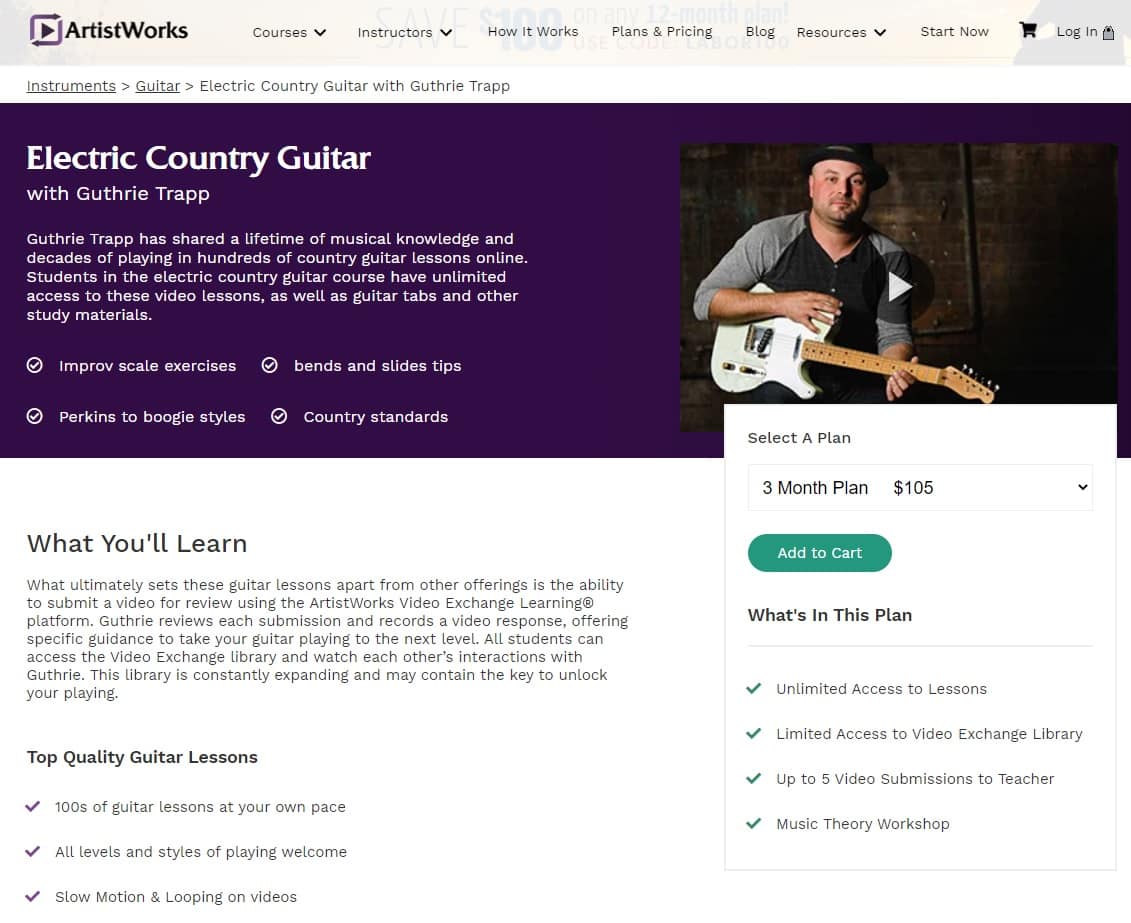 When it comes down to the online websites for electric guitar lessons, you will come across multiple options but nothing can beat ArtistWorks. Consequently, they have come up with this electric country guitar course that's been designed by Guthrie Trapp. With this course, you will come across hundreds of electric guitar lessons and the students can gain unlimited access to videos by signing up.
The best thing about this course is that it offers the study material and other guitar tabs that help understand the music techniques better. There are improv scale exercises in the course that positively influence playability. In addition, there are slides and bends tips through which students can improve tune bending.
The course is designed to comply with the country standards for people who want to put in the knack of country music with an electric guitar. While learning the electric guitar techniques through this course, you can also make and submit the videos at the video exchange library. These videos are checked by Guthrie and he will provide feedback, so you can improve the weak points.
As far as the instructor is concerned, he has been conducting playing sessions with top-notch musicians, such as Trisha Yearwood, Willie Weeks, Dolly Parton, Tony Rice, Randy Travis, and more. He has also released the solo album, known as Pick Peace. The album was first released in 2012, and ever since 2015, he has been teaching the electric guitar.
The course is a fine choice for beginners because you get a full introduction to the electric country guitar and learn about essential listening. In addition to learning how to play the electric guitar, you will learn how to tune the guitar and optimize the positioning for a better experience. Also, the students can learn about the right picking techniques and patterns.
Also, you will be able to learn basic shapes, along with major and minor chords. There are special Luther perkin styles and the right technique to change the chords and rhythms. There are videos for chord theory, so you can learn about the degrees of a scale. Lastly, Guthrie has added lessons for intermediate and expert musicians as well, so it's a one fit for!
2. Listen To Guitarists
Sure, you want to learn how to play electric guitar and you want to watch the videos. However, you learn a great deal about electric guitars by listening to famous electric guitarists. This method works amazingly for people who have conducted ear training since they can better understand the tunes, chords, and scales. So, if you have taken the ear training, listen to the guitarists because you can learn how to play electric guitar from them as well.
3. Groups
If you don't want to sit in front of the computer screen and watch tutorial videos, there are other methods for how you can play the electric guitar. With this being said, you can join the musician groups that are focused on electric guitars. These groups are usually more interactive and you get to learn more than the basic techniques.
Given the interactions, the learning methods will become intuitive and you will actually get to learn a lot from other guitarists' experiences. In addition, music and guitar are learned better when played with other musicians. The groups can be found on Facebook events and other community centers.
4. Music Theory
While learning how to play the electric guitar, one of the best ways to improve the skills is to learn music theories. These music theories are usually available online and in some short courses. The music theories are helpful in developing and understanding different chords and scales. With this being said, while learning how to play the electric guitar, learning music theory will positively influence the outcome.
5. Apps
In these times, everyone has a smartphone and that's the prime reason we have added this way of learning electric guitar. So, it doesn't matter if you are using an Android phone or iPhone, you can download the apps on your phone to learn how to play electric guitars. These apps are usually integrated with illustrations, so you can follow the prompts and learn different techniques.
When we are talking about apps, it's important to understand that app stores will have free as well as paid apps. The paid apps are usually designed with one-time payments while some are curated with in-app purchases. The paid apps are suitable for people who want to learn advanced skills. On the other hand, the free apps are suitable for beginners who want to learn basic electric guitar skills.
6. YouTube
Sure, there are multiple websites offering electric guitar lessons but the right ones are paid and people don't always want to pay bucks. So, if you want to learn how to play electric guitar through tutorial videos without paying extra money, we suggest opting for YouTube videos. The YouTube videos are suitable if you want to get the introduction and learn basic skills.
On the other hand, if you pay a little attention to research, you will be able to find videos that teach advanced skills and techniques. However, you will need time to find the right videos, so we suggest making a playlist of the right videos, so you can learn without interruption.
7. IGTV
Well, this is for people who are into social media. With this being said, the majority of guitarists tend to post their IGTV videos on Instagram, sharing the videos on different tunes and chords. But again, this will take time because you need to find the profiles that have shared the tutorial videos.
The Bottom Line
The electric guitars are suitable for everyone who needs to rock the stage and learn the art of music. With this being said, you can learn different techniques and curate a top-notch musical experience. For everyone who is enthusiastic about learning how to play electric guitar, we have added the 7 best ways to learn electric guitars. Which is your go-to way, then?