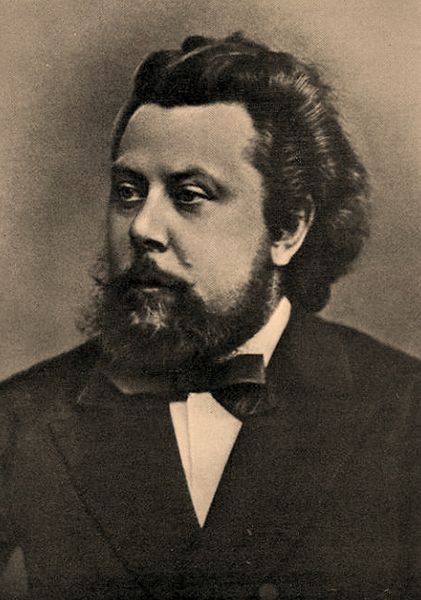 Russian composer Modest Mussorgsky (1839 – 1881) is by far the most striking individual Russian composer of the late 19th century. Well known and respected for his achievements as a composer of both solo and opera pieces, his creative process was simply years ahead of his time. He not only helped to pave the way for other composers that came after him, but his influential style is still employed by many young and upcoming composers today.
Mussorgsky redefined everything about music at that time by developing a new interesting and unique way of creating music for the Russian language that managed to accomplish great lyrical beauty. Today, he is considered as one of the most prominent pioneers of Russian opera alongside other Russian greats such as Dmitry Shostakovich. His compositions have been re-orchestrated and revised by countless world-class composers such as Nikolai Rimsky-Korsakov and Stravinsky, which is a true testament to Mussorgsky's prowess.
Although his greatness did not become fully appreciated after his death, his works have been and continue to be recreated by today's modern composers. To fully appreciate his talent and his contribution, here are 10 interesting Facts about the Composer – Modest Mussorgsky:
Facts About Modest Mussorgsky:
Family life
Modest Petrovich Mussorgsky was born on March 21 in a Russian countryside known as Karevo. Mussorgsky's family was descendants of Rurik the Great, the first King of ancient Kiev Rus so he grew up in great wealth. His family was made up of extremely rich landowners that were classified in the Russian Landed Gentry, which was like royalty at the time. Growing up, Mussorgsky learned how to play the piano from his mother who was an expert player herself. By the time he had turned 9, he had already mastered how to perform complex works like those of Franz Liszt in front of visiting families and guests.
2. Military school
Mussorgsky had to endure a career in the military after attending a cadet school as per his family's wishes. He received a job with the Russian Imperial Guard but after meeting Mily Balakirev, who influenced Mussorgsky's career greatly, he chose to opt out of the military to concentrate on his musical career instead.
3. The Five
The Five or the Mighty Handfuls was a group made up of Russian composers that were based in St. Petersburg whose main purpose was to highlight Russian national heritage in their compositions. The group was made up of Mily Balakirev, who was known as the leader of the group, César Cui, Alexander Borodin, Nikolai Rimsky-Korsakov, and of course the unruliest member of the group, Mussorgsky. All the members of the group sought to separate their music from foreign influences the end result of which was music that was true to Russian culture and heritage.
4. Heavy drinker
Mussorgsky was reportedly a well known heavy drinker whose drink of choice was vodka.  Mussorgsky learned how to drink very early on while he was at military school. Apparently, the school's director General Sutgof liked to encourage his students to drink, which is where Mussorgsky's problems with alcohol really started. His drinking was so severe in his later years that he almost died in several instances as a result. He would often found passed out in ditches by his friends. He was never able to fully deal with the issue and he died at the young age of 42 due to an epileptic attack that was induced by alcohol.
5. Boris Godunov versions
Although he was a celebrity family, Mussorgsky was not very well known as a composer. It was only after the first public performance of his original "Boris Godunov'' that his name became well known by fans and other contemporary composers as well. The first every performance of Boris Godunov was given at the Mariinsky Theater. Later in 1874, a second version was done after the repertoire committee edited it for being too difficult. The new version was performed over 15 times in the following 10 years but when it returned to the stage in 1896, composer and music critic Nikolay Rimsky-Korsakov's version became much more popular than the original. It was not much later in the 19th century that the original versions were performed again.
6. He lost the family wealth
In March 1862, the Tsar at the time who was Alexander the Second emancipated serfs, which meant that Mussorgsky's family lost a lot of the wealth that it had accumulated over the years. The change forced Mussorgsky to make a dramatic lifestyle change that he was not used to and as the wealth continued to disappear, Mussorgsky lost the assistance of his family, forcing him to take up a low ranking job as a civil servant.
7. He struggled to compose
Despite his great musical talent that was evident and respected by all, Mussorgsky struggled with his composing in part due to his alcohol problem. He tried to remain consistent but he could never manage to complete his pieces to the very end. He is said to have been a very inconsistent worker and was often unreliable and was a nuisance in many occurrences.
8. Depression and isolation
When the members of the Five moved on to pursue their own careers, it appears that Mussorgsky became bitter. As a result, he would often go into rants and fits of madness, which caused him to lose many of his friends and connections. As he aged, he became more depressed and isolated, which only caused him to drink more.
9. Years of poverty
Mussorgsky failed to keep up with his family legacy and because he was constantly drunk, he also struggled to make ends meet. His financial situation became so dire that it is said that Mussorgsky would often borrow money from his friends to fund his drinking escapades. When the government could no longer tolerate his indolence, they took away his government sinecure. In the end, he was kicked out by his landlord but he sadly passed away after a month in a hospital.
10. Unfinished work
Before he died, alcoholism had completely taken over every inch of Mussorgsky's life. He did, however, manage to start working on two operas Khovanshchina and Sorochintsï Fair. In spite of his friends trying to support him, he was not able to complete the two operas when he died in 1881 in St. Petersburg.