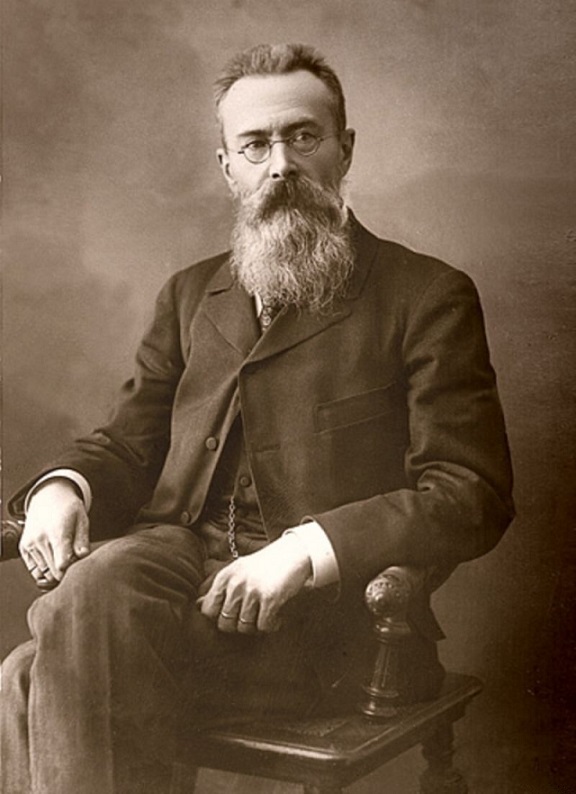 A man of immense talent and a born musician from birth, Nikolai Rimsky-Korsakov (1844 – 1908) was a highly regarded teacher, conductor, composer, and a respected Russian public figure. Indeed, Nikolai Rimsky-Korsakov is one of the most important composers in Russia's musical history. He is often associated with folk and fairy tale compositions and is one of the trademarks of the Romantic Period, and a founding father of the Russian nationalist movement in music.
His music straddled the line between the realistic and romantic, as well as the earthly and the exotic; as such, his compositions were full of rich contradictions, which was a breath of fresh air then, as it is now. Viewed as the connection between musical geniuses such as Modest Mussorgsky and Igor Stravinsky, the spirit of Nikolai Rimsky-Korsakov can still be felt today even after hundreds of years after his death. To commemorate his contribution, here are 10 interesting facts about composer Nikolai Rimsky Korsakov:

Feel free to Subscribe to Our YouTube Channel if you like this video!
Facts About Nikolai Rimsky-Korsakov:
1. Wealthy family background
Nikolai Rimsky-Korsakov was fortunate enough to have been born into a wealthy family that awarded him the education required to succeed. He started taking piano lessons and made his first composition when he was just 10 years old. Besides, he developed a sincere interest in watching opera and concert performances. He also had perfect pitch, a factor that helped him greatly when he finally decided to pursue music fulltime despite his lack of conservatory training like other world-class composers.
2. He did not think he could be a musician
Nikolai Rimsky-Korsakov had an inherent desire to play music, but he did not think he could pull it off as a career. From a long time ago, Nikolai Rimsky-Korsakov was under the impression that he had inherited his mother's quality for learning slowly so he found it difficult to make music his forte. Since almost all the members of his family either had a naval or army background, he opted to follow his brother's footsteps instead, who was also a sea explorer and navigator. He joined the College of Naval Cadets in St. Petersburg, which is where he met a local teacher that inculcated his interest in music.
3. Finished Alexander Borodin's work
Rimsky-Korsakov took on the responsibility of completing Alexander Borodin's work, who was a close friend and member of the Mighty Five Group. Borodin passed away unexpectedly while working on his famous piece Prince Igor, which to date still remains one of the essential works in the history of Russian music. Rimsky-Korsakov's contribution was instrumental but it also prevented him from writing a lot of his songs at that time.
4. The Mighty Five
The Mighty Five were also referred to as Moguchaya Kuchka in Russian, which was a group of 5 Russian composers in mid 19th century. The Mighty Five was made up of Mily Balakirev, who was the leader of the group, Nikolay Rimsky-Korsakov, who was probably the most prolific composer of then all, Modest Petrovich Mussorgsky, Aleksandr Borodin and César Cui. These composers are credited with working collaboratively to popularize Russian music on the international stage.
5. Nadezhda Purgold
While teaching compositions and orchestration in 1971, he met and married Nadezhda Nikolayevna Purgol'd, who was also an equally talented composer and pianist. He was only 28 years old when the two got married and in attendance at the wedding was Mussorgsky, who acted as the best man. Nadezhda and Rimsky-Korsakov became musical partners that collaborated severally in a number of projects.
6. Turned to the theater in his mid-40s
In his mid-forties, Nikolai Rimsky-Korsakov decided to change lanes to try a career in theater, which he managed to maintain for almost 20 years. The last remaining years of his life saw him compose 12 operas which included some of his best compositions. Notable among the 12 out of the 15 he did, include The Tale of Tsar Saltan, The Golden Cockerel, the Legend of the Invisible City of Kitezh, and Sadko. His operas were decorative and were characterized by stimulating contrasts of bright beautiful colors and sounds. Years later, he became increasingly interested in the works of Wagner, which prompted him to write opera for the rest of his creative existence.
7. Notable works
Nikolai Rimsky-Korsakov is probably best known for his work 'The Flight of the Bumblebee', but he produced a lot of varied compositions and works during his lifetime. He had a broad composition repertoire that included chamber work, orchestrations, and operas.  Some of his most notable works, which were completed in almost quick succession, include Scheherazade (which inspired Aladdin), the Capriccio Espagnol, and the Russian Easter Overture.
8. He was a great teacher
After Rimsky-Korsakov was appointed professor at the St. Petersburg Conservatory, his teaching career took off even though he openly admitted that he had not received any musical training apart from what he had learned from Balakirev and Tchaikovsky's guidance. He was responsible for inspiring, as well as teaching some of Russia's most famous composers including Alexander Glazunov and Igor Stravinsky.
9. He traveled all over the world
Owing to his career as a naval officer, Rimsky-Korsakov enjoyed the rare opportunity to travel to many parts of the world alongside his fellow officers. His travels exposed him to many beautiful and exotic places, which served as the inspiration for many of his orchestral compositions.
10. He had an interesting look
Rimsky-Korsakov was easily identifiable from miles away. He was tall and he enjoyed a distinguished appearance that was characterized by thick wire-rimmed blue glasses and a full beard, which made him look even more scholarly.