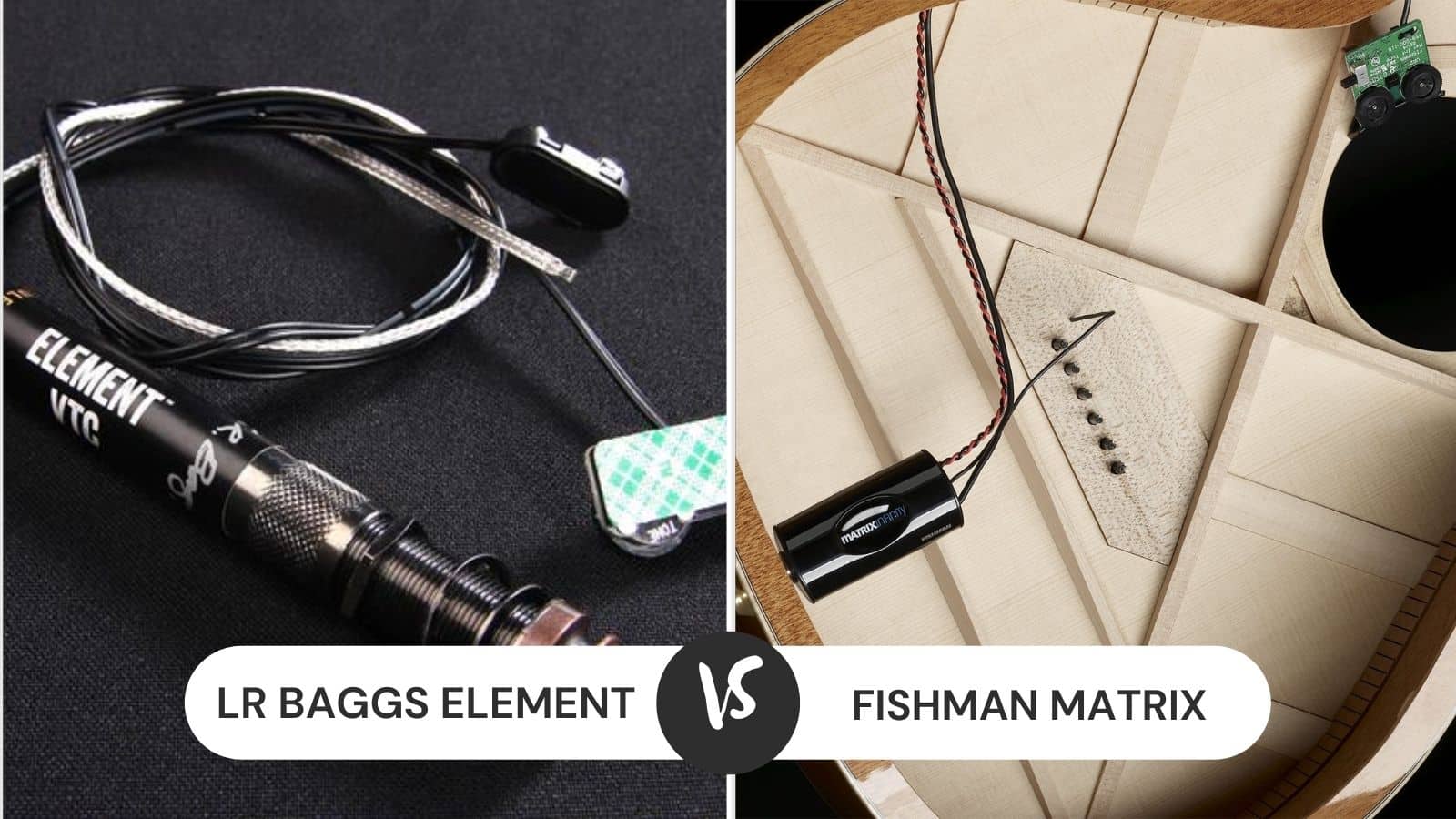 Under saddle pickups like the LR Baggs Element and the Fishman Matrix offer an amazing music experience that you can imagine because of their compact size and best quality.
When you use these pickups, you won't be worried about their appearance and how they will affect the dynamics of the instrument because they are attached beneath the saddle. This makes it possible for you to use them without any restrictions.
That makes it possible for you to have an unquestionably superior overall aesthetic and functionality on your acoustic guitars, assuring that the purchase was more than worth it in every way.
You need to have a solid understanding of what a guitar pickup is and why it is so vital before we can move on to comparing it to the other good.
What Is a Preamp Pickup?
A device known as a guitar pickup is one that transfers the vibrations created by the guitar strings into electrical impulses. After that, the signals are fed into a guitar amplifier, which raises their loudness to a point where they can be heard.
Stomp box effects, such as a compression pedal or a wah pedal, or the amplifier itself, may impart their own unique tint to the signal at various points along the path (like via a chorus effect). The signal is colored even further by the pickups themselves.
The amplified sound of pickup-equipped acoustic instruments can be improved with the use of preamp pedals. This makes the instruments sound more natural, similar to how they sound when they are plugged into a microphone.
They not only provide you with an amplified tone that is consistently fantastic, but they also let you tune it so that it sounds the way you want it to.
The primary purpose of preamp pickups is to raise the output signal of electric guitars to what is known as "line level."
If you hook a guitar into a public address system or an audio interface without going through an amp, you will find that the signal is often rather feeble and underwhelming.
LR Baggs Element vs Matrix Infinity
| Feature | Matrix Infinity | LR Baggs Element |
| --- | --- | --- |
| Brand | Fishman | LR Baggs |
| Product Dimensions (Inches) | 0.5 x 2 x 3 | 6 x 4 x 2 |
| Item Weight | 45.07 grams | 80 grams |
| Type | Under-Saddle | Under-saddle |
| Battery Backups | 380+ hours | About 1000 hours |
| Price | $170-200 | $100-150 |
LR Baggs Element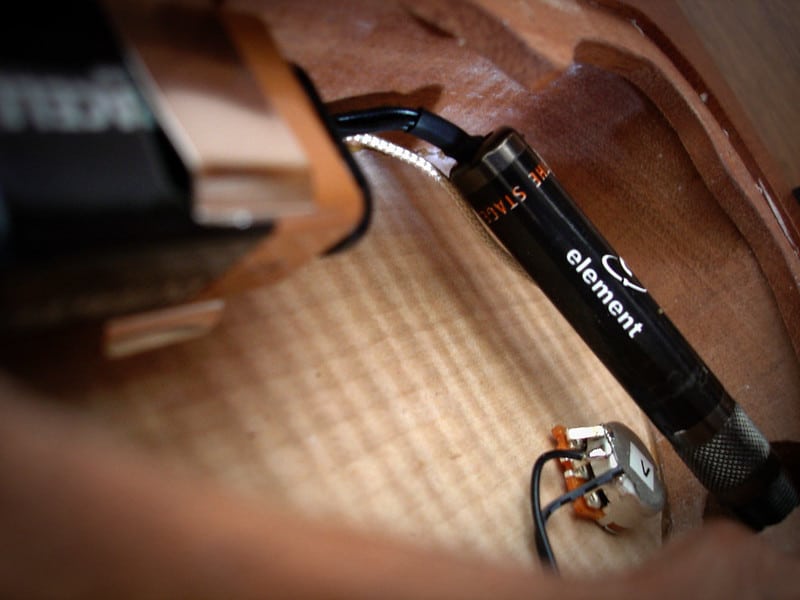 This pickup is the coolest and most durable option available on the market in terms of both its longevity and its performance.
Because of this, you will be able to imitate the movement of the soundboard, which will result in higher tunes and better audio quality.
The inconspicuous design of the pickup makes it simple to put it inside the saddle, and once it's there, it won't be obvious that it's there at all.
Because the pickup won't get in the way of your fingers, not only will the appearance of your guitar not be altered, but you'll also be able to keep using the same technology, which will allow you to continue getting the most out of your playing and guarantee that you're getting the most out of your playing experience.
Control Positioning
When it comes to playing the guitar, adopting a comfortable posture is unquestionably one of the most beneficial things you can do.
Furthermore, volume control is positioned within the soundhole; this model features a battery that has a life expectancy of one thousand hours.
After installation, you may forget about the need to charge the device and play the guitar for several hours without interruption. Additionally, it provides a flawless sound experience, which is something that every guitarist hopes to enjoy.
This pickup is undoubtedly a terrific choice for acoustic guitars and the fact that it is not too expensive as compared to other options that are currently available on the market.
It is something that will ensure that you get the ideal product for your varied requirements.
The LR Baggs Element pickup may be purchased in black, silver, or white, each of which is one of the three various color options available.
Matrix Infinity
If you want your under saddle pickup to seem more elegant and sophisticated in general, one of the incredible choices that you have is the Matrix Infinity, and you can select it from the available possibilities if you want to.
The pickup is, without a doubt, the nicest thing that can be purchased because of its cozy design.
If you employ this method, you can rest assured that you will be able to play any style of music on the guitar while maintaining the correct posture.
A distinctive scoop tone adjustment reduces the amount of unwanted noise while simultaneously increasing the amount of treble. This results in a significant increase in the treble.
As a direct result of your improved ability to control all the characteristics, you will find the overall experience to be significantly more pleasurable.
What's Included in the Box?
Along with the pickup itself, you will also receive a control module for all types of strings. This pickup is compatible with all types of guitars, including nylon-string, bass, and 12-string guitars, among others.
It doesn't matter what kind of guitar you play; doing this will make the pickup work as well as it possibly can. It is compatible with virtually every type of guitar and provides the same level of quality and performance.
Therefore, you shouldn't have any reservations about making use of it.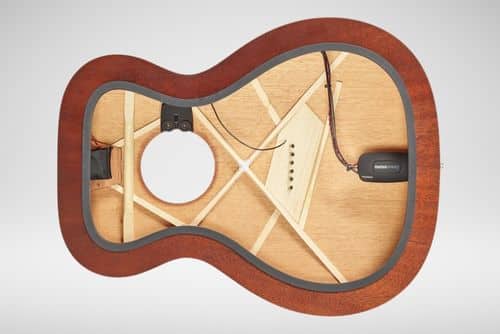 The Price is a Major Downside
There is only one potential downside to these pickups, and that is their price. Because it must be installed by a skilled professional in order to function effectively, the cost of this choice is much higher when compared to the costs of other possible alternatives.
However, being an expert guitarist and having steady hands, you can install it on your own. Just make sure that you carry it out in the proper manner in order to have the most satisfying experience possible.
It is recommended to also make sure that you buy the pickup model that is compatible with your guitar.
Piezo transducers, which are attached to the bridge saddle of your guitar, are responsible for completely destroying the instrument's inherent tone attributes.
This is the only thing that they accomplish; all they do is increase the sound of your string as it vibrates across the saddle. Because of this, they always maintain the same tone.
The Bottom Line
A great preamp pickup can enhance the whole music experience of a guitarist. So you have to be careful while choosing one for you. This article compared two of the best preamp under saddle pickups that a guitarist can add to its music room.
Though both these products are wonderful as they have unique and unmatched features, we have to select the best one for you.
With all the required features at less price, LR Baggs under saddle pickup is a clear winner here. Your choice can differ as it will depend upon your requirement and usage.
Make sure you select an instrument or accessory that best suits your taste, the type of guitar you use, and the kind of music you produce.