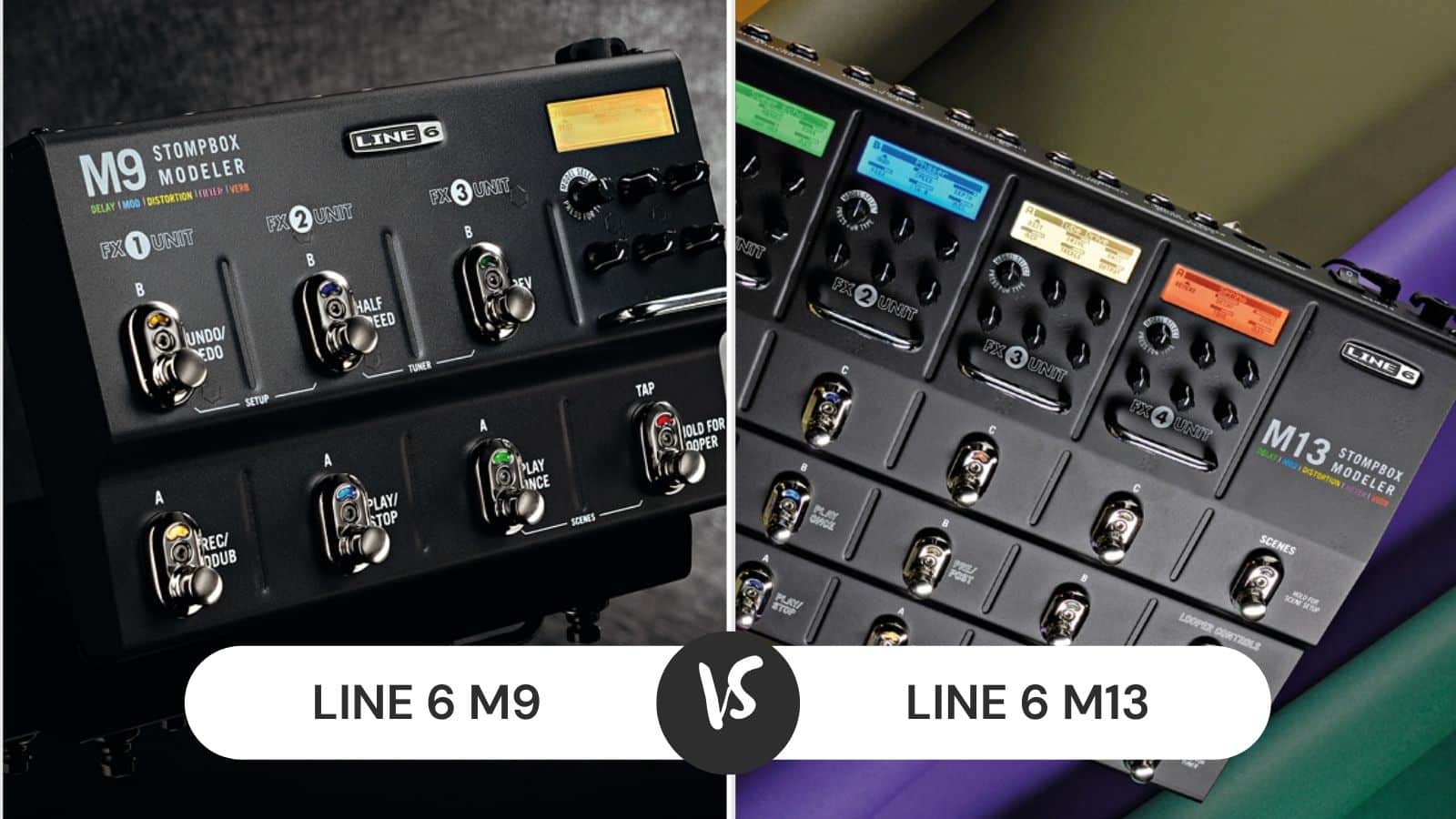 A guitar is a go-to choice for millions of playing professionals across the globe. They are lightweight, extremely versatile, and come at a reasonable price.
They blend in nicely with other musical instruments, and you can use them to play numerous music genres, be it heavy metal or classic. All these reasons make the guitar the king of the musical world.
That being said, a guitar alone might not be enough to produce your desired sound. It may work for a weekend warrior, but it is recommended to use accessories if you are a seasoned professional.
A modeler is one such tool that enhances your guitar's performance. A guitar modeler or an amp simulator pedal is a gadget used to emulate the sound of a guitar amplifier.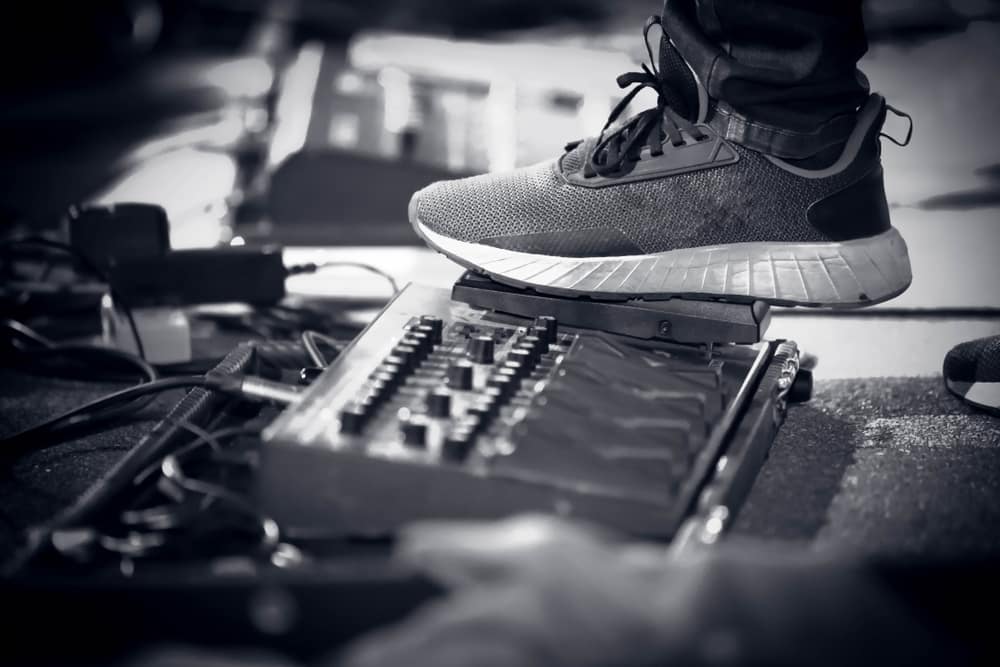 They have been used for a while now, and for good reasons. They come with lots of cool effects and revolutionize playability.
M9 and M13 are two highly popular amp simulator pedals manufactured by Line 6. Line 6 is a famous company known for manufacturing industry-leading audio equipment.
Based in the USA, the company was established in 1996. If you are looking to buy an amp simulator pedal for your guitar, this article has everything that you need to know about the M9 and M13 guitar modelers.
Comparing the Line 6 M9 vs M13
Below is a detailed comparison between the M9 and M13 guitar modelers by Line 6.
| Features | M9 | M13 |
| --- | --- | --- |
| Footswitch | Yes | Yes |
| LCD window | 1 | 4 |
| Color coding | Yes | Yes |
| Weight | 3 lbs | 11 lbs |
Line 6 M9
If you have ventured into the guitar gear world, you must have heard about the M9 guitar modeler. It is one of the most successful guitar modelers by Line 6 and many professionals have used it.
It was launched in 2004 and has been on up and up since then. But what's so special about this modeler? Let's find out!
The M9 guitar modeler is a highly advanced modeler that boasts innovative features. It comes fully equipped with tonal effects for the best playing experience. Each effect is color-coded.
For example, the delay is colored green, and the distortion is in yellow. The buttons feature an LED light that indicates your selected effect. If you have applied the delay effect, the button will turn green.
The M9 guitar modeler also comes with an LED display on the top of the layout, which shows the last effect you applied.
Layout
Talking about the layout, the M9 guitar modeler has six pedals that allow you to use three effects at the same time. The text is written in the white color on the black body, which is easy to see.
However, when playing in an auditorium or a big hall, it might reflect light from above.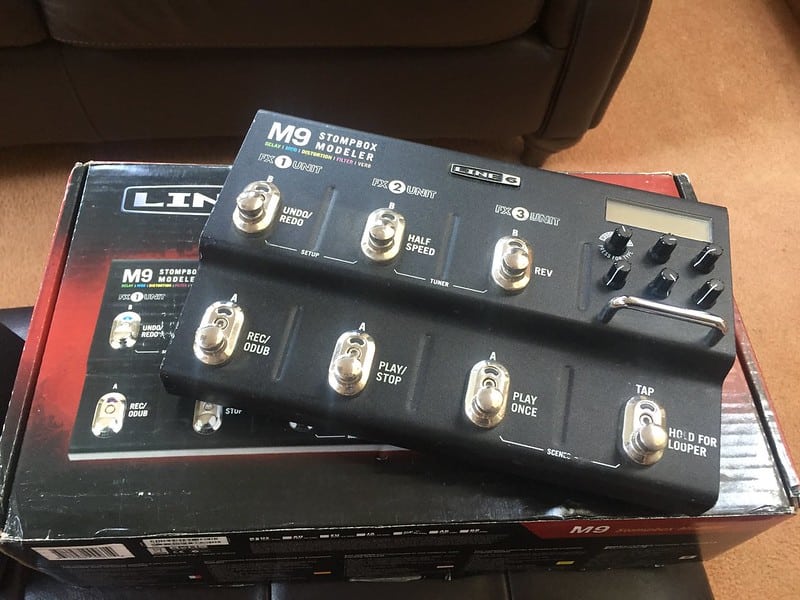 Performance
The M9 guitar modeler comes with lots of cool features, and the setup mode is one of them. You can enter this mode by pressing and holding the buttons of the first two pedals simultaneously.
With the setup mode, you can save the presets. You can also check the looper level and change the expression pedals according to your playing needs.
The M9 guitar modeler features an in-built looper that allows you to get your desired tones. The dedicated footswitches enable you to control the looping, making it pretty easy to use.
It all may sound too complicated, but operating it is an absolute cinch, especially when you get used to it.
What's the best part? The M9 guitar modeler weighs only 3 lbs, making it an ideal choice for professional guitarists. With such low weight, you will be able to maneuver it around without any hassle.
Line 6 M13
M13 is also manufactured by Line 6 and is the older sibling to the M9 guitar modeler. It was also introduced in 2004.
It takes all the features from the M9 guitar modeler a step ahead and is a perfect choice for anyone looking for a robust stompbox modeler pedal.
Layout
Talking about the layout first, the M13 modeler pedal has four FX unit blocks, each of them allowing you to save up to three presets. You can use only one effect from each vertical unit.
So, you can have up to four effect units at once as you have four vertical blocks. All of the presets are saved in the scene mode. If you want to sound natural, you can turn every effect off and enter the bypass mode.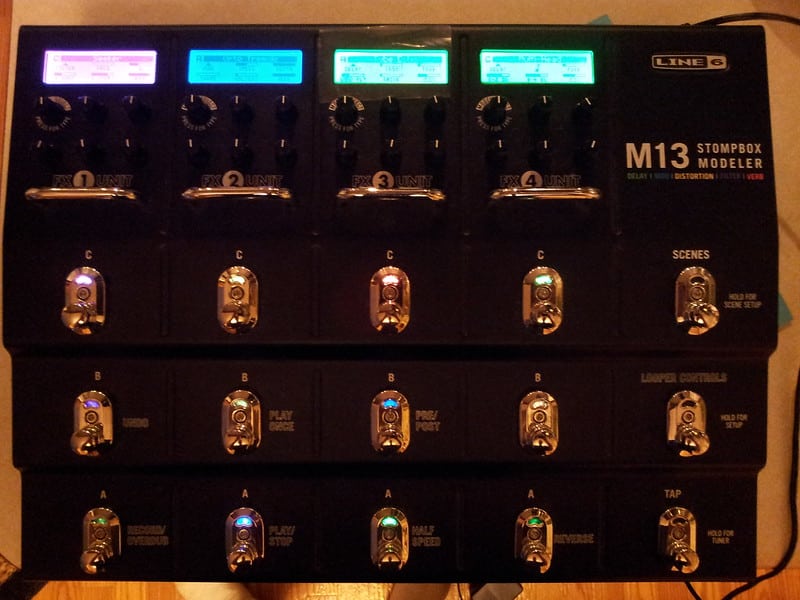 There are some knobs and control options with added presets on them so you can enjoy the right customization, but that is not all.
You also get four separate LCD screens that allow you to have a better idea of all the settings so that you can change them according to your playing needs.
The M13 stompbox modeler pedal features a tap tempo footswitch that enables you to control the time-based effects more efficiently.
Whether you want to add a delay effect or speed up a bit, you can use this footswitch for that purpose.
Like the M9 modeler, you get the looper as well, which allows you to record up to 28 seconds. It comes with footswitches for play/stop, play once, record/overdub, and many other options.
You get up to 48 scenes on the M13 stompbox modeler pedal. While this offers great flexibility, it also means that it could be hard to figure out which footswitches are assigned to which effects.
Well, the good news for you is that this modeler comes with color coding for a convenient experience. The colors are assigned to every effect, making it easy for you to operate it.
Performance
As far as the performance is concerned, the M13 modeler pedal is head and shoulders above its competition. All effects sound stellar, be it delay, reverb, or any other effect.
It does exceptionally well what it is supposed to do; emulate the sound of a guitar amp. Essentially, you get an advanced guitar amp but with more portability.
Now talking about the weight, the M13 stompbox modeler pedal weighs 11 lbs, which could be a deal-breaker for people with bad backs.
If you want a modeler to accompany you while traveling, you may need to look elsewhere. Budget-wise, it costs more than its younger sibling, the M9 modeler.
Final Verdict
The M9 and M13 modeler pedals are two widely used stompbox modeler pedals by Line 6. Both of them have pretty stunning features and exceptional sound. They come with tons of effects and other features and perfectly emulate a guitar amp.
That being said, the M13 modeler beats its M9 counterpart by a fair margin, thanks to more LCDs, scenes, and lots of other features. However, the M9 modeler is also a great model, and you can choose it if you are low on the budget.