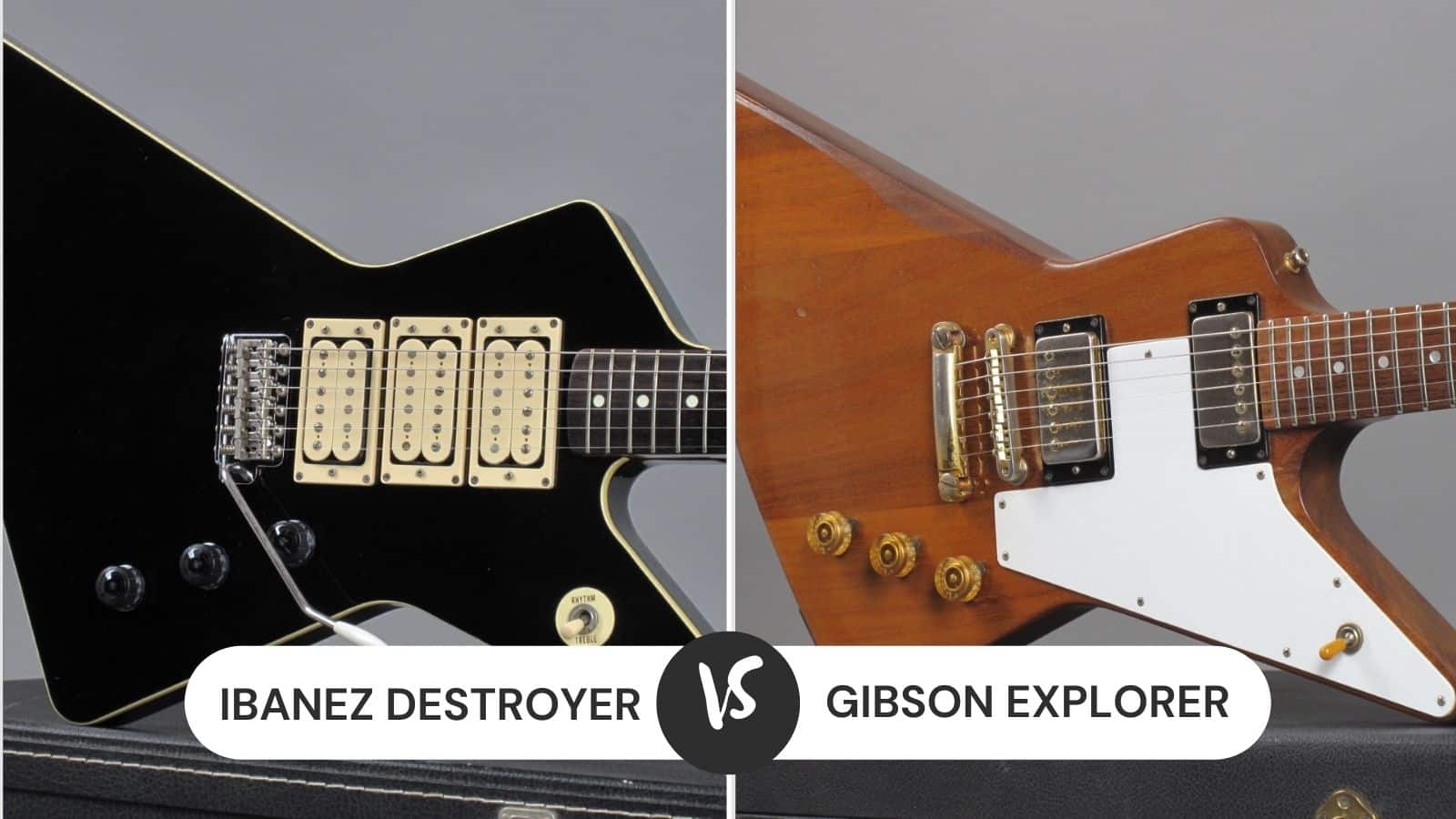 Long time ago, if you went out to get yourself a guitar, there would be only a few options to choose from.
Nowadays there are so many options that it can become a very daunting task to pick one. It is important for you as a buyer to research well about all the variants that fall within your budget.
These days you can find guitars in various shapes and sizes. They also come in three broad categories of electric, acoustic and classical.
Out of these three options electric ones are the most loved because of their versatility. They can be enjoyed by beginners as well as professional guitar players.
Within the electric guitar range you will find various models that are better than others. It is better that you make a list of certain qualities that you definitely want in your guitar and buy the one that meets all your requirements.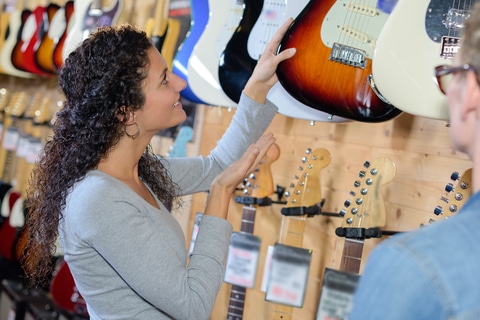 It is extremely important to find the right guitar for yourself because these instruments cannot be bought every other day.
These are high involvement decisions and your guitar choice needs to be good enough to last for quite a few years at least. Sticking to one guitar long term will also enhance your performance on that particular type.
Two of the most commonly chosen electric guitars are Gibson Explorer and Ibanez Destroyer. They are the best electric guitars in the market. If you can get your hands on any one of them you will know what the hype is all about.
However, if you were to go ahead and buy one, then you will need to find out the features of each and compare them to come to a final decision. We have made things easier for you.
Read ahead to find out all you can about these amazing guitars, how they differ from each other and which one is the best.
Ibanez Destroyer vs Gibson Explorer
| Features | Ibanez Destroyer | Gibson Explorer |
| --- | --- | --- |
| Price | $1100 | $1899 |
| Playability | High | Medium |
| Looks | Not as high as the Explorer | High |
| Music Genre | Heavy Metal | Rock, Blues |
| Fret | 22 | 22 |
Ibanez Destroyer
The Ibanez brand is famous for manufacturing the Destroyer. It is an electric guitar that was initially produced at the famous FujiGen-Gakki instrument factory. Hoshino Gakki introduced the Destroyer for the first time in 1975.
It is designed with inspiration from Gibson's designs. Since then it has been through many design upgrades and changes. The star-shaped look became famous in the 1980s and most shred and heavy metal musicians wanted to sport one.
Build
Let's come to its current build and features. It is an electric guitar that comes with a solid body. The instrument is full of sonic and visual attitude. It is not for dull people. It's for people who want to smash the ceiling with their music.
It delivers a fat and snarling tone with a prodigious sustain with the help of its hardtail build. The flame maple top and the mahogany body are any guitarist's dream come true.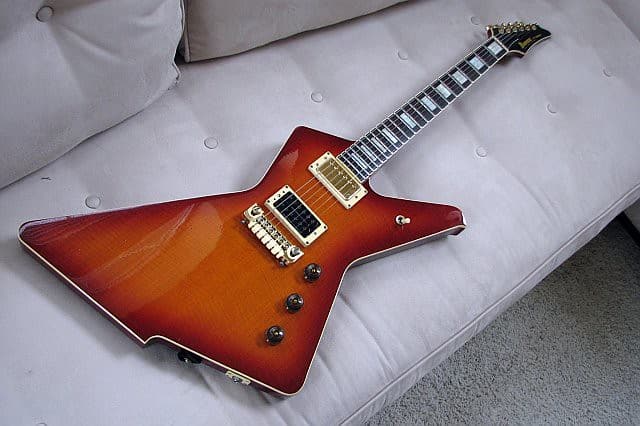 At the bridge you will find a Tone Zone, at the neck there is an Air Norton. As a professional guitarist you will enjoy the smooth playability of rosewood fingerboard and the quick mahogany neck.
The reverse body shape is quite radical and demands attention wherever you take this beauty.
If you are someone who has an aggressive playing style then this is the musical instrument for you. You can go all out with this one.
They are sturdy pieces so you do not have to worry about any significant wear and tear or breakage with rough usage. It is definitely worth your money if you are looking for this kind of guitar.
Gibson Explorer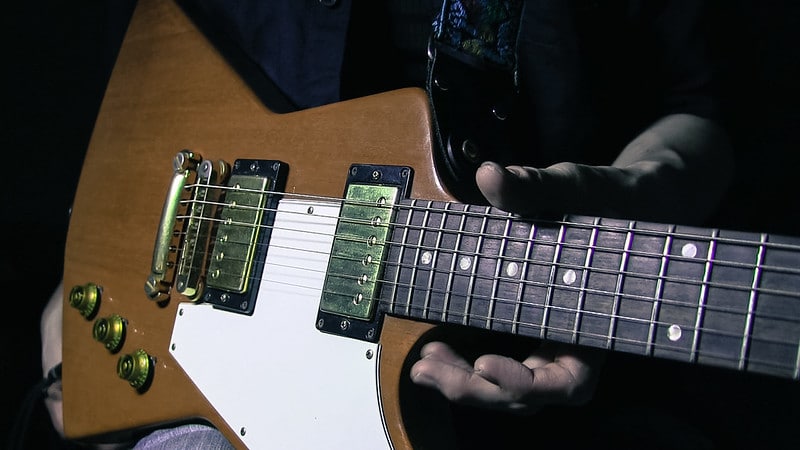 The Gibson Explorer is manufactured by the Gibson Brands, Inc. It's an American company that manufactures guitars among other musical instruments. They built this start with a mahogany body that is super solid.
The mahogany neck is topped with rosewood. This will give you a clear indication of the fact that you are in for some rich tones, amazing midrange character and great sustain every time that you plug it in.
It is an electric guitar that can help you produce the kind of music that you have always wanted to make. Gibson is an old established brand that has manufactured many different kinds of guitars that have rocked the world over the years.
Explorer has stood out the most because of its auto-tuning ability and stunning design. If you are someone who wishes to get their hands on a guitar that makes them the talk of the gathering then Gibson Explorer is the instrument for you.
Even though it has a solid body, the overall instrument is very lightweight so you can rock all night long without feeling any strain. Your back will not feel taxed because of its slim and trimmed mahogany body.
The fingerboard made of rosewood has dot inlays that gives a very clean look and produces a rich sound. The Gibson Explorer will give you a great playing experience that is incredibly memorable.
Final Verdict
People who have played both the instruments or have both in their collection claim that the Explorer is much better in terms of looks than the Destroyer.
However, in terms of playability and sound, the Destroyer is much better and superior. Explorer is a much more expensive guitar than the Destroyer.
From the features and the reviews that many users post on online forums, it is quite apparent that people prefer The Destroyer by Ibanez a lot more than the Explorer by Gibson.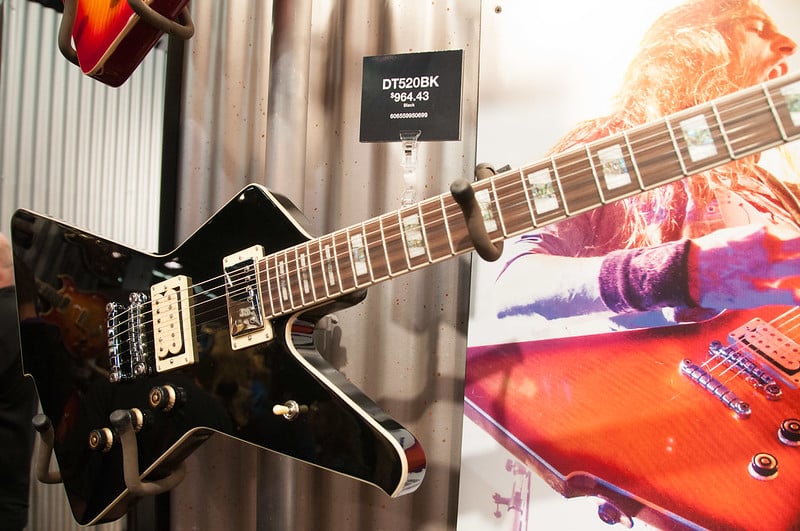 With musical instruments the playability is a much more important factor than anything else. You cannot expect the looks to do the playing. You need a guitar that does the job perfectly. Anything lesser is going to affect your performance negatively.
Many people do have enough money to have more than one guitar and if you had to go and buy just one then the Destroyer is your best bet. It looks amazing and does its job perfectly. What more does a guitar player want?